City council race: Michael Bianchi running for District 9
Michael Bianchi, former Boston mayoral candidate and Allston-Brighton native, is running to represent District 9 on Boston City Council. 
Competing with Bianchi for the seat is the incumbent Liz Breadon, the newest candidate Eric Porter and write-in candidate Sarah Iwany.
Bianchi, his father, and his son and two nephews were all born and raised in Allston-Brighton. Before running for public office, he worked as an operations manager and credit manager for Jack Young Co., an auto parts distribution center supplying parts to Boston emergency services and auto dealerships.
The extent of Bianchi's political experience is a summer internship for former District 9 city councilor Jerry McDermott as part of the Brian J. Honan Fellowship, a program that provides internship opportunities for Allston-Brighton youths interested in public service.
Bianchi ran for Mayor of the City of Boston earlier this year. He made it on the polls despite having limited political experience, but he was unable to secure a spot on the mayoral ballot. As a city council candidate, Bianchi has a unique perspective as a true native of Allston-Brighton.
"I believe in bringing politics back to a community level," said Bianchi. "I don't really have much political experience, but I'm just going to get out there and be on the ground and hear what people need to say."
The Scope spoke with Bianchi about his previous mayoral bid and his plans as a city councilor. Parts of this interview have been edited for length and clarity.
Tell us a little bit about yourself and why you decided to run for City Council.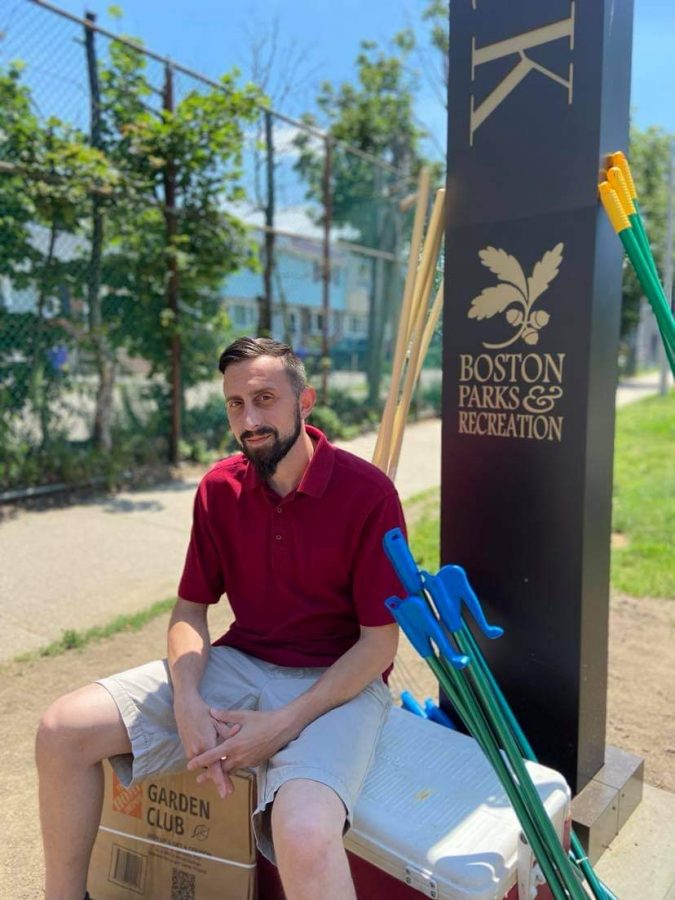 My name is Michael Bianchi. I'm a generational resident here in Allston-Brighton. My father grew up here, I grew up here, and now I'm raising my son and two nephews here. My grandmother owns the house here in Brighton.
I spent seven years as an operations manager and credit manager for a company in Allston called Jack Young. We were an auto parts warehouse, one of the largest distribution centers of auto parts in the northeast, supplying parts to the Boston Police and Fire Departments, trucking companies, and GM and Ford dealerships.
I'm the kind of guy who can look at a problem, sit down, hear solutions, and then make agreements on what will be the best things and the best course of action to accomplish our goals.
I know what it's like to see families getting pushed out of Brighton because of the cost of living and lack of resources. My son plays baseball for the Allston-Brighton Little League, and they barely had enough kids to fill the teams this year. You can factor in COVID a little bit, but this was happening long before COVID got involved.
I decided to run because, during the pandemic, I watched as a lot of things fell on the wayside. Even with the Jackson Mann closing, they had the entire pandemic to step in and plan what they were going to do with those students. The Horace Mann [School for the Deaf and Hard of Hearing] hasn't been given a location. They're planning on rebuilding the Jackson Mann but not including the Horace Mann, and those children need support. We could have had actions put into place.
I believe in bringing politics back to a community level. We need more representation than politicians. We're supposed to be elected officials representing a community, and I don't feel like we have real representation inside City Hall. Being in Allston-Brighton, we're looked at as kind of a college town, but there is a community here. We are more than that, and we deserve to be treated as such.
Earlier this year, you were running in the Boston mayoral election. Are there any strategies or lessons from your mayoral campaign that you're carrying forward into your City Council bid?
My biggest strategy is just getting out there and talking to people. I think it goes back to representation versus politics, and a lot of people really appreciated that I was out there. I spent a lot of my time registering people to vote instead of getting signatures, which was why I didn't really make that ballot. But I did get 1% on the polls, and a whole bunch of candidates didn't make the polls, but I made it with no political experience. 
I did work in Jerry McDermott's office for Allston-Brighton for a summer internship while I was in the Brian J. Honan Fellowship. Other than that, I don't really have much political experience, but I'm just going to get out there and be on the ground and hear what people need to say. I'm not going to sit here and act like I know it all. I want to hear what people want, and that's what we need to put into place.
Has running in that campaign affected your goals for your City Council campaign? Is there any overlap in your policy goals as a councilor versus your goals as a mayor?
As a councilor, you don't have as much power as a mayor would, so it's really about scaling back those goals. For instance, my ideas about teaching financial literacy inside our school systems and trades and AP courses for our schools. I can put forth propositions to support that at a larger scale for all of Boston public schools, and I can fight for those programs individually now as a city councilor if I get into office.
Also, protecting green spaces and creating dog parks. We can protect those things right now here in Allston-Brighton. So, it's really about scaling it down and how we're going to get the funding to accomplish those goals on a district level.
If you're elected, how do you plan to achieve some of your policy goals?
It's really about securing funding. We need to make better allies of our nonprofit colleges here in Allston-Brighton. They're all kind of taking a piece of the cookie here, and because they don't pay taxes, they give back to the community when they feel like giving back to the community. And I think that we need to make better allies out of them and utilize those grounds. If they're able to build a 20-story building overnight, they should be able to help us with our housing crisis in Allston-Brighton. 
So, partnering up with developers and the colleges, we need to start building more bridges and utilizing the assets that we have to secure funding to accomplish these goals.
Is there anything that you wanted to say to our readers that I might not have asked you?
Contact and learn about your politicians. If I'm not the politician or the representative for you, reach out, make those phone calls, get to know who is representing you because things will never change as long as we don't study up and learn about our politicians. That was one of my biggest things in the mayoral election. 
If you don't like me, that's okay. But don't just pick someone because they're a familiar name or because you heard someone say that that person's great. Learn about all of the candidates, learn about Eric Porter and Liz Breadon and myself; reach out, have the conversations we're supposed to be having. Because that's the only way we're really going to accomplish true representation. 
This year is probably the most important year for voters. We have a new mayor going in, we have four at-large council seats open, and we have a whole bunch of people running at the District level. Change is extremely possible on the horizon if you know who you're voting for and you get out and vote.