Years after procedure, metal hip replacement surgeries continue to wreak havoc on the lives of patients
Across the United States, metal implants have resulted in tens of thousands of lawsuits against the medical device companies that created them
Thompson, Conn. resident Peter Coyle thought his osteoarthritis was cured for good when he underwent hip replacement surgery in 2005.
To ameliorate the pain and stiffness of his degenerating hip, Coyle, 67, was implanted with an artificial metal replacement. He expected the implant to last him the rest of his life. Instead, 15 years later, Coyle was met with more hip pain caused by the implant's release of metal debris into surrounding tissue and his bloodstream.
"He was poisoned by this metal. [After removing the implant] he had to go through rehab and physical therapy," said Paula Bliss, a products liability lawyer at Justice Law Collaborative in Easton and Coyle's attorney in his ongoing lawsuit filed Oct. 5 at Suffolk Superior Court. Defendants Domenic Dinardo and his company DJD Medical Inc., a clinic in Canton, distributed the orthopedic product that allegedly caused Coyle harm. 
Coyle is far from alone in his experience. Metal poisoning, or metallosis, caused by implants used in hip replacement surgeries, is nothing new and has been widely reported for over a decade. Across the United States, the implants have resulted in tens of thousands of lawsuits against the medical device companies that created them, including DePuy Synthes, a subsidiary company of Johnson & Johnson, Zimmer Biomet and Stryker. 
But what is new is that almost daily, a different hip replacement recipient of the 10stens of thousands still out there will begin to show signs of illness due to the implant they received years ago. Although dangerous metal hip implants are no longer sold to the public, experts say it's impossible to predict when or how these implants may wreak havoc on the lives of those who have them. This means patients are like ticking time bombs, unaware of when the aftereffects of their surgery could infect them. 
"There's no rhyme or reason to it. You can never tell how badly the symptoms will affect someone," said Michele Stephan, an attorney at Maglio Christopher & Toale Law Firm, which specializes in defective medical device cases. "There can be varying systemic effects like hair falling out, brain fog, itches, rashes and cardiomyopathy."
Dr. Frank Buttacavoli, an orthopedic surgeon and clinical associate professor of joint replacement at the University of Texas Health Science Center at San Antonio, emphasized how symptoms can emerge within patients sporadically. 
"I've seen people [with symptoms] as early as one to two years after [their surgery], and some people as late as 15 to 20 years after that were doing OK, but they suddenly had worsening symptoms," Buttacavoli said. 
Hip replacement systems are meant to mimic the function of a natural hip through three parts: an artificial ball-and-socket joint, a liner between the ball and socket that allows for movement and a stem that serves as the thigh bone. Depending on a patient's needs, medical device companies will sell individual hip components or the entire hip system.
Buttacavoli explained that these surgeries could have dangerous repercussions when both the ball and socket are made of metal because movement causes the components to grind together. This leads to wear debris, the release of metal ions from the device and into the body. Hip replacement procedures that use metal balls and sockets are called metal-on-metal, or MoM, hip-replacement surgeries.
"Lots of people, unfortunately, develop a significant reaction to the metal ions," Buttacavoli said. "You can get something called a pseudotumor, which is a local tissue-destructive reaction which, unfortunately, eats a lot of the important muscles around the hip and can lead to permanent dysfunction. Metal ions can become a systemic problem with people having kidney issues, liver issues and even eye issues."
According to court records of Coyle's complaint about damages and request for a jury trial, Coyle was implanted with the DePuy Pinnacle MoM hip replacement system, made with cobalt and chromium, at St. Vincent Hospital in Worcester. Coyle is suing Dinardo, and his medical clinic, collectively referred to as "Distributor," because his "injuries were proximately caused by [Johnson and Johnson] and Distributor's fraudulent, intentional, and/or negligent omissions and misrepresentations regarding the clinical risks and benefits of the Pinnacle." 
After several calls and voicemails left at DJD Medical Inc., Dinardo would not respond to requests for an interview, and due to the ongoing nature of Coyle's case, Bliss declined interview requests on Coyle's behalf.
Court records state that symptoms weren't noticeable to Coyle until 15 years after his MoM hip surgery. Frances Scott, a 50-year-old mother of three with hip dysplasia and former news anchor at a Raleigh, North Carolina TV station, wasn't nearly as lucky. A few weeks following her replacement surgery using the Pinnacle hip system in 2011, Scott suffered from a seemingly never-ending list of symptoms. First, she said dermatologists wrote off bloody lesions on her face as midlife acne. Soon after, Scott began to experience hearing loss, hallucinations, severe mood swings, memory loss, depression, sensory issues, kidney pain and an irregular heartbeat.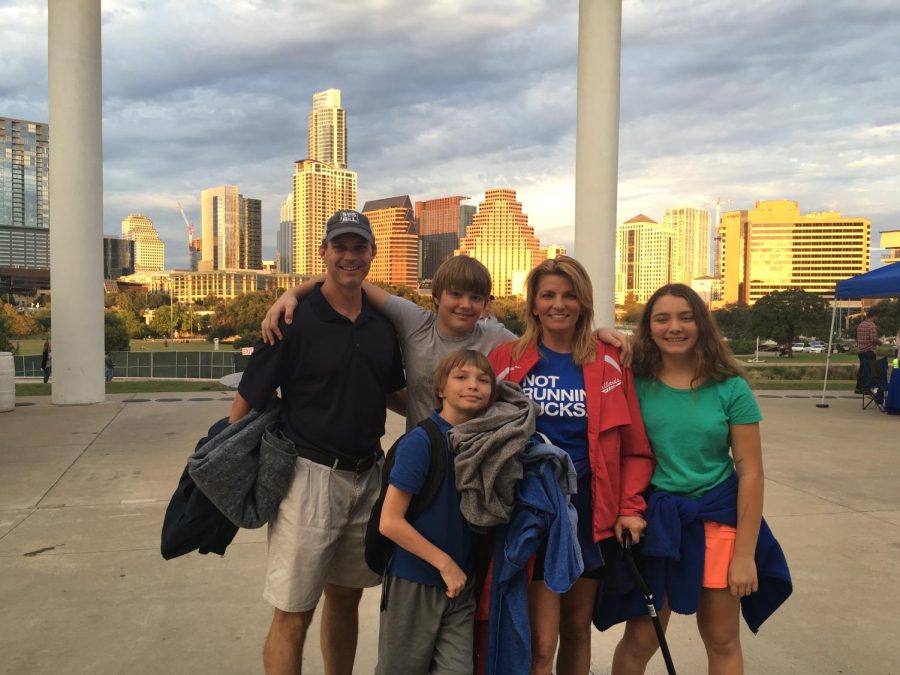 Scott did not know what was causing her suffering. She considered everything. She even thought she was experiencing bipolar disorder. After developing her symptoms, Scott embarked on a six-year intense research and investigation journey. In 2018, she finally connected the dots: just like Coyle, Scott was poisoned. Subsequently, she had her metal hip implant removed in a revision surgery, and most of her health issues were resolved.
"I'm still in pain," Scott said to The Scope from her home in Austin, Texas. "But the main thing that I appreciate the most from the revision is that I don't have the mental or the neurological issues anymore. I don't feel like a psychopath."
Scott has many accusations against DePuy Synthes that suggest the company is responsible for her suffering. These accusations are supported by court records filed Oct. 3, 2016, at the United States District Court for the Northern District of Texas in Dallas, where Scott attended a multi-district litigation trial, or MDL, of lawsuits filed against DePuy Synthes concerning the Pinnacle hip system. Bliss explained that MDLs are a way to consolidate hundreds or thousands of similar cases by addressing them in small groups so plaintiffs like Scott, who are waiting to try their own case, can gather an idea of how it might play out. At this trial, the six plaintiffs were awarded a $1 billion verdict in total. 
"The truth is, [DePuy Synthes] knew from the beginning metal-on-metal wasn't going to work," said Mark Lanier, one of the plaintiffs' lawyers at the 2016 MDL trial. "In 1995 … Graham Isaac was the development manager for hips. And he put out a memorandum … In it, he talked about metal-on-metal. He said it's clear from the literature that this has been far from satisfactory … There's a large release of wear debris."
Scott felt like she had finally cracked her case. It was clear that the metal ions released into her system from the hip implant were to blame for her mental and physical anguish.
But it was too late. The damage was already done. 
Unbearable physical pain coupled with erratic and uncharacteristic behavior cost Scott valuable years with her children as well as her job as a news anchor at WTVD in Raleigh, North Carolina. Long after removing her implant, Scott continues to face the consequences of her fateful surgery.
"This destroyed my career. Everybody thought I was either crazy or hooked on drugs, and I was in pain all the time," said Scott, who is now a video content creator and patient advocate. "I can't get the job I had back because, as a 50-year-old news anchor, I'm not as marketable as I was when I was 30."
Scott's metal-on-metal hip replacement surgery destroyed her life as she knew it. But for Carol Mayer, a 75-year-old former gym teacher from Englewood Cliffs, New Jersey, hip replacement surgeries have been — and continue to be — a facet of her life for over 30 years.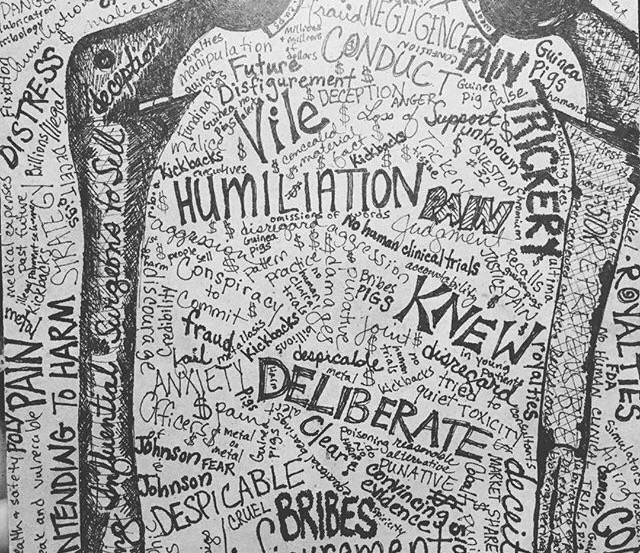 Mayer has had a total of three hip replacement surgeries in her lifetime, and she plans to have two more. Her first procedure, completed in 1991, was a metal-on-metal hip replacement. In 2015, Mayer needed revision surgery when blood tests showed toxic levels of metal ions in her blood.
"I was starting to limp, and I was starting to have signs as if I never had the surgery," Mayer said. "My gait was not the way it used to be, and I was definitely uncomfortable."
Unlike Coyle and Scott, Mayer didn't feel the need to take legal action for the suffering she faced as a result of her metal-on-metal surgery. Mayer said she went into her procedure knowing the implant wouldn't last forever and would likely require removal. With the looming threat of a revision surgery, Mayer maintained an upbeat mindset to deal with the uncertainty.
Mayer admitted that she is no longer the same person she was before her surgery despite her optimistic demeanor. To stifle the need for more revision surgeries in the future, Mayer sacrificed meaningful hobbies, namely racquetball.
"It's not a good idea [to play] because lateral sports are not great for the hip, and it can take the hip replacement and bring it out of its socket," Mayer said. 
Most often, patients like Mayer, Coyle and Scott only discover that they need to remove their metal implant once symptoms arise. Stephan said patients could be proactive by getting their blood levels tested for metal ions annually.
"The longer the metal is in, the more susceptible the plaintiff is to damage," Stephan said. "The future of a plaintiff all depends on the severity of the injury. If they are fortunate enough to catch it early, the patient can recover."
Buttacavoli said even regular testing is not a fool-proof way to detect metallosis, which in effect leaves the fate of patients hanging in the balance. 
"[Patients] can get labs every so often. But laboratory studies don't often correlate perfectly with the formation of a pseudotumor," he said.
Experts explain that medical device companies like DePuy Synthes currently sell implants that use a combination of metal, plastic and ceramic components instead of the purely metal alternative. As such, metal-on-metal hip replacement systems have virtually ceased to exist within the medical device market. 
However, the shadow of metal implants is cast upon the lives of patients who live with the ever-present possibility of developing metallosis and needing revision surgery. Patients are never certain of when symptoms might strike, and patients are left to deal with the potentially devastating consequences.
"[Johnson & Johnson] makes billions," Scott said. "Meanwhile, we're the ones that are watching our mobility decline, watching our health decline, watching our families need funds and we can't take care of them."