A look at Healey-endorsed AG candidate Andrea Campbell's compelling grassroots campaign
"Having an attorney general who is a champion to their people is critical."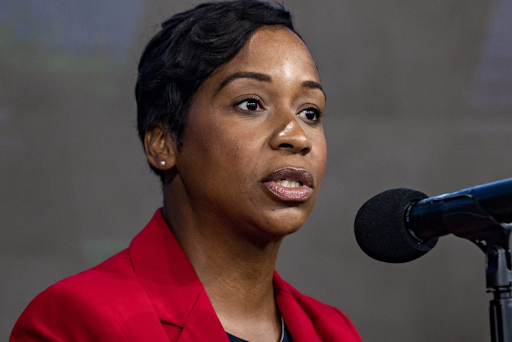 Democrat Andrea Joy Campbell, a lawyer and former Boston City Council president centers her campaign for Massachusetts Attorney General around justice and equal opportunity, which has resulted in a grassroots campaign garnering support from voters across industries. 
Campbell, 40, announced her campaign in February. She is endorsed by liberal bulwarks like Vice President Kamala Harris, Maura Healey, the incumbent Attorney General, and current Democratic governor candidate, the Boston Globe.
The Scope reached out to comment to Campbell's office but did not hear back.
Campbell's political motivations are informed by her own experience as a Boston resident who has dealt with loss, foster care, and the prison system from an early age. 
According to the Boston Globe, when Campbell and her late twin brother, Andre Campbell, were infants, her father, Alvin R. Campbell Sr., was sentenced to prison for his involvement with organized crime. Soon after, her mother died in a car accident, orphaning Campbell, her twin, and her older brother, Alvin Campbell Jr.
For the next eight years, Campbell and her siblings spent time moving between relatives and foster care and relied on public housing and food assistance in Mattapan. Her twin brother, Andre, fell victim to the school-to-prison pipeline and cycled in and out of the prison system before passing away in state custody while awaiting trial. 
Despite the instability in her family life, Campbell turned her pain into purpose and excelled in her academic career. Campbell graduated from Princeton University and then UCLA Law School in 2009. She began working as a legal services attorney for the EdLaw project in 2010, which provides education advocacy for Massachusetts' highest-risk youth. 
She moved back to Mattapan and now lives with her husband, Matthew Scheier, who works in project management and contract administration, and their sons, Alexander and Aiden. 
Campbell is also endorsed by a number of federal, state, and local elected officials, as well as organizations. We talked to Emily's List, a political action committee dedicated to electing Democratic pro-choice women to office.
"Not only is Campbell an amazing candidate for the work she has already done and will continue to do, but she has also proven to be a huge reproductive rights champion," said Yari Aquino, Deputy Director of Campaign Communications at Emily's List. "She has made it clear how urgent she understands this crisis to be across the country and what she will do in Massachusetts to protect those rights." 
Although Aquino made clear that abortion isn't the only big issue on the ballot, it is a crucial topic driving voters to the polls.
Aquino also praised Campbell's fundraising and pointed out her strictly-grassroots campaign that she believes aligns with the interests of Massachusetts citizens. 
"Having an attorney general who is a champion to their people is critical," she said. 
According to her website, Campbell's first professional experience in the government sector was with the General Counsel at the Metropolitan Area Planning Commission, the regional planning agency that serves Metropolitan Boston. 
Campbell then served as deputy legal counsel to Gov. Deval Patrick in 2013, where she worked to improve education and transportation systems.
In 2015, Campbell was elected to the Boston City Counsel for District 4, representing the neighborhoods of Dorchester and Mattapan, in addition to parts of Roslindale and Jamaica Plain. According to the City of Boston, she was the first woman to serve in this role. 
Campbell served as City Council President during her second term after being unanimously elected by her colleagues. She was the first Black woman to hold the title. 
In 2020, she ran for Boston mayor, finishing third, receiving 19.7% of the vote in the general election.
Campbell then turned her attention toward the Attorney General race in 2022 following Maura Healy's gubernatorial candidacy announcement. 
Campbell's successful outreach has resulted in a strong campaign fund. According to the Massachusetts Office of Campaign and Political Finance, since Jan. 1, Campbell has raised over $2.1 million from over 8,300 contributors.
Her views on business and marketplace regulation seem to be favorable amongst voters who work in the management and finance industry. As seen in figure 1, they are the most significant contributors to her campaign fund, donating over $600,000, or 28% of total contributions.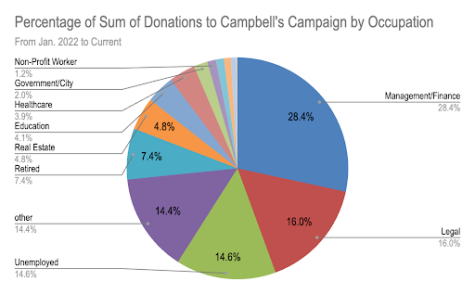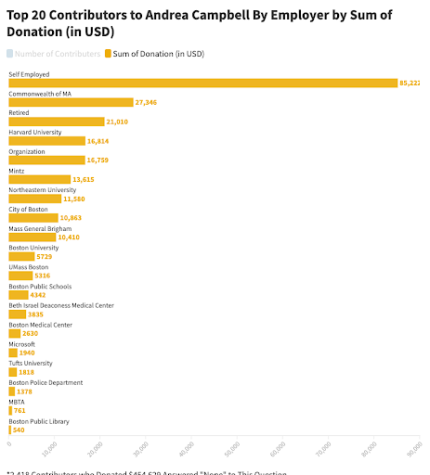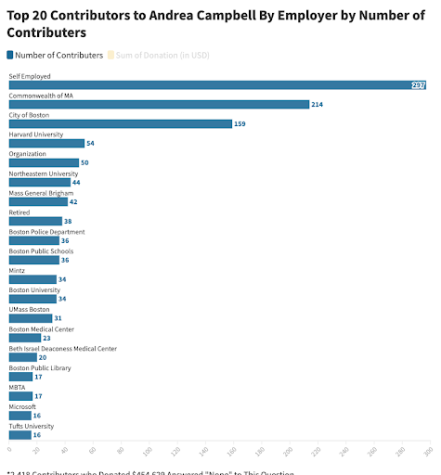 Harvard University, Northeastern University, Boston University, University of Massachusetts Boston, and Tufts University combined had over 179 donations, around 2% of all contributors.
Jay McMahon, Campbell's Republican challenger, has raised over $264,000, 13% of Campbell's donations. On Oct. 22 from the WBZ-TV studio, Campbell and McMahon held a debate.
Campbell spoke of her plan to create a reproductive rights unit within the attorney general's office and expand abortion access in Western Massachusetts. 
In response to McMahon's statements that she wants to "defund and degrade" the police, Campbell told him, "I live in the city of Boston. You do not. This is personal to me." 
She said that although she wants the police to be more transparent, citing her efforts to implement body cameras, the departments should also be "well funded." 
The two did find common ground on the issue of the opioid crisis in Massachusetts, citing that it is an important issue that requires attention. 
According to a Suffolk University Political Research Center poll published on Oct. 18, Campbell leads McMahon by 20 percentage points, with Campbell at 50% and McMahon at 30%. Although Campbell seems to be favorable in the polls, the 19% of voters who remain undecided could be crucial in this race.