Geoff Diehl, a Trump-endorsed candidate in a never-Trump state
Diehl's affiliations with Trump put him in a spot that many conservative candidates find themselves: supporting Trump's policies, but distancing themselves from Trump himself.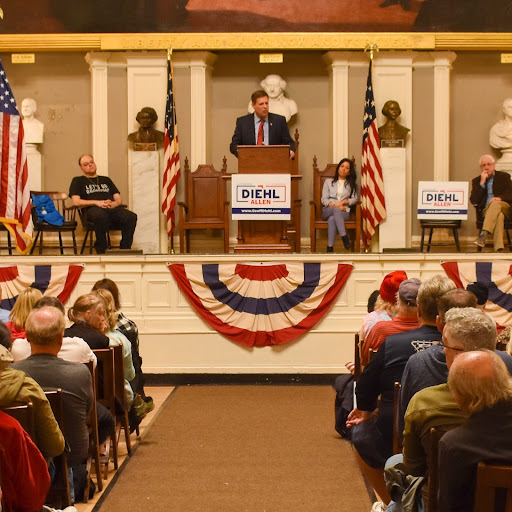 As Republican gubernatorial candidate, Geoff Diehl wrapped up his "Take Back Freedom Rally," Oct. 25 in historic Faneuil Hall, he guaranteed his supporters one thing: freedom. 
While the promise of freedom is sweet, Diehl trails Democratic gubernatorial candidate Maura Healey by about 25 points. Diehl has been endorsed by former President Donald J. Trump, but in a deep blue state where Trump is anything but popular, this might be a disadvantage.
In a state where President Joe Biden carried the 2020 presidential election by 33.5 points, the constant reminders of reciprocated endorsements between Diehl and Trump during debates and interviews put Diehl in a spot that many conservative candidates find themselves: supporting Trump's policies, but distancing themselves from Trump himself.
Despite initially scheduling an interview, Diehl's campaign withdrew hours before.
Before the 2020 election, and even before Diehl ran for his first public office, he grew up in Bethlehem, Pennsylvania, graduating from Lehigh University with a bachelor's degree in government and urban studies. He worked in many industries across the United States, including advertising in New York, television production in California, and business development in Whitman. Diehl ran for Massachusetts State Legislature in 2010 and won Plymouth's 7th District. ​​
Throughout his time in the Massachusetts State Legislature, Diehl held himself as a staunch conservative, an advocate for low taxes and says he is pushing for freedom, specifically: freedom for small businesses to make their own decisions, freedom from high taxes, freedom to decide whether to get the vaccine, freedom to express oneself.
Often, this freedom has been expressed through deregulation and tax cuts. Diehl voted against raising the minimum wage three times, voted against increasing required worker benefits, voted against creating requirements for Uber and Lyft drivers and voted against permitting various groups, such as child care workers, from unionizing.
Diehl is pro–life, has voted against protections for abortion clinics, and supported the overturning of Roe v. Wade.
Diehl also led the 2014 campaign to "Tank the Gas Tax," preventing a state gas tax to increase with the rise of inflation. Arguing that the tax would disproportionately harm lower and middle class families, and the campaign won by only six points.
Similarly, throughout Diehl's current gubernatorial campaign, he has made affordable energy a key issue, contending that arbitrary restrictions and limits on certain sources of energy cause soaring energy prices.  Diehl would rather the free market decide when it is time to shift to green energy. 
Diehl has also voted against creating background check databases for gun owners, against limiting the use of prison labor and against legalizing marjuana. The former state legislator has continually voted to protect minors, working to raise the minimum age required to purchase tobacco and voting to increase parole eligibility for convicted minors. 
Recently, Diehl has provided insight into how he would tackle the rising cost of living and structural MBTA problems in Massachusetts. His plan largely centers around expanding out of Boston, increasing housing and transportation options in the suburbs. On his website, Diehl states he will "repeal the MBTA zoning regulations" and "support the west-east rail link.
During his time as a representative, Diehl was a member of the Joint Committee on Housing, House Committee on Global Warming and Climate Change, and the House Committee on Technology and Intergovernmental Affairs. In 2018, Diehl ran against incumbent Elizabeth Warren for Senate but was unsuccessful, losing his first statewide election by 24 points.
Throughout the COVID-19 pandemic, Diehl supported first responders who were fired for not receiving the vaccine. A large part of his campaign is advocacy for people's choice – whether or not to vaccinate themselves. According to the Diehl-Allen campaign site, their take on public policy is "[getting] tough on crime and [committing] to unleash all available law enforcement resources in the fight against the drug trade. We will nominate judges who don't use two sets of rules to determine guilt and punishment in the courtroom." 
Diehl is endorsed by former State Treasurer Joe Malone, former Massachusetts Republican Party Chair Jim Rappaport, State Rep. Marc Lombardo, and former State Rep. Dan Winslow. Diehl's largest endorsement, though, is from former President Trump.
Diehl worked closely on Trump's 2016 and 2020 presidential campaigns, earning the former president's endorsement early in his run for governor. Though Diehl initially accepted President Biden's victory, his tune quickly changed to ally himself with his conservative ally.
"Sadly, it has become clear, as the audit results from Arizona, Georgia, and Pennsylvania have come to light, that the 2020 election was rigged," Diehl said in a 2021 statement. 
Recently, Diehl has repeated that he knows Biden is president, but just a few months ago, he said the opposite.
"The fact of the matter is: I was wrong initially," Diehl said on a radio show in August 2022. "It definitely was an election that was stolen from Trump. And it was rigged in a way that should never happen again."
For Diehl's supporters, though, many of whom voted for Trump in 2016 and 2020, election doubts are a reason to support the Republican gubernatorial candidate. This support has also helped Diehl's campaign through thousands of donations. 
Since Jan. 1, Diehl has raised nearly $980,000 from about 9,000 contributions. More than 750 of these contributions come from retirees, and their contributions make up about 27% of Diehl's contribution total. Diehl has also raised significant money from business owners, CEOs and presidents, likely due to Diehl's free market and employer-friendly policies. Diehl's contributors are spread across Massachusetts, with the most contributions coming from Quincy, Boston and Plymouth.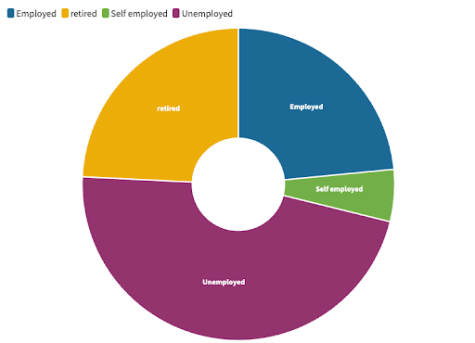 Since January, only four corporations have donated to Dieh's campaign, totalling $900. Cmk Enterprise, a legal firm, On Target Training, a firearm distributor, TJ Callahan's, a pub in Tewksbury and Donnelly Developments, a real estate firm, have all donated to Diehl's campaign. The former state legislature has also received several contributions from various Republican committees throughout Massachusetts.