Boston residents across the city flocked to vote on Tuesday, seeking to cast their ballots in the preliminary City Council election that were about housing, education, and controversial candidates.
Reporters for The Scope spoke to voters in Dorchester, Jamaica Plain, Roxbury, Roslindale, and the Fenway and asked them what they think are the biggest issues in this election. Voters voiced concerns about neighborhood issues, as well as the recent well-publicized allegations against incumbents Ricardo Arroyo and Kendra Lara.
One issue that continues to be relevant across Boston, including in Roxbury, is affordable and available housing. 
In Fenway's Ward 4 of District 7, polling stations didn't see much voter foot traffic. Chris Standring, a West End resident and polling inspector at the Museum of Fine Arts polling station, attributed the slow turnout to the popularity of mail-in ballots. 
"I think by and large, especially with the early voting and mail-in voting [the city does] a very good job communicating to the voters," Standring said. "But the goal is not to get more people at the poll on election day … that's my opinion."
Instead, Standring argued that in order to get more residents to vote in their local elections, the candidates have a responsibility to motivate the electorate and promote the issues they are working to fix.
Accompanying Standring at the polling station was his wife, Diane Standring, who was also working at the polling station as an elections clerk. She was concerned with the decreased interest in local and state elections.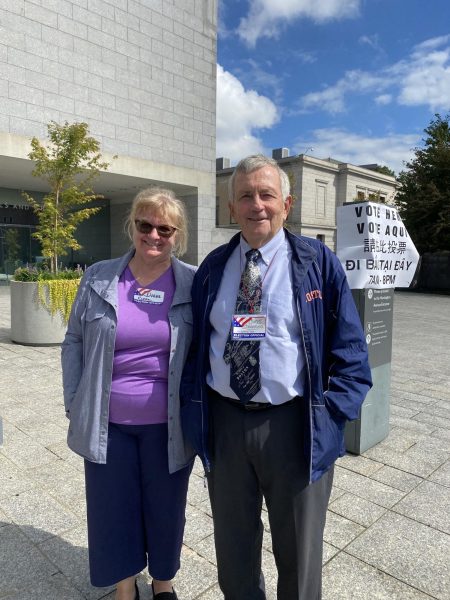 "Local politics is local. It affects you. National doesn't really affect you," she said.
Joel Richards, 39, a Boston Public Schools teacher, pastor, and father of young children, was standing outside the polling station on 1366 Washington St., trying to encourage young voters to check his name on the ballot. Richards chose to run for City Council because he believes there is room for improvement in District 3, specifically in public works, education, and housing.
"We're an underinvested side of town," he said. "The roads are cracked, have potholes, and flood when it rains."
He's also campaigning for facilities improvements within the Boston Public School  system, sharing that his oldest child, a 4th grader, doesn't currently have phys ed classes because of a shortage of  classroom space. He added, "My youngest goes to the Henderson School and has to layer up all winter because the boiler is 40 years old. It's not a hyperbole."
Lastly, he feels frustrated by the ever-rising cost of rent in Boston, which drives out families. 
"I'm tired of losing friends to the housing crisis," he said. "We need to stop this mass exodus of middle-income people. Our city isn't going to have young people anymore."
He proposed that the city should be investing in housing for working-class and low-income residents, adding that "they go to work every day to make this city run."
As Bostonians from District 5 headed to the polls to vote, they expressed a variety of concerns, from education to climate change. At the Saint Nectarios Greek Orthodox Church polling station on Belgrade Avenue in Roslindale, repeat voters particularly stressed the importance of voting.
"I never miss a vote," said Larry McKinnes of Roslindale.
In a district marred with scandal, including allegations of sexual assault and a conflict of interest violation by incumbent Ricardo Arroyo, McKinnes hoped for a more honest and transparent city council. "The baggage that candidates [are] carrying around … I'm trying to get rid of it," he said.
As for Deb Asbrand of Roslindale, who voted with her daughter, supporting young candidates and new ideas was important in her selection.
"I went with the youth vote today. I've been looking for churn and for candidates to rotate out," she said. A long-time voter, Asbrand stressed the importance of change "in politics locally and nationally."
Residents of Jamaica Plain's District 6 showed up at the polls to vote. Incumbent City Councilor Kendra Lara is currently up for re-election after having served her first term, challenged by William King of West Roxbury and Ben Weber of Jamaica Plain.
Lara is currently facing allegations of reckless driving an unregistered vehicle, with a decade-old expired license, with her child in the backseat without a carseat.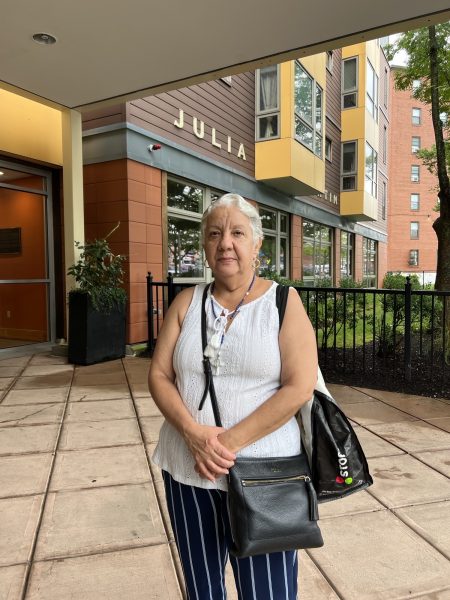 This election was an important event for Bolivar Pegero from the Dominican Republic. As a 76 year old, this will be his first time voting in the United States. "I came so things can continue to get better," he said. He is most concerned about education, asserting that education should be accessible for all in order to ensure equal opportunities for all. Pegero is confident that the democratic process will pan out. "If you want to achieve something, you need to exercise your right to vote," said Pegero.
Beatriz Mejía, 60, from Jamaica Plain shared a similar sentiment as first-time voter Pegero. She has voted every time she could in her 35 years as a Boston resident. "I vote because voting is my right as a citizen," she said. "I'm always looking for benefits and improvements for us in the city." For Mejía, the most important issue to improve upon is security.
Janie Wallace, a resident of District 7 and long-time volunteer working at the Symphony Plaza polling station, said that, "The main thing that this neighborhood association tends to talk about is the crime, the food insecurity… Because this is a nice area, probably more affluent than maybe some others. And I think people have become more aware that we need to participate."
---
This story was reported by: Aditi Bansal, Alejandra Robles, Elana Lane, Emma Klekotka, Henry Bova, Hannah Sammut, Margo Liakos, Noelia Arteaga, and Sanya Parikh.