Voters push women's rights, abortion access, ballot questions
Boston headed to the polls today. The famously blue state now contends with a new slew of issues in 2022––and some that have persisted for too long.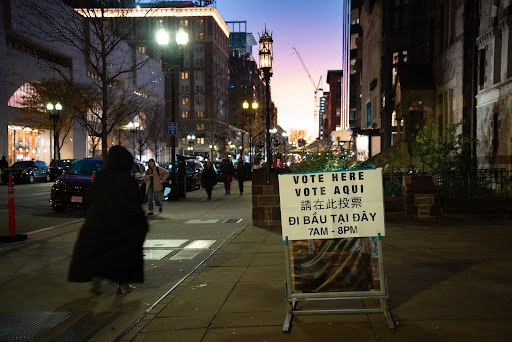 Massachusetts residents on Tuesday cast their ballots in the midterm election, rallying around issues such as women's rights, abortion access, and legal driver's licenses for undocumented aliens. 
Interviewed by Scope reporters at polling stations across the Greater Boston area, voters expressed frustration with the lack of accessibility of the election process this year, from language and disability accommodations to the complex wording of the referendum questions.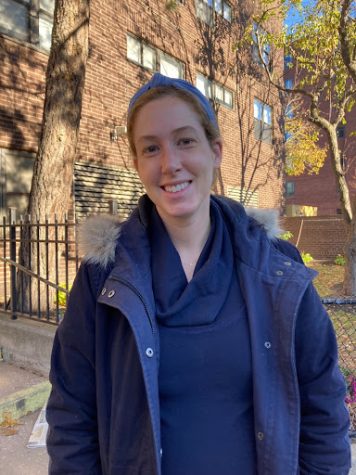 While the ballot included races for governor, attorney general, and other statewide and local races, many voters were more motivated by issues. 
On Beacon Hill, software developer and perennial voter Kate Reichenbach believes gender is a primary concern. "The issues I'm most passionate about…women's rights, reproductive rights, all of the above," she said.
Even voters not directly impacted by abortion access were adamant about the need for reproductive freedom in this historic election. 
In Copley Square, Raul Soikes, 60, worried about the repercussions of this election on his rights as a member of the queer community. "I vote so the lady has a chance to be in charge of her body. No one else needs to do that," said Soikes, who voted with his husband, Louis Rojas, 50. They wore matching black sunglasses and fur vests. "I'm afraid me and my husband's rights will be at risk next," Soikes added.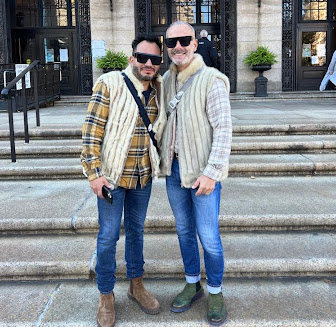 Abortion rights were a major issue for some.
At the Fenway Community Center, D.S. Everett, a 79-year-old retiree, said a women's rights to abortion are under threat in Massachusetts. "Until the time comes [when] we can provide a child with the needs that they need up through 18, we cannot say to a woman that you need to have the baby," said Everett, adding that parenthood should be a woman's choice. 
In the South End, Michelle Jacobs, a Northeastern University professor, who was voting with her high school-age daughter, said she believes a women's right to abortion should be everyone's top priority because "abortion is healthcare" and "it is a ridiculous idea that politicians can dictate healthcare." 
Strong feelings about Questions 1 and 4
The referendum questions on this year's ballot presented another set of crucial issues for voters. In particular, many residents interviewed across the city expressed their support by voting "yes" on Questions 1 and 4, which proposed increasing state income taxes for incomes over $1 million and providing a path for undocumented immigrants in the state to obtain a driver's license, respectively.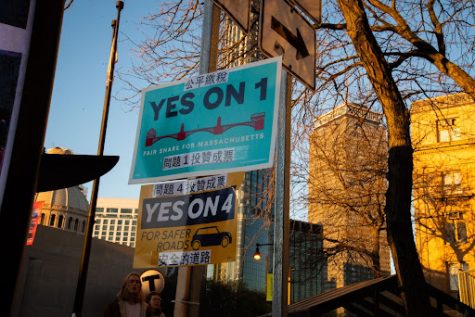 Question 1, also called the "Fair Share Amendment," is a measure to implement an additional 4% state income tax on household incomes over $1 million, which would be funneled towards public transportation and education.
Douglas Henriquez, a 49-year-old construction worker originally from El Salvador, championed Questions 1 and 4 by handing out informational flyers about the ballot proposals outside the Sumner Street polling location in East Boston. "As a construction worker myself, this 4% tax would make an impact, and the infrastructures we could make would be endless," Henriquez said.
Question 4, a proposal to keep an already-enacted law that allows undocumented immigrants to earn a driver's license, was also on the minds of voters across the city. For undocumented people in Boston, a driver's license doesn't just allow them to drive a car legally—it also serves as a critically important piece of government identification.
East Boston has the highest percentage of foreign-born residents in Boston. Valinda Chan, a 30-year-old design lead from Jeffrey's Point, thinks everyone should be entitled to the stability and safety that having a driver's license brings. 
"It's especially important to vote to make sure we are getting our voices heard for marginalized individuals," said Chan, a first-generation American. "If Question 4 passes, it means safer roads for everybody, not just undocumented immigrants."
Frustration with voting accessibility
Voters consistently expressed frustration with complex ballot verbiage and physical accessibility at polling locations across the city. 
"I saw that the ballot language was really confusing," said Ellen Tomko, a 26-year-old brand manager for the Washington Post from the South End. "It's not designed for voters. It's designed for politicians."
In Back Bay, even those well-versed in politics found themselves struggling to understand the wording of new ballot referendums. "I had to ask my husband to translate," said musician Ellen Allard. "I just needed more information."  
For others, complicated political language wasn't the only thing standing in the way of seamlessly voting in the midterm election.
"There was a blind accessibility kiosk, but there was no one there running it," said Pauline Dowel, a 59-year-old blind administrative assistant from Fenway. "There was no braille option, either."
Dowel asked a sighted person to accompany her to the polls to assist her with the voting process, a decision that proved wise. With no braille ballots available and no one manning the accessibility kiosk, it's possible she wouldn't have been able to vote at all.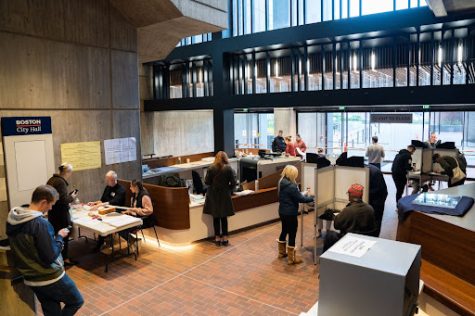 Around Boston
In Chinatown, 93-year-old Huang Wenchao, who votes every year, sees voting as a chance to improve the quality of life for the elderly while narrowing the gap between the rich and the poor. He voted for Maura Healey for governor. "I agree with some of her propositions, such as reducing family taxes and reducing the cost of prescription drugs," said Huang, who was assisted by a volunteer, Li Zezhen. "Seeing a doctor and prescribing medication in the United States is expensive, even if I have insurance."
With youth turnout for elections having reached a historical peak in the last several years, hopes have been high that the groundswell of young voters will continue into the midterms. Several young and first-time voters showed up to the polls on Tuesday.
Christina Issa, an 18-year-old student who voted at the Wentworth Institute polling site, made sure she was well-informed on the issues and candidates for her first-ever election. "I did a lot of research before voting to make sure who really should be elected," Issa said.
Issa is hopeful that her voice as a young citizen of Massachusetts will help shape public policy. She implored elected officials to prioritize the national interest over partisan tribalism. "I am looking forward to seeing a noticeable change for the two next years from this election," Issa said.
Some worried about violence or disruptions at the polls, but it was quiet this morning in the Symphony neighborhood. Warden Frederick Steward stepped outside to reattach a voting sign that had partially fallen. 
 His team of seven poll workers had received and processed their first voters without incident, a far cry from the harassment and violence that was feared in some other states. 
 "We are not being intimidated as they see around the country," Steward said, adding that it was important to protect the right to vote and the democratic process. "I see the country moving in a direction where we are so divided, it's so divisive, and that no one's talking to anyone… Living in Massachusetts, it's one of the better states where we really don't have that many restrictions. And I'd like to keep it that way."
Jamaica Plain residents streamed in and out of the side entrance of the Curley K-8 School this morning as precinct 19 voters submitted their ballots.
Taylor Bueller, 30, a Jamaica Plain resident who is a chaplain for geriatrics, usually votes in every election. While he worries about who will control the House of Representatives and Senate after Tuesday, Bueller believes that voting in Massachusetts, historically a blue state, is very important.
"As I'm getting older, I'm appreciating more and more the importance of blue holdouts and solidly blue states," said Bueller. "I really appreciate that. Massachusetts is an exemplar of the liberal democratic ideals that I want to see in the country."
Regardless of party affiliation, voters agreed that exercising their civic duty to vote was the primary reason they headed to the polls. 
Al Carter, an 80-year-old retired Mattapan resident, said, "I always vote. I earned the right. It's my time to speak to the government."
Also contributing to this story were: 
Renee Abbott, Katherine Armanini, Jane Clements, Eli Curwin, Sonel Cutler, Sangya Gupta, Julia Henning, Skylar Kamen, Renee Nearing, Emily Niedermeyer, Ellie Thadani, Narelyn Villacorta, Cassidy McNeeley, Xavier Alvarez Hernandez, Anabella Benhamron, Megan Canizares, Maleri Ginsberg, Lily Hamson, Clara Hassan, Nikkia Jean-Charles, Paige Keeler, Emily O'Brien, Olivia Pirch, Melissa Rejuan, Alida Rodriguez-Wehe, Collin Rydecki, Mary Elizabeth Saganic, Rachel Umansky-Castro, Wenxuan Fan, Yuqing Jin, Sabira Khalili, Cassidy McNeeley, Isabel Meyers, Zi-hao Benjamin Tan, Minerva Vignola-Hung, Jack Walsh.