Mayoral race: Q&A with Jon Santiago
State Representative Jon Santiago became the fourth candidate to announce a run for Boston mayor in February. He's currently serving his second term in the state legislature, where he represents much of the South End, and parts of Roxbury, Back Bay and Fenway in the Ninth Suffolk District. 
Santiago's resume shows a range of experiences before his turn to politics: After a stint in the Peace Corps, he became an emergency medicine doctor and a captain in the Army Reserves. He then returned to Boston to work in the Emergency Room (ER) at Boston Medical Center, where he has continued to work throughout the pandemic. His interactions with patients, he said, inspired his turn to politics, and he now sits on several health-related committees — including the House's COVID-19 working group, the committee on public health and the committee on healthcare financing. 
Santiago has recently picked up endorsements from other state representatives, including Mike Moran and Kevin Honan, who each represent Allston-Brighton districts, and Aaron Michlewitz, who represents much of downtown. 
Santiago is running against City Councilors Michelle Wu, Andrea Campbell, Annissa Essaibi George, former Chief of Economic Development John Barros and Acting Mayor Kim Janey, who announced her run in April, 2021.
The Scope spoke with Santiago about his campaign's top issues and his plans to address them if elected mayor. This interview has been edited for length and clarity. 
How does your background prepare you for this job?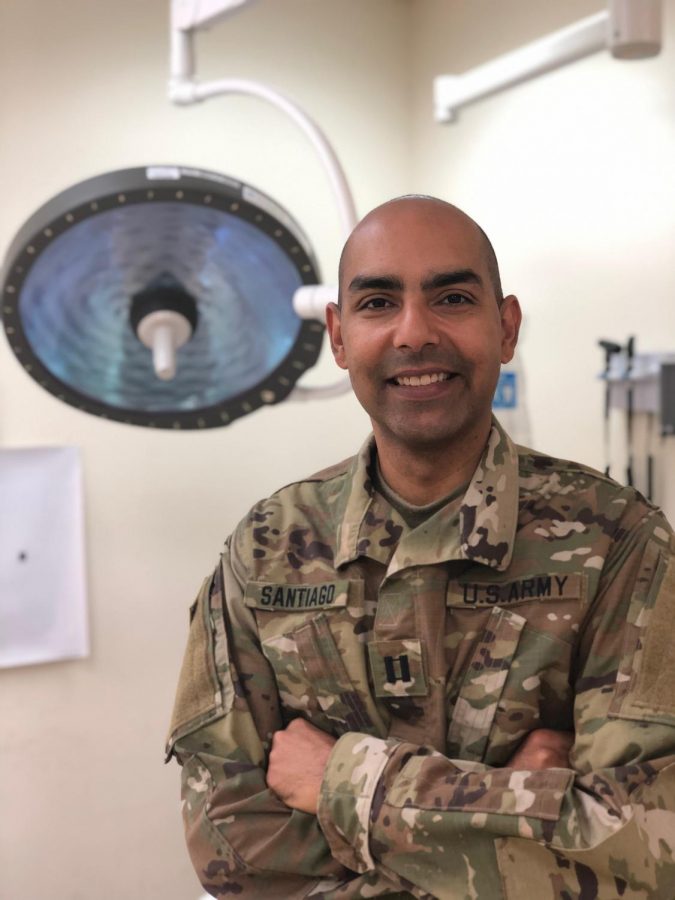 I think this race for the mayor of Boston will be the most consequential race the city's ever seen. I think Boston, right now, needs a public service leader, and I've done that my whole life, for the Army and in the ER. Those experiences then provide perspective, and it's given me insight into what's going on across our city. Boston Medical Center is the city's safety net hospital, primarily for poor people, people of color. The reason I got into politics was because of my experiences in the emergency room. 
I came to understand, over my six-plus years of working there, [that] why people come into the emergency department is a direct reflection of what's happening in their communities. It's the poverty, the lack of economic and educational opportunity, the violence. When all that manifests, that's when I'll see them — very downstream. So why I got involved in politics is because I wanted to address some root causes of what's going on.
So after working as a state rep, and looking at these systems, what made you want to run for a position in the city, specifically?
I've always been the type of person who was asking what more can I do for my city, or my neighborhood, for my community. And when Marty Walsh got tapped to go to D.C., I got to think more about this opportunity to play a bigger role. To really use that pulpit to marshall resources to address some of the biggest problems of the day. 
I think about my neighborhood, my community, issues that we're facing here. I live off Massachusetts Avenue, and we have a significant opioid issue. So when I ran for office the first time as a state representative, I wanted to do everything I could to address things like that. My role in the state legislature is to bring resources into that area, and we were successful at doing that. In my first nine months in office, we brought over a million dollars to City Hall to address what's going on on Mass and Cass. But at the end of the day, the position of state representative, vis-a-vis the mayor, the mayor has a much stronger bully pulpit, much more resources to marshall, a much bigger potential impact. 
What has been your experience living and working in Boston?
I was born in Puerto Rico, and we moved here in the late 80s. And we came to Boston in search of opportunity. My father went [to Northeastern] as a full-time student and worked full-time during the day. My mother took ESL classes at UMass Boston. We lived in Roxbury on Ruthven Street, which today can still be a difficult neighborhood, but back then it was a particularly difficult neighborhood because of the gang violence epidemic. My parents began to feel like that neighborhood wasn't particularly great, and so we actually left Boston for a number of years.I must've been like 10, 11.
I came back as an adult, after five years abroad, after college. In my last year living abroad, I had every intention of becoming a global medicine physician. But the interesting thing about Boston too was, in my first memories, it was a place of idealism and a place of opportunities, but it's also a place where my uncle became infectected with HIV and he ultimately died of AIDS. So from an early age, a sense of injustice and unfairness really played a role in my development, so I wanted to become a physician. I had this idea that I would come back to Boston, a Boston I associated with so much opportunity, and I would work here in this sort of community, given my background in the city. 
So I came back, in 2010 I want to say, with $70 in my wallet. I got a job at Boston Public Health Commission, I went to medical school, I graduated. And I got my dream job at Boston Medical Center, where I treat patients to this day. It's been an incredible opportunity.
What is and is not working in the City and what can be changed?
When I think about Boston, there are things I am very proud of. We have the best healthcare institutions in the world. We have some schools that are thriving. I think what makes the challenges in Boston real, and why I got into politics, is the gross disparity across health, education, people's livelihoods. I think about my district, which I think is a microcosm of Boston — I represent the South End, Back Bay, and Roxbury. There's a 30-year life expectancy difference from Copley Square to some of the poorer parts of Lower Roxbury. How does a place with so much promise, so much potential, end up with these great disparities? How do we make sure that those benefits, and that prosperity, is shared throughout the city? 
When I think about the schools for instance — the fact that almost three quarters of our students come from low income families right, almost half the students are Latino — I see myself. I got very lucky. I've worked hard. I was blessed with a lot of opportunity and some luck, to give me a position where I could go to college, and I could go to medical school, but I want to give the same opportunity to those kids. I think that requires a significant amount of investment — intentional investment in the lives of folks who need it the most.
What do you consider the most important policy issues on your platform? 
Right now, we are living in an acute crisis with COVID-19. As a physician who's been on the front lines since day 1, I know how difficult it can be from a public health perspective. So we're still very much in an acute phase right now where the priority has to be: How do we get as many people vaccinated as possible? How do we make sure it's in an equitable manner? How do we get our students back to school? How do we support small businesses? 
As a doctor, you walk into the trauma room. You don't always know what's going to be there — it might be a gunshot wound, it might be a stroke. But you have to act with efficiency, and you have to act in communication, in a very concerted fashion to get things done right. So it's about bringing people together on very complex problems.
Since we're talking about opening Boston Public schools, and equitable vaccine rollout, how do you plan to achieve those goals and implement policy?
We are really in a race against these variants. We are in a race to vaccinate people as soon as possible, but we have to take into account what equity means in that. Not everyone can go to a mass vaccination site. Not everyone has access to transportation or can take the day off. So when the vaccine rollout started, I was one of the first legislators to produce legislation that said we have to make sure this is culturally competent, linguistically appropriate. 
The only thing I do know is what I don't know. I got many years of education and many degrees. But what I know is that I gotta bring people together to solve these complex issues, and whether that's vaccine equity, whether that's affordable housing, development issues, BPS, you name it, that is how I approach government.
What do you see your campaign brings to the city that is different from other candidates and the current mayor, Mayor Walsh?
We are not your average politicians. We are someone who's given their entire life to public service, to working with the most vulnerable communities. That's a whole different perspective than what the other candidates can provide, right, like we're in the trenches. My goal in running for office the first time was to bring the stories of my patients to Beacon Hill. We were able to do that, and as a result we were able to create change. 
My work in crisis leadership, my desire to get things done — that's the kind of energy, dedication, service leadership the City of Boston needs right now. 
There is not a lot of information on your website about specific policies and plans when you become mayor. Will this information be coming soon?
We just announced February 23. I don't presume to have all the answers. The answers should come from the community. So, we are actively engaging every neighborhood to hear their thoughts and their concerns, and how they would like to see the next mayor of Boston proceed on all those issues.