City of Boston's response to COVID-19: the latest updates
Stay informed about how Mayor Martin Walsh is protecting Boston residents with this timeline of orders and initiatives issued by the mayor's office. We will update this page as news breaks and provide resources when available.
Read about how we're covering COVID-19 and our sustained commitment to telling stories of hope, justice and resilience.
We covered how the City of Boston has been responding to COVID-19. Now, as the city is working toward reopening and recovery, we will continue to deliver the latest updates in this timeline.
Tuesday Oct. 13, 2020
Mayor Walsh announces Boston Police Reform task force's recommendations and pledges actions to achieve reforms
Between Oct. 9 and Oct. 12, there were 98 new cases and four new deaths in Boston; the number of positive tests went down from about 73 cases a day the previous week to about 69 cases per day in the week ending Oct. 5, Mayor Walsh said. "The positive test rate has held steady here for a couple weeks now in the city at 4.1%," he said. Dorchester 02121 and 02125 zip codes had the highest rate of COVID-19 positive testing in the city last week, followed by Hyde Park. Cases in East Boston went down to 6.5%. The mayor also said that young adults and the Latino community are seeing the highest number of new cases in them.
The city is expanding its multilingual outreach, the mayor said, together with increasing all access to testing and health care in the communities most affected. "We have launched a second mobile testing site," he said. "It's it right now it's in Central Square in East Boston until Oct. 21."
Testing locations are also available in Nubian Square and Roxbury until Oct. 24. In addition, CVS has begun testing at two new pharmacies on Saratoga street in East Boston and at Galvin Boulevard in Dorchester. In total, the mayor said, there are nearly 30 active testing sites across the city. A map of all Boston testing sites can be found here.
The mayor also discussed the final recommendations of the Boston Police Reform Task Force, an 11-person group of community leaders, advocates, legal professionals, and members of law enforcement responsible for reviewing the Boston Police Department's current policies and procedures and presenting recommendations for reform.
According to the mayor's office, the Task Force's recommendations include to 1) create an independent Office of Police Accountability and Transparency (OPAT) with full investigatory and subpoena power, i.e. the ability to call witnesses and to compel the discovery of documents. 2) formalize and expand the Boston Police Department's (BPD) commitment to diversity and inclusion through the creation of a Diversity & Inclusion unit. 3) Expand the BPD's adoption of the body-worn camera program and continue to ban the use of biometrics and facial recognition software. 4) Enhance
the BPD's Use of Force policies (Rule 303, Rule 303A, Rule 303B, Rule 304) so that they articulate clear and enforceable disciplinary code of consequences for violations and infractions and hold the BPD publicly accountable for the violation of these policies. 5) Adopt practices that maximize accountability, transparency and public access to the BPD. The full recommendations have been translated into five languages and are available here.
"It was clear that we must dismantle systemic racism and build up equity and justice for every resident of our city. Justice in economic opportunities, justice in education, justice in housing, and justice in public safety. We must be a city where every single person receives equal protection and equitable opportunities," the mayor said. "And as of today, I'm pleased to officially accept these recommendations."
The mayor said he will create and hire an executive director for the OPAT, create a Diversity & Inclusion Unit within the Boston Police Department and pledged to file home rule petitions at the Massachusetts State House, which, if passed by the Legislature, would allow the City of Boston to enact the Task Force's civil service reform recommendations.
Wednesday Oct. 7, 2020
Mayor Marty Walsh delays phase III of school reopening as COVID-19 positive test rate rises to 4.1%
As of Oct. 6, there were 63 new cases and no death in Boston while there were 454 new cases and eight deaths in the state of Massachusetts, the mayor said.
The positive test rate in Boston for the seven days ending on Oct. 3 is 4.1%. This is the first time the positive rate has been over 4% since early June, according to Chief of the Mayor's Office Health and Human Services Marty Martinez. "Hyde Park saw a significant increase in its positive rate. Dorchester, which had gone up, remains level and East Boston, which we all know had been very high close to 12% in the past, had seen a small decrease," he said. "The larger question in front of us, is whether this increased activity is a trend or a bump in the road."
Mayor Walsh said it is "prudent to pause the school reopening plan," meaning the city will push back the start date for phase III from Oct. 15 to Oct. 22. K-0, K-1 and K-2 kindergarteners will enter school no sooner than Oct. 22.
Boston Public Schools (BPS) are fully remote as of today but will reopen tomorrow for highest needs students, students "who have disabilities that require in person supports, who require English language support, who have limited or interrupted education, who are experiencing homelessness, or who are in the care of the Department of Children and Families," the mayor said.
Superintendent Brenda Cassellius said the impact of remote learning can vary between different student groups. "Working in public education, we saw inequities that we already knew existed and became exacerbated by this pandemic," she said. "For so many of our students, they need this added support and critical services that we provide for them when they're inside our schools. They need the caring adults that love them, our teachers and our school leaders who have been coming every single day, our nurses and our paraprofessionals."
The BPS hybrid learning model is opt in, which means families can decide to switch to remote learning at any time by filling out a form on the BPS website (available in 10 languages). Families can also contact teachers or school leaders to switch, Cassellius said.
Wednesday Sept. 30, 2020
Boston Public Schools to provide $50 worth Staples gift card to every student
To support families with their shopping for school supplies during the pandemic, Boston Public Schools (BPS) will be distributing the in-store gift cards to families. The cards can be used until Nov. 30, 2020 in any Staples retail store, but are not eligible for online purchases; the cards must be redeemed in one transaction, according to a press release by the BPS.
Wednesday Sept. 23, 2020
Gov. Charlie Baker issues new bar and restaurant seating guidelines. Effective Monday, Sept. 28, restaurants in the state can seat 10 people at a table, an increase from the previous limit of six. The new guideline will apply to indoor and outdoor events as well. "We want to help restaurants use their spaces more effectively," the governor said. "While bars remain closed in Massachusetts, restaurants with bar seating may now use those spaces for food service with the right distance measures in place and no standing around the bar."
However, Boston Mayor Marty Walsh said the city of Boston is keeping the maximum table in the city of Boston at six for the foreseeable future. "Other new steps [such as] bar seating, menus and self serve drink stations, we'll be accepting those recommendations and moving forward on those recommendations," he added.
The mayor attributed his decision to keep the seating limit at six to the high density of people, less space around restaurants and COVID-19 data in Boston. As of Sept. 22, there were 63 new cases and no death, bringing the total number in Boston to 16,766 cases. The mayor said there is an uptick in COVID positive cases but added that the increase is not yet cause for major concern.
The mayor, in his speech on Wednesday also acknowledged the grand jury's decision to not indict the police officers who shot and killed Breonna Taylor. "Breonna Taylor was a young woman with an entire life ahead of her that her life was taking far too early. I stand with those who demand justice for Brianna," he said. "We must demand justice for every precious black life cut short by systemic racism, all across our country. My thoughts and prayers are with Brianna's family."
Thursday, Sept. 17, 2020
Mayor Walsh asking young people to be cautious with spreading COVID-19, announces new testing locations at CVS pharmacies and free breakfast and lunch pickup service for BPS students.
In Massachusetts as of yesterday, there was 295 new confirmed COVID-19 cases, bringing the total in Massachusetts to 123,720, there were 20 new deaths yesterday bringing the total deaths to 9,036. In Boston, there were 60 new cases but no new deaths, bringing the total case number to 16,430 cases.
Nearly half of all the new cases in the last two weeks, the mayor said, are of people under the age of 30 years old and he encouraged young people to stay cautious, practice social distancing to keep themselves and the community safe.
For the week ending in Sept. 12, Mayor Walsh said, the positive rate in Boston was 2.8%, 1.3% higher than the week before. The mayor attributes the increase to fewer testing over Labor Day weekend.
New CVS pharmacy locations offering drive-in COVID-19 testing are available starting tomorrow including the CVS pharmacy at 4600 Washington Street, Roslindale, i207 Market Street in n Brighton and 181 Brighton Avenue in Allston. These are neighborhoods that have high positive rates last week.
As students of Boston Public Schools (BPS) are learning remotely, the mayor said the BPS will be providing every student a free breakfast and lunch for every school day. There will be 21 BPS sites where parents can pick up five days worth of meals in one trip. The sites will be open on Tuesdays and Wednesdays. A list of the meal sites can be found here. When students start hybrid learning, they'll be served meals in schools. Meals delivery is available for special needs students, according to the mayor. There are many job opening for residents including bus monitors and other positions in BPS.
The mayor urged immigrants to start their citizenship application as soon as possible because starting Oct. 2, the United States Citizenship and Immigration Services (USCIS) is raising the fee for citizenship application from $725 to $1200. The green card application fee will also go up.
The USCIS will also charge a $50 fee to file for asylum. Project Citizenship, a Boston-based nonprofit offering free legal services to immigrants in Massachusetts, according to the mayor, have sued the Department of Homeland Security to block this change. Project Citizenship's workshops, where volunteers law students and attorneys help immigrants with their citizenship application, will be held virtually this year due to COVID-19.
Mayor Walsh called on residents to fill out the 2020 Census. "We need everyone to respond," Walsh said. "It's completely safe to do. This is about your representation. You pay taxes; you continue to contribute your economy and that money comes back here into Boston, Massachusetts total."
Tuesday, Sept. 15, 2020
Mayor Walsh announces plans to install new bus lanes and extends outdoor dining program
As of yesterday, in Massachusetts, there were 235 new confirmed COVID-19 cases, bringing the total number of confirmed cases in the state to 123,000. There was 9 new deaths, bringing the total deaths in Massachusetts to 9,010. Boston had 51 new cases bringing our total to 16,245 and two new deaths over the weekend bringing the total death toll to 757. Overall, Emergency room and ICU numbers continue to remain very low, Mayor Walsh said.
Parts of Dorchester and Roxbury, specifically the 02121 and 02125 zip codes have a slightly elevated rate of 4.1%. The Mayor's office and the COVID-19 Health Inequities Taskforce are monitoring the numbers.
The mayor announced that the city is extending the outdoor dining program beyond Oct. 31. Restaurants using private outdoor space can continue to do so for the duration of the public health emergency. Restaurants that are using the Temporary Outdoor Dining Program on public sidewalks and parking lanes may continue the approved use of those spaces until Dec. 1.
As part of the Healthy Street Program, the city in partnership with the MBTA are working on some permanent street upgrades. First,  the mayor said the city will be installing new bus lanes on neighborhood corridors. "Working working people rely on MBTA routes very heavily on Columbus Avenue in Roxbury so we're building a bus lane in the middle of the roadway," Walsh said. "They are going to have, they're gonna have boarding platforms for passengers with safety and accessibility features."
The city is also adding a bus lane on North Washington Street in the North End and the West End, which the mayor said will serve up to 12,000 commuters using buses a day.
Monday, Aug. 31, 2020
Applications are open for new program for Boston immigrant leaders
Applications are now open for a new program by the Mayor's Office for Immigrant Advancement and the Civic Engagement Cabinet aimed at fostering civic engagement and leadership among Boston immigrants called "Immigrants Lead Boston."
The program is a 12 week course in which selected immigrants who are Boston residents meet key Boston officials and learn about local government so that they can become leaders in their communities and can advocate for issues that matter to them.
The City will be granting the participants stipends of up to $1,000 for their time and commitment to the program, according to the Mayor's Office for Immigrant Advancement.
The deadline for applications is Sept. 18 and the program starts Oct. 21. Apply to Immigrants Lead Boston at boston.gov/immigrants-lead.
Friday, Aug. 28, 2020
Boston Resiliency Fund to support effort to produce clear-front face masks for the deaf and hard of hearing community
The Boston Lyric Opera (BLO) and local costume shop CostumeWorks are awarded a grant from the Boston Resiliency Fund for a partnership to make over 1,800 lipreading friendly clear front face masks to support those who are deaf or hard of hearing and others who rely on facial expression to communicate. The BLO will manage distribution of the face masks with the Mayor's Commission for Persons with Disabilities. The masks produced will be donated, or sold at a discounted rate, according to the mayor's office.
Thursday, Aug. 27, 2020
Mayor Walsh and Boston Housing Authority to award $2.5m in grants for food distribution program serving up to 230,000 meals at BHA sites
The Boston Housing Authority is launching a $2.5 million partnership with local businesses and nonprofits to distribute meals to its most vulnerable residents through the end of the year, Mayor Martin Walsh announced.
Using federal aid, the food distribution program will serve up to 230,000 meals at Boston Housing Authority (BHA) sites around the city to 4,100 extremely low-income households through at least December 2020, according to the mayor's office. The initiative is aimed to help address food insecurities for low-income families in Boston's public housing communities during COVID-19.
City Fresh Foods will partner with Commonwealth Kitchen, a woman-led nonprofit business incubator, the Haley House, a nonprofit social enterprise employing individuals facing barriers to traditional employment, and the YMCA of Greater Boston to use up to $1.689 million to serve BHA's federal family sites.
Boston nonprofit Ethos is awarded up to $732,000 to provide for direct, door-to-door delivery to seniors facing food insecurity. Ethos is also receiving a $500,000 grant from the Boston Resiliency Fund, according to the mayor's office, to deliver nutritious meals for those who are food insecure but don't meet the age or impairment threshold for the Title III-C Nutrition Services Program.
Mayor Walsh launched the Boston Resiliency Fund in March, the Fund has so far distributed over $25.7 million to 340 nonprofit and local organizations and there is $7.6 million in funds remaining, according to the mayor's office.
Friday, Aug. 21, 2020
Mayor Walsh announced Boston Public Schools will start fully remote on Sept. 21. In person instructions to be phased in starting October.
"This is not a decision where there is a consensus," he said, adding this week the BPS asked parents and guardians whether they want their child to begin school remotely or in the hybrid model and received mixed responses from different groups of parents.
In the phased approach, students with highest needs will start a hybrid learning model on Oct. 1. The hybrid model allows students to learn in person two days a week and learn remotely three days a week.
The phased approach, he said, is flexible and parents will have options to opt in or out of different phases. In addition, it allows teachers and staff to get comfortable with the safety of the building before students arrive as teachers will arrive in school on Sept. 8 to prepare for both remote and hybrid models teaching from their classrooms. However, the mayor said that if Boston's positive coronavirus test rate hits 4%, students will have to switch back to remote learning.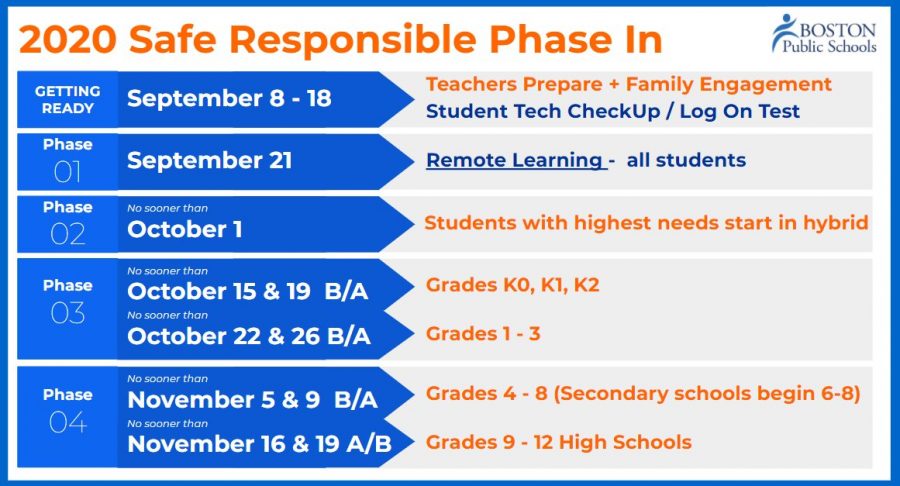 Tuesday, Aug. 18, 2020
Mayor Walsh discusses COVID-19 cases and testing, schools' reopening and upcoming elections.
COVID-19 cases and testing locations updates
As of yesterday, there were 213 new confirmed cases and four deaths from COVID-19 in Massachusetts. In Boston there are 24 new cases today bringing the total number of cases to 14,940. There are no new deaths, the mayor announced.
He said the uptick in cases in the second half of July is now leveled off as the City is expanding testing and continuing contact tracing. The positive test rate for the week ending August 10 was 2.6%, down from 2.8% in the previous week. ICE usage at Boston hospitals, Mayor Walsh said, declines to 74% from 82%.
There are over 20 active testing sites in Boston and over 1600 tests have been given every day. The mayor promised to increase both capacity and access to testing in Boston's neighborhoods. A new pop-up testing site will be in Allston-Brighton this week. Testing is available to everyone, at no cost and regardless of whether an individual is symptomatic or not. Starting Aug. 20, there will be a pop-up testing Jubilee Christian Church in Mattapan. The site will have walk through testing and parking for those arriving by car. Residents can find more information including testing hours on Boston.gov.
The mayor reminds people to keep wearing masks, avoid large gatherings and keep at least six feet from other people to help keep the community safe from COVID-19.
"I want people to think of [face covering] as like putting a seatbelt on," he said. "Years ago when there was a big push for seatbelts no one wanted to put on. People said it felt restrictive. Now it's the norm, no one even thinks about wearing a seatbelt anymore. It automatically goes on."
Boston Public Schools' reopening plan
Mayor Walsh said Boston Public Schools, on Friday, submitted reopening plans that meet all the state's public health guidelines. "The latest draft in that plan is available online to the public, and I encourage anyone who is curious about schools, and the opening to take a look at the plan," he said.
Walsh said the City also asked the state to push back the first day of school from Sept. 10 to Sept. 21 for most students and to Sept. 23 for pre kindergarten students. "That gives teachers, administrators, more time to plan and gives us more time, and information to monitor the data that I talked about a little earlier," he said.
The mayor said there has yet to be a final decision on whether to open with all remote learning or the hybrid model and said the decision will be guided by data. "But I want to be clear, every family has the choice to begin the game remotely, even if we have a hybrid model on the table, our priorities are safety, quality and equity," he said.
Upcoming elections in Massachusetts
The state primary election will be on Sept. 1 and the general election on Nov. 3. The registration deadline for the primary is Aug. 22. The mayor urged people to register to vote by this deadline in order to vote in the September election. To learn about their voting status, individuals can go to boston.gov.
Besides mail-in ballots, there are in-person voting for all elections this year, with safety protocols in place and some polling locations in seniors' buildings are relocated, the mayor said. Residents whose polling locations are changed should receive a letter in the mail notifying them of the changes.
The mayor said city officials have made efforts to ensure there is no "disruption in our mail" following President Trump's threats to undermine operations of the Postal Service to disrupt mail in voting. "We call on the federal government to protect and support the Postal Service at this critical time," he said. "Postal workers have been the lifeline to many residents in this crisis, and now they're helping us to protect our democracy. I want to thank all of the postal workers for working for us.
Wednesday, Aug. 12, 2020
Mayor Walsh holds a press conference discussing Boston COVID-19 rates, support for small businesses' reopening and Boston Public Schools reopening
As of Aug. 11, there were 38 new COVID-19 cases in Boston, bringing the city's total cases to 14,609. There were two new deaths, bringing the total of deaths to 743. There has been a slight uptick in positive rates from 2.1% to 2.8% in the last few weeks. But this past week, the rate went down to 2.5%. The mayor said the increases are not alarming and remain below a level that would prompt a rollback of the reopening steps the city has made recently.
The mayor cites the expansion of testing as a potential reason for the increase in positive rate and said the City is closely monitoring daily numbers. continue also to expand testing and that could be another reason why we're seeing an increase in some of these numbers. An average of 1,500 to 1,600 tests were given in Boston each day last week. "That was up 10 percent over the previous week and over 50 percent from earlier in the summer," Walsh said. A mobile testing site is now at Moakley Park in South Boston through this Saturday.
Mayor Walsh also reminded small businesses with less than 25 employees that they can apply for reopening grants at Boston.gov.
As school year is approaching, many students from other states will be coming to Boston to attend colleges, the mayor said he is "especially concerned" about colleges bringing back students from high risk states. Students are expected to self-quarantine for 14 days before coming to Boston, regardless of where they are from. They're supposed to get a test within 72 hours of coming and present it on arrival, and their colleges are supposed to quarantine them as well.
Colleges have been asked to share their testing, quarantine and safety protocols but Walsh said some have yet to file with the City. "We want to see that they're developing a mechanism to implement and enforce these requirements," he said.
Walsh said decisions regarding the reopening of Boston Public Schools are "the most important collective step before us right now." There is still no final decision on whether to start school year with all remote learning or with hybrid model with part-time in school, part-time remote, he said, but the City is getting ready for hybrid. "We're providing Plexiglas and vinyl separators, ordered 5000 pieces of Plexiglas, providing nurses rooms with properly ventilated isolation spaces," he said.
In addition, there will be new filters in ventilation systems in the classrooms, open windows, electrostatic sprayers to disinfect surfaces for every single school in the district, and sanitation stations at the entrances and exits of schools. Every school will receive a certificate of inspection by the Inspection Services Department before opening, Walsh said.
"The spring was a crisis response," he said. "This fall, there will be more plans and supports because we've had the time to sit down and work and we need to continue to sit down with all of our unions, our teachers to make sure that a month from now, however we open school, our kids are going to learn at the highest quality."
The mayor continues to urge individuals to remain vigilant to slow the spread of the virus. Wash your hands, use face covering and stay 6 feet away, especially from people who are not family members.
"People want to go out, families want to celebrate milestones. These are human needs," he said. "But we have to be clear. It's not time right now to let up. This virus is still here. We can meet the needs of our social connections in ways that can be safe. You want to meet people in parks? Meet in small groups, wear a mask. You want to go to the beach? Don't sit in areas where it's crowded, sit, away from people."
Boston Election Department announced polling location changes for 20 precincts ahead of Sept.1 State Primary
The Sept. 1 election includes the following races: Senator in Congress, Representative in Congress, Governor's Council, State Senate, State Representative, and Register of Probate. Polling locations will be open on Election Day from 7:00 a.m. until 8:00 p.m.
Saturday, Aug. 22 is the last day to register to vote and Aug. 26 is the deadline to request a vote-by-mail ballot for the state primary. Find out how mail-in voting works here. If a registered voter has not received a vote-by-mail application or lost the application, they can request a new one by completing this form and sending it to the City of Boston's Election Department.
Here are the 20 precinct polling location changes this cycle: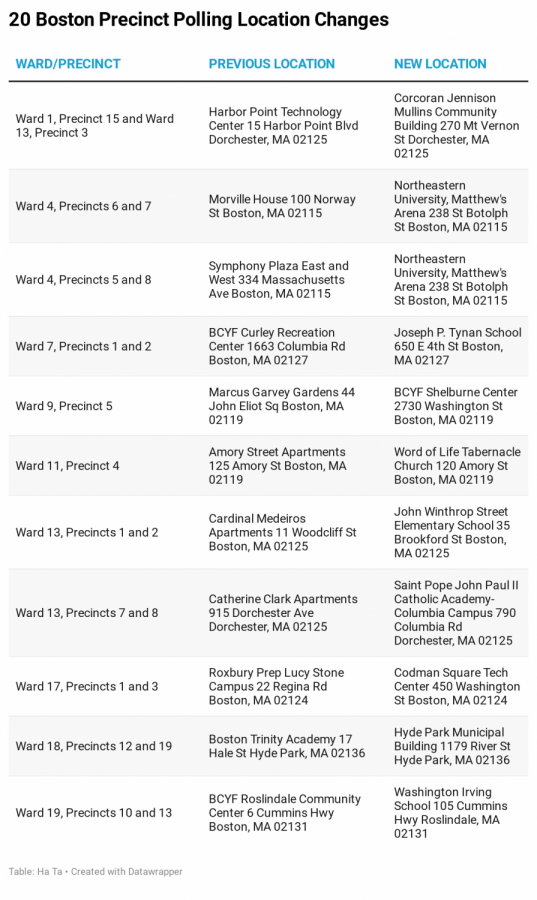 Friday, Aug. 7, 2020
Gov. Charlie Baker announced step 2 of phase 3 of the state's reopening plan has been postponed indefinitely
The move follows recent increase in COVID-19 positive cases in Massachusetts. The governor also signed an updated gatherings order, effective Aug. 11, which will:
Reduce the limit on outdoor gatherings from 100 to 50 people (indoor gatherings limit will remain at 25 people)
Apply these limits to all types of gatherings, on both public and private property
Require face coverings where more than 10 people from different households will be mixing.
Monday, Aug. 3, 2020
Free Pop-up COVID-19 Testing in South Boston
The 10-day popup testing site, in partnership with the East Boston Neighborhood Health Center, will be available starting Tuesday, Aug 4 to Saturday, Aug 15 at Moakley Park on Old Colony Avenue near 1187 Columbia Road in South Boston, according to the Mayor's office.
Testing will be available at no cost for both symptomatic and asymptomatic individuals by walk-up only. Appointment is not needed but individuals must register to receive test results. Residents can pre-register by calling (617) 568-4500.
Friday, July 31, 2020
New grants by Boston Resiliency Fund to increase food security, support families, youth, seniors and homeless individuals.
Over $740,000 in grants from Boston Resiliency Fund are awarded to organizations to increase access to food, support families, youth and older adults, and assist individuals experiencing homelessness in Boston, the Mayor's office announced on Friday.
Since launching in March, the Boston Resilience Fund has distributed over $24.4 million to 328 nonprofit and local organizations to support vulnerable populations affected by COVID-19.
The new grants will go to 21 organizations and nonprofits working to increase food access, support services for families, youth and senior citizens and assist individuals experiencing homelessness. These nonprofits and organizations include medical centers like Beth Israel Deaconess Medical Center and Bowdoin Street Health Center, youth clubs and training centers like the Caribbean Youth Club, Centro Presente and Brazilian Workers Center and organizations supporting children like Friends of the Children-Boston, among other places. A full list of organizations funded by the Boston Resiliency Fund can be found on Boston.gov.
Friday, July 24, 2020
From Aug. 1, travelers to Massachusetts must quarantine for 14 days or test negative for COVID-19
Gov. Charlie Baker announced on Friday that travelers arriving in Massachusetts or returning to the state from anywhere except lower risk states must self-isolate for 14-day or risk a $500-per-day fines if they do not comply.
The governor said lower risk states include Maine, New Hampshire, Vermont, Rhode Island, Connecticut, New York, New Jersey and Hawaii, according to a press release from Baker's office. The order applies to all visitors, students and residents starting Aug.1.
Upon arrival in Massachusetts, travellers will need to fill out a form confirming either that they will quarantine for the next 14 days or that they have received a negative COVID test result in the past 72 hours.
Thursday, July 23, 2020
Boston Mayor Martin J. Walsh today urged residents, in a number of tweets, to fill out the 2020 Census after President Trump released a memo this week seeking to cut some immigrants out of the Census population numbers.
According to reports by CNN, the president signed a presidential memorandum on Tuesday that would exclude undocumented immigrants from being counted in congressional districts when district lines are redrawn next year. The Mayor called the move "morally wrong and it's unconstitutional" and "harmful to cities like Boston."
"Boston is a city of immigrants because Boston is a city of opportunity that is committed to making America's ideals a reality," Mayor Walsh tweeted.
He urged the Boston immigrant community to not be intimidated by the memo and instead fill out the Census by going to my2020census.gov or by calling 844-330-2020. It can be done in 13 languages, it takes a few minutes to complete, and all the information is confidential.
Friday, July 17, 2020
Mayor Walsh declares heat emergency in Boston and opens 20 community centers as cooling centers to residents
Mayor Martin J. Walsh announced that some community centers will be open to the public as cooling centers on Sunday and Monday following a heat emergency declaration in Boston.
Temperatures are expected to reach the 90s with high humidity from Sunday until Tuesday next week. Twenty Boston Centers for Youth & Families (BCYF) facilities will be open from 10 a.m. to 6 p.m. on Sunday, July 19 and from 9 a.m. to 5 p.m. on Monday, July 20 for residents to use the air conditioned rooms to cool off.
Visitors to the cooling centers will be screened before entry and must wear a face covering, bring their own water bottles and water, maintain 6 feet of distance, wash their hands often and limit belongings to one small bag. Visitors should also call before coming to confirm hours and occupancy limits. A full list of centers with hours of operation can be found on boston.gov. Tot sprays at playgrounds in the City are also open, with restrictions. Boston Public Libraries and City-operated pools remain closed to the public.
Thursday, July 16, 2020
New Boston Resiliency Fund grants to address inequities revealed by COVID-19
New Boston Resiliency Fund grants of over $1.2 million will include several investments to support Boston's Latino community, an effort by the City of Boston to address inequities revealed by COVID-19 data analysis, testing sites, and health care services.
Since March, the Fund has granted over $23.7 million to 306 nonprofit and local organizations to provide support to Boston residents most impacted by COVID-19. According to the Mayor's office, 56 percent of grantee organizations are led by a person of color and 52 percent of grantee organizations are led by a woman.
The organizations and areas for investments are identified by the Mayor's COVID-19 Health Inequities Task Force, which provides guidance to the City of Boston in addressing COVID-19 inequities. The Task Force recommended the following grants that will expand outreach and testing to support Boston's Latino community:
Greater Boston Latino Network: will receive $275,000 to provide direct support services to the Latino community and to hire bilingual Youth Outreach Workers directly from communities to work collaboratively with health care providers from East Boston Neighborhood Health Center and Whittier Street Health Center.
Whittier Street Health Center: will receive $75,000 to expand their culturally sensitive outreach, enrollment and testing efforts. The goal is to educate and engage members of the Latino community to support testing and to encourage long-term primary care relationships.
East Boston Neighborhood Health Center: will receive $70,000 to boost outreach and engagement efforts to support COVID-19 testing and contact tracing. The funding will increase internal marketing and outreach capacity to work with and educate residents in East Boston and the South End on the benefits of being tested for COVID-19.
Twenty-nine other grants were also given to organizations serving different neighborhoods in Boston. For a complete list of grants, please visit boston.gov.
Summer Youth Jobs program includes new "know your rights" resource guide and paid college learning opportunities
A "Learn & Earn Career Development Internship" that pays participants for college-level coursework and an online resource guide on workers' rights are added to this year's Summer Youth Jobs program thanks to an increase in funding, Mayor Martin J. Walsh announced.
The programs are aimed to prepare Boston youths to enter the workforce especially after the societal and economic disruptions caused by COVID-19.
The Learn & Earn internship pays youths an hourly wage of $12.75 for 25 hours per week for their participation in college-level courses that could lead to a career pathway. The 25 hours include class time and homework, group study sessions, and a job readiness and financial education curriculum led by a career coach. The internship will be held virtually and runs from July 13 to August 21 for most participants, according the Mayor's office.
The 26 available classes, spanning subjects such as business, communications, early childhood education, human services, social sciences and technology are offered by Benjamin Franklin Institute of Technology, Bunker Hill Community College, Roxbury Community College and Urban College of Boston. So far, 500 participants have been enrolled in the internship program.
Most of the classes confer 3 to 6 college credits, which provide a head start to a college education for high school juniors and seniors. For program's participants who are high school graduates or HiSET/GED completers up to age 24, the classes can serve as a gateway to college or a continuation of their classwork toward a degree.
The Summer Jobs Program also offers online resources for youth employees who are new to the workforce. The resources cover technology access and COVID-19 safety protocols, job training, education opportunities and a Know your rights guide, compiled by the Massachusetts Attorney General's Office, to familiarize young people with their rights and responsibilities as workers.
Friday, June 12, 2020
6:02 a.m.
Boston Resiliency Fund running total: $20 million to 247 organizations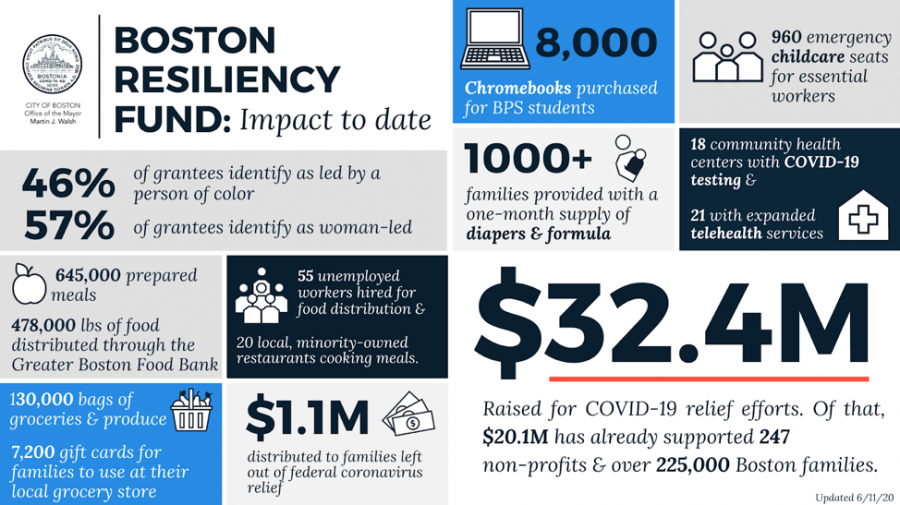 Mayor Martin Walsh and the Boston Resiliency Fund Steering Committee hit a milestone today, announcing that the Resiliency Fund has distributed over $20 million to 247 organizations working to support individuals most impacted by the COVID-19 pandemic.
The latest round of grants is the tenth announced byWalsh, adding $826,000 in funding for 21 community-based organizations to the total.
---
Tuesday, June 9, 2020
12:30 p.m
Free and confidential tests for COVID-19 will not be available tomorrow, Wednesday, June 10 and Thursday, June 11 a pop-up location in Roxbury.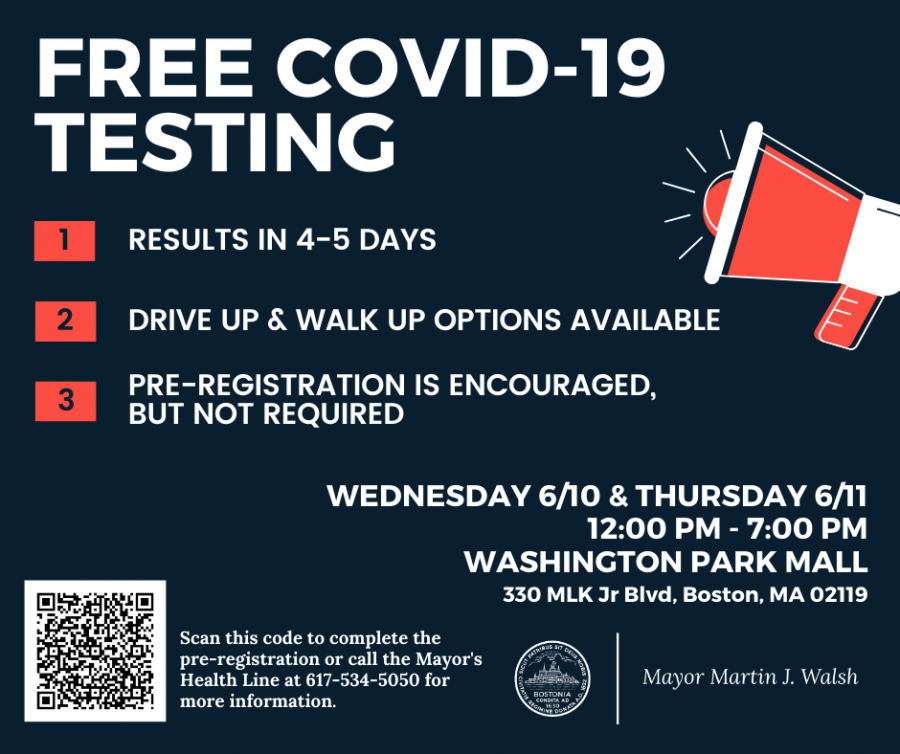 The City and the East Boston Neighborhood Health Center are offering testing to symptomatic and asymptomatic people at the new site at Washington Park Mall's parking lot from 12 p.m. to 7 p.m. both days. Walk-in patients welcome but appointments are available. Boston residents who have recently participated in large gatherings are strongly encouraged to get tested to limit the further spread of COVID-19.
---
Wednesday, June 3, 2020
8:02 a.m.
Applications for the City's Rental Relief Fund will reopen at noon this Friday, June 5.
With an added $5 million in new funding, the Rental Relief Fund provides income-eligible tenants in the City of Boston with financial aid to help wit rent payments. The deadline to complete the initial pre-screening application is Friday, June 19, and applications will be available in seven languages on boston.gov/rentalrelief.
---
Tuesday, May 26, 2020
3:28 p.m.
A $6 million fund has been set up to support the safe reopening of small businesses in Boston.
The Reopen Boston Fund, will award grants of up to $2,000 to small businesses with less than 15 employees. Qualified companies will engage in services that require staff to work in close proximity to each other, or who need to be near their customers, such as salons, barber shops, retail and food services.
There will be three rounds of funding and applications open May 28 at  boston.gov/reopen-fund.
---
Thursday, May 21, 2020
12:18 p.m.
Boston's Licensing Board has announced they will "streamline existing processes and remove outdated restrictions to help small businesses and restaurants as part of the COVID-19 reopening process," according to a press release from the mayor's office.
Among the changes is an emergency amendment that will make it easier for restaurants to apply for a get outdoor seating plans approved. They will waive associated costs in applying for outdoor space, on both public and private property, on a temporary basis. The board also voted to lift preexisting conditions the sale of "alcohol with food only," making is easier for bars and restaurants to sell alcohol, unaccompanied by the purchase of food, in outdoor spaces.
"We've said from the beginning that Boston's reopening process must take a cautious approach that puts science and public health at the forefront of our discussions," said Mayor Walsh. "It's my hope that these updated protocols will help ensure proper social distancing, and give much-needed assistance to the small businesses that are the lifeblood of Boston's neighborhoods."
8:02 a.m.
To date, nearly $4 million has been distributed to more than 1,100 small businesses in every neighborhood across the City of Boston through the Small Business Relief Fund. This latest total includes the $2 million distributed to businesses earlier this month.
Businesses receiving grants from the fund represent the top five industries most-affected by the government shutdown and other COVID-19 measures, including hospitality, arts, recreation, retail, healthcare and social assistance. The majority of these companies have 15 or fewer employees, 52% are owned by people of color, 49% are women-owned, and 46% are immigrant-owned.
---
Wednesday, May 13, 2020
5:57 p.m.
The seventh round of grants from the Boston Resiliency Fund, totaling $1.3 million, will go to 19 organizations working to help residents in the City of Boston impacted most by the COVID-19 pandemic.
Boston Resiliency Fund running total: $17.6 million to 191 organizations, 61% woman-run, and 41% led by a person of color.
3:51 p.m.
The Boston Tax Help Coalition, a program within Mayor Martin Walsh's Office of Financial Empowerment, has launched a Stimulus Hotline to help Boston residents who are eligible to receive federal stimulus checks.
Residents with incomes under $75,000, including those with no income, may be eligible for the full $1,200 payment. However, residents who do not usually file a tax return must file an application with the Internal Revenue Service (IRS) in order to receive their payment.
Before calling the hotline — (781) 399-5330 or 311 — check if you are eligible for a stimulus check at https://www.bostontaxhelp.org/stimulus-payment-help/. The hotline is staffed on Mondays, Wednesdays, and Fridays from 2 p.m. to 5 p.m., and calls received outside of those times will be returned.
Boston Tax Help Coalition volunteers and staff have been trained to assist residents in filing this application with the IRS in English and Spanish. Other language requirements will be available via the appropriate translation services.
---
Saturday, May 9, 2020
8 a.m.
The Boston Resiliency Fund reached a milestone this week. To date, the fund, set-up by the City to support those immediately impacted by COVID-19, has raised $30.7 million from 5,755 donors since launching in March. More than half of the donations received so far have been for amounts less than $100, coming from individuals and Boston residents.
Boston Resiliency Fund running total: $16.2 million distributed to 178 organizations
---
Friday, May 8, 2020
ANNOUNCED: All public events cancelled through Labor Day
2:28 p.m.
There will be no Boston Pops Fireworks Spectacular on July 4, no Boston Calling and no Pride parade in Boston this summer.
All parades, festivals and public gatherings that could attract more than 10 people have been cancelled in Boston up to and including Labor Day on September 7, 2020.
"While we're planning a healthy reopening and an equitable recovery process, I know this announcement will be disappointing to many residents and organizations that look forward to these events each year," said Mayor Walsh. "This is a hard public health decision, but it's the right one. I encourage people to rethink their events, and thank them for their work to inspire us, and help our communities get through this difficult time."
---
Wednesday, May 6, 2020
3:23 p.m
The Boston Resiliency Fund Steering Committee will distribute $1 million in grants to 14 more Boston-based organizations.
Those receiving money in this round of funding include community health centers testing residents for COVID-19, restaurants providing free meals, and neighborhood organization like First Baptist Church in Jamaica Plain and the Black Ministerial Alliance of Greater Boston.
Since its launch in March, the Boston Resiliency Fund has raised $29.4 million from more than 5,400 individual donors, and distributed more than $16 million in grants to 179 organizations across the city.
2:54 p.m.
The City of Boston has set a new target for testing and plans to complete 1,500 COVID-19 diagnostic tests per day.
Currently 1,100 tests are conducted on average each day, across all available testing sites. Last week, the daily number of residents being tested for coronavirus stood at 680. As well as increasing testing capacity at community health enters, the City plans to expand mobile testing facilities, improve testing among the homeless population, and fund a large-scale antibody testing initiative.
Almost 28,000 Boston residents have been tested for COVID-19 so far, about 4% of the city's population. The number of positive test results have declined from 34% to 32% of those tested, over the past seven days.
---
Tuesday, May 5, 2020
1:38 p.m.
Boston's Small Business Relief Fund will distribute an additional $2 million in grants to 561 small businesses most directly impacted by closures, policies, or general loss of revenues due to the COVID-19 pandemic.
Most of the businesses receiving funding in this round are in the hospitality, personal care, arts, retail, healthcare and social assistance sectors, and more than 75% of them employ fewer than five people.
"I am so thankful for the City because I will be able to use these funds to pay for rent, utilities, and finally be able to pay myself," said Venard Veillard, owner of Beauty by Venard in Jamaica Plain. "As a salon, we have been hit really badly and Mayor Walsh's Small Business Relief Fund has been a saving grace."
Through a combination of city, federal, and private funds, $7.5 million has been made available to help Boston's small businesses struggling during the coronavirus pandemic.
"This grant is my only source of income right now and it will impact me greatly. I have to keep my daycare functioning, even without any kids," said Marie Chalmers, a home daycare provider and Roslindale resident.
---
Saturday, May 2, 2020
9:02 a.m.
Mayor Martin Walsh gets crafty, and releases a video on how to make your own face covering at home.
---
Wednesday, April 29, 2020
3:55 p.m.
Mayor Martin Walsh and the Boston Resiliency Fund Steering Committee will hand out an additional $1.4 million to 18 organizations currently providing critical services and support to residents, vulnerable communities, and Boston families most impacted by the COVID-19 public health emergency.
This latest round of funding will help community health centers fund increased testing capacity, and organizations working to ensure food access for residents, particularly in the neighborhoods of Dorchester, Roxbury, and Mattapan.
Boston Resiliency Fund running total: $15.2 million, to 165 organizations
---
Sunday, April 26, 2020
11:04 a.m.
About 1,000 residents will be randomly selected and invited to participate in antibody testing, as part of a study to evaluate community exposure to COVID-19.
Residents living in East Boston, Roslindale and within the boundaries of zip codes 02121 and 02125 in Dorchester, will be contacted, starting today.
Antibody testing is done by drawing blood through a finger prick. These tests will detect antibodies present in the blood, a sign that the body is fighting or has fought-off an infection like COVID-19. Any resident who tests positive for the novel coronavirus, or the COVID-19 antibodies, will be provided with clear guidance on how to care for themselves and those around them.
Nationally, the Centers for Disease Control and Prevention estimates that 25% of people infected with COVID-19 are asymptomatic and may not know they are a carrier of the virus, or that they could be infecting others.
---
Friday, April 24, 2020
ANNOUNCED: Universal testing for all people currently in Boston's homeless shelters
5:12 p.m.
After securing an additional 1,000 tests, public health officials will now test all clients in Boston's shelter system over the next two weeks. The efforts will be led by Boston's partners at Boston Health Care for the Homeless, in coordination with the Boston Public Health Commission, St. Francis House, and the Pine Street Inn. The tests are being donated by Boston company, Orig3n.
As of Thursday, April 23, 453 people experiencing homelessness have tested positive for COVID-19.
4:54 p.m.
Restaurants can now sell and deliver grocery items.
The Mayor's Office of Economic Development and the Inspectional Services Department has relaxed retail food permits for the sale of uncooked food. Officials at City Hall have created new temporary policies, allowing restaurants to sell groceries for delivery and curbside pick-up. It is hoped this measure will improve access to food and essential items, and help ensure social distancing guidelines continue to be upheld.
Restauranteurs who want to sell groceries must follow these new policies and submit an operational plan to the Boston Licensing Board. This plan must detail how restaurant owners will provide customers with safe handling instructions, ingredient and allergen information, and details about the food manufacturer, packer, or distributor. This information is required by the Food Allergen Labeling & Consumer Protection Act and the FDA's temporary policy regarding labeling and packaging during the COVID-19 public health emergency.
The Licensing Board will review each plan and restaurants are not permitted to sell grocery items before receiving approval from the Boston Licensing Board.
---
Wednesday, April 22, 2020
2:34 p.m.
An additional $1.7 million will be distributed by the Boston Resiliency Fund Steering Committee to a further 20 organizations providing critical services and support to residents during the coronavirus pandemic.
This round of funding will target organizations helping individuals experiencing homelessness, persons with disabilities, as well as community groups in neighborhoods experiencing higher rates of COVID-19. These include the Boston Public Market Association, More Than Words, East Boston Soup Kitchen and Home for Little Wanderers. The money will also be spent on personal protective equipment (PPE) for Boston's frontline and essential workers.
To date, including this most recent funding award, the Boston Resiliency Fund has distributed $13.8 million in 76 emergency grants to 135 organizations.
---
Tuesday, April 21, 2020
Adults, as well as children and youth, will be able to get free meals at the following six sites in East Boston, Dorchester, South Boston, Roxbury, Mattapan, and Brighton:
YMCA Egleston Square, 3134 Washington Street Roxbury, MA 02119, 8 a.m. – 12 p.m.
YMCA Oak Square, 615 Washington Street, Brighton, MA 02135, 8 a.m. – 12 p.m.
YMCA East Boston, 215 Bremen Street, East Boston, MA 02128, 8 a.m. – 12 p.m.
BCYF Leahy Holloran, 1 Worrell Street, Dorchester, MA 02122, 9 a.m. – 12 p.m.
BCYF Mattahunt, 100 Hebron Street, Mattapan, MA 02126, 9 a.m. – 12 p.m.
Mary Ellen McCormack, Sterling Square, South Boston, MA 02127, 10 a.m. – 12 p.m.
Since the start of Boston's public health emergency, the City has distributed over 461,000 free meals across 65 meal sites. Residents can visit boston.gov/COVID19food to find more food resources.
---
Monday, April 20, 2020
3:07 p.m.
Mayor Martin Walsh and the Boston Public Health Commission have launched a new mapping tool to help Boston residents find COVID-19 test sites, provide information on center hours and contact information. It will be updated as new sites open.
Of the 15 locations in Boston offering tests, many are community health centers in neighborhoods experiencing higher rates of COVID-19, including Hyde Park (which currently has 413 reported cases) Mattapan (298) Dorchester (1,274) East Boston (410) Roxbury (335) Roslindale (302) and the South End (372). Testing sites are:
Codman Square Health Center, 637 Washington Street, Dorchester, MA 02124, (617) 822-8271
The Dimock Center, 55 Dimock Street, Roxbury, MA 02119, (617) 442-8800
DotHouse Health, 1353 Dorchester Avenue, Dorchester, MA 02122, (617) 740-2292
Harvard Street Neighborhood Health Center, 632 Blue Hill Avenue, Dorchester, MA 02121, (617) 825-3400
Mattapan Community Health Center, 1575 Blue Hill Avenue, Mattapan, MA 02126, (617) 296-0061
Whittier Street Health Center, 1290 Tremont Street, Roxbury, MA 02120, (617) 427-1000
East Boston Neighborhood Health Center, 10 Gove Street , East Boston, MA 02128, (617) 569-5800
Upham's Corner Health Center, 415 Columbia Road, Dorchester, MA 02125, (617) 388-5007
Bowdoin Street Health Center, 230 Bowdoin Street, Dorchester,, MA 02122, (617) 754-0100
Brigham and Women's Faulkner Community Physicians at Hyde Park, 1337 Hyde Park Avenue, Hyde Park, MA 02136, (617) 364-9880
Brigham and Women's Hospital, (Boston main campus), 75 Francis Street, Boston, MA 02115, (617) 732-5500
Carney Hospital, 2100 Dorchester Avenue, Dorchester, MA 02124, (617) 296-4000
Massachusetts General Hospital , 55 Fruit Street, Boston, MA 02114, (617) 726-2000
St. Elizabeth Medical Center, 736 Cambridge Street, Brighton, MA 02135, (617) 789-3000
Tufts Medical Center, 800 Washington Street, Boston, MA 02111, (617) 636-7216
Residents should call ahead for pre-screening and to schedule an appointment.
12:55 p.m.
The City of Boston's text alert service is now available in Somali, Chinese, Arabic, Vietnamese, and Russian, in addition to English, Spanish, Haitian Creole, French, Cabo Verdean Creole, and Portuguese. Daily texts provide residents with information about Boston's case numbers, local spread of the coronavirus, and tips on how prevent infection.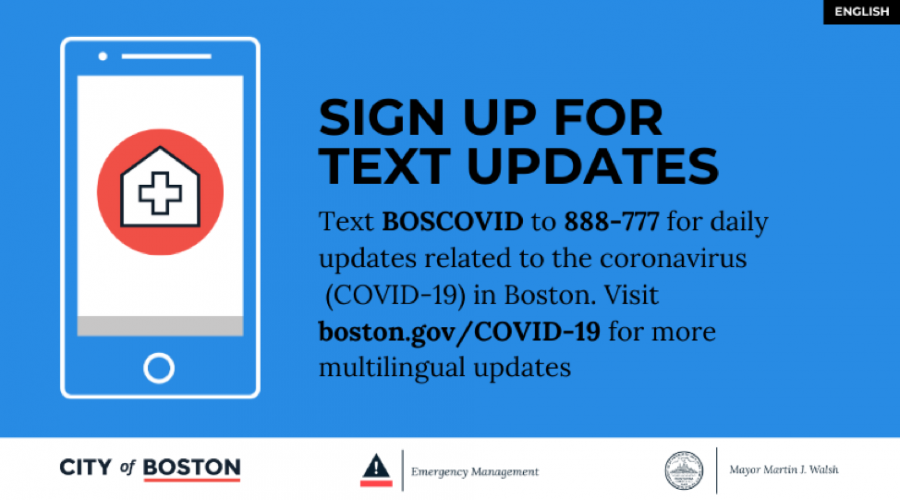 To receive these texts, send "BOSCOVID" to the City's new number 888-777. To get information in a language other than English, text the following keywords:
Text BOSEspanol to 888-777 for Spanish
Text BOSKreyol to 888-777 for Haitian Creole
Text BOSFrancais to 888-777 for French
Text BOSKriolu to 888-777 for Cabo Verdean Creole
Text BOSPortugues to 888-777 for Portuguese

Text BOSSoomali to 888-777 for Somali

Text BOSChi to 888-777 for Simplified Chinese
Text BOSbilAraby to 888-777 for for Arabic
Text BOSViet to 888-777 for for Vietnamese
Text BOSRus to 888-777 for for Russian
---
Saturday, April 18, 2020
3:50 p.m.
Starting Sunday, the City will deploy seven Boston Public Works trucks with sound equipment to broadcast a message about COVID-19: stay home as much as you can, wash your hands often, cover your face when out, and keep your distance from others. The message will be broadcasted in seven languages, including English, Spanish, Haitian Creole, Vietnamese, Arabic, Somali, and Cabo Verdean Creole.
The trucks will drive around the neighborhoods with the highest rates of COVID-19 in Boston, including Hyde Park, Mattapan, Dorchester, East Boston, Roxbury and Roslindale.
According to the latest data from the Boston Public Health Commission, Hyde Park had 413 reported cases of COVID-19, Mattapan had 298, Dorchester had 1,274, East Boston had 410, Roxbury had 335, and Roslindale had 302.
8:03 a.m.
The mayor's office has launched Good Neighbors, a free platform that connects older, at-risk residents with volunteers in their community, to check-in on them and help with grocery shopping during the pandemic.
"We are seeing the best of Boston with residents looking for ways to volunteer and support those in need," said Mayor Martin Walsh. "This new volunteer platform will help organize and activate volunteers looking to help seniors who need things like groceries, medication, or just a good old fashioned phone call check-in."
Nesterly, a homesharing website, built Good Neighbors with support from the City of Boston's Department of Neighborhood Development, the Age Strong Commission, and the Mayor's Office of New Urban Mechanics.
How does it work? An older Bostonian (or someone on their behalf) submits a request, either by phone, online or email, for a delivery of groceries or a prepared meal, or a wellness check-in call or written correspondence. Then Good Neighbors reaches out to their volunteer community to find the right person for the job. The volunteer then contacts the recipient directly via email or phone to facilitate the delivery or check-in.
All volunteers go through a background check and receive guidance regarding personal protective equipment (PPE) and safety protocols when completing deliveries.
---
Wednesday, April 15, 2020
3:01 p.m.
An additional $1.7 million will be distributed by Mayor Martin Walsh's Resiliency Fund. The extra funding will go to 18 organizations providing critical services to Boston residents and those immediately impacted by the pandemic. More specifically, the money will go towards expanding access to testing at community based health centers, and funding family shelters, recovery services and community-based organizations.
Organizations who have been awarded this funding include Bowdoin Street Community Health Center, Codman Square Community Health Center and Mattapan Community Health Center, as well as St. Francis House, the Brazilian Worker Center Inc. and Mujeres Unidas Avanzando
To date, the Boston Resiliency Fund has distributed $12 million in 55 emergency grants to 115 organizations.
---
Thursday, April 9, 2020
ANNOUNCED: April 20, Massachusetts' peak in hospital resource use
4:25 p.m.
A new COVID-19 Health Inequities Task Force has been unveiled, to investigate and provide the City guidance on current inequities in data analysis, testing sites and health care services for Boston's Black, Latinx, Asian and immigrant communities.
"We know that there are significant inequities that put our communities of color and immigrant population at higher risk for contracting coronavirus, developing severe illness, and impeding them from accessing care," Mayor Walsh said. "By forming the COVID-19 Health Inequities Task Force, we can focus specifically on increasing access to this important data and tackling the inequities that we know exist in our communities."
Following a review of current data collection processes and health care best practices, the task force's finding will will support a strategy for equity and accessibility to COVID-19 treatment for populations historically underserved or underrepresented.
What do we know about the racial and ethnic split of Boston's confirmed COVID-19 cases?
Complete data on the race and ethnicity of Boston residents who have tested positive for COVID-19 has not been reported to the City of Boston. The Boston Public Health Commission is working to collect available data for imminent public release. As of April 8, this is the most detailed breakdown of confirmed cases available: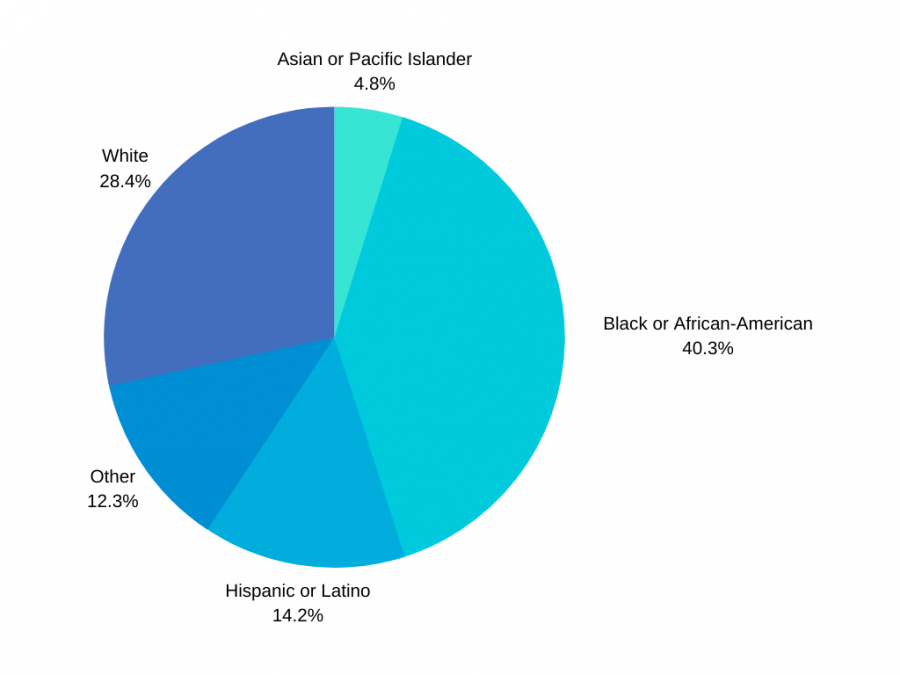 According to the latest figures from the public health commission, 61% of COVID-19 positive patients are from Dorchester, Roxbury, Hyde Park and Mattapan. At Massachusetts General Hospital, 40% of COVID-19 positive patients speak Spanish as their native language.
Many of the COVID-19 positive patients at the Boston Medical Center have presented with higher rates of underlying conditions compared to historical data, including 34% with diabetes, 49% with hypertension and 52% with a Body Mass Index above 30.
Race and ethnicity data for COVID-19 deaths is not complete for residents of Boston at this time.
Who is on the task force?
Named members of the task force so far include:
Dr. Thea James, Boston Medical Center
Vanessa Calderón-Rosado, IBA
Manny Lopes, East Boston Health Center
Guale Valdez, Mattapan Community Health Center
Carol Rose, ACLU
Alexandra Oliver-Dávila, Sociedad Latina
Frederica Williams, Whittier Street Health Center
Michael Curry, Mass League of Community Health Centers
Dr. Joseph Betancourt, MGH
Karen Chen, CPA
Tanisha Sullivan, NAACP
Michele Courton Brown, Quality Interactions
Rev. Ray Hammond, Bethel AME Church
Rev. Gloria White Hammond, Bethel AME Church
Paul Watanabe, UMass Boston
Dr. Lorna Rivera, UMass Boston
Suzanne Lee, former principal, Josiah Quincy School
Eva Millona, MIRA Coalition
Marie St. Fleur, St. Fleur Communications, former State Representative
Rev. Sam Acevedo, COPHANI
Petrina Cherry,  Boston Medical Center
Linda Dorcena Forry, Suffolk Construction
Dr. Jean Alves, Bowdoin Street Health Center
Dr. Myechia Minter-Jordan, DentaQuest Partnership for Oral Health Advancement
3:33 p.m.
Twelve of Boston's largest housing lenders have agreed to a number of mortgage relief measures, set to last for as long as the state of public health emergency.
These lenders will offer at least three months of deferred mortgage payments for homeowners who can demonstrate they have been financially impacted by the public health crisis. This deferment period may be extended in some circumstances. Homeowners will not be required to pay back the deferred mortgage payments in a lump sum, but will instead work with lenders on an affordable repayment plan. They have also promised not to charge late fees, or report non-payments as bad loans to the credit bureaus.
The 12 lenders offering this relief are:
Bank of America
Boston Private
Cambridge Trust Company
Century Bank, Citizens Bank
City of Boston Credit Union
Dedham Savings Bank
Eastern Bank
Mortgage Network, Inc.
Prime Lending
Salem Five Bank
Santander Bank
If you have any questions about your mortgage or lender, call the Boston Home Center at 617-635-4663, ext. 3.
3:04 p.m.
An additional 334 beds have been secured by the City to house first responders, shelter staff and veterans living in group homes who have tested positive for COVID-19, have come into contact with someone suspected of infection, or to improve social-distancing.
Seventy-four single-occupancy rooms have been made available at Hotel Boston in Brighton for members of Boston Police, Boston Fire and Boston EMS who have tested positive for COVID-19 or may have been exposed to a coworker with COVID-19, and are unable to effectively isolate themselves at home. All rooms have a private bathroom and kitchenette, ground-level access and no common areas.
Northeastern University is also offering 135 single-occupancy rooms, with private bathrooms and kitchenettes, at their West Village dormitory for Boston's first responders living with an at-risk person, someone older or who has serious underlying medical conditions.
Boston University will provide 75 rooms to Pine Street Inn's shelter staff, workers on the frontline of the public health emergency, caring for people experiencing homelessness at their shelter facilities in the South End and Jamaica Plain.
"Many of our staff members are working extremely long hours and unable to make it home between shifts, so it means so much to have a place where they can rest and regroup," said Lyndia Downie, Pine Street president and executive director.
To reduce population density and increase social distancing in Boston's veterans housing, the New England Center and Home for Veterans will temporarily relocate up to 50 confirmed COVID-negative veterans to a former nursing home in Brighton. Abandoned for a year, new property owners worked to restore the former home, re-instating power and water supplies to the building, at no cost to the New England Center and Home for Veterans.
---
Tuesday, April 7, 2020
2:39 p.m.

The mayor's office and the Boston Transportation Department announced

a parking ticket amnesty for healthcare workers and people providing critical care during the COVID-19 pandemic.

Tickets issued to staff near hospitals and health care facilities will be waived on appeal while the state of emergency is in place. Appeals can be made by emailing [email protected] — a copy of the ticket and hospital ID is required. This policy is retroactive and healthcare workers have six months to challenge any fines.

Tickets issued for public safety violations, like blocking a fire hydrant, sidewalk or handicap ramp, must still be honored.
---
Monday, April 6, 2020
4:13 p.m.
The due date for property tax bills in Boston has been extended until June 1, to "give residents more flexibility during the ongoing public health crisis caused by COVID-19," according to a release from the mayor's office.
2:43 p.m.
The Boston Resiliency Fund Steering Committee announced an additional $3 million will be awarded to 29 organizations providing essential services to those impacted by the COVID-19 public health emergency.
Since the end of March, the committee has distributed $5.4 million to organizations supporting frontline workers, seniors and Boston students transitioning to remote learning.
Of the groups set to receive second in this second round of funding, 41% are led by a person of color and 79% are women-led. These organizations are:
Boston Immigrants COVID-19 Collaborative: 11 immigrant-serving organizations including the Rian Immigrant Center, Agencia ALPHA, Boston Chinatown Neighborhood Center, Brazilian Worker Center, Centro Presente, Immigrant Family Services Institute, Dudley Street Neighborhood Initiative, Center for Collaborative Education, Caribbean Youth Club, Sociedad Latina, and  ICNA Relief
Cape Verdean Association of Boston
Boston Opportunity Agenda's Emergency Child Care Program Relief which includes 20 family child care programs, 9 YMCA programs, Whittier Street Health Center, Nurtury and Wee Care JP
LivableStreets Alliance
Organizations who wish to be considered for future grants must fill out a statement of interest.
---
Sunday, April 5, 2020
3:42 p.m.
Stricter social distancing measures were announced this afternoon. The new recommendations are:
Everyone should wear a face covering over their mouth and nose when in public. Masks can include a cloth, scarf or bandana, something that covers your mouth and nose, and homemade masks should be made of intact, close-weave cloth and allow comfortable breathing – see CDC guidelines on face coverings. Wash face coverings regularly, either in a washing machine with detergent and hot water, or hand wash them with soap and warm water. The mayor's office recommend using a face covering rates than a medical grade facemask, as these need to be prioritized for health workers and those serving on the front lines.
Everyone in Boston, except essential workers, should stay at home from 9 p.m. to 6 a.m. daily. Walsh's office recommends using delivery services after 9 p.m. at night.
City parks and recreational sports areas are closed. Basketball and tennis courts, golf courses and outdoor gyms will be closed, along with childrens' playgrounds from Monday, April 6. Walsh's office warn that if needed, Boston Police can disperse gatherings and order people to vacate closed sections of parks.
Those most at risk should also not take walks or spend time outside, unless for essential activities, over the next few weeks. The mayor recommends exercising inside as an alternative.
---
Friday, April 3, 2020
9:33 a.m.
A $3 million Rental Relief Fund has been established by the mayor's office to support Boston renters facing eviction or those unable to make rent payments during the coronavirus pandemic. Tenants will be able to apply for up to $4,000 in aid, starting Monday, April 6.
Eligibility is based on income and this fund is only for residents earning less than 80% of Area Median Income (AMI), or $72,000 for a two-person household. A significant amount of this money is ear-marked for households with extremely low incomes — for example, single-person households making less than $25,000 a year — according to the mayor's press release issued this morning. Residents eligible for new federal unemployment benefits are not eligible to apply to the Rental Relief Fund.
During the week ending March 21, about 10,900 renter households in Boston filed for unemployment benefits, according Metropolitan Area Planning Council estimates. As national unemployment filings top to 6.6 million, it's predicted the number of Boston households struggling to make rent will rise.
For more information about the rental relief fund and getting help with rent, visit boston.gov.
---
Thursday, April 2, 2020
3:11 p.m.
Small business owners directly impacted by the COVID-19 shutdown will now be able to access cash relief through the mayor's $2 million Small Business Relief Fund, launched today and accepting applications from Monday, April 6.
The fund, set-up by Mayor Martin Walsh's Office of Economic Development, is designed to make it easy for business owners to claim grants that will cover any revenue losses and allow them to stay open without accruing additional debt, or forcing them to close.
"We are committed to helping Boston's small businesses during this unprecedented time by providing strategic, accessible, and critical financial resources to help them stay afloat and pay employees," said Walsh. "Small businesses are the backbone of our economy and the lifeblood of our neighborhoods. As the response to COVID-19 continues to evolve, we want to make this resource as straightforward as possible for business owners and work one-on-one to ensure they have the most up-to-date information on financial assistance available."
Eligible small businesses must be registered and operating in Boston, for-profit, employ fewer than 35 employees and make less than $1.5 million in annual revenue. Grants can be used to address rent, fixed debts, payroll, accounts payable, lost sales, lost opportunities, and other working capital expenses.
The Fund's $2 million comes largely from U.S. Department of Housing and Urban Development grants, and $50,000 contribution from the Massachusetts Attorney General's Office.
---
Monday, March 30, 2020
4:26 p.m.
The Boston Housing Authority and Boston Public Schools will work together to house students and their families currently at risk of displacement or experiencing homelessness during, and up to one year after, this current public health emergency.
The mayor's office announced today that the coalition will help up to 1,000 families and the first will be be housed by the start of May.
Vouchers will be issued to help make housing affordable for up to 500 families living in shelters through the state's Leading the Way Home program.
"There has never been a more urgent time to ensure that homeless families with children have safe, permanent affordable housing," said BHA Administrator Kate Bennett. "In the short term, this initiative is a timely, prudent step that will help reduce the spread of COVID-19, and in the long term, it will allow many more kids to thrive in school and elsewhere."
The remaining 500 vouchers will go to the families of BPS students living at risk of displacement.
"In addition to providing access to free meals, delivering laptops and Internet to students who need them, providing mental health support and other necessary services, this is an urgent resource for families while navigating the current public health emergency," said Boston Public Schools Superintendent Brenda Cassellius. "Providing permanent, stable housing for over 1,000 families is life-changing for our students and I am incredibly thankful to Mayor Walsh and his entire team for ensuring our families and children are a first priority."
There are currently 4,500 students in Boston that lack a fixed or regular residence, as defined by The McKinney-Vento Homeless Assistance Act.
---
Sunday, March 29, 2020
12:25 p.m.
The City has secured over 240 additional beds to increase social distancing in existing shelters, and give those experiencing homelessness a safe space in which to self-isolate and quarantine, in order to help reduce the further spread of COVID-19 in Boston.
There are currently 17 existing beds at Boston Health Care for the Homeless Program's Barbara McInnis House in the South End. Suffolk Construction has helped build a 38-bed isolation and quarantine facility next to the 112 Southampton Shelter nearby. Another 70 beds will be available at the site of a former, long-term, acute care hospital in Brighton, as The Davis Companies prepares to reopen that facility within days.
Suffolk University staff will repurpose a 172-bed dormitory, to be managed by the Pine Street Inn and the Boston Public Health Commission.
"These sites will enable us to get some of our most vulnerable guests, especially our elders, out of a crowded situation in our congregate shelters," said Lyndia Downie, president and executive director of the Pine Street Inn. "Pine Street is also very grateful to be working with our partners at the Boston Public Health Commission and Boston Health Care for the Homeless Program. This has been a remarkable collaboration led by the Mayor and his staff and we appreciate his focus on the homeless men and women, who until now, have had very few options."
To date, the City and its network of shelter providers, directed by the Boston Health Care for the Homeless Program, have screened more than 8,000 people, tested approximately 100 and identified five positive COVID-19 cases within Boston's homeless population.
---
Thursday, March 26, 2020
4:45 p.m.
Today the mayor eased parking restrictions across Boston. This move was designed to help improve access to medical facilities and businesses, and to ease the burden of finding a parking spot for residents during the public emergency.
Residents with a valid permit can park in their neighborhood in a metered or a time-limited parking space, without restriction or payment necessary. Drivers without a parking permit for an area will continue observing usual time limits and meter requirements.
Boston Transport Department will not ticket or tow a vehicle for violating street cleaning regulations during this time. BTD will also not penalize drivers for expired registrations or inspection stickers for the time being.
Other transportation measures the mayor has enforced include:
Reduced rates at certain parking garages for medical professionals. Here's a full list of participating garages.
Free 30-day passes for hospital staff wishing to use Boston's public bike share, Bluebikes.
Establishment of temporary pick up zones in front of restaurants offering takeout and delivery only. Parking in these designated areas is limited to five minutes.
---
Wednesday, March 25, 2020
6:04 p.m.
Mayor Martin Walsh's office and the Department of Innovation and Technology's Citywide Analytics Team released two data dashboards showing the number of cases of COVID-19 coronavirus in Boston, and throughout the Commonwealth of Massachusetts.
The first dashboard allows residents to view a graph of the spread of COVID-19 in Massachusetts, and includes daily updates from the Massachusetts Department of Public Health for the number of COVID-19 cases. The second COVID-19 dashboard  (see below) includes information specific to Boston including; total daily cases, the number of cases split by age, recovered cases, death tolls and the number of tests conducted nationwide.
The dashboards are updated every afternoon on weekdays, when public data is released by the Center for Disease Control (CDC) and the Massachusetts Department of Public Health (MDPH) and so contain the most current figures about the state of the outbreak in Boston, the Commonwealth of Massachusetts and the nation.
1:20 p.m.
The mayor's Resiliency Fund surpasses $20 million target, less than 10 days after launching. From today, $5.4 million will be distributed bewteen eight local organizations providing critical support to residents, including access to food and support for healthcare systems that serve Boston residents. These organizations are:
8:25 a.m.
The Mayor's Office of Economic Development has created databases for local restaurants and businesses currently open in each Boston neighborhood. They contain additional information on opening hours, delivery services and how to purchase gift cards.
The mayor is encouraging businesses to register to be included in these new databases. His office has also launched the "Small Business Survey" to ensure the City's response is adequate and is helping Boston businesses in most need during this time.
"I encourage Boston residents to continue patronizing the businesses most impacted by this pandemic — purchase a gift card, order take out, or support your local businesses in whatever way you are able to," said Walsh in a press release issued this morning. "Our Office of Economic Development is in our neighborhoods, talking with businesses and responding to their immediate needs, and we will keep working to support our small businesses here in Boston."
The database for open restaurants can be found here: bit.ly/2QL0dZ9
Local businesses still open are listed here: bit.ly/33IPbZP
6:04 a.m.
Amid concerns over the safety of reusable shopping bags, Mayor Martin Walsh issued a temporary Executive Order allowing plastic bag use in Boston for "essential businesses" during the COVID-19 outbreak. These include grocery stores, pharmacies, and restaurants. Plastic bags will be offered and businesses will no longer have to charge customers a fee for checkout bags.
---
Tuesday, March 24, 2020
CLOSED: Non-essential businesses
11:48 a.m.
Mayor Martin Walsh today launched texting service, Alert Boston, available in Spanish, Haitan Creole, French, Cabo Verdean Creole, and Portuguese, as well as English. Residents are encouraged to sign up by texting BOSCOVID to 99411 to opt-in for alerts, including the city's latest case numbers, local updates about the spread of the virus, tips on how to stop the spread of coronavirus. To receive these alerts in languages other than English, text the following keywords:
Text BOSEspanol to 99411 for Spanish
Text BOSKreyol to 99411 for Haitian Creole
Text BOSFrancais to 99411 for French
Text BOSKriolu to 99411 for Cabo Verdean Creole
Text BOSPortugues to 99411 for Portuguese
"Boston residents who speak other languages need and deserve to receive information from their city government about this public health emergency just as English speakers do every day," said Mayor Walsh in a statement. "We are working with dozens of dedicated multilingual staff across City departments and community organizations to support this effort."
1:05 p.m.
The City of Boston, as well as Brookline, Cambridge, Everett, and Somerville, are offering all hospital staff free 30-day Bluebikes passes. A full list of participating hospitals and contact information to apply for a free pass can be found here.
---
Monday, March 23, 2020
Governor Baker issued an emergency order requiring all employers not providing "COVID-19 Essential Services" to close workplaces and facilities. The order will go into effect from tomorrow, March 24, at 12 p.m. and last until midday April 7.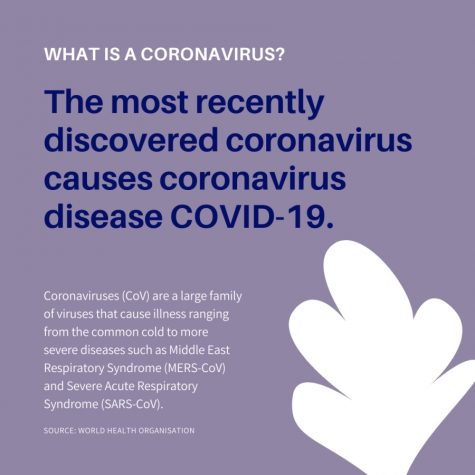 Businesses and facilities in Boston that can remain open include:
Grocery stores and wholesalers
Restaurants offering takeout and delivery
Pharmacies
Medical facilities
Medical marijuana shops recreational marijuana shops are ordered to close
liquor stores
Gas stations
Vehicle garages and mechanics
Hardware and home improvement retailers
Laundromats
Veterinarians
Pet supply stores
Moving and storage companies
Plumbing, electrician and exterminations buinesses
Hotels
Sober homes
Places of worship
---
Friday, March 20, 2020
5:53 p.m.
This weekend, a thousand City of Boston employees and volunteers will deliver printed information on COVID-19 to all homes in Boston. The pamphlet, available in English, Spanish, Haitian Creole, Chinese, Vietnamese, Cabo Verdean Creole and Russian, will outline details about the virus, list preventative measures to stop its spread, and include information about city resources, including food access sites. Residents who need this information in other languages, including Arabic and Somali, may access it through Boston.gov/coronavirus.
---
Wednesday, March 18, 2020
CLOSED: Boston City Council
In response to COVID-19 coronavirus, City Council President Kim Janey announced earlier today that this Wednesday's meeting was going to be held online and closed to the public. Read the full report from the council's first virtual meeting.
---
Tuesday, March 17, 2020
CLOSED:
Boston 

Public Schools

From today, students and families can collected packaged meal options at 47 different locations across Boston, every weekday from 8:30 to 11:30 a.m. Additionally, the City of Boston in partnership with Project Bread, YMCA of Greater Boston, Boston Centers for Youth and Families, and other community organizations will also be providing free meals to school-aged children at various locations and times across the city.
SUSPENDED: Construction work
Employers should maintain the necessary crews to keep their sites safe and secure, keep any materials from blowing away, and prevent trespassing. This work needs to be completed by Monday, March 23, 2020, after which only skeleton crews will be allowed on site to ensure safety. With the approval of the City of Boston's Inspectional Services Department, emergency work may continue, including:
Emergency utility, road or building work, such as gas leaks, water leaks and sinkholes
New utility connections to occupied buildings
Mandated building or utility work
Work at public health facilities, healthcare facilities, shelters, including temporary shelters and other facilities that support vulnerable populations
Work which ensures the reliability of the transportation network
Other work necessary to render occupied residential buildings fully habitable
New projects cannot be started unless they fall into one of the categories listed above. The City will review any other requests for exemption from this moratorium on a case-by-case basis. These will be granted if they support increased public health and safety.
---
Monday, March 16, 2020
CLOSED:
Boston

Public Libraries

All Boston Public Libraries will close from 6 p.m. this evening until further notice. BPL will expand automatic renewals and allow patrons to keep their books and other materials for an additional 15 weeks, instead of the standard three weeks. All late fines will be waived until May 1, and library patrons will have until October to renew their library card if it is set to expire.
CLOSED: All BCYF pools, gyms and fitness centers
By Wednesday, March 18, all BCYF programming will be suspended. Only select BCYF centers will be open for youth meal distribution during school closures. For a list of meal distribution locations, go to boston.gov/coronavirus.
4:47 p.m.
Mayor Martin Walsh launches a fund to support nonprofits impacted by COVID-19.
The Boston Resiliency Fund will support organizations providing essential services to Boston residents during the pandemic. For now, the priority is to help those that serve meals to Boston's children and seniors, are equipping Boston Public Schools students with technology to continue schooling remotely, and safeguarding the health of medical professionals on the frontline. Walsh's office also said that as the pandemic evolves the type of nonprofit eligible for funding may include those not providing "immediate support and relief."
"In the face of big challenges, our city shows its true colors. We've been seeing incredible acts of kindness and generosity and the Boston Resiliency Fund is a perfect example of that," said Walsh, in a statement released by his office. "Through this fund, we are coordinating Boston's philanthropic efforts to support families that are facing the greatest need right now. I want to thank everyone who has already contributed, and look forward to seeing how we will all come together during this critical time of need to support one another."
---
Sunday, March 15, 2020
PUBLIC HEALTH EMERGENCY DECLARED
Mayor Martin J. Walsh announced that the Boston Public Health Commission is declaring a public health emergency in the City of Boston, due to the coronavirus (COVID-19) pandemic.
"The health and safety of each and every Boston resident is our first priority. At this point, we are undoubtedly experiencing a public health emergency in the City of Boston, and it is clear that we need to activate every tool at our disposal," said Mayor Walsh.
---
Saturday, March 14, 2020
6:58 p.m.
The mayor, along with the Greater Boston Real Estate Board, the Massachusetts Apartment Association and the Massachusetts Association of Community Development Corporations announced they are partnering to try and halt evictions while Massachusetts is under a state of emergency. They will encourage property owners to suspend evictions for up to 90 days. This course of action will be reviewed every 30 days.
The Boston Housing Authority issued letters urging housing court to reconsider non-essential evictions of residents and the BHA plan to suspend its filing and prosecution of all Housing Court cases and non-essential eviction actions. This  includes all non-payment, no-fault cases and cause-related cases.
---
Friday, March 13, 2020
POSTPONED: 2020
Boston 

Marathon

This morning, Mayor Walsh, Gov. Charlie Baker, Chief Executive Officer of the Boston Athletic Association Thomas Grilk, and President/CEO of John Hancock Marianne Harrison announced the Boston Marathon will be postponed until Sept. 14.

7:40 p.m.
Mayor Martin J. Walsh and Boston Public Schools Superintendent Brenda Cassellius announced the district-wide closure of all Boston Public Schools, effective from Tuesday, March 17. They said they expect schools to reopen on Monday, April 27.
---
Monday, March 9, 2020
CANCELLED: Boston's St. Patrick's Day Parade in South Boston
"While the risk in Boston remains low, this situation is changing very quickly and we are closely monitoring any local cases," said Walsh in a statement. "Our top priority is preventing any new cases, to the best of our ability, and we are paying close attention to guidance from public health officials. We encourage all residents to follow preventive measures to avoid illness, such as washing hands and staying home if you are feeling sick, and we will continue to make public any information as this situation develops in Boston.