Dozens gathered in Downtown Boston for an outdoor celebration and procession on Thursday afternoon, braving high temperatures to witness the arrival of "Little Amal," a 12-foot puppet of a little girl spreading a message of hope and recognition for refugees. 
Led by ArtsEmerson in partnership with the Rose Kennedy Greenway and the city of Boston, the welcome event began in Dewey Square and ended at the Chinatown Gate, featuring music and dance performances by A Trike Called Funk, Grooveversity, the Wah Lung Kung Fu and Tai Chi Academy and others. 
This marks the first stop on the United States tour of "The Walk," a traveling festival honoring the stories of displaced families and children. Little Amal, who was created by U.K.-based The Walk Productions and built by South African company Handspring Puppet Co. to depict a 10-year-old Syrian refugee child, is the festival's main character. Beyond admiring the puppet as a work of art, the event's organizers hope attendees will relate to Amal's experiences as both a curious child and a migrant in a new place. 
"The feeling of fear or disorientation is something that we can all relate to. We also see her curiosity, her joy and her willingness to kind of play and interact, and we can relate to that too" said Lars Jan, lead artist at ArtsEmerson. "Those more fundamental experiences help us also think more about the experiences of refugees who are undergoing a much more complex kind of disorientation, a more complex kind of loss."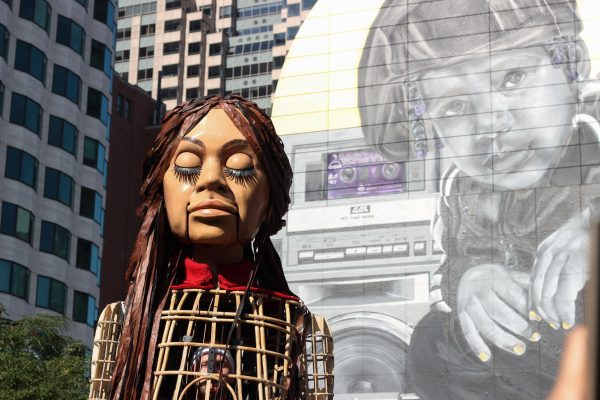 Amal's story has been heard around the world. Since July 2021, the puppet has visited more than 15 countries and journeyed over 6000 miles. Now, she is embarking on a three-month, 35-destination tour of the United States, which will take her from Boston to San Diego. At each location, she and her puppeteers will participate in unique, local events reflecting the character and personality of that community. During a standalone visit to New York City in September 2022, for instance, Little Amal's movements expressed the feeling of being overwhelmed by bright lights and crowds in an unfamiliar environment during a stop in Times Square. The event included a performance of Broadway musical hits.
Those working to bring Little Amal's story to life say beginning the nationwide tour in Boston is not simply a logistic choice, but a meaningful one. Joye Prince is a master's student in applied theater at Emerson University and part of the ArtsEmerson team. She feels that this city as a backdrop for Little Amal's story prompts an important discussion on the history of immigrants in this country. 
"I think there's something really poignant about Boston being really an initial site of colonization of this country," said Prince. "Going to Chinatown is also a very intentional choice; it used to be called Little Syria. So if you look at the history, there's a lot [here] in terms of immigration and global movement." 
Prince also feels that Little Amal's visit is more than entertainment or an opportunity to raise awareness; it's also a way to connect with the community through public performance art. 
"You know, I think there's a lot of people who might interact with this arts theatrical spectacle who might not come into the theater, and I think there's something really special about that," she said. 
On Friday, Little Amal's Boston journey continued with a back-to-school event for children and an environment-themed puppet-making workshop in East Boston, as well as a late-night walk through Downtown Crossing. Saturday's schedule included a ceremonial first pitch thrown by Little Amal at a Boston Red Sox game, followed by a visit to the Boston Public Library's Egleston Square branch, plus a procession and concert at the ICA Watershed. As she travels across town, Little Amal's team are looking forward to the reaction from locals catching a glimpse of the puppet's grand presence. 
"There's something that happens when people know they're going to an event. But there's something else that happens when you're just walking on the street and you see a group of kids see something they didn't expect, and they can't figure out if it's real," said Jan. As he speaks, a woman in the background squeals when Amal steps into view. "I'm excited to see those kinds of interactions."