Meal services rely on Resiliency Fund to keep kitchens open
Coronavirus exacerbating pre-existing food injustices, say nonprofits and researchers.
At Community Servings food is medicine. 
Catering for more than a dozen different medical diets — including diabetic, healthy heart and vegetarian — the Jamaica Plain-based nonprofit serves food the doctor recommends "the way your grandmother cooks," said CEO David Waters.  
As the COVID-19 public health emergency continues in Massachusetts, the most immediate need for many residents is food. Even before the pandemic caused a seismic surge in unemployment rates and illness, one in 11 people living in Greater Boston were experiencing food insecurity, according to research by Feeding America. Greater Boston Food Bank distributed nearly 50% more food last month than in March 2019, and the Massachusetts Department of Transitional Assistance has received an 87% increase in applications for that Supplemental Nutrition Assistance Program. 
"Hunger is often invisible," said Waters. "The pandemic has brought basic issues like hunger to the forefront." 
Organizations confronting food insecurity, like Community Servings and Project Bread in East Boston, are dedicated to feeding residents during the pandemic and are receiving support from the City. 
The Boston Resiliency Fund is an effort by Mayor Martin Walsh to coordinate fundraising and philanthropic efforts to support Boston residents whose health and wellbeing are most immediately impacted by the effects of COVID-19. Since it was created in March, the fund has raised over $26 million, a portion of which has been granted to nonprofits confronting food insecurity. 
Waters said 94% of their clients are living below the poverty line and facing food shortages. Additionally, many of the people they serve suffer debilitating physical conditions that prevent them from leaving the house, making them acutely familiar with social isolation. Community Servings deliver medically-tailored meals to about 1,000 people a day across Massachusetts.
At the same time, many nonprofits are struggling to survive on cash from donors, as the prospect of unemployment looms. Bound to the house by stay-at-home orders and with children no longer in school, volunteer and employee bases are dwindling. Waters said sickness has also prevented many employees and volunteers from coming in.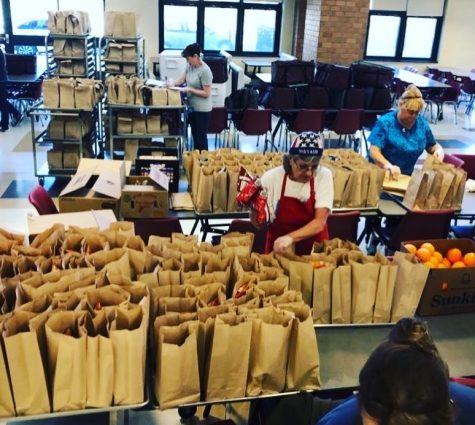 The money from the Boston Resiliency Fund has allowed Community Servings to increase sanitation, buy more food for an additional 500 meals per day, and hire local food workers who have recently been laid off to compensate for their lack of volunteers. 
"When the mayor said that our work was an essential service and we can't close, it only reinforced the message that every day our work is essential to the people we care for," said Waters, who has worked at Community Servings for 30 years. 
Project Bread is another organization that was awarded a grant from the the City fund. They are providing meals to hungry children statewide, who, under normal circumstances, would have depended on school lunch programs. They are using the money  to launch an awareness campaign about Project Bread's services. 
"Low-income individuals are most impacted by the economics of this crisis. As a society, we need to address and let go of our assumptions and judgements about who does and does not deserve food." said Brad Rothrock, a communications associate at Project Bread.
The COVID-19 pandemic has exacerbated existing food injustices "in every conceivable way" said Janeene Madden, professor in Northeastern's Department of Pharmacy and Health System Science. In her 2019 study with the Institute of Health Equity and Social Justice Research, Madden found that "an inability to access sufficient healthy food is likely at least as harmful as inability to access health care."
By delivering scratch-cooked healthy meals to their clients, Community Servings and Project Bread eliminate some of the barriers to adequate nutrition facing Boston's low-income and critically ill residents. Lack of access to fresh food is one such issue, but so too is having the space or time to prepare nutritious meals, said Chrisopher Bosso, a professor in Northeastern's School of Public Policy and Urban Affairs.
"We forget how time stressed these people are. On top of that, they may not have a very functional kitchen," said Bosso. "There's layers of problems."
Many clients at Community Servings and Project Bread lack the physical ability to cook, the adequate kitchen space and, as Bosso highlights, the time. Their services remedy this by providing pre-made and nutrient dense meals. 
Beyond the pandemic, Community Servings and Project Bread are dedicated to tackling food insecurity and improving the nutritional health of Bostonians. Both organizations are accepting donations to support their initiatives on their respective websites and encouraging the public to look out for volunteer opportunities. 
"While everyone is very scared and anxious, I also get a strong sense of community and determination that we will not let this overwhelm us," said Waters. "There is a determination that we can not stop what we are doing, that we need to feed more people."