"Our city, our way": 26.TRUE is designed to redefine what running looks like in Boston
"26.TRUE is really the true Boston Marathon in the sense that you get to run through neighborhoods where people look just like you"
Two days before 30,000 people flock to Boston for the city's famed Boston Marathon, runners at Malcolm X Park laced up their shoes to run a completely different 26.2 miles.
The 26.TRUE Marathon aims to accomplish what the Boston Marathon does not: leading participants through every neighborhood of the city while bringing the sport of running to communities that have been historically ignored by the marathon. Despite its name, the Boston Marathon owes nearly 90% of its famed route to affluent neighborhoods outside the city proper. It begins in one of the richest towns in the state, Hopkinton, and marks its halfway point in Wellesley, where the average household income was $264,473 in 2019, before finishing on Boylston Street in Boston. To participate, runners are required to either achieve a speedy qualifying time or raise a minimum of $5,000 to participate, excluding many would-be competitors.
"Boston is going to be featured everywhere during that weekend in April, but it's going to be such a small section of the city," said Barak Soreff, one of 26.TRUE's directors. "The whole rest of the city isn't going to get that attention or economic boost, so we wanted to highlight a section of the city we know and love that people might not find out about otherwise."
Enter PIONEERS Run Crew, one of Boston's first Black-led running teams. Founded in 2017, PIONEERS seeks to address the lack of diversity in the city's running community and normalize people of color running through the streets of Boston. In October 2021, the crew hosted the first 26.TRUE as a way to bring together members who were participating in the virtual Boston Marathon.
"We really saw it as just an internal thing and didn't have any bigger view at the time," Soreff said. "And we got this outpouring of support from people all over who would love to do this."
26.TRUE starts and ends in Malcolm X Park in Roxbury, winding through every neighborhood in Boston including Hyde Park, Mattapan and Dorchester. Aliese Lash, a PIONEERS run captain, called it a "tour of the city," rather than a traditional race, and encouraged runners before the marathon to take in the diverse cultures and sites of these neighborhoods. Though it is unsanctioned — meaning streets are not closed off and runners run at their own risk — course marshals aid runners with directions, and hydration stops and cheer zones are posted along the route.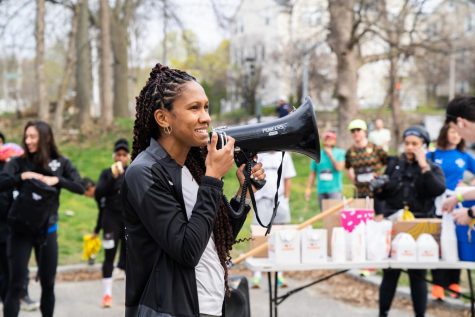 "It's not the Boston you see in 'The Departed' or 'The Boondock Saints,' it's the real Boston," said Soreff of the route that he created. "It's where the folks that run with PIONEERS live and work and spend time in their communities."
The unique route is what has drawn runners like Andy Beepath to 26.TRUE. Beepath, who has participated in 26.TRUE for the past two years, volunteered this year and plans to run it virtually at a later date, since he recently received a bid to run the Boston Marathon.
"26.TRUE is really the true Boston Marathon in the sense that you get to run through neighborhoods where people look just like you," said Beepath, a 45-year-old from Roslindale. "While you're running through these neighborhoods, kids are looking up at you, and I think it's giving hope to people in the community."
Well aware of the fact that only roughly three percent of U.S. runners are Black, the organizers of 26.TRUE seek to dismantle the stereotype of the thin white runner and bring diversity to a sport that desperately needs it. Like many other ordinary activities, running comes with a level of danger that Black Americans are all too familiar with, an idea that was reinforced in 2020 with the murder of Ahmaud Arbery, a Black man who was shot while jogging in Georgia. 
"26.TRUE let me know that running is something I can do, and it's okay for people that look like me to run marathons," Beepath said. "PIONEERS and 26.TRUE are bringing everyone together and opening up the conversation."
This event will also be Blair Wong's first marathon. When COVID-19 hit, the 31-year-old was drawn to PIONEERS as a way to get outside and ended up staying for the supportive community.
"26.TRUE really embodies the sense of camaraderie, support and the things I love about running," said Wong. "So I was quick to hop on the opportunity to do 26.TRUE because for me, it's not just about the race itself — it's about a celebration of that community."
While 26.TRUE is a race, Soreff characterizes it more as a "big celebration of the city of Boston, of running, and of people." Finish line tape is held up for each person that completes the marathon, no matter what their time is, ensuring that every single runner is celebrated. 
"Most people will never get the chance to break finish line tape in their entire life," Soreff said. "It doesn't matter if you finish in three or seven hours, there is going to be a huge group of people ready to cheer you on."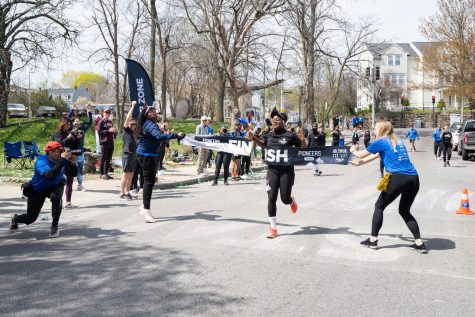 Even the notoriously grueling process of training for a 26.2 mile race is made easier by PIONEERS, which hosts frequent training runs.
"It doesn't even really feel like I'm training because when I do my long runs, I'm with people from PIONEERS, so it just feels like I'm hanging out with my friends for three hours," Wong said.
Thanks to the strong community PIONEERS has created, finding volunteers isn't difficult either. Maria Martins, who ran the first 26.TRUE in 2021, will be volunteering for the second year in a row on April 15 and is excited to cheer on her running pals.
"When I joined PIONEERS, I just felt like I belonged," Martins said. "They hold a very special place in my heart, so any time I can volunteer with PIONEERS it's always a pleasure."
Each cheer station is sponsored by other run crews in the community, including Black Girls RUN!, Black Men Run and TrailblazHers. Beepath was stationed at a cheer zone sponsored by LiveFitArmy, another Boston fitness community, where he cheered and handed out much-needed electrolyte water.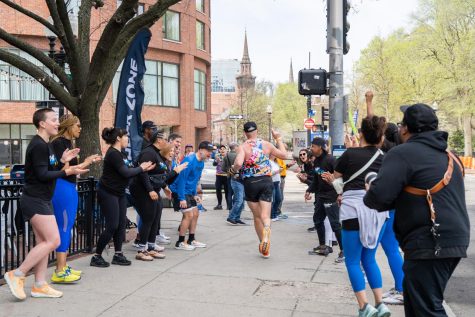 "Even though I'm not running 26.TRUE [in person] this year, I feel like I should always be apart of it as much as I can, and doing the cheer zone is my way of giving back," said Beepath, who credits 26.TRUE for his increased confidence to run more marathons, including the Chicago Marathon last October. "Because there might be someone running that marathon for the first time like I was two years ago, and that person might get an experience that spurs them to better things in life."
This year's 26.TRUE will be the biggest yet with more than 80 registrants, Lash said. And as the race enters its third year, more people are paying attention to 26.TRUE: Puma is the main sponsor of this year's event and will give each participant a free pair of running shoes. Runners will also get a finisher jacket, a medal, and a meal ticket to a food truck post-race.
No matter how big of an event 26.TRUE becomes, the bottom line for Soreff is keeping the mission of the race alive in the years to come.
"We would love to grow the event, but also I think it's more about the impact," he said. "At the end of the day, our focus is making sure that runners get a good experience and that we're uplifting the communities we're going through and not being disruptive."
Both PIONEERS and this race have inspired a strong sense of community that has led many runners and supporters like Beepath to be in it for the long haul. He plans on running 26.TRUE for as long as he physically can.
"50 years from now, 26.TRUE could be as big as the Boston Marathon, and my daughter can say her dad ran the very first 26.TRUE," he said.