City council race: Michael Flaherty running for reelection for at-large seat
Michael Flaherty, incumbent City Councilor At-Large who has spent 16 years on the City Council, is running for reelection. 
There are at least 16 other candidates and one other incumbent (Julia Meija) in the race. Incumbent Councilors At-Large Michelle Wu and Annissa Essaibi-George are running for Boston mayor.
Flaherty currently lives in South Boston, where he was born and raised and also raised his four adult children. He grew up in public housing at the Old Harbor housing projects, so access to quality affordable and public housing is a cause he has championed throughout his career.
Flaherty attended Boston College High School, a private Jesuit/Catholic preparatory school in Dorchester. He then graduated from Boston College and Boston University school of law as a member of Teamsters Local 25, a local union that provides scholarships to members' families.
Flaherty spent time as the Assistant District Attorney for Suffolk County, then ran for public office for the first time in 1999. He served the next eight years on the City Council, five of which he was the Council President.
In 2009, Flaherty challenged Mayor Menino, but Menino was reelected to his 5th term.
Flaherty has represented Boston At-Large since 2013. He currently serves as the Chair of the COVID-19 Recovery Committee and the Vice Chair of the Committee on Government Operations, and formerly as the Chair of the Committee on Government Operations.
The Scope spoke with Flaherty about his campaign's top issues and his plans to address them if reelected. Parts of this interview have been edited for length and clarity.
What has your experience been living and working in Boston?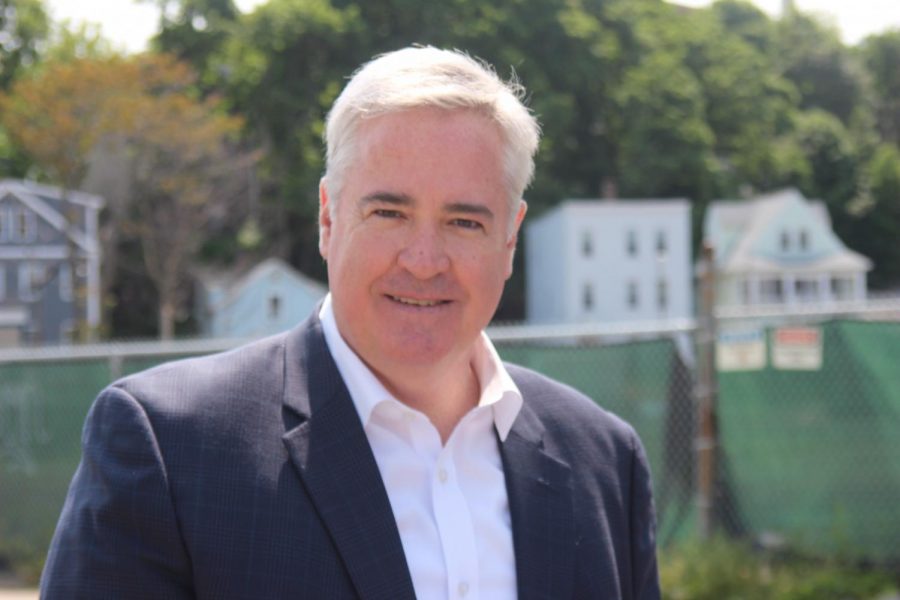 My roots in Boston are deep and blue-collar. I'm born and raised in South Boston and have raised my family in South Boston. We got a huge family in South Boston. My father's one of 10, and I got a boatload of cousins. 
I have four children. I've been very active in the community, particularly as they were growing up; whether I was coaching their youth sports or participating in their school activities… I've been blessed. I've got beautiful children, my two babies, my twins, just turned 20. 
I know the issues facing Bostonians, one, because I've lived them, and two because I serve as their At-Large City Councilor. I've taken no neighborhood for granted. I know all 22 wards, 255 precincts… I know the city and its people very well. 
Why did you decide to run for reelection?
I'm running for reelection to continue to make Boston a better place that works for everyone. I believe Boston's greatest days are ahead of us. While urgent, I know the current challenges are also opportunities to bring Boston to new heights and make our city and region a more vibrant and equitable place for all. 
We are a city in transition. We will have a new mayoral administration coming in. At least five new members of the Boston City Council will join a body that currently has four in their first term—nine of the 13 members will have one term or one term or less experience. And I have the experience, institutional knowledge and leadership skills to help bring [the city] through this transition and continue to move Boston forward. 
I love to help people. I love to help people connect to resources. I like to help them be able to navigate the Boston bureaucracy. I like to connect people to opportunities. I like to bring folks that are operating in silos together. I have a reputation of being a bridge-builder. I have a reputation of being a consensus builder as well as a leader. 
I want to continue my work on creating safe and truly affordable housing. I want to improve our public schools by closing the opportunity and the achievement gaps that the pandemic has exacerbated. I will be chairing the City Council's Covid-19 Recovery Committee, so I plan to work aggressively for an equitable recovery that prioritizes our local economy, our small businesses and the communities they serve. 
What are the key issues on your platform? 
Affordable housing—we need to continue to work to create safe and truly affordable housing by strengthening and expanding our affordable housing policies to better meet the needs of Bostonians. Oftentimes public housing gets overlooked. They're servicing some of our most vulnerable residents and new Bostonians. So I'm going to continue to champion all housing efforts around public housing. 
Our schools—Boston boasts of having the best colleges and universities in the world. Yet, not enough of our Boston Public School kids get into those schools, which is an absolute travesty. I will continue to work to create high-quality public schools to close the opportunity gap in the achievement gap in our public schools.
Equitable recovery for Covid-19—that has to be a priority. There have been many areas in our local economy that have been devastated due to Covid, particularly our small businesses and the communities they serve. Our shops and restaurants and bodegas…we have a responsibility to make sure that we're helping them get back on their feet, get those doors back open, get the customers to come back in and [they can] continue to serve those communities.
Transportation—making sure that we're making the necessary investments to improve our public transit and create a connected, reliable and affordable public transportation system that works for all of our neighborhoods, not just some of our neighborhoods. 
Environmental impact—we really need to put a shoulder behind these urgent environmental needs because I think we've spent too much time kicking the can down the road or pushing it off to a study or a focus group. The time to act was yesterday. 
What are your plans to implement policies to support your major goals? 
Boston needs its own AMI, number one. Not a lot of folks realize that our AMI (area median income) doesn't just pertain to Boston; it's lumped in with metro west and other suburban communities.
Two, we need to continue to increase affordable housing opportunities. We need to take advantage of very precious CPA funds to create affordable housing, senior housing and veteran housing, and work with our community development corporations that are in our neighborhoods and try to be creative. 
We need to create more high-quality public schools. We're so stuck in the past. We need to have a curriculum within the Boston public schools that speaks to the economy and particularly these new emerging industries. 
There's going to be tremendous opportunities—they're talking over $400 million of these federal funds, plus the infrastructure bill… which will help identify critical areas in our climate resiliency and the green economy and the green jobs space. Getting some very precious resources also will help on the transportation front [to make] sure that we're making the necessary investments to improve our public transit.
What have you accomplished in your time on City Council, and what would be different this next term?
I was at the forefront of the marriage equality movement in Boston. I was the very first to support marriage equality long before the Goodridge decision, while other elected officials were still grappling with domestic partnerships and civil unions. 
I also was the first to lead the effort on the Community Preservation Act, which passed, and as a result of this, we've been able to deliver about $100 million in over 200 projects since its inception. 
I've also led the effort on affordable housing by increasing the linkage formula to create more affordable housing and more job training and job creation opportunities. 
I will continue to lead and represent to the best of my ability every Boston resident. The pandemic exacerbated so many vulnerabilities, and it's vital that we continue to work to address them. I've done that my entire career. I've been a bridge builder; I've been a consensus builder. 
I'm going to continue to be me. I'm going to continue to represent the entire city. I'm going to continue to maintain those great relationships that I have throughout Boston. 
How is your campaign different from the other candidates that are running to represent Boston At Large?
I've got nothing but great things to say about this field of candidates we have engaged. I wish everyone well. I just want to work and serve with good, well-intentioned people who care about the city and want to make a difference. 
I have a reputation on the Boston City Council as someone that knows how to get things done. And I have a record of accomplishment that is worth reelecting. 
What do you love about Boston, and what do you want to work on as a City Councilor?
I have always constantly said that we are the best city in the United States. We have the best colleges, universities in the world. We've got a plethora of historical sites and vibrant culture, and we play a very active role as the central hub for all of New England. Like any other city, Boston has its fair share of challenges, primarily the housing crisis and the high cost of living.
Lots of folks want to be here. We've got CEOs that are moving their companies to Boston on a regular basis, one because of the brainpower, two because we're a livable, walkable and relatively safe city and our connection to the institutions. There's lots of opportunities here. However, that also drives up the cost of housing. We're always going to continue to struggle with that to make sure we have the resources available for basic city services.
We boast some of the best colleges, universities and hospitals in the world. But our infrastructure, our roads and our bridges are in horrendous shape. I know the knock on Boston right now is we seem to be becoming the city of the very rich and the very poor, and those employment opportunities are not trickling out to our neighborhoods. There are a lot of great things happening in Boston, but too many of our residents don't feel connected to that opportunity. So we have our work cut out for us.