City council race: Edward Flynn running for reelection for District 2
Edward Flynn, the incumbent City Councilor for District 2, is running to keep his seat on the Council. District 2 includes the Chinatown, Downtown, South End and South Boston neighborhoods.
Flynn was first elected to the Council in 2017 and is currently running unopposed.
Before joining the Council, Flynn worked as a probation officer at the Suffolk Superior Court. He also served 24 years in the U.S. Navy and worked for former President Bill Clinton in the U.S. Department of Labor for five years.
Flynn is married to his wife Kristen, and they have two children, Caroline and Stephen, who attend Boston Latin School.
The Scope spoke with Flynn about his campaign's top issues and plans to address them if reelected. Parts of this interview have been edited for length and clarity.
You've been the District 2 Councilor for a few years now. Can you tell our readers a little bit more about yourself and why you decided to run for office again?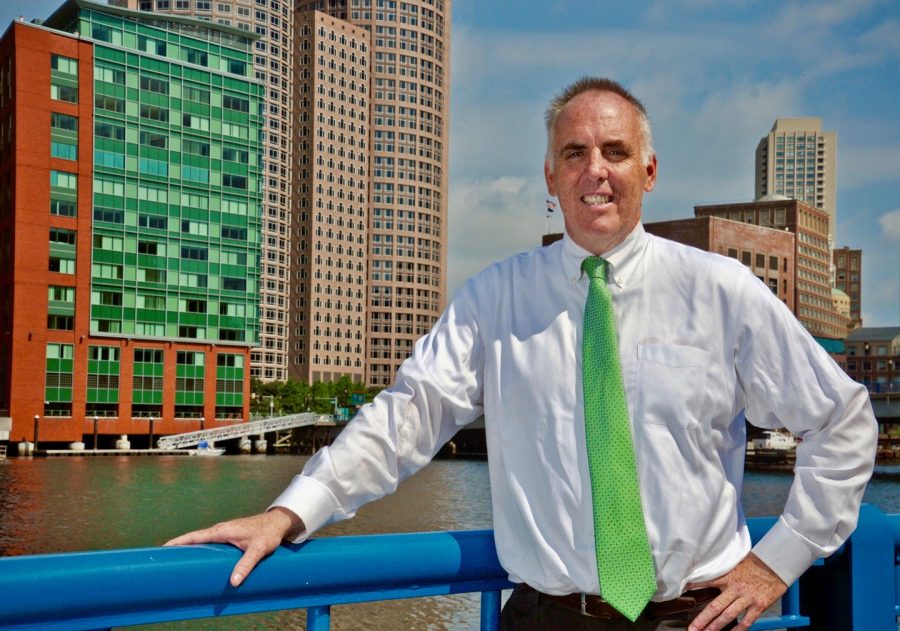 I'm a lifelong Boston resident. I've been involved in the community as an advocate and youth sports coach. I was a probation officer at Suffolk Superior Court before taking the seat as a City Councilor. I live with my wife and children in South Boston. We're also a Boston Public School parent and a member of several labor organizations throughout the District.
I've been involved in civic engagement and public service since a young age. I've always been involved in helping people and serving my community. Boston is a great city, diverse and vibrant one, as is my District. It is a city that went underwent a lot of growth in recent years. It's a city with a rich history and with wonderful people.
As a District City Councilor, I represent a very diverse district, including South Boston, the South End, Bay Village, Chinatown, parts of Beacon Hill and the Back Bay. I want to represent my constituents well – that's why I'm in the District almost every day and every night, building relationships with community organizations.
As I mentioned, I have one of the most diverse districts, but I also have the largest AAPI (Asian American and Pacific Islander) community in the city. I have one of the largest immigrant community districts in the city and probably the most residents living in public housing as well.
I have a very diverse staff of five people; four are women of color. The four are immigrants, and all four speak English, but also another language such as Spanish, Cantonese, and Mandarin. So, we do a lot of our work on language access and support of immigrant rights. My social media posts and tweets are also translated into Spanish and Chinese to communicate effectively with our constituents.
As an incumbent candidate, how would you say that this campaign is different from your previous ones?
That's a good question. I'm an incumbent running unopposed. Two years ago, I ran unopposed, and the term I won initially was a competitive field. All campaigns are different. But I take every key every campaign very seriously. I continue to work as hard as I can and effectively as I can and be engaged and active in the community almost daily. So, I'm in the District every day, every night. I work seven days a week, seven nights a week. I'm just so fortunate and proud to represent the people of my District.
What would you say are some of the biggest things that you've accomplished in your time in office? Do you think any of that has affected your policy goals as a councilor in 2021?
Last year was a difficult year for everyone. We're still in the midst of a pandemic, unfortunately. I have been focused on ensuring that my constituents and residents of Boston get the resources they need — information on vaccines, assistance with rent, and other issues such as food access. As I mentioned, I engage with my constituents in multiple languages and continue to host meetings; we organized over 200 volunteers to make phone calls and check in on the health and wellness wellbeing of thousands of our seniors throughout the District.
I've also made it a top priority to stand with working families in organized labor on our shared values and social and economic justice. That includes working with our hotel and restaurant workers.
I have also been vocal about issues of discrimination, particularly AAPI neighbors. We've seen a significant rise in the country in bullying, intimidation, and hate crimes against the AAPI community. I've worked with the Human Rights Commission to discuss this, but I also ensured there was additional funding in the budget to address this issue. I've held hearings on discrimination and violence in the AAPI community and how the Human Rights Commission can play a proactive role in working with the Boston Police and community partners.
I highlighted, as I mentioned, the language access. I also called for a directive of Special Investigations within the Human Rights Commission to aggressively pursue accounts of racism and discrimination. I'm going to continue to work with residents and my colleagues in government to tackle these difficult issues.
What would you say that you love about District 2? And what do you think could still be worked on?
I love the people of my District. I like being with them, especially our immigrant neighbors and even people who may have difficulty speaking English. I just try to make them feel as welcoming and comfortable as possible, letting them know that government is on their side. It works for them. So, just helping people and letting people in the immigrant communities know that government can also be a friend and a good listener.
This time around for your campaign, what would you say are some of the key issues on your platform? I hear a lot of assistance toward immigrant groups. But do you have any other key issues?
Yes, I agree. Housing, affordability, stability, public and pedestrian safety, strengthening public education and supporting working families. Equity – ensuring that all of our constituents can access city services and resources regardless of income or language.
On affordable housing – supporting different policies that the city can implement, such as requiring larger percentages of affordable units be designated beyond the current percentage of 13.
One of the biggest we focus on is just constituent services – quality of life issues, working with city residents and city government to address quality of life issues, such as pest control, construction, and safety.
We want to make sure government works for people, and it's addressing those quality of life issues like the illegal dumping issue and pest control, but it's being responsive, answering phones, returning phone calls, responding to emails, helping our constituents, and solving problems.
Is there anything that you wanted to share with readers that I didn't ask you about today?
Okay, that's a good question. I had the opportunity to serve about 24 years in the United States Navy and U.S. Navy reserves. I've seen the tremendous sacrifice and service of so many people in the military, but especially in our immigrant neighbors serving in the U.S. military; they're willing to risk their lives for our country. It's upon us to make sure that our immigrant neighbors are treated with respect, dignity, and empathy throughout the country. So that was just that's just something I felt was important to know.