Polling ahead: Michelle Wu's campaign has volunteers speak to unclaimed voters in a strategy to win the election
West Roxbury retiree Jonathan Feltner and finance consultant Steven Lee volunteer for Michelle Wu's mayoral campaign exclusively as a pair. The duo believes talking to members of their community about Wu's bold policies and Harvard education will ensure her mayoral win in the Nov. 2 general election. 
For the past two months, Lee and Feltner have knocked on the doors of Greater Boston residents twice a week, dressed in the Wu campaign's signature purple color. The campaign is focused on increasing conversations between voters and passionate campaign volunteers — like Feltner and Lee — after the primary municipal election on Sept. 14 resulted in Wu holding an 11-point lead that is now a 25-point lead over her opponent, Annissa Essaibi George. 
"I'm of the belief that if we just have as many conversations with as many families in West Roxbury as possible, I think that will be the best use of time and strategy to reach out and talk about what their concerns are," Lee said.
Feltner began volunteering after walking by a rally for Wu in early June at the Jamaica Pond Boathouse. Wu "won his vote" after answering a common question from Boston voters — "Hey, this is great, but how are you going to pay for it?"
As Feltner knocks on doors and converses with community members about a pamphlet filled with photos of Wu, he is conscious of his impact as a white, retired 76-year-old male veteran. Feltner served in the Marines and is a pro bono lawyer affiliated with Veterans Legal Services (VLS), granting him similarities and connections with much of the Boston voting population. 
There are over 16,000 veteran voters living in Boston, and the city as a whole is composed of 52.8% white voters, 48% male voters and 11.5% retired voters. Feltner wears his purple veteran baseball cap on canvassing trips in hopes of sparking conversation with apprehensive voters — and to represent Wu's purple theme.
"We know that there's open voters out there, but the idea is to pull your base and work on those folks who probably have similar desires, objectives and philosophies," Feltner said. 
But Feltner hasn't volunteered without Lee for the last two months. The pair met at a canvassing event for Wu in West Roxbury just before the September municipal preliminary election.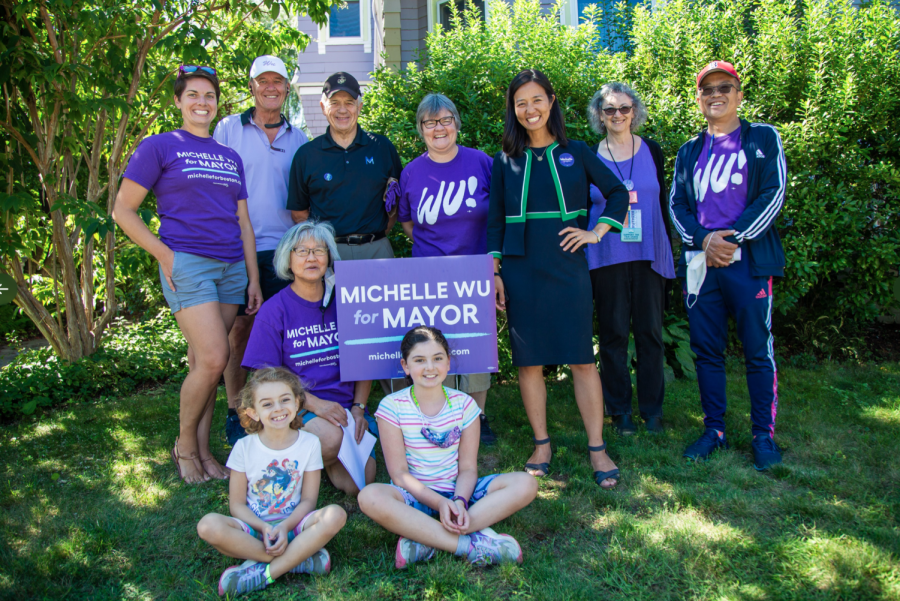 Of the two, 57-year-old Lee tracks the houses they canvass on an app used by Wu volunteers, MiniVan, affording him the "tech guy" nickname. With a background in finance and a commitment to keeping up to date on the Boston City Council for the last eight years, Lee supports Wu for her systems thinking and productive — yet financially prosperous — policies. 
Lee became a fan of Wu back in March after seeing her speak at a rally outside of the Sugar Baking Co. in West Roxbury. Lee has supported Wu ever since, and his identity as a Chinese American has only strengthened his advocacy for the prospective first Asian American woman to be elected to the Boston Mayor's Office. 
"For me, what's most important is her experience in government," Lee said. "But, since I am Chinese American, I can't say there's been many elected officials that look like [me]."
The campaign is concentrating volunteers like Feltner and Lee in the neighborhoods that had high voter turnout for the other three major mayoral candidates who did not make it past the primary — acting Mayor Kim Janey, Andrea Campbell and John Barros. These neighborhoods include Roxbury, Mattapan, Dorchester, Hyde Park, South Boston, East Boston, Charlestown and West Roxbury. 
"We are trying to run on that momentum from the preliminary and engage every voter," Michael Osaghae said, a press assistant for the Wu campaign. "That is something that the campaign is just laser-focused on, and that is how we will win."
Feltner believes that having one-on-one conversations with unclaimed voters is what it will take to ensure Wu a win in the general election. The campaign is directing volunteers to speak with "super-voters" specifically, which they define as active voters in local elections for at least one year. 
Julia Sullivan, a voter and Boston University student majoring in health science, is unsure of who to cast her vote for in the general election after seeing the results of the primary. Sullivan found these results to be somewhat unexpected — except for the success of Wu, a household name to Boston residents. 
"The Wu campaign volunteers just seem really representative of the energizing ideas that Wu stands for," Sullivan said about a call she received from a campaign volunteer. "Their enthusiasm for the campaign is infectious and it's easy to want to learn more about Wu because of it."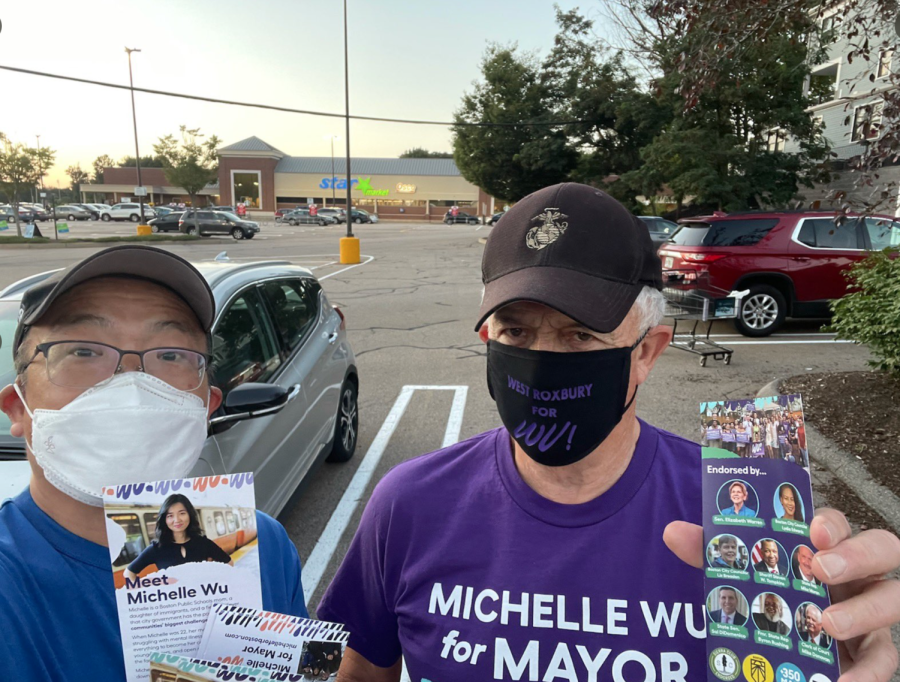 Lee agrees with Feltner that speaking with families in their community about Wu's plans to improve their neighborhood and the future of their children is the best strategy to increase votes for the candidate. 
Wu's press team did not comment on the campaign's spending on voter outreach, which includes canvassing, volunteer events and informational campaign materials. The spending data documented by the Wu campaign, displayed by the Massachusetts Office of Campaign and Political Finance (OCPF), is not organized into consistent categories, making a calculation on volunteer expenditures specific to voter outreach difficult to make.
"Team Wu has had quite a week," read an email from the Wu for Mission Hill team on Oct. 11. "From securing several exciting endorsements to knocking on 7,000 doors city-wide last weekend, we are really running full steam ahead."
In West Roxbury's Precinct 6, Wu and Essaibi George tied with 36% of the vote each in the preliminary election — the same precinct that Feltner and Lee canvassed for in early October.
"We have an overall 11% lead," Feltner said. "We just have to hold onto it."