How to be a responsible ally at protests
Since the tragic death of George Floyd while in custody of the Minneapolis police, the U.S.' police brutality problem has been challenged all across the country over the span of several weeks. As the demonstrations progressed, protesters were met with armed officers using rubber bullets, tear gas and mace.
The protests spread like wildfire and what had started in Minneapolis had reached various other countries in different continents around the world.
The importance of Black people and allies protesting systemic racism cannot be overstated. However, there are things that we as allies should keep in mind while we protest in order to keep both ourselves and those around us safe. Over the past few months, I've joined a number of Boston-area Black Lives Matter protests. This is what I've learned about how to protest responsibly.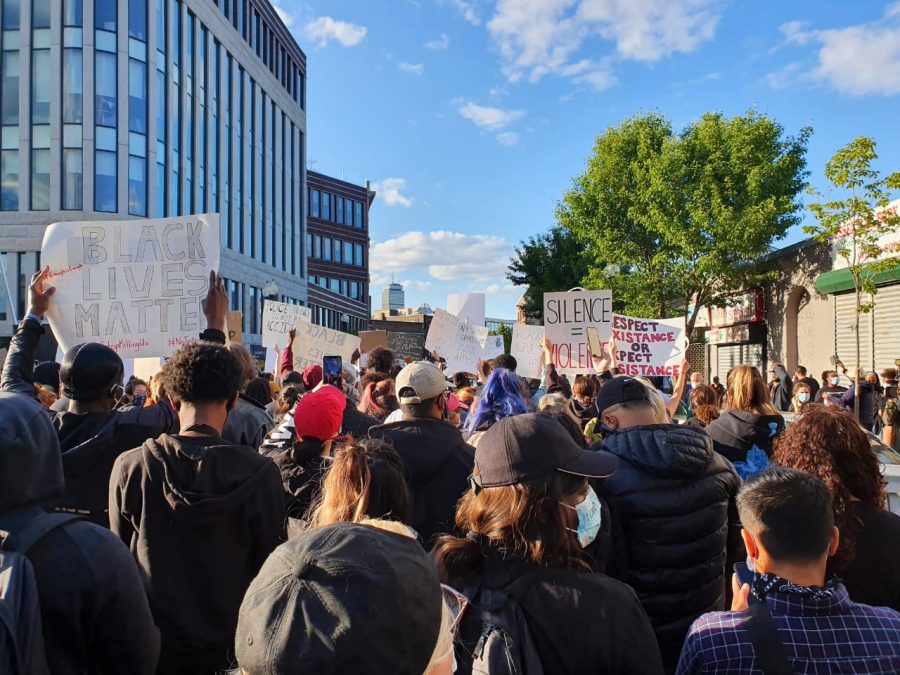 Below is a list of do's and don'ts on how to protest responsibly:
Do wear a face mask:
This should be the most obvious thing for any of us to be doing right now regardless of whether or not we are protesting. COVID-19  has disproportionately affected Black communities in America, and the last thing we want to do is spread the virus to the demographic we are trying to support. In every protest that I have been to thus far, the overwhelming majority of people in attendance have worn face masks. In addition to that, there are usually people giving out hand sanitizer or wet wipes. 
Do educate yourself on pertinent information:
Each protest has its mission. While all of them follow the overarching goal of combating racism, some protests may be focused on defunding the police while others may be focused on elevating Black women. You should  educate yourself on the topic you're fighting for. Find out who is organizing the protest you plan on attending and visit their website. There, you can read what the goals of the protest are and find out other useful information such as the route you'll be taking and anything else that the organizers might want you to know beforehand. It's important for allies to be proactive about educating themselves on racism since your Black friends and acquaintances cannot be expected to repeatedly explain racism to you. 
Do pack accordingly:
You should bring water and a light snack. Wear shoes and clothes you can run in in case the situation begins to escalate. Write down the number of a trusted friend or family member on your forearm along with the number of your local chapter of the National Lawyers Guild in case you get arrested and need legal representation. Leave any unnecessary accessories at home and keep a little bit of cash in your wallet. Unless you have a reason to worry about being tracked, your phone is the most essential tool to have on you. You may need your phone to be able to call for help or keep your friends updated on your whereabouts. Keep your phone on low battery mode since being in a large crowd will drain your phone's battery quicker. Download Signal and use that to communicate about the protests since the app is encrypted. A lot of protests often either start or end at large public spaces such as parks. Clean up after yourself and avoid littering as that only harms the local community and gives the protests a bad look. 
Do have an exit strategy:
Most protests are peaceful and you generally don't have anything to worry about, but on the off chance things don't go as planned, you should prepare an exit strategy. It's best if you don't go alone, but if you don't have anyone to accompany you, you should at least inform a friend what you will be doing and when you plan on coming back home.
Do record or photograph police officers or anyone that looks suspicious:
If you see a police officer provoking protestors or using undue force, you should record the interaction with a focus on the officer. The same thing applies to anyone you see behaving in ways that run counter to peaceful protest.
Don't do anything that might spread the virus:
It might be hard to maintain social distancing measures at the protests, but there are other ways you can try and be cognizant of the virus. Avoid close contact unless absolutely necessary, avoid touching any surfaces, and try to keep your hands as clean as possible.
Don't take up space with your presence:
You're going there as an ally. It's not our place to lead or define what the protest should look like as we are only there to show our support. Do not escalate anything beyond what is acceptable as it could negatively impact the reputation of the protest's organizers who used their image to vouch for its message. Actions like vandalizing properties are generally not an acceptable thing to do during protests. Doing anything that does not align with the protest's mission may end up inadvertently changing the message without the organizers' consent, and thus leaving them to bear the consequences of your actions.
Don't publish photos or videos that show protesters' faces without permission:
You're there to help fight for racial equity, not score an Instagram photo op. Avoid uploading photos and videos all together but if you want to help raise awareness using your own footage it's best to censor people's faces and any identifiable symbols that they may have on them. You don't have to worry about censoring speakers and lead organizers since they are already public about their involvement, but you should do them the courtesy and ask for their permission before you upload photos that show their faces. 
Protesting is a great albeit tiring experience, be prepared to walk long distances and take your time to rest the following day. While at the protest, help out wherever you can, be nice to your fellow protestors and always remember what you're fighting for.