A work in progress: Developing equitable spaces for artistry to flourish in Boston
Creative professionals generally require money and connections to fuel their practice regardless of their sources of inspiration and motivations for sharing their work. But in Boston's competitive arts economy, support and exposure opportunities for artists or organizations can be hard to come by, especially if they are young or from under-resourced communities. 
"I've definitely had a wall built in front of me multiple times…it's also depriving other talented people. You are really losing on very good potential just because they didn't have the money or the support," said Sophia Dubuisson, a 24-year-old Haitian-born and Boston-based painter. She currently works part-time as a teacher assistant for children with developmental disabilities but has aspirations to work full-time as an artist. Artists like her with "non-traditional" arts backgrounds have often been met with barriers to accessing funds and spaces to grow their careers — but according to experts in the cultural sector, a new artistic movement may be on the rise.
Racial and socioeconomic disparities within the spheres of the commercial and non-profit arts have not gone unnoticed by state and local cultural agencies. Mass Cultural Council (MCC) Executive Director Michael Bobbitt said in a Feb. 28 interview with The Scope that the largest statewide cultural agency is fundamentally redesigning its grantmaking process through a lens of racial equity where everyone is represented "at the table." 
This year, the City of Boston and Boston Cultural Council (BCC) awarded organizations with the lowest budgets the highest grant amounts. According to a release from the BCC in Feb., the shift in funding strategy "aims to better support emerging to medium-sized organizations who typically do not have scaled fundraising initiatives to support their programming."
"I'm loving that we're seeing a demographic change in whose work is being shown, who's getting funded…Hopefully, other people will be inspired by that, and people will continue to see the arts of [Black, Indigenous and people of color (BIPOC)] organizations and BIPOC people being very valuable, not just from an aesthetic perspective, but from a way to try to make some more revenues," said Bobbitt. "We still have a really, really long way to go. If organizations want to become multicultural, they have to go back to the business model."
Bobbit said that organizations need to go beyond solidarity statements and take action to implement measures that will build trust and sustainable connections with diverse communities— and put money behind them. He also pointed out that financial investment in the artistic and cultural sector (which he said represents the third-largest contributor to Mass. GDP and employs over 140,000 people), especially within under-resourced communities, would likely yield economic returns. 
"There's a whole population of people where art is very, very, very much a part of who they are, and if you want to expand your audiences? Huge audiences right there," he said. 
Putting money and support into the artistic community, whose finances have suffered over the past several years, can drive the state's overall economic recovery and growth. According to data updated on Apr. 25 by Mass Cultural Council (MCC), more than $31.9 million in lost income has been reported by more than 3,000 artists and cultural sector workers via six Covid economic impact surveys sent out by MCC between Mar. 2020 and Mar. 2022. Additionally, 33,513 impacted jobs and a loss of more than $781 million in lost revenue were reported by the responses of over 1000 cultural organizations. 
Thankfully for creative practitioners throughout Mass., more funding is on its way. On Apr. 27, the House of Representatives voted to appropriate $23,107,000 in funds for arts and culture in the 2023 fiscal year. According to an MCC press release, this figure includes $607,000 for 11 legislative earmarks directing state funding to local cultural projects. MCC receives most of its funding through line item 0640-0300 in the state's annual budget. Next year, a $2.5 million increase to the agency's operational budget gives MCC $22.5 million to allocate. This bump in the budget will be passed along through MCC's grant distribution among local cultural councils and projects, which then dispense the resources to individual artists.
"More funding means [MCC] can invest more funding back into the sector," said Bobbitt. 
On Apr. 15, Mass Cultural Council announced in a press release that more than half of the grantees who received funding from the $271,500 the agency allocated to support community festivals this spring and summer were first-time applicants. Of the 181 grantees, 104 are first-time festival grant recipients and 77 are receiving their first-ever award from MCC. According to an MCC press release email, this represents a 93% success rate for new applicants to receive funding.
"The agency was designed to support this sector, the whole sector, not just certain parts of the sector," said Bobbitt. "The 23-year-old just starting out deserves grant money from us just as much as the person who's been doing it for 25 years. That's why this work has to be ongoing."
Investing in artists and organizations from a perspective of racial and economic equity could create new avenues for people to create and enjoy art outside of a commercial setting, according to local artists.
"Creative justice is accessibility, but also creating place and space for those who may not have that kind of safety and or visibility," said Lani Asuncion, a multimedia artist who has been sharing socially-engaged art in and around Boston for about the last five years.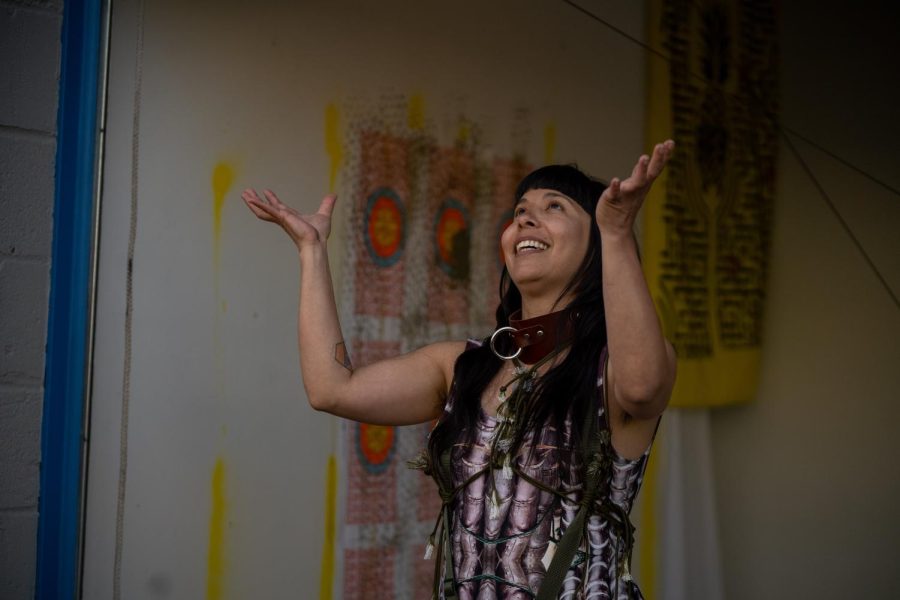 Asuncion is also the producing artistic director and founding member of the performance and visual art collective Digital Soup. This grassroots organization invites people to represent themselves through visual and performance art. Digital Soup currently resides and operates with the Cultural Equity Incubator, a shared studio and office space at Midway Artist Studios in Fort Point. 
"I know, and I understand that I have to create structures of safety… Belonging also gives room for the promise of future growth," said Asunsion, who identifies as queer, multicultural and Filipinx. They said that sustained financial support is vital for maintaining community-oriented projects like theirs. These provide crucial spaces for self-expression through visual and performing arts experimentation. 
Asuncion exhibited their latest work at 10b, an alternative artist-run space in Jamaica Plain. Conceptualized by local creators Kate Wildman and Corinna D'Schoto as a "bare-bones" response to other DIY community arts spaces, 10b resists the traditional expectations of a gallery or exhibition space. The installations there value collaborative participation over the commodification of the work – which isn't for sale.
"Boston's expensive, and it's hard to have spaces to work, never mind spaces to show," D'Schoto told The Scope following Asuncion's presentation. "This in-between, between community and working, is really essential for artists. Having a way and a place to be able to do that … and not worry about profit … opens up a lot more potential for experimentation and failure and discovery."
D'Schoto also advocated for more state funding for arts that doesn't just benefit those with established wealth. Otherwise, she said, "what's actually happening culturally around us" can get left out. According to the Jamaica-Plain-based artist, moving away from a commercial model can also enable creative expansion as artists can push boundaries without fearing economic repercussions.  
For many artists, selling their art to collectors or museums is crucial in their career development. But before artists' works are sold or displayed in museums, private galleries often play an essential role in uplifting and furnishing artistic talents. 
More than 20 art galleries are located within a two-block radius at SoWa Boston, an art and design district located in the South End — South of Washington Street. Patrons can walk down a pedestrian-only street to discover new local artists and buy original art.
LaiSun Keane owns a gallery located at 460 C Harrison Ave, which she started in April 2020 with a mission to champion overlooked artists. 
"In this art district, I would say that my exhibitions stand out," said Keane. "Traditionally, I don't think [SoWa Boston galleries] have such a strong point of view. I'm just trying to spice it up."

As a gallerist, Keane focuses on curating space for people who come from non-white and non-male identities in an industry that the opposite can often dominate. As the daughter of Chinese refugees who were born in Malaysia before living in Australia and eventually the U.S., she experienced discrimination as she advanced in her own career. 
Artists who've had their work shown at LaiSun Keane gallery have certainly advanced in their own careers. The gallery has given them a platform to exhibit their skill and potential for larger institutions to recognize. For example, Anina Major, who was featured in the joint show "A Chorus of Marks and Artifacts" last summer, "was relatively unknown" at the time but "has done very well since her show [at my gallery]," according to Keane. Major's profile and art career have been lifted in the past year; her work has been shown from Provincetown to Miami and was added to the Museum of Fine Arts Boston and Fuller Craft Museum's collections. 
Another artist Keane's support has benefitted is Michael C. Thorpe, a self-taught artist whose quilts are revitalizing the craft of textiles for a contemporary art audience. Thorpe has been represented by Keane's gallery since shortly after it opened. According to Keane, Thorpe wanted to focus on making art versus the commercial side, so her gallery takes care of all inquiries and opportunities and gets his work into shows at museums and other galleries. Anyone who visits Thorpe's virtual gallery on Instagram and wants to work with the artist is directed at the top of the page to simply "call laisun." 
"He wasn't represented by any galleries. He hardly had any gallery shows," said Keane of the time before the two began working together. Now, she said, Thorpe's works are being "collected by important collectors and fetching very high prices." 
Multiple works by Thorpe were displayed at the MFA's "Fabric of a Nation: American Quilt Stories" exhibition that ended in January, proving to the gallerist that the artist is now being heard. Keane, who also has a degree in art history, pointed out that Thorpe's work is now recognized as "fine art" by major museums that would traditionally relegate his quiltmaking to "craft," a designation that has historically been associated with textiles, a medium woven into feminist and African American history. 
For Keane, formal academic training or years of experience isn't a limiting factor to the strength of an artwork. She plans to continue to uplift work by other artists from "minority" and non-traditional backgrounds from the walls of her gallery. She remains open to showing work from other emerging and self-trained artists.
Keane has also supported the idea of galleries in the SoWa art district joining as a unified force to make the art there more representative and accessible to diverse patronage. She said this could support the cross-pollination of creative opportunities and ideas among people from different communities, like when she partnered last fall with the Pao Arts Center for a fundraising event called "Nurturing Our Voices: Art Crawl" at her gallery, which coincided with a group exhibition of Asian American artists. According to Keane, the proceeds (at least $1400 the night of the event) went to fund Pao Arts Center, Chinatown's first fine arts and cultural agency. 
"I am not trying to take away someone else's livelihood just because I am trying to champion a certain community," said Keane. "There is a white world, an existing structure, and I'm just trying to have a piece of the pie … to carve out a space for my community."
For many SoWa patrons, Sophia Dubuisson, better known by her artist name Phia Art, is the first artist of color they have seen in the space, she said. She is surrounded by almost 100 other members of the SoWa Artists Guild who rent private studios at 450 Harrison Ave. Dubuisson has been painting from Studio 300-A since last February. She said the community of artists in the building and her new exposure during this period have boosted her career.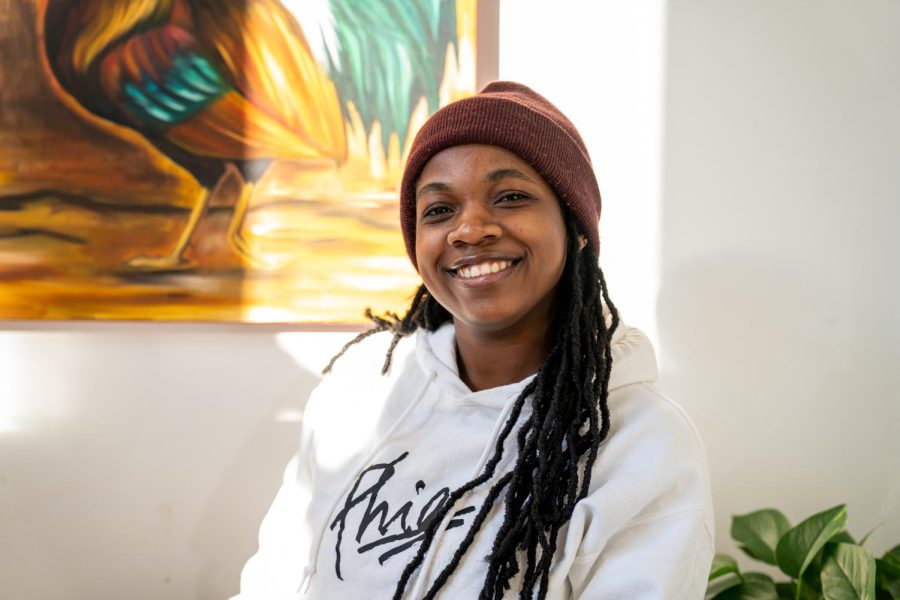 "I know the waiting list to get a studio for SoWa is very long," said Dubuisson. "There's a really tight circle, and getting in there is really hard. So if that could change, there would be a really big change and [a] breath of fresh air … the establishment would benefit. "
According to a representative of SoWa Boston, another member of the Artists Guild, the organization "strives to accept a wide variety of artisans, product mediums, and business types into their Sunday and annual holiday markets." However, SoWa could not provide evidence of any specific or actionable diversity, equity or inclusion measures to The Scope's email and phone inquiries.
"There is a very prominent lack of diversity…as a person of color, you can feel like an outsider, but I chose to move past that," said Dubuisson. SoWa has yet to add her name to the collection of residents listed in multiple locations in the entryway of the artist studios — her studio is missing from a corkboard bulletin, a magnet board and rows of individual prints of artists' names next to their work and studio number. Dubuisson said this absence has bothered her, especially when she showed her space to her parents.
"I know as an artist of color, representation matters," said Dubuisson. "I can touch more people where they don't feel seen. Especially in a predominantly white neighborhood like this, having people of color walking here … they can feel something different, they can relate to [and] can go home and talk about it. It really feels good."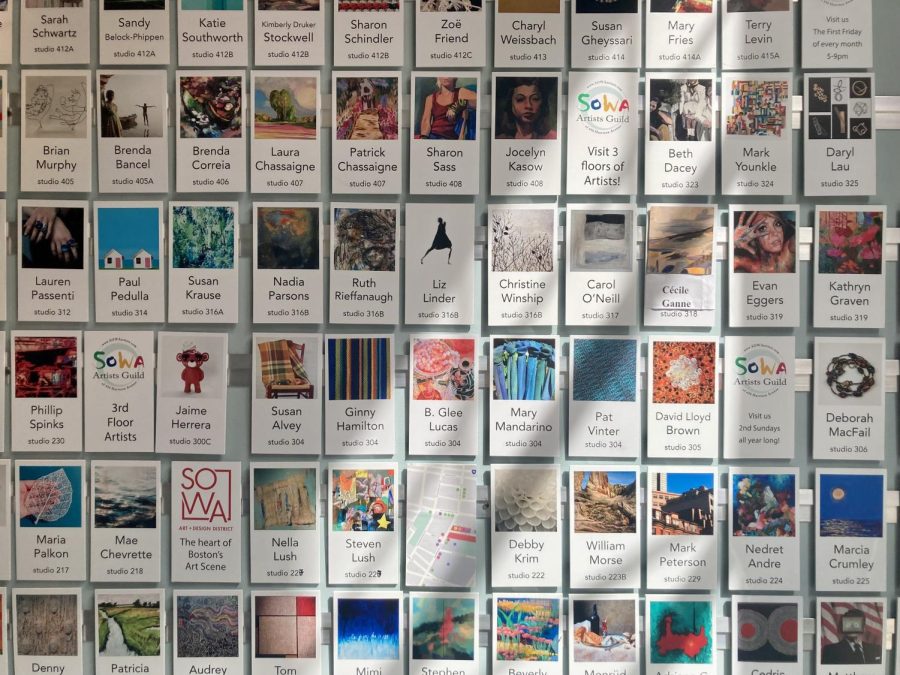 Dubuisson said she hopes to see more diversity in SoWa's future so that more artists from diverse racial, economic, and educational backgrounds can also enjoy the opportunity to grow and thrive. This opportunity can benefit younger artists who are still growing into their full artistic potential. 
Both Dubuisson and Asuncion, who was a recent member of an artist cohort at The Studios at Mass MoCA, spoke to the value of a designated community and physical space with other artists. Access to a safe space for co-mingling among creators can be collectively empowering as ideas, struggles, and criticism are shared among them. This energy enables the completion of deep, beautiful works of art that otherwise might not exist. That art can go on to inspire and empower others who experience it.
"Within the creativity of the art and the work, there is a possibility for communal dreaming," said Asuncion. "You can't have change without dreaming of what it looks like."