Youth climate activists voice concern at Global Climate Strike
Lauren McNair, a senior at Mt. Alvernia High School in Newton, was one of the dozens of youth environmental activists calling on Boston city officials to take climate action at a March 3 protest in front of City Hall. Other demonstrations were also held around the world on the same day as part of the Global Climate Strike campaign, which was organized by Fridays For Future, a climate activist movement, and asks students to occasionally "strike" from school as an act of environmental protest.
At the event, McNair — an organizer with the local chapter of XR Youth, the young adult branch of international environmental group Extinction Rebellion — performed a heartfelt slam poetry piece about climate change. She is part of a growing network of youth advocating for environmental action in the city, which includes college students such as Shoshana Daly, an 18-year-old Tufts University student and the leader of Fridays for Future's Massachusetts division.
Growing up in Newton, McNair recalls always having a passion for the environment. But it was only three years ago, as a sophomore attending remote school during pandemic lockdowns, that she realized her love for the planet could become something more. Inspired by Greta Thunberg, the 20-year-old Swedish activist behind Fridays For Future, McNair applied to get involved in Extinction Rebellion's campaign and has been volunteering there ever since.
"Before COVID, I was definitely concerned about the environment," McNair said. "But, just taking the time during COVID to reflect on what I was doing and what I actually wanted to do, [I knew] I wanted to do climate activism."
In the fall, McNair plans to continue her advocacy work while studying environmental analysis and policy at Boston University.
The Scope spoke with Lauren McNair about her journey to climate activism and the role of youth in environmental advocacy. The following interview has been edited for length and clarity.
Thanks for taking time to speak with me, Lauren. First, can you tell me about Extinction Rebellion and XR Youth's missions? What is your role in the organization?
The main organization is Extinction Rebellion [or XR], and we are a subgroup of XR. They have four demands. The first demand is to tell the truth about climate change — stop greenwashing, stop lying about how bad it is. The second demand is to act now, push politicians to make the changes necessary to stop climate change. [The third demand is for governments to create a citizen assembly to review climate decisions.] The fourth demand is to just transition. Prioritize the people that are going to be most vulnerable to climate change and make sure they get a transition to clean energy.
I don't really have a title, but there are five or six main members of XR Youth. I'm one of those. As XR Youth, we meet biweekly, so it's not too big of a commitment. And then we usually have a specific XR Youth action three times a year. We go to a lot of [XR's] actions, which are like once a month.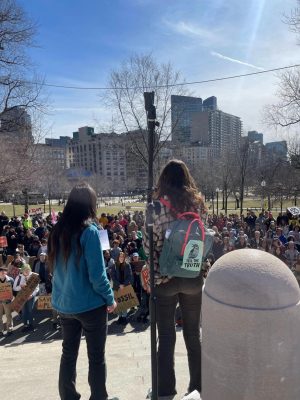 How did it feel to be surrounded by other young climate activists at the March 3 protest?
It felt really hopeful and inspiring, like we can actually change what's happening and turn this thing around. It also felt like I was a part of something bigger, because usually our meetings are on Zoom. We're just talking on Zoom, and then our [in-person] actions are kind of small. There's only like 30-ish people at all of them.
But then, there were like 300 people at this protest, and it was just amazing. Everybody was so passionate. They all had their cardboard signs and there was just a great vibe in the group. Everybody's nice!
What environmental issues are you most concerned about?
Extinction Rebellion does a lot of work on the Eastie Substation. I think the Eastie thing is really one project that we're trying hard to fight. My own niche interest would be the factory farming industry — meat and dairy and stuff.
We've seen young people taking their climate activism to social media, calling for change, especially with recent approval of the Willow oil drilling project in Alaska. How does this kind of wide-spread action make you feel about the future of youth in climate activism?
It gives me hope. I think it's really great because I feel like climate change — we talk about this a lot [in XR Youth] — it was really trending in 2019 with Greta Thunberg and everything, and now it's back to that again with the Willow Project. I don't know if social media can actually stop the Willow Project, but it's really good to get the message about climate change out there, and to reinforce the idea that this is happening. We need to do something about it.
Climate activism isn't an easy effort. Do you have any concerns about youth in environmental advocacy?
I think what worries me is that the youth — a lot of my friends who aren't involved in XR Youth — know how bad climate change is. That's not the issue. They think there's nothing they can do about it. They've just kind of accepted their fate and they [feel] doom and gloom over it, which I think is scary, because even if it's really bad, we can always try to change things here.
What advice do you have for those people looking to become climate activists?
Find other people who want to change things, and find other people who care about climate change as well. So basically, join XR Youth! Or any other activist group, any activist movement.
What is in the pipeline for you at Boston University this fall and for XR Youth?
I want to definitely be involved in the BU environmental club. One of my friends from XR also got into BU, and we were talking about starting an XR chapter at BU. I just want to try as hard as I can to fix things — some might say it's already too late, but I just want to try.
And, on April 21, the day before Earth Day, we're doing an action surrounding Earth Day. It's also surrounding [XR's] demand for no new fossil fuel infrastructure for the state of Massachusetts. We'll be meeting in Copley Square, we're going to march all around downtown Boston and go to some banks who are donating to the fossil fuel industry. 
Finally, if you could send one message on behalf of youth climate activists, who would you send it to and what would you say?
I would send it to basically all United States politicians with substantial amounts of power. I would say: Wake up. We have the technology to save the climate, but we aren't doing it. We already have those ways. We just need to implement them.