Protests continue as Eversource breaks ground on the Eastie Substation
In the wake of eight arrests, activists from GreenRoots, Extinction Rebellion and the East Boston community return to protest Eversource in Eagle Hill
As Eversource makes progress on the construction of a controversial Eagle Hill substation, tension surrounding the project is growing, and so is police presence. In response, on the morning of Jan. 25, one week after the arrest of eight protesters over two days at Eversource's construction site, climate activists and locals returned to East Boston to voice their concerns.
Fueled by a nearly 9-year effort to delay Eversource's plans, organized by Chelsea-based non-profit GreenRoots, East Boston residents and activists aren't letting anything, including police influence, get in the way of their protest.  
Sandra Nijjar, director of the East Boston Community Soup Kitchen, has lived in Eastie for 24 years and was among those arrested on Jan. 17. During the protests, which took place at the playground across the street from the construction site as requested by Boston police, Nijjar said she is concerned for the safety of East Boston families should construction of the project continue.
"It's a danger to us and our community," she said. "It's a ticking time bomb."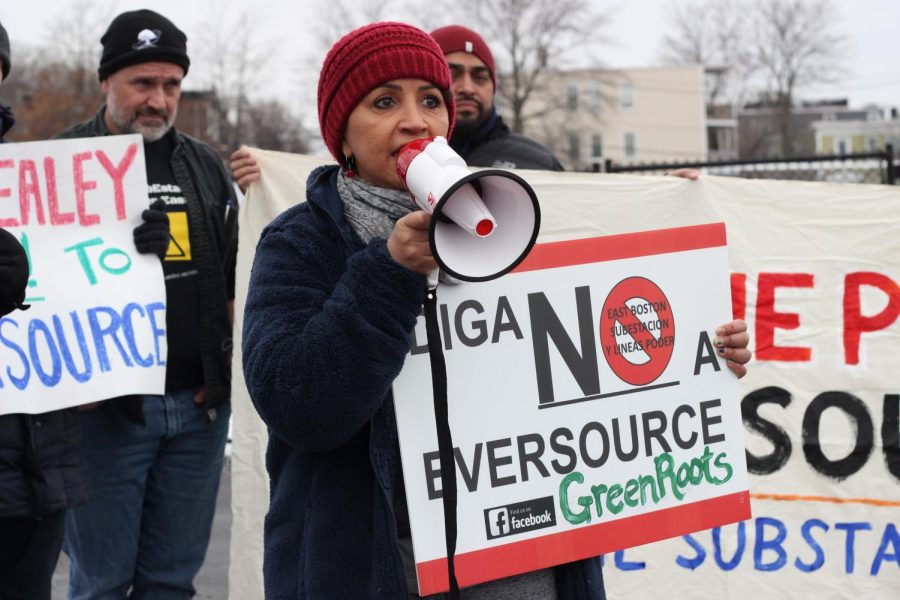 Nijjar, like many of the protesters, worries that building high-voltage electrical infrastructure at this location — a flood zone bordering the Chelsea Creek located within 300 feet of an 8 million gallon tank of Massport jet fuel — poses a risk of explosion.
"Electricity and water do not at all get along," she said. "So that's what I'm worried about — that it wouldn't be a small explosion, it would be a tremendous one because it's next to all [that] jet fuel."
Although uncommon, accidents like those the protesters fear have occurred at electric sites in the area. This summer in Newton, an explosion at a substation left an Eversource employee injured, and in Lexington, a similar incident caused a major fire.
Other protesters, like Gail Miller, an East Boston resident and one of the long-time environmental activists in attendance at Wednesday's protest, feel that building a substation at this location is an injustice to a community that already bears a heavy industrial burden.
"We've suffered greatly just from the impacts of an airport. We've had infrastructure for over 100 years along the [Chelsea] Creek," said Miller. "It just never stops. So to provide this as another assault is really upsetting to us."
Activists and East Boston residents have been voicing these concerns for nearly nine years. Proposed in 2013, the Eversource substation project only received approval from the state's Executive Office of Energy and Environmental Affairs, or the EEA, in Feb. 2021. Nine months later, a non-binding ballot question in the November 2021 municipal elections asked voters to express their opinion on the substation. Ultimately, roughly 80% of voters opposed the project and preferred to have it moved to a non-residential property owned by Massport, since the port authority is expected to be the largest user of the substation.
Despite residents' disapproval, the Eastie Substation project received its final approval from the state's Energy Facilities Siting Board in Nov. 2022, which gave Eversource the right to bypass 14 state and local environment permits and begin building. Although Eversource has since broken ground on the Eagle Hill site, organizers argue that it isn't too late for the state to hear the neighborhood's concerns.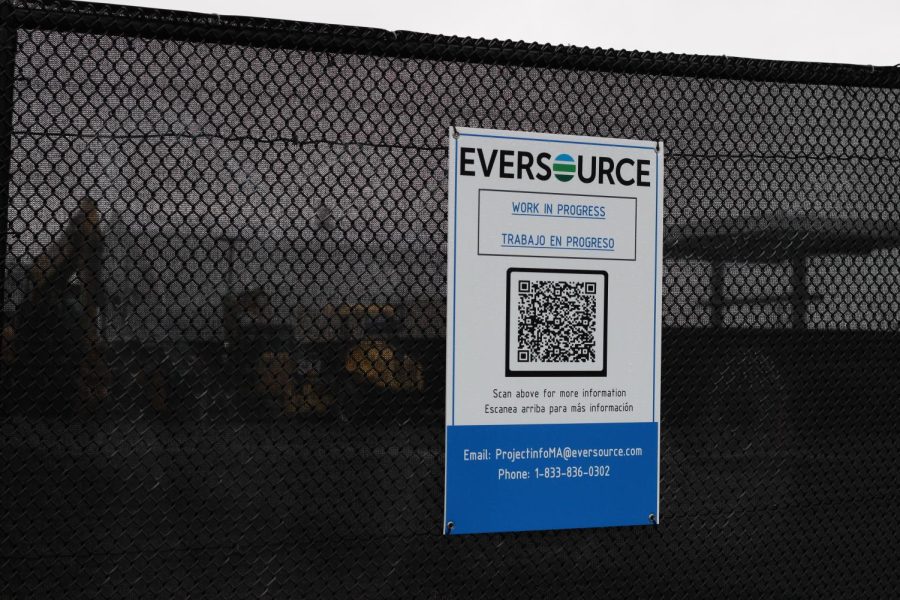 John Walkey, who lives in East Boston and serves as GreenRoots' director of waterfront and climate justice initiatives, is one of the protesters calling for Gov. Maura Healy to stop the construction and intervene on East Boston's behalf.
"The only person who can really do that would be the governor," said Walkey, who has opposed the substation since its proposal. "She is the one that has the political muscle to say, 'I don't want this to happen.'"
In addition to their requests for Gov. Healy's action, activists condemned the severity of the police reaction to the campaign. In a press conference held during the protest, attendees expressed solidarity for the eight activists arrested at demonstrations staged on Eversource's first days of construction, Jan. 17 and Jan. 18.
"The response that the police had the other day was markedly different than the way they treat a lot of other protesters," Alex DeFronzo, director of the Piers Park Sailing Center and one of the arrested demonstrators, said in a press conference during the Jan. 25 action. "It's concerning, of course, the way they treat environmentalists versus the way they treat groups who actually present a danger to our community." 
DeFronzo was  referencing the response from law enforcement to a large white supremacist march which took place in the city this summer. 
Walkey echoed DeFronzo's concerns, adding that the fraught relationship between activists and police has added another layer to the protest against Eversource's plans.
"That Tuesday [Jan. 17] screwed relations pretty seriously, so now there's sort of a bifurcated protest here," Walkey said. "There's some folks who are really concerned about Eversource still, but there are also some other folks who are really concerned about that police response and why Boston police seem to have one kind of response for left-leaning, progressive, non-violent protesters."
The Scope called and sent an email to the Boston Police Department and received no response.
In the coming months, protesters will hold more demonstrations, and GreenRoots plans to file a legal appeal in partnership with the Conservation Law Foundation, a New England-based non-profit advocacy group. As for Nijjar, the Eastie resident said she won't back down, despite her own recent encounter with BPD, and will continue to fight the construction of the substation for as long as she can.
"This is where my family lives. This is where my organization is. My roots are here. And I'm not going to go anywhere," she said. "They're not going to push me out."