Environmental activists join Boston's Global Climate Strike organized by local groups
"Green infrastructure is vital to climate change mitigation"
More than 100 climate activists gathered Friday afternoon in front of the State House to urge the Baker administration and Boston City Council to enact climate mitigation policies in this year's Global Climate Strike. 
The climate strike was just one of many held across the globe on Mar. 25, in support of the youth-led climate action organization Fridays For Future. Fridays For Future is a youth-led and organized international movement that began in Aug. 2018  led by Swedish activist Greta Thunberg. Thunberg and fellow activists went viral on social media on their sit-down in front of the Swedish parliament every Friday for three weeks to protest the lack of action leaders were enacting on climate change.
Six local community groups came together to help co-sponsor this year's Fridays for Future Massachusetts Global Climate Strike: Boston Climate Action Network (BCAN), Boston University's Environmental Student Organization, Extinction Rebellion (XR) Boston, Fairmount Indigo CDC Collaborative, H.E.R.O. Nurturing Center (HERO) and 350 Massachusetts.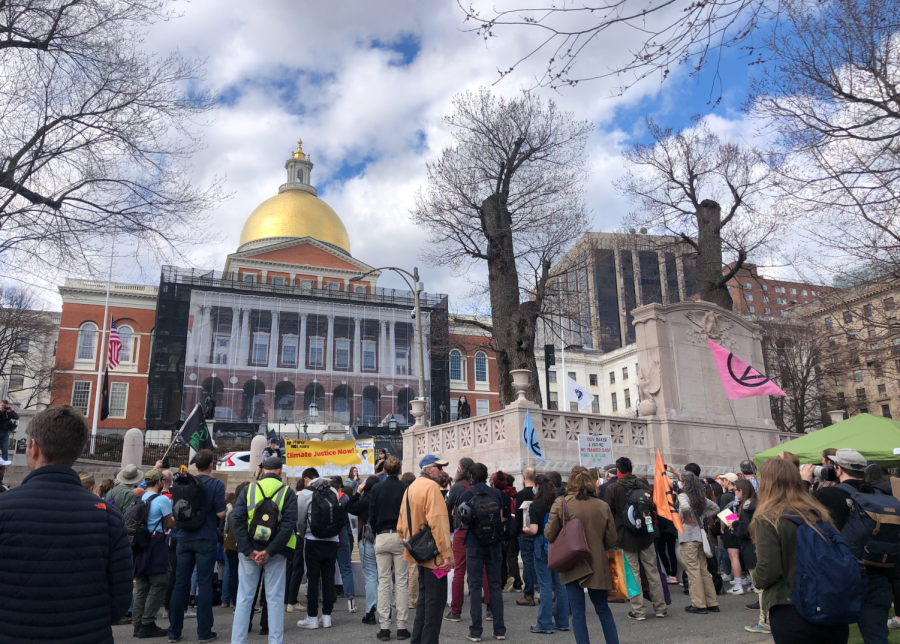 Hailey Moll, communications and media lead for the Boston Climate Action Network, said this year's theme "People, Not Profit" centers people at the forefront of the climate crisis and, more importantly, society. 
"What that means is the idea that we put people, the power of people and political power before profit and greed, and take steps to create a just transition to a cleaner, greener world," Moll said in a phone interview with The Scope. "But also one that prioritizes people and dismantles our racial capitalist system."
Seven speakers from local coalition groups and organizations took the stage, each emphasizing the demands outlined in the Facebook event page. One urges the Baker administration to put pressure on the Independent System Operator New England (ISO NE) for obstructing a smooth transition to clean energy use. The other highlights Crane Ledge Woods as part of a green space infrastructure acquisition in the FY23 budget. 
ISO NE was formed by New England Power Pool during the electricity deregulation in 1996. Today, ISO NE manages the region's electric grid. Bidding prices for renewable energy have been raised to match those of fossil fuels, which puts clean energy options at a disadvantage.
In her speech, Judith Foster of H.E.R.O focused on the intersection of politics and environmental justice. 
"You can't segregate the air," Foster said to the crowd. 
People of all age groups stood in solidarity with the strike. Some held signs to show support; a few writing "Gas gives mother nature indigestion," "Gov. Baker & ISO-NE no fracked gas! Wind & solar now!," and "N.E. Grid stop gas now." Chants echoed the upper end of the Common as speakers presented their speeches, including "What do we want? Climate justice. When do we want it? Now!" In addition, 10 Red Rebel Brigades, an international activist arts group affiliated with XR, performed during the event.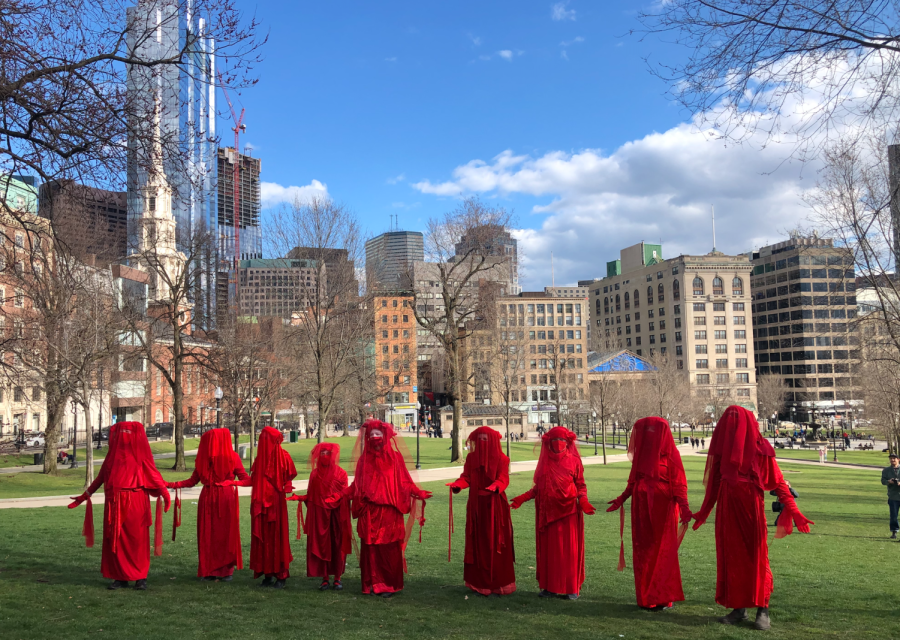 James Michel, a member of the steering team at Crane Ledge Woods Coalition, said those in his age failed to continue the fight in creating a status quo for movements that mattered to them. 
"I'm inspired by [the younger] generation because I'm a boomer — we got radicalized, we were part of movements, but I think too many of us sold out, made decisions to rejoin the mainstream [and] stopped creating a counterculture," Michel said in a phone interview with The Scope. 
Bob Tumposky, a member of the 350 Mass Boston node and steering team and the co-chair of the statewide legislative team, said he wants Baker to use his power of influence to advocate for the betterment of the environment. 
"We want him to take a stand on this issue. Certainly, governors have some influence in Washington on this issue … they have more than [regular people] do," Tumposky said in a phone interview with The Scope. "We feel, in general, he's been pretty anemic on clean energy issues."
As a climate justice supporter, Tumposky hopes the strike draws people into climate advocacy. 
"I hope it's big enough to get some attention and notice, also, perhaps, more importantly, to inspire more people to get engaged in the climate," Tumposky said. 
Crane Ledge Woods is a 24-acre unprotected woodland space bordering Hyde Park, Mattapan and Roslindale. The coalition was created by individuals, neighborhood associations and nonprofit organizations advocating to conserve the land. 
Current owners of the property, Jubilee Christian Church, have made arrangements to sell the land to Lincoln Property Company, a Dallas-based corporation. The process has started with the Boston Planning and Development Agency. Michel said the community wishes the city would purchase the land instead to preserve the green infrastructure and that the church obtains fair compensation. 
"People became aware, 'oh my God, this little gem in the heart of our corner of the city is under threat of development,'" Michel said. "And that's when the neighborhood associations mobilized very quickly."
As an international platform, Fridays for Future is calling for climate reparations. Moll explained one way to follow through is to return land to the people in place of monetary compensation, especially for Crane Ledge Woods.
"People's access to the outdoors, particularly Brown and Black folks and people [who] are low income, is vital," Moll said. "Green infrastructure is vital to climate change mitigation."
Michel agrees with the mission statement and said he is hopeful that the City of Boston will evaluate land and nature in benefit to the people in alignment with Boston Mayor Michelle Wu's campaign promise in relation to the Green New Deal. 
"We need to be trending towards returning land to the commons. For me, the term decolonization speaks to the Indigenous understanding that we don't own land. The concept of private property, when it comes to land, is dehumanizing and is anti-life," Michel said. 
Moll said BCAN and other organizations developed a toolkit that the public can use to show.
"There's so many other organizations doing such amazing work and we really wanted to make sure that this toolkit showed solidarity actions," Moll said.
Michel said intersectional identities should not be overlooked, especially in the context of the fight for climate justice. 
"We absolutely have to be in coalition building; that's what movement building is. The older I get, the more I realize down to the core of my being that issues of racial justice, economic justice, climate catastrophe are all connected," Michel said. "We humans have created an oppressive and violent system based on racialized capitalism, white supremacy, patriarchy and systems that are not sustainable and are increasingly advantaging a smaller and smaller slice of the human population to the detriment of not only other humans, but other species and Mother Earth herself."