Yyoyo Escada brings an underground art form into the mainstream
Last summer, 36-year-old dancer Yolanda Roberson of Dorchester, known by her stage name Yyoyo Escada as a member of the iconic House of Escada, danced her way to the finale of "Legendary."  While millions of Americans were isolated at home, every week from May 27 to July 9, 2020, Escada was strutting the runway and delivering breathtaking choreography to the largest audience of her career so far.
"Legendary," a reality competition produced by the streaming service HBO Max, premiered in the middle of a nationwide lockdown, and re-introduced the art of ballroom and the dance style of vogueing to mainstream audiences craving a new form of entertainment.
"The more you can bring yourself to that magnitude of expression and freedom, you give it to others," said Escada. "You allow them to feel it, and experience it, so that they can tap into that too."
Ballroom is a space that celebrates the LGBTQ community. A counter cultural phenomenon started by POC, balls are a rich expression of queer identity and presentation that showcase dance, fashion, elegance, and opulence. Houses—chosen families that historically lived together—gather at balls to compete in different categories for trophies, prizes and status.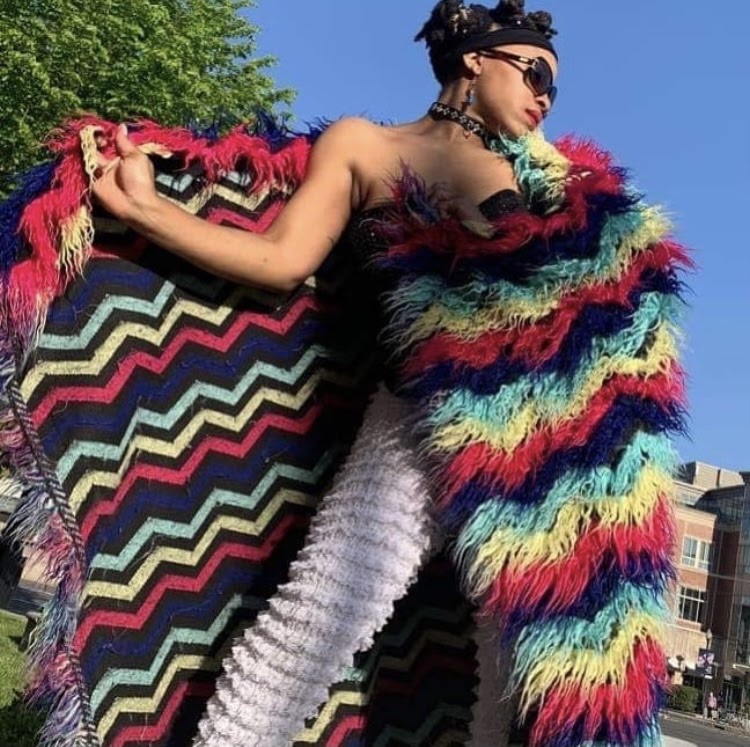 Yyoyo, along with four other members of the House of Escada, battled seven other houses for the grand prize of $100,000. Even though the Escadas didn't bring the "Legendary" title back to Boston (they placed third), they captured the hearts of the judges and fans alike.
Performing vogue and ballroom on such a platform like "Legendary" is a game-changing moment in popular culture allowing communities who have been under and mis-represented in the past to share their experience with the world through their own art, on their own terms. 
Escada spoke with the Scope about how she is inspiring others by expressing her power and femininity through movement. The following conversation has been edited for length and clarity.
How does dance have the power to create change?
There's been many times where I've gone out and I didn't feel so well about myself. After dancing, I felt so much lighter, peaceful and had a lot more energy. Just feeling light! Feeling light is something that shouldn't go unnoticed because feeling heavy is what a lot of the world is experiencing right now–dark feelings, or just feelings, period.
And I just found that releasing this and expressing myself and those feelings, wow, this is my medicine.  Any form of self-expression where you can release these feelings, good or bad, is medicine.
Dancing is not just for entertainment, it's also for healing the body, the mind and the soul, because it's all one. It's all connected. 
Vogue femme is a category of the vogue dance genre emphasizes effeminate gestures. What appeal does this particular style of dance hold for you?
With vogue femme, it's all about being that expression—that expression of love, that expression of fierceness, that expression of, "This is who I am". This is the part that I have not let out yet. This is the part that I feed, that I keep hidden, and I know that we all have that.
It's about tapping into that part within ourselves that has been suppressed by the rules and regulations society believes. Whatever desire that you hold inside of yourself, let that out.
I like to take from everything that I see, whether it be martial arts, whether it be ballet…a cat, a bird, how they move, how they stretch out their torso. You have to work on it. You have to practice it. You have to develop it. You have to understand it. It's a language. 
How did you get your start in the ballroom scene?
Technically, I've been vogueing since 2005. I've been a participant in ballroom since 2011. 
The first ball that I went to was in 2006, in Boston. I was a little shy at the time to walk (perform solo), but I knew a little bit of vogue that I had taught myself from watching people in the clubs and from first seeing it in 2005 when I was in New York.
Vogueing has a long tradition in the New York ballroom scene that was founded by Black and Latina trans women. What is your response to critics who might say that ballroom is not a space created for or by cisgender women?
Women can be queer too. I have always seen myself as an ally to trans women.
Being a queer woman, or a Black woman, I definitely ask myself a lot of questions of where and how I fit into society, just working with the pieces that I already have.
I never really felt like I needed to fit in. I don't want to look like anyone. I want to look like myself. I have my own experience and that's who I am. But I still want to take from the essence of the culture. If you're really about it…and you're true to yourself, then they respect you and they see you for who you are. I think that's what brings us to the same platform (ballroom)…and in a sense, it shouldn't matter.
How did it feel to represent Boston and the House of Escada in a historic, televised ball?
There were many things that I was going through personally at the time, and I almost did not go to "Legendary." I was going to work every day, taking care of my kids (a boy, 3, and a girl, 6.)
I'm still learning my performance and learning my body range. I'm coming back into the movement, coming back to dance after having two children. I'm still nurturing myself back to where I want to be.
I'm so glad I did (go to compete). It was definitely big pressure for me, but I've been onstage since I was a little girl, so I've been preparing for this my entire life. I have inspired others to do this. I've inspired a lot of people. It's touching for me that people are really, really touched by it.
How is the House of Escada like a family?
Family just means like you find someone who vibrates in your life the way that you vibrate in your life…It's easy to pour into each other. It's easy to uplift one another and support one another.
What gives you hope?
People are still sharing their art. They're still sharing great words of encouragement and empowerment.
I feel like just planning and building, reaching for new heights…just opening up to the universe to receive more and to give more and to be of service. I really see myself helping people as I help myself, and that never stops.