Changemaker: Nick Rabb, climate activist with Sunrise Movement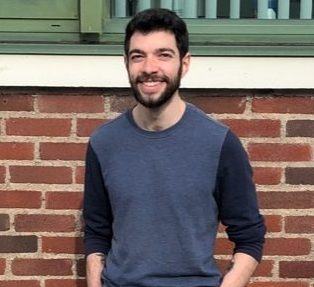 Twenty-seven climate change activists representing the youth-led Sunrise Movement were arrested and charged with trespassing last December, after refusing to vacate Gov. Charlie Baker's office in the Massachusetts State House, following Boston's third citywide climate strike. 
Among them was 26-year-old Nick Rabb, a Ph.D. student at Tufts University, who is pursuing a dual doctorate in computer science and cognitive science. Rabb is the leader of Sunrise Boston's education team, which helps members build mutual understanding around issues of identity and intersectionality. Often, that means having uncomfortable conversations, interrogating his most deeply held assumptions, and encouraging others to do the same.
These conversations are essential for Sunrise, which differs from traditional climate activist organizations in its emphasis on environmental justice.
While other environmental organizations may focus on carbon reduction or pollution control, Sunrise's goals are all-encompassing. It seeks transformation of America's energy infrastructure, built on the pursuit of economic, racial and gender justice. It's not simply a matter of moving away from fossil fuels and moderating energy consumption, but making sure minorities and other vulnerable communities are not put in harm's way by these new developments. And while any green transformation will create new high-paying jobs, Sunrise wants to make sure those jobs are widely and equally available.
A framework for this kind of all-encompassing paradigm shift was laid out last February by Sen. Ed Markey, D-Mass., and Rep. Alexandria Ocasio-Cortez, D-N.Y, in the form of the Green New Deal. While that specific piece of legislation was quite bold, it broadly outlines the future that Rabb and Sunrise Movement are fighting to create.
Founded in 2015, Sunrise Movement is entirely composed of, and led by, young people. It limits membership to people aged 35 and under. Across the country, there are about 300 branches (known as hubs) in 49 states and Puerto Rico. Massachusetts alone has 27 hubs, about a dozen of which are in Greater Boston. Since Rabb joined the Boston hub in fall 2018, membership has skyrocketed from a few dozen to nearly 1,400 people as of Jan. 1, 2020.
Recently, Rabb spoke with the Scope's Ben Farber about Sunrise, inclusivity and why getting arrested, while good for publicity, weakens the movement overall. The following interview has been edited for length and content:
Q: How did you get involved with Sunrise?
A: In November 2018, when Sunrise held their action in Rep. Nancy Pelosi's office, I saw a news report about it and thought, "holy s***, these are the people I need to get in touch with." Young people, like me, doing something incredible, like this? How can I get plugged in?
When I joined Sunrise Boston just over a year ago, it was like 20 people … When it's that small, every role is a leadership role. We started small and we're huge now.
Q: You're in charge of Sunrise Boston's education team. What is that?
A: We're holding workshops led by Sunrisers with help from partner organizations. How do we think about class? How do we talk honestly about class in a way that's beneficial, not shaming but realistic? How do we talk about an imperialist mindset that we've absorbed through the culture? How can we be anti-imperialist? How do we think about race? How do we think about gender?
Q: What does learning from your mistakes look like?
A: It gets into a lot of deep social and sociological learning and unlearning. The Boston hub is pretty white, upper-middle class, middle class. We bring learned habits and ways of thinking into our organizing work. At times, [Sunrise] hasn't been very good partners to environmental justice organizations or other communities who are like, "you can talk about justice, but do you really embody justice?"
Q: What do you mean when you say you want to be "anti-imperialist"?
A: It's the culmination of a lot of the stuff you would attribute to modern western culture, white culture. We have these mindsets where we are bad at working together because we want to win, we want to compete. We get scared because we think there are scarce resources, so we take up more space.
After the December strike, we were arrested for trespassing. My friend who was organizing the anti-imperialist workshop said it would be nice if Sunrise really considered how much they ask people to get arrested from actions. For the BIPOC [Black, Indigenous and People of Color] community and folks with in-jeopardy immigration status, this tactic of being arrested is a privileged mindset. To say, "this is the way we're going to make change," is playing into that power culture, that upper-class mindset that says it's ok to get arrested.
Q: Tell me about being arrested. What happened once you refused to leave the governor's office?
A: It was pretty wild. We were asked a handful of times to leave, and we did not leave. We were lined up and handcuffed, then taken in. Myself and the other male-identifying folks, we were taken into the van and taken down to the Seaport and processed. The female-identifying folks with us were forced to go to a separate facility.  We sat in a cell, chatted for a while, while everything got sorted out. We were able to be processed and have the bail commissioner come the same night. Then we all showed up in court together for our arraignment and had the charges dropped. From what I heard, it was the district attorney that got them dropped.
Q: One of Sunrise's top policy goals is a Green New deal. What makes the Green New Deal so important?
A: It's a motivating framework for the direction of the country. It makes arguments for reducing inequality, for recognizing the injustices that have been done to communities of color, indigenous communities, the poor and the disabled.
We need something akin to the huge mobilization we had for the New Deal to deal with this huge issue. We can't fight climate change until we address these systemic issues because climate change is literally a result of these systemic issues.
Q: How does the Green New Deal fit Sunrise's goal of climate justice?
A: By ensuring community control and democratic control of their resources as part of the just transition we need to stop climate change.
Take the jobs guarantee as an example. By guaranteeing a job to everybody, there would need to be some legislation in place as part of that guarantee that's completely anti-discriminatory. One of the problems with the original New Deal was that a lot of the prosperity that grew out of it was predominantly for white people and left out a lot of black folks in the country and people of color generally. The Green New Deal would have to learn those lessons and put protections in place to make sure there is equity.
Q: What's been the best part about joining Sunrise?
A: The sense of solidarity with other people, that I wasn't alone in being so freaked out. This was so intoxicating and powerful. I was like, "ok, these are my people, this is my thing. This is what I'm going to spend a ton of time on."
I've learned how to be hopeful. I've learned that anyone can help, and everyone can make a huge impact. That's hugely hopeful and I don't think I've found anything else with commensurate meaning in my life.