Young Men Organizing for Change creates a community for students of color to discuss social and political events 
A typical Boston high school student's day may be packed with classes, standardized testing and extracurricular activities. But one thing that often gets overlooked is a space for student-led discussion on current political and social events. For the last three years, Young Men Organizing for Change has offered that to young men of color at Boston Latin School and Fenway High School.
"I recognize the importance of not only education being a means of liberation, but also the importance of creating safe havens for males of color in schools that often don't act as that to them," said Gavin Smith, co-founder of Young Men Organizing for Change (YMOC). "Creating that community gives them a great amount of power."
The organization's model allows students to develop their interests with the help of mentors from their community based on discussions over dinner, called Breaking Bread, on issues that impact them. The program's mentees have presented to elected officials on mass incarceration and its impact on voter suppression and have traveled to conferences like the Coalition of Schools Educating Boys of Color in Detroit.
Smith, 34, grew up in Jamaica, West Indies and Uniondale, New York. He spent years teaching science in the Boston public schools before coming to Fenway High School as assistant principal. While working at Boston Latin School, he collaborated with Gregory Benoit, assistant director of the Earl Center, Boston University's hub for advancing instructional and pedagogical techniques, and Gabriela Mora of the Krupp Family Foundation to found YMOC.
Smith spoke to The Scope about the power of student-led conversations spaces for young men and the program's early success. The following conversation has been edited for length and clarity.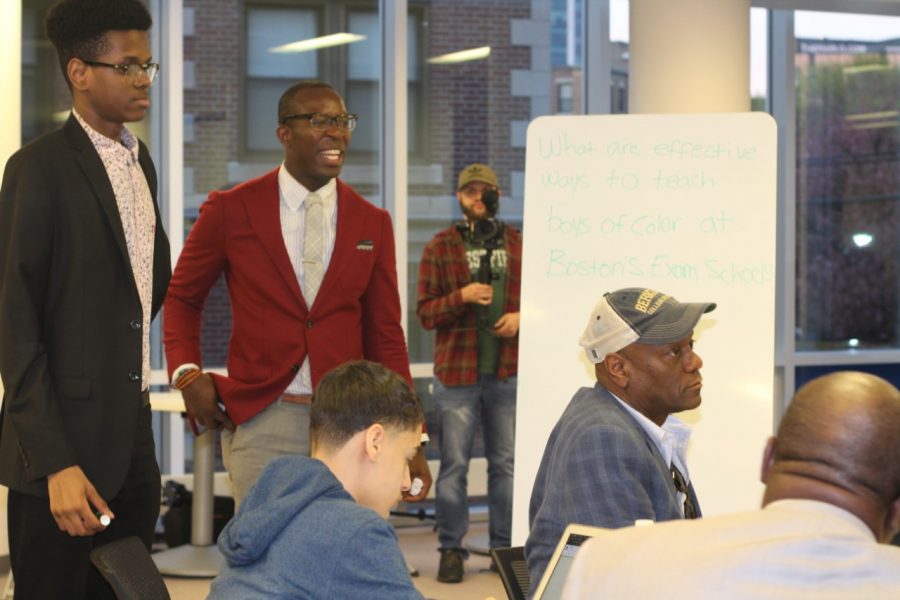 Can you tell me a little bit about how Young Men Organizing for Change came about?
I was at Boston Latin School and I saw a glaring need for something for young men of color at the school. It was pretty evident that many of the students weren't doing as well as their peers. I wanted it to be a space where we can do something educational, because many of those students didn't feel successful. It was a way to engage in conversation that was meaningful to the students and then have them do a research project through the youth-led participatory action research model and say 'these are the things that we are experiencing and these are the things that we want to do research about.'
Can you talk a little bit more about the Youth-Led Participatory Action Research model [an education model that empowers students to choose the social justice issues they dive into with guidance from educators and community members] and what makes it unique?
When we're looking at education models, typically we're talking about the adults as the teachers. In this, we are putting the onus on students entirely. We have a mentorship model, and there are two mentors per student. We had to continuously remind adults that this is entirely student led. We can talk to them about how to do research right, how to do certain things, how to cite, but it is youth led. They picked a topic through the many different dialogues that we had in our monthly dinners called Breaking Bread and were like we want to continue to talk about this. At the end of the day, [what] they came up with was a beautiful presentation that they've shown at several locations to elected officials. It was really powerful for them. 
What does your membership look like and who are your mentors?
Our membership is mostly young Black and Latinx males between the ages of 14 and 17. Mentors are our community members. The goal initially was to get former alumni of Boston Latin School to come and mentor students. They would come along but they would also bring their friend. I quickly recognized how important it was for not just youths of color but also the adults of color to engage in these sorts of discourse. It's a very needed conversation, and oftentimes the mentors would stay after and just continue to hash out some of the conversations that we were having with the youths. I think the space [has] been incredibly powerful.
Once we moved to COVID we started doing Zoom spaces, but the conversations still were really fruitful, and I think came at the right time. There were many things going on, like the death of Ahmaud Arbery. Just being able to talk through that with the youth, talking about police brutality, talking about George Floyd and talking about their experiences in school and community. I wasn't sure they had the space to have those conversations. 
What experiences from your youth do you take into Young Men Organizing for Change?
Everything. I can tell you about many friends of mine who were doctors or lawyers or engineers or just professionals in general, and then I can also tell you about folks who have been incarcerated. I think seeing the culmination of the work that we've done, not just the research projects that the students have created, but the fact that they're able to showcase this in front of their peers and in front of elected officials. We're talking about people whose voices aren't always heard. I think they take so much pride in that. Those are definitely experiences that I wish I had as a child. There's several other mentors who have other lived experiences that either mirror mine or are vastly different. They also get to share those experiences with the young men.
What is the most surprising feedback that you've received from participants?
I think it's seeing the college essays to be honest. I have received at least three that say that their experience was transformative. People may hold on to different pieces of it, but something for them is transformative.
What do you see for the future of the program?
I don't just want it to be in two schools. I think it's powerful enough to be in the entire district, but not a watered-down version of itself. I want it to be very authentic. I know that there are many other organizations within the district that are doing similar things. I would love to be able to partner with those organizations and continue to expand this program and showcase the talent and voices of other males of color in the district.