Residents, politicians protest the MBTA's service cuts despite receiving almost $2 billion in federal aid
Residents, politicians and transportation advocates are protesting the MBTA's decision to cut 20% of the Red, Orange and Green lines service and up to 5% of the Blue line service.
On March 14th, the MBTA cut the frequency of service on the Red, Orange, Green and Blue lines as well as for a number of bus routes, some of which have been suspended, re-routed or consolidated with other bus lines. The MBTA suspended weekend service to a number of commuter rail lines as well.
The MBTA is citing a potential annual budget deficit of up to $400 million as having a heavy influence on their decision to cut ride frequency, but it has received $1.1 billion in federal pandemic relief funding and another $850 million is on the way under President Joseph R. Biden's American Rescue Plan.
While the cuts are estimated to save up to $21 million, the reliance of the city's residents on the transit system amid the beginnings of potential reopenings and a rapidly growing vaccine rollout program have left commuters confused and upset with the timing.
Boston City Councilor At-Large and Mayoral candidate Michelle Wu, a vocal transportation advocate, attended a rally to restore the 55 bus line alongside a number of Fenway-area residents on March 14th.
"To get people vaccinated, bring jobs back and address our urgent climate crisis, we should be investing in public transit, NOT cutting MBTA service," said a spokesperson for Wu on her official statement regarding the cuts.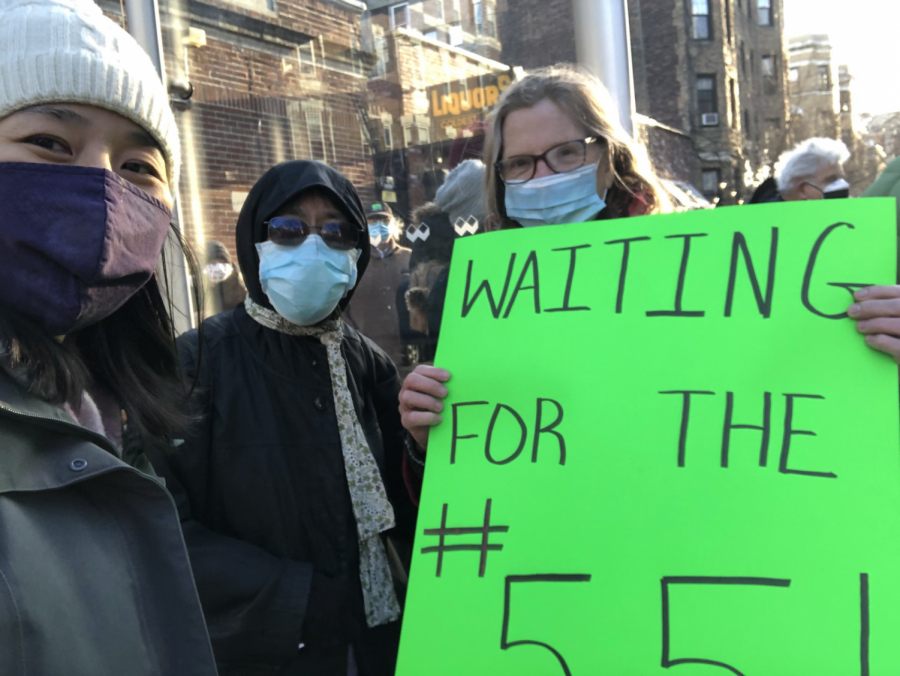 The MBTA's service cuts are only expected to save about 5% of the transit's reported estimates of upcoming budget deficits, though the almost $2 billion in federal aid should more than make up for a few years of the T's reported estimates of losses. City residents and politicians alike believe this funding should be going immediately back into restoring full service along all MBTA lines.
The Massachusetts branch of Community Labor United organized a virtual rally on Friday, March 19 at 11:00 a.m. EST in opposition to the cuts and making calls for the MBTA to restore full service immediately. The virtual rally had 100 attendees calling in through Zoom, plus another 546 viewers on Facebook live.
"Despite this desperately needed funding, the MBTA instituted another round of deep service cuts this past Sunday: Cutting bus lines, increasing wait times between busses and subways, and making other changes that diminish the system we rely on," said Colique Williams, an organizer for MassCLU, kicking off the virtual rally. "Those funds must be used to restore full service – now."
United States Sen. Elizabeth Warren, D-Massachusetts, appeared at the rally and issued a collective call to action to riders, workers and community members to oppose these cuts and fight for restoration of full services. Warren cited the American Rescue Plan's intentions to aid mass public transit in light of the T's decision to issue cuts, and as a result Massachusetts delegation sent a letter to the MBTA asking for the cuts to be reversed.
"Public transit is a public good, and it will be an integral part of how we recover from this pandemic," said United States Congresswoman Katherine Clark, who also cited her confusion at the MBTA's decision to issue service cuts in response to the securing of relief funding for the transit authority.
According to Michelle Nadow, the CEO of the DOTHouse Health, cuts along bus lines consist of what is likely to be the permanent removal of the 18 bus between Andrew Station and Ashmont. This line allows residents easy transportation to the health center itself, which provides a number of healthcare services to the typically underserved community, including Covid testing and vaccinations.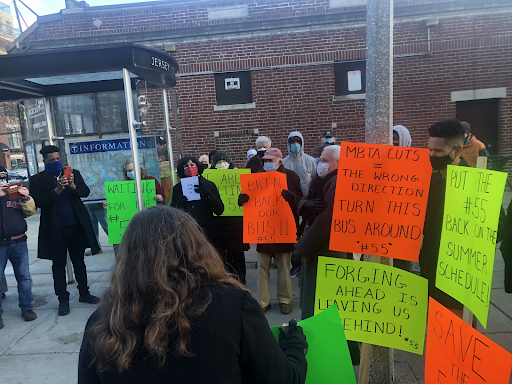 "To hear the suspension of the number 18 bus cuts that lifeline off for everyone – for patients and for our employees to get here. And the suggestion to those riding the number 18 bus was to take the Red line," Nadow said. "Our health center is half a mile from the Fields Corner T stop. If everyone can imagine leaving a food pantry with two full bags of food and walking half a mile with three kids, it's quite difficult. Why are we putting that strain on people who have been so disproportionately impacted by the pandemic is beyond me."
The cuts in service frequency as well as the suspension and consolidation of bus routes not only limits public access to public transit, but also raises concerns of overcrowding, said Jim Evers, a member of the Public Transit Public Good Coalition and President of Boston's Carmen's Union, Local 589 which represents about 6000 transit employees in Boston.
"This is a burden that's on low-income, the working class and communities of color and we're hoping with all this coverage that we're getting that this burden can be lifted," Evers said. "My members and the commuter rail have been affected so far and we're wondering who's going to be next. These cuts will only increase the numbers of the ridership on the buses and our trains: This causes an obvious safety issue for the public and transit workers as overcrowding will be an ongoing problem."
The cuts have already deeply affected the commuter rail, though Amanda Chapin, a local union representative for the Transportation Communication Union IAM Lodge 1089 and Division Chairperson of TCU IAM Unit 86, cited the union's success in reversing layoffs for conductors along a number of commuter lines while demanding the reversal of cuts as well. However, layoff concerns are still growing among transit workers, as cited by Evers.
"Another major issue is the potential of layoffs, which would cause major timing issues for the MBTA service for reinstatements," Evers said. "The MBTA pays dollar for dollar on unemployment, so with these issues and the many months it would take to reimplement service makes no sense, especially when the T is receiving federal monies to continue having service," Evers said.
Maureen Collie, who said she is a daily rider of the MBTA and a resident of Chelsea, spoke on the challenges brought about by the suspension of the 112 bus as the only route to or from the hill she lives on. After fighting for another bus along the route for years according to Collier, the residents were appeased with slightly increased service, decreasing wait times from 45 minutes between buses to only 30 minutes. The cuts proposed by the MBTA reverse this improvement that many residents were forced to fight for over a span of years.
As transit advocacy groups, riders, workers, residents and elected officials alike continue to fight for the full restoration of services amid federal funding, the Public Transit Public Good Coalition is calling on community members to continue to call or e-mail the Fiscal and Management Control Board of the MBTA before discussion officially ensues on whether or not to restore full service on Monday, March 29th.
"Stop balancing the budget on the backs of riders and public transit is a public good. Reverse these cuts and put the people's money back into running service for them today," said Johnson.