Hunger relief nonprofits face challenges as they prepare for winter and COVID-19 surge
In Massachusetts, the COVID-19 pandemic and cold winter weather are deepening the dire crisis of food insecurity. 
It's all hands on deck as nonprofits around the state, even those that are not typically focused on distributing food, are pivoting to join the effort to reduce hunger during the pandemic.
"The COVID pandemic has taken the crisis that already existed and just exacerbated it beyond imagination –– beyond what any of us could have anticipated," said Liz Greenhalgh, vice president of communications and development for Project Bread, a Boston-based nonprofit focused on food insecurity and hunger issues. "And that's particularly true in the cases of groups that were already disproportionately experiencing rates of food insecurity and hunger." 
Project Bread, Greenhalgh said, tries to connect people to food resources. The organization aims to help people handle their household budget and introduce them to programs like the Supplemental Nutrition Assistance Program, or SNAP. 
SNAP is a federal public assistance program used nationally by 9.5 million families with children where recipients can use benefits to buy food. Project Bread also supports The Summer Food Service Program, or Summer Eats, which provides free meals to children in Massachusetts in the summer through sites across the state.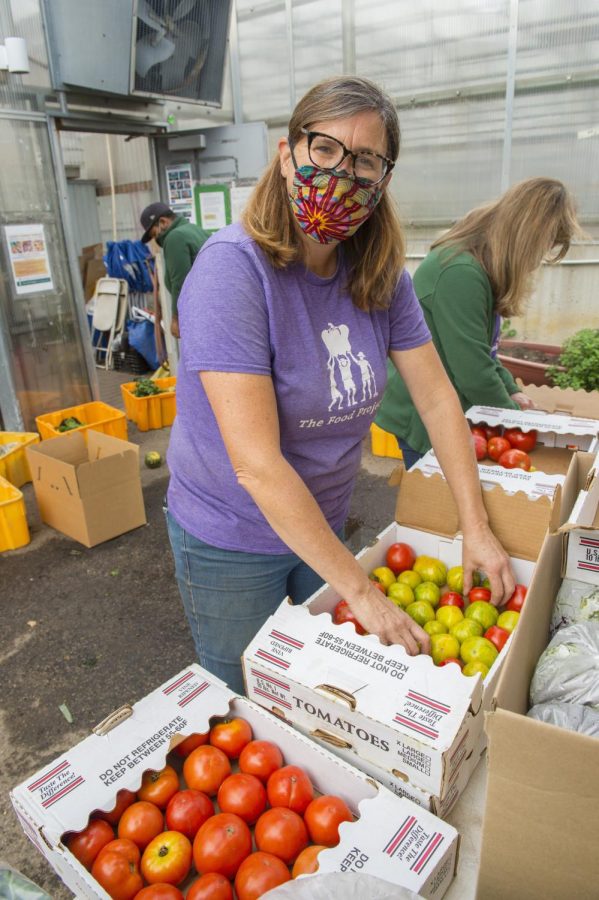 Another Boston-based nonprofit, The Food Project, aims to address food insecurity by selling affordable, fresh produce grown at their farms at farmers' markets.  
This year, The Food Project has increased their distribution in neighborhoods like Chelsea, Roxbury and Dorchester. With support from the Office of Food Access in Boston and the Boston Resiliency Fund, Andrews said they were able to shift from their typical produce sales to restaurants in the winter to helping tackle the issue of food access, or the lack of access to healthy food choices. 
To do this, The Food Project has partnered with local organizations like the Dudley Street Neighborhood Initiative, or DSNI, to provide produce through initiatives like farmers' markets. 
Although DSNI is not typically a food distribution organization, the pandemic forced them to pivot, leading to the creation of the Dudley Food Hub, where The Food Project has helped source fresh produce.
"This is an initiative in the midst of an emergency. We're just trying to do the best that we can to maintain [our] community," said Luz Colón, a community organizer at DSNI. "We love our community; we take pride in our community. We want to ensure that community members are able to breeze through this pandemic, and we want to be a part of that."
Before Thanksgiving, The Food Project organized an affordable farmers' market in partnership with DSNI and distributed community-supported agriculture boxes, a membership service in which people pay to receive produce directly from farmers. The Food Project provides membership services to families in need for free.
A number of students and youth volunteers assist in distributing fresh vegetables at The Food Project sites all throughout winter. COVID-19 safety precautions and the colder weather, volunteers said, have made the distribution process a bit more complicated than usual due to social distancing protocols.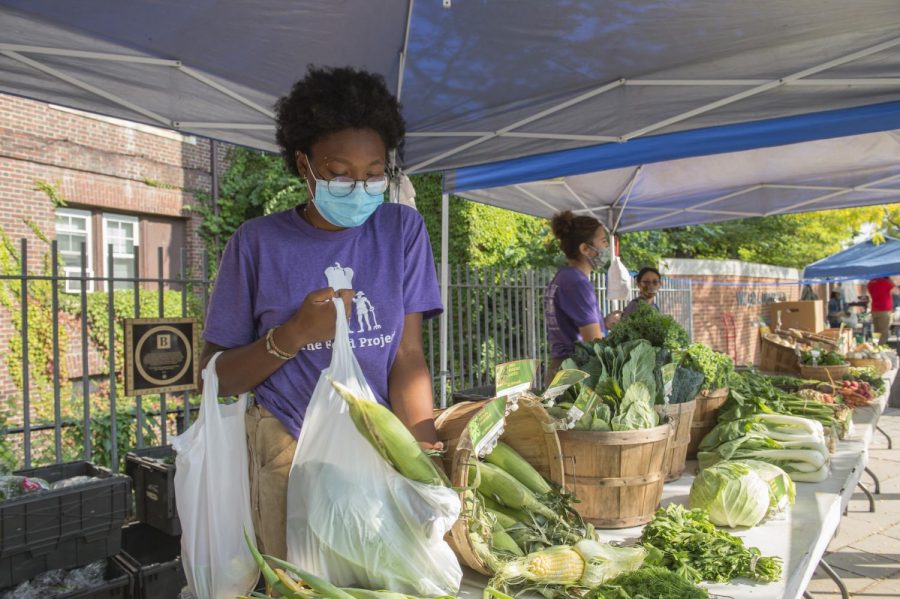 "We're not supposed to have long lines [and] people don't listen, and they'll show up an hour early," said Arleth Lopez-Maldonado, a freshman at MassArt and youth staff member at The Food Project. "We can't have a line, and we can't have too many people at once."   
Although the food distribution started recently, Lopez-Maldonado said they expect a possible rise in people coming to pick up fresh vegetables and other supplies due to the ongoing surge of COVID-19 cases and the resulting factors, such as possible job loss.  
"I feel like there might be that jump again, just because of the virus," they said. "I don't know how that's gonna affect us because we're trying to stay as safe as possible, but if more people come, that's more people in contact. It's more like trying to balance everything and trying to stay safe, but also give them food." 
Greenhalgh noted that Project Bread faced similar issues with distribution in their school meal program Summer Eats, which they will continue this winter. 
Summer Eats was created in March and is unique to the pandemic, as students could come to school and pick up multiple meals to-go. However, during the winter, Greenhalgh said, there are many challenges to keep these sites operational, since many of them were outside. 
"There's already a pandemic going on, and to have people kind of stay standing outside in the cold and huddling up to try and get free food to keep their kids going –– it's problematic in a number of different ways," Greenhalgh said. "The schools have done an incredible to continue to make it work, and through our partnership with them, we've been helping as much as we can." 
View this post on Instagram
A post on Project Bread's Instagram page about the Summer Eats Program, which Project Bread supports.
The challenge for distribution sites like those assisted by Project Bread and created by The Food Project is twofold –– how does one maintain social distancing, but still make sure people have enough to eat? 
Despite the challenges, Lopez-Maldonado said connecting with people has been worth it. 
"I actually meet people who come often, and they're like, 'The Food Project has changed my life; you guys built a raised [garden] bed for me, [so] now I can make this, and I can make that,'" they said. "I get to help actual people and not be supporting a company who says they're helping, but then we don't actually get to see the results." 
The people picking up the food are equally grateful. 
"People are so happy because we give soap and other things, too. Most of the time, they're from low-income homes, but they have big [families] … [so] they don't have enough money to get vegetables for their families," Lopez-Maldonado said. "They're always so happy, and then, next week they'll come back … we have this kind of community already." 
---
For more information on The Food Project, visit their website at www.thefoodproject.org, and for more information on Project Bread, visit their website at www.projectbread.org. 
For food assistance in 180 languages, call Project Bread's FoodSource Hotline at 1-800-645-8333 from Monday to Friday at 8 a.m. to 7 p.m. and Saturdays from 10 a.m. to 2 p.m.