Power to the People rally brings Black artists, small businesses & community together
Lex Weaver, Audience Engagement Editor
September 6, 2020
DORCHESTER—Town Field Park became lively on Saturday afternoon as many came out for the Power to the People: A Rally for Black Culture event to support Black artists and small businesses and to promote equity within the community.
"We say power to the people," Lance Jackson, event organizer and Randolph native, said to a crowd of people. "We're the people. Power to us to be able to unify to do something like this."
Power to the People, or PTTP, a social justice group that formed in June in response to the national conversation of unjust police killings and the disenfranchisement of Black and brown communities, collaborated with the Dorchester Art Project to hold the outdoor event down the street from the Fields Corner T stop.
Sponsors included All Dorchester Sports League, Arts Connect International, BAMS Fest, Boston Alliance of Gay Lesbian Bisexual Transgender Youth, Brain Arts Organization, Fairmount Innovation Lab, Frugal Bookstore, Hoop Hop, Soleil Restaurant, The Loop Lab, Teen Empowerment, and Wise Man Once.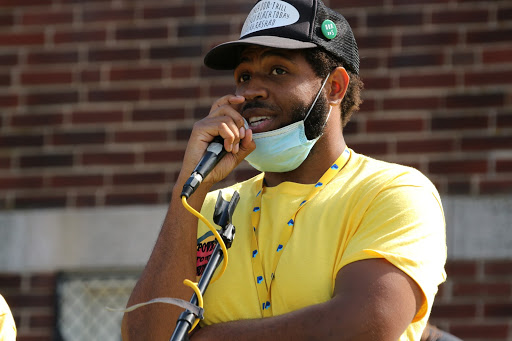 Saturday's event centered on small Black businesses, music performances and art demonstrations, echoing sentiments and vibes similar to the popular Afropunk festival. Organizers said the event was all about "returning the power to the people."
"All the vendors here put in money to make this thing happen and to pay these artists which made the event free for [guests to attend]," Jackson said to the Scope. "And now they're able to recoup that money because now they're surrounded by a bunch of people that want to know what it is that they're doing."
The group said it was able to fundraise over $4,300 for the event via an online donation campaign.
"We believe that Black lives do matter," Jackson said. "But we need Black power; To make the difference instead of waiting for the difference."
The event was a great start to kick off Labor Day weekend, and The Scope was there to check it out. Enjoy some photos from the day:
Note: All event attendees were encouraged to wear masks and maintain social distancing at the outdoor park. Additional PPE materials were handed out by event organizers for the duration of the event.