"Just wanna play ball": The New England Blazers have championed wheelchair basketball for over 40 years
"If there's a sport out there, we can put you in a wheelchair," says Cowan.
The New England Blazers is a non-profit organization whose mission is to assist people with disabilities to engage in sports and enhance their quality of life. 
Paul Cowan is the director and coach of the New England Blazers. He has played and coached wheelchair basketball for more than four decades. During the team's journey to Division 3 of the NWBA (National Wheelchair Basketball Association), he gave his all not only as a player but as a coach for his teammates. However, as a result of the pandemic, their training location had to be relocated.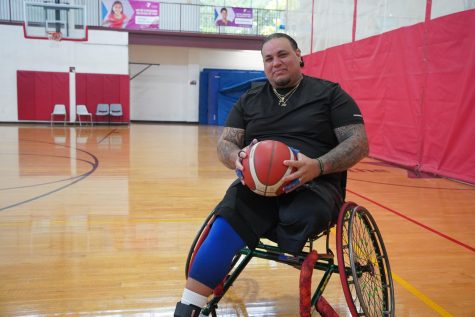 "When COVID hit, our gym turned into a COVID testing site for veterans, and now they're finally doing the third stage of construction of re-fixing up the gym pool area. So we lost our gym,"  Cowan says.
But that didn't stop the New England Blazers from pursuing their  motto: "Just wanna play ball." They searched for a facility in Brockton, Massachusetts, Lincoln, Rhode Island, and Middleborough, Massachusetts.  
When asked what they'd say to other people with disabilities who want to participate in sports, they have plenty of suggestions. "Do not break your dreams and do not have limits to yourself," says player William Borrero. "This life is precious, and you must be taken advantage of."
"If there's a sport out there, we can put you in a wheelchair," says Cowan. "We can find you the organization that plays in that sport. And you just come and find out if that's what you like to do."