Women share tales, swap recipes from their quarantine kitchens
Boston-based artists hosts virtual recipe exchange in celebration of community
Earlier this year, Boston-based visual artist Evelyn Rydz was struggling to decide which of her Colombian mother's recipes she would take to the next "Comida Casera" dinner.
Rydz has hosted these intimate, pot-luck meals since 2016, gathering strangers, neighbors, colleagues, friends, mentors — any women in her life — to share dishes inspired by other important women.
Then the coronavirus arrived in Boston and Rydz was faced with a different dilemma: how to adapt "Comida Casera" during the COVID-19 pandemic.
Rydz's solution was to move the upcoming dinner online and host a recipe and story exchange that started with an email invitation. On the evening of April 4, about 16 women, joined the first virtual edition of "Comida Casera," streamed via Zoom from their homes in the U.S., Ecuador and India, exchanging comfort food recipes, kitchen hacks and funny quarantine anecdotes.
"Although there [was] no physical shared table or food, there [was] a virtual unifying idea of the table created by the experiences of all being at home during these uncertain and challenging times," said Rydz, who was able to bring together current or former Boston residents of all ages and backgrounds, without asking them to break self-isolation and leave their homes.
"I was not sure how it would work, I was very happy to see how we connected together and shared with each other in an online community that spanned across time zones, cultures, and generations."
After a brief welcome, Rydz shared the story behind her dish, "Mom's Chicken Soup," inspired by the Colombian recipe for "ajiaco," a classic chicken soup made with cilantro, corn and tomatoes.
"This is a time where everyone needs a lot of healing and soup is something we always do when we are sick," said Rydz.
From several small squares clustered on computer screens, the women who joined the virtual event were thrilled to chat with new people and share recipes, from banana bread inspired by a sister, to pasta dish "Cacio e Pepe," made with cheese and pepper, created by Cambodian-American Mel Taing and her boyfriend.
"For the entirety of our relationship, cooking has been a core bonding experience," Tain wrote in the digital cookbook Rydz compiled from the shared recipes after the dinner.
From Mumbai, India, Esha Bhatia attended the recipe swap and shared instructions for "Rajma Chawal," an Indian dish made with beans, spices and gravy, served with rice.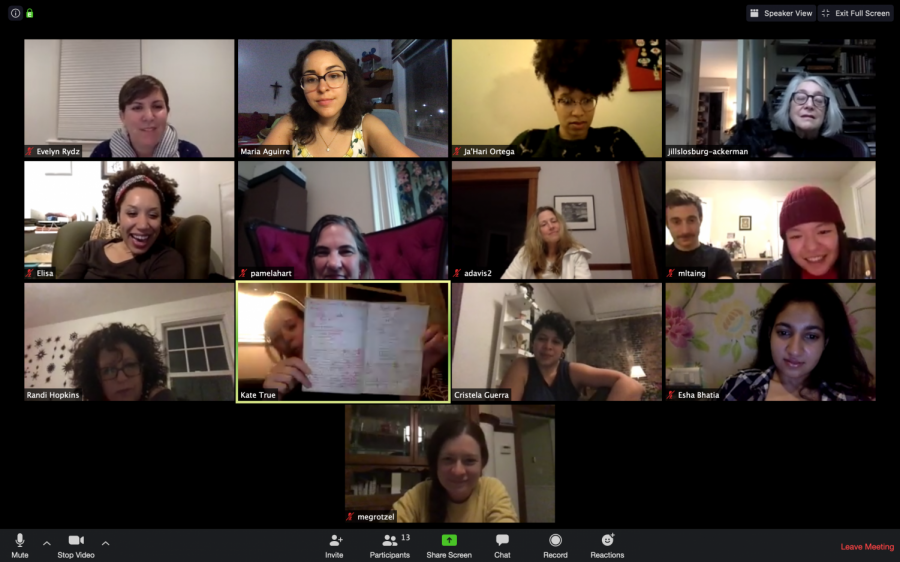 As is customary at every "Comida Casera," each woman spoke about their recipe and the story behind it, without mentioning their age or their job.
Rydz believes people are more than just their age or their occupation. At the meals, the artist strives to foster a "multigenerational feeling" where people can share powerful wisdoms no matter if they are in their 20s or 60s.
"The real meal is made up of diverse stories," Rydz said. "That's what you're really sharing and consuming."
Jill Slosburg-Ackerman shared the recipe for traditional Jewish "Mandel" or almond bread, one her mother, a first-generation Russian Jew, typed-up for her in the 1950s while living in Omaha, Nebraska, before Sloatsburg-Ackerman left for college.
Ellen Miller, said she didn't get any recipes from her mother, who never cooked, and instead shared her daughter's recipe for "matzah," traditionally prepared for the Jewish celebration of Passover.
Meg Rotzel said she has been spending a lot of time with her 6-year-old pancake-loving daughter in the kitchen. Recently, she has devised a recipe called "Peaceful Pancakes," which she said are ideal for a gluten-free sensible eater like herself, and can be made by any child with a box of gluten-free pancake mix.
"Let the kid mix the eggs and milk together with a fork and don't get mad," Rotzel wrote in the digital cookbook.
Anecdotes like Rotzel's made the women laugh as they recognized similar experiences from their own quarantine kitchens. Some of them were thankful for the virtual meeting as it helped take their minds off the public health emergency, home errands and remote working.
"I always hope this dinner takes [guests] out of their everyday life," Rydz said. "Whether it be from really active listening [or] whether it be about connecting in an intimate way with strangers, this is such a nice break from work."
Rydz is planning to host another one on the upcoming weekend of April 25.
"I hope you find comfort and each other in the recipes," said Rydz before ending the virtual meeting, as the women waved to each other in front of their webcams and asked to swap email addresses.
Before signing off, Rydz shouted into the camera "food is love," waved goodbye and blew kisses at the screen.