Brandon McPherson, 19, remembers his freshman year at UMass Boston as the time he was homeless and when most lunches were half-sandwiches his girlfriend was willing to share. 
During the fall of 2018, McPherson lived in a friend's house in Fall River and drove an hour every day to class. "I didn't have money to get food," he said. "I never considered campus housing because I didn't have the money to afford it at the time. I had to drop out because I couldn't keep up with the debt."
McPherson wasn't the first or last student to experience what's called "food insecurity," or the inability to access meals on a regular basis. Local professionals addressing the issue say this public health concern is especially affecting college students in the Boston area because of the high cost of living here, coupled with extremely high tuition bills. 
The consequences of going hungry threaten their academic and personal performance, leading many to drop out of college, as many campuses in Boston don't address issues of poverty and resources in a formal way, other than allowing meal sharing.  
Nancy Jaminson, who in 1984 founded Boston's nonprofit food rescue organization Fair Foods, said: "I've never seen it as bad as it is now. Hunger is up 80 percent in the last 10 years … Students are broke. Their parents can't give them money to feed themselves. Most of them are working but can't pay rent. It's not food insecurity, it's money insecurity."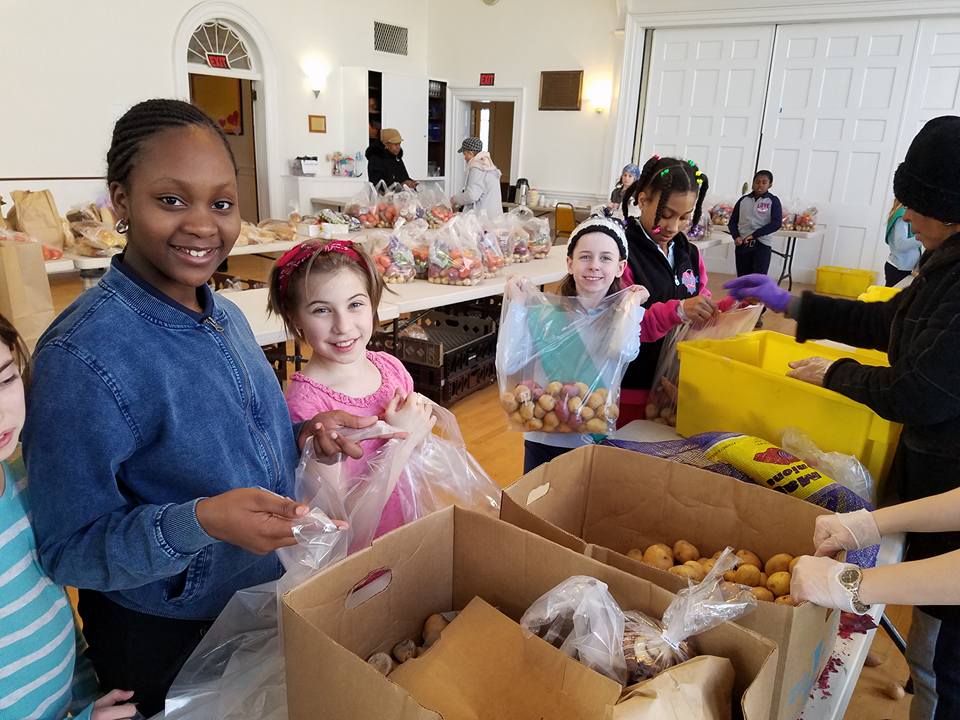 Jaminson said 5,000 students a year seek help from the Fair Foods centers from a variety of colleges including Northeastern University, Simmons University, Massachusetts College of Pharmacy and Health Sciences and Boston College. 
She believes that some campuses are not addressing the issue because Boston is an expensive city and college officials assume most students can afford food or that financial aid is enough help. But even though many students work or receive assistance, they are often deciding between rent or food. 
According to a May 2018 Wisconsin Hope Lab study on basic needs including food insecurity among Massachusetts college students, 44 percent of community college students and 33 percent of four-year college students experienced food insecurity during 2017. 
However, some schools, like University of Massachusetts Boston and Bunker Hill Community College, have started working on establishing programs for students in need.
Julia Hvoslef, assistant director for student leadership, and a group of undergraduate students on UMass Boston's campus in Columbia Point created Campus Kitchen, a volunteer-led hunger-relief organization. The program was launched in 2011 as a grant-based initiative whose mission is to provide resources to students struggling with food access.
"It's sad, it's frustrating, we have a lot of students experiencing [food insecurity]. Two out of five students are food insecure. That's around 40 percent of them not knowing where their next meal is coming from," Hvoslef said. 
For years, the group worked with the YMCA, community members and donors like Whole Foods and Trader Joe's, Hvoslef said. Now, they are working through fundraising and limiting the resources only to people on campus.
On a weekly basis, Campus Kitchen organizes food pantries to give away canned food or vegetables that are grown in a campus garden. They also organize discussions on what to do when there is no grocery store close by, and give cooking classes to explain how to create meals with just a few ingredients. They also give information on how to find other food pantries students can visit in Boston, something not all colleges provide. 
"A big piece of what we are trying to do is to educate students," Hvoslef said. "I think that is the first step, figuring out how to meet all the nutrients with a tight budget."
Around the holiday season, Campus Kitchen organizes Turkey Palooza, a competition for all UMass Boston student organizations to see who can bring the most canned food donations for students in need as a holiday gift. 
Food insecurity threatens diverse group
Hvoslef said that there's no defined type of student who is food insecure, although most utilizing their services are international because they are not eligible for financial aid or able to work under their visa status. However, she said that "on any given day, it can be an adult returning student or a U.S. citizen student … with the decision of taking the T to get home or eating a meal." 
As a first-generation college student, McPherson said he was able to attend school because of financial aid and an academic scholarship. "I made a couple of bucks in a side job in construction with my dad during the weekend sometimes," he said. "On a good day, I could do $127, but I used the money for gas."
McPherson spent his childhood in Brockton and attended school in Fall River, where he met his friend who later helped him with housing during college. After his parents got divorced when he was 15, his mom moved to Arkansas and his dad to New Bedford, where he got a construction job that didn't give him enough income to provide all that his son needed for college. While his dad rented a small house and worked, McPherson stayed in Fall River as it was closer to UMass. 
"My parents have always been supportive but they weren't able to help because they didn't go to college … I was basically on my own," McPherson said, adding that because his parents didn't know how the system worked, he didn't know where to get help. This is a very common problem at UMass because 60 percent of their student population is first-generation, Hvoslef said. 
Harriet Comer, 22, from West Ham, London, who is in her senior year at Northeastern University, said she also experienced food insecurity as a first-year because of a tight budget. 
"I didn't want to spend any money on food and I didn't know how to eat," she said. "In my first year, I used to eat Belvita crackers and canned beans every day."
Lacking financial resources, students often seek easy and unhealthy alternatives, said Nathan Diaz, a registered dietitian based in Boston who has experience working with students and athletes. He started his career as a student dietitian at Florida International University in Miami. Diaz believes students normally don't seek help because they don't prioritize health.
"When you are in college, you think you are invincible, that you could do it without eating," he said, "but the student life is very demanding." Students take courses, participate in extracurricular activities and some have jobs. Many students only realize they need help after experiencing severe consequences, he said. 
Comer is a good example. "I realized I was unhealthy because I went to a run and I couldn't [finish]," Comer said. After blood tests, she discovered she was anemic, without enough blood cells and iron in her body. Comer recovered after iron transfusion sessions and a friend helped her out with some food costs, including free passes for campus dining halls. 
Based on his experience, Diaz stated that dietitians on college campuses can be a huge help for students in need. "Any student can go to any wellness center on campus and find a dietitian that helps them get educated on how to have a proper meal with a tight budget," he said. 
Support grows slowly but steadily
More campuses are starting to address food insecurity, like Bunker Hill Community College, which opened its food pantry, The Dish, in September, according to Karen Norton, director of communications.  
Their service includes a monthly mobile market and a partnership with the Greater Boston Food Bank to provide resources to students experiencing hunger, which is around 56 percent of their total student body, said Norton.  
And Boston University's campus recently launched an online portal, Terrier Meal Share, which allows students to donate extra dining hall meals to fellow students in need.  
There are other food organizations around Boston, such as About Fresh, a mobile grocery market that provides access to healthy and fresh food in neighborhoods like East Boston and Roxbury.
The co-founder of About Fresh, Annika Morgan, said that having high-fat food products marketed deliberately to this group makes their work challenging. About Fresh's mission includes giving access to food and educating the college population on the right nutrients needed to perform well and be healthy. 

An app called Food for All enables restaurants to generate revenue from food that would otherwise be wasted. "Restaurants simply post their extra meals for 50 percent off for a pick-up an hour before they close," explained Lauren Betz, customer success manager for the app. 
Food for All is a start-up created in Boston by two international students living on scholarships, back in 2017, who could not find meals for less than $12, Betz said. Their mission is to increase access to affordable food for tech-savvy students living on a tight budget. Currently, 36 percent of their users are undergraduate students and 16 percent are graduate students, according to completed user profiles. 
The Food for All team is also willing to join other organizations in the fight against hunger. "Whenever meals are not picked, we donate them to families in Massachusetts through local food banks," said Betz. 
Winnifred Tobin, communications director for the Massachusetts General Hospital Center for Community Health Improvement, said they have a food pantry for the center's patients. However, she said that "if a student is experiencing food insecurity, we can connect him or her with the appropriate resources just with a visit or a call." 
Beyond the food bank
Fair Foods gives away a 20-pound bag of food for $2 containing items like onions, plantains, red peppers, potatoes and tuna. Jaminson said they are "the only program in the city that doesn't have requirements," as people can go to one of their centers, show an ID and receive the food bag. Their website shares a list of the locations, including one on Massachusetts Avenue, near Northeastern University, and others in Dorchester, Jamaica Plain, East Boston and Roxbury.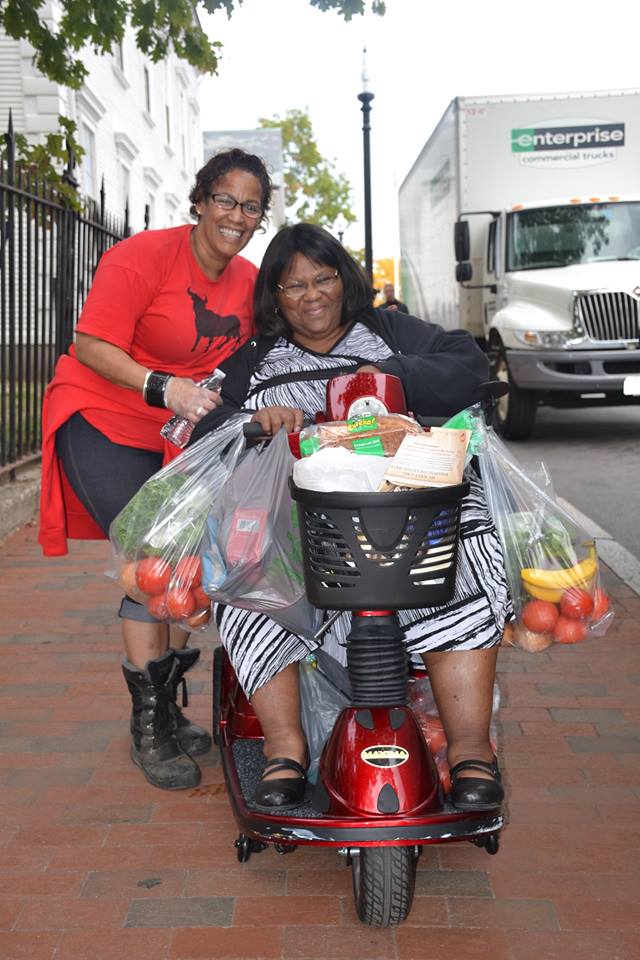 "I want to teach students not to buy frozen French fries. I can give them a potato for a nickel so they can make tons of French fries with that," Jaminson said. Their mission, besides helping them, is educating students on how to properly eat.  
The team behind Bunker Hill Community College's The Dish believes having a proper meal is a basic need, not a privilege. Their actions aim to create awareness around the issue to have more people and organizations involved fighting against food insecurity. 
"Food pantries and vouchers are short-term solutions, but I think policies have to change," Norton said. "We need support from legislators, businesses and even the colleges who still don't respond to the problem."  
However, students need to learn how to ask for help and not be afraid to do so. "Some students give up when they don't have food. They think they are victims," said Diaz. "Unfortunately, we don't live in a world where everyone is willing to give help, so [students] need to seek help by themselves to avoid being hungry. At the end, they just have themselves." 
McPherson currently has three jobs and is eager to go back to college. He now lives in a new house with his dad in New Bedford, where he has access to complete meals. 
"I want to go to UMass Amherst … it has a program I want," McPherson said, now pursuing a career in astronomy. In the meantime, he'll work to pay the debt and get back on track. "I'm very positive about the future," he said, "but I'm scared to go through that again, that's why I'm saving money." 
https://thescopeboston.org/features/dorchester-co-op/