At-large candidates propose eliminating MBTA fares, make climate justice a priority
Most of the remaining at-large City Council contenders agree: MBTA fares are too high and should be reduced or scrapped altogether. 
On Wednesday night, at the at-large candidate forum on energy and the environment held at the central branch of the Boston Public Library, Michelle Wu repeated her claim that residents can't afford another round of fare increases. Wu was the top vote-getter in last week's preliminary election. 
"Public transportation is a public good," said Wu, at the forum, sitting alongside six other at-large City Councilor finalists. "Public goods should be free and accessible to all."
Rallying alongside her was fellow at-large candidate Alejandra St. Guillen, a rival of Wu's looking to become Boston's first Latina to serve on the Council. St. Guillen, who grew up in Mission Hill and now lives in West Roxbury, said transportation has become an issue of equity. She said low-income neighborhoods and communities of color are more likely to have high levels of traffic and issues with transportation.
"There are seven miles of Boston that make up 90 percent of congestion," said St. Guillen, who supports easing this congestion by creating additional bike lanes, implementing road diets, or lane reduction, and eliminating the MBTA fares.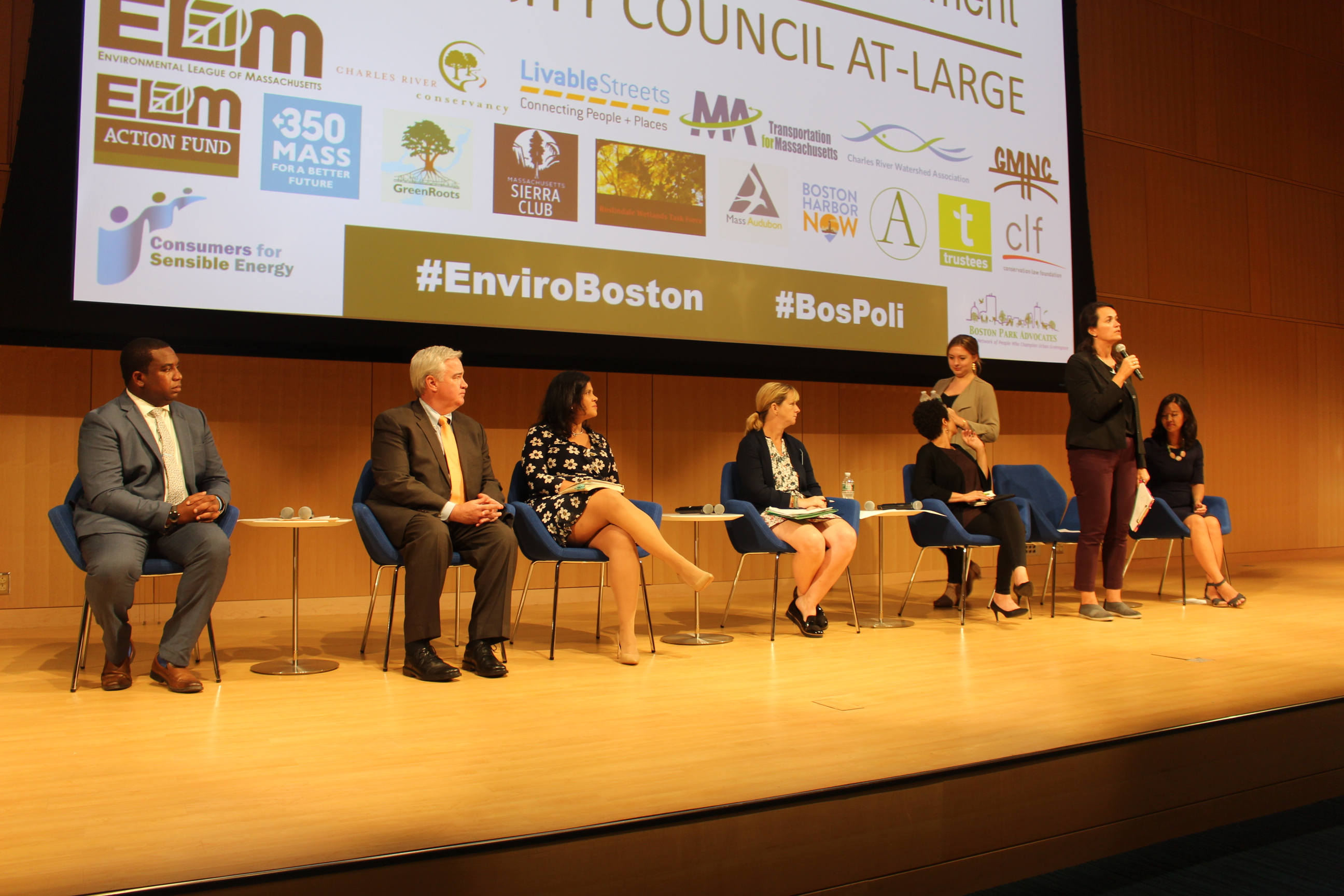 Councilor Michael Flaherty of South Boston, said the city pays too much money to the MBTA without having a seat on the MBTA Fiscal and Management Control Board. 
"If there is a fare, then it has to be equitable," said Flaherty.
But not all Council hopefuls agree. 
Candidate Erin Murphy, who has been a public school teacher for more than 20 years, said she strongly opposes scrapping the fare price. 
"We know the MBTA is failing us," said Murphy, a Dorchester native, and called for a Council member to serve on the MBTA's board. "We need to have a say and answer back to the people."
Boston pays an annual $85 million toward the MBTA, which Councilor Althea Garrison has previously suggested the city withhold until improvements were made. Garrison was not present at this forum. 
Candidate David Halbert of Mattapan expressed concerns on the call for free fares. He said that as a policy idea, he is in support of access and equity, but urges fellow contenders to be responsible in identifying revenue streams. 
"We have to have the correct inputs for the correct outputs," Halbert told the Scope in an interview after the forum. Halbert questioned how the MBTA, facing existing challenges, would operate if a large proportion of their revenue from riders was removed. 
Halbert said the Council should not only be advocating with their counterparts in Springfield and Worcester to participate in more elevated conversations about transportation, but it should also develop smart urban planning across the city to remove the need for cars.
"We have to think beyond ourselves," said Halbert.
Climate change becomes a social justice issue for candidates 
The Union of Concerned Scientists published a report this past summer that outlines the inequitable exposure to air pollution that communities of color face, particularly Asian Americans, African Americans and Latinos. 
Wu and St. Guillen both said climate justice and social justice go hand-in-hand. 
"It's not enough to address this on the margins," said Wu, explaining that focusing on climate change in Boston means also addressing civil rights and economic inequality.
Julia Mejia, who is originally from the Dominican Republic and has lived in Dorchester since she was 5-years-old, said the issue is two-fold; bringing in solutions to climate change and communicating them with neighborhoods.
"We don't see many bike lanes in Dorchester, Roxbury and Mattapan," said Mejia. She emphasized that those most impacted by climate change are communities of color. "I am going to dedicate my time as a city councilor to ensure that we are providing accurate information to communities of color," she said.
Wu and Flaherty echoed the positions that they have held throughout the race, that Boston needs a separate planning department to begin tackling climate change. 
"There are two key words here, scale and urgency," said Wu. "Climate justice requires that we listen to frontline communities."
The final vote for City Councilor candidates will take place on Nov. 5.