Workers hold rally in solidarity with grocery store union
Worker-organizers and community members gathered Sunday afternoon under the Soldiers Monument in Jamaica Plain to stand in solidarity with the workers of organic grocery store and cafe City Feed and Supply, who are attempting to unionize under the name City Feed Unite (CFU). 
The workers publicly announced their unionizing effort on March 30, calling for equitable living wages and more transparency from management. They want a say in the quality of their working conditions and for the company to treat their workers with the same respect they claim to hold for their community.
CFU is an affiliate union with the Boston branch of the Industrial Workers of the World (IWW), which has provided resources and assistance with organizing events.
City Feed's union effort comes after what workers say is unfair treatment at the hands of the establishment's owners, Kristine Cortese and David Warner, who refused to voluntarily recognize their union in a letter addressed to employees on April 9. CFU has since filed a petition for a National Labor Relations Board (NLRB) election.
Emery Spooner, a worker-organizer at City Feed, addressed Cortese and Warner directly (who did not attend the rally) in his speech — calling out what they see as hypocrisy in their treatment of workers and community members compared to the external business values they espouse to the public.  
"What does fair trade coffee mean," Spooner asked, "when the person that's pouring the espresso shot is getting paid two to three dollars less an hour than another person for the same work?"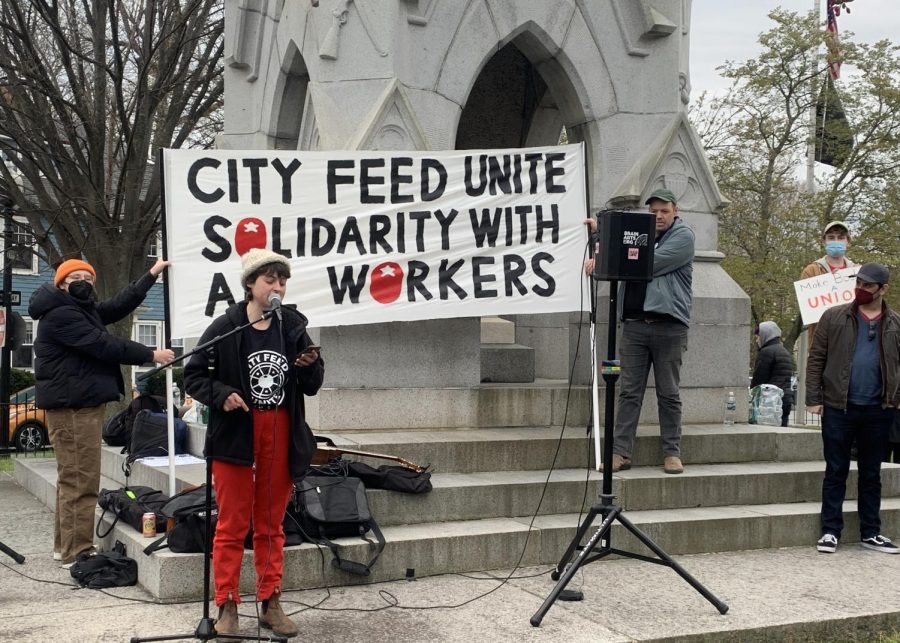 These workers say they have been feeling the pressure of a rising cost in living and steep rent increases and don't feel their employer is doing all they can to ensure their basic needs are met. Due to these increases, many City Feed workers can no longer afford to live in the neighborhood in which they work.
"The more I was working here, the more I realized that just because it's a small business does not mean it's immune to bad things happening," Kali Fillhart, a barista supervisor at both City Feed locations, said to The Scope. "I realized we needed a union just as much as everybody else".
Many of the workers at City Feed have only been there a handful of months, indicating  a high turnover rate in the workplace. They've found it tough to collectively unionize and gather support when workers frequently burn out and leave to seek other employment.
Luke, a City Feed cashier who asked to be referred to on a first-name basis, said that even though he's been there around seven months, he has become painfully aware of how management will downplay the concerns of their workers and invalidate burnout.
"We are not parts in a machine that can be replaced when convenient," Luke said to the crowd. "This business model of churning out workers to exploit their labor for cheap is unethical and unsustainable".
The owners of City Feed have refused to recognize the union, stating in a letter to their workers they "don't believe that joining a union is the only way forward for the workers of City Feed and Supply. A union will cost us all money and demand a substantial amount of time; time that could be spent building back the business from the pandemic into a place where we can all work together and thrive."
In response to this statement, the employees of City Feed have alleged that the same owners are pulling employees into "one-on-one intimidation meetings" and have had "no problem paying for legal advice from union-busting lawyers."
Those standing in solidarity with CFU members included representatives from local Starbucks unions, members of the Boston Teachers Union (BTU) and the Boston Coalition of Black Trade Unionists (CBTU). Robin Anara, a member of the organizing group Socialist Alternative, spoke to the crowd on the importance of worker organization.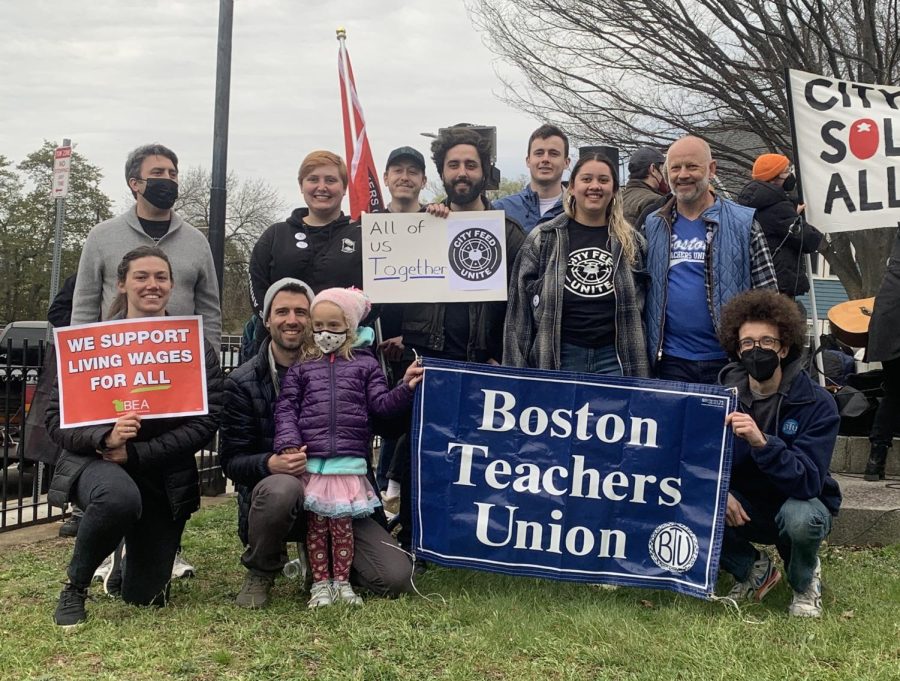 "City Feed has been a staple and a positive addition to the JP Community," Anara said during their speech, "but there is no City Feed, and there is no Jamaica Plain without its workers".
As a decade-long resident of Jamaica Plain, Anara told The Scope that it's reassuring to see this rise in support of unions nationwide and at the community level. They believe the recent uptick in movements comes from the pandemic and impending climate disasters making workers, especially those at the frontlines, more conscious of their value.
"One thing that unions have done in the past," said Anara, "is they've allowed us to have an eight-hour workday, to have breaks and to have weekends for folk that are able to. The more that we're able to come together and unionize, the more we're going to be able to fight for better working conditions and better pay".
At the moment, Spooner told The Scope that CFU is "building up democratic processes right now; we're thinking about how to do that so that we can all vote on what we want to ask for. But that's a long process — negotiating the contracts — so we're trying to build up our structure to do that as democratically as we can."
Although there's no set date for the NLRB election, it's expected to occur sometime next month. In the meantime, they're focused on drumming up support and raising funds to help cover expenses.
Spooner explained that to continue "things like making banners, supporting each other, having events like this — you've got to have a budget".
Members of the community can support CFU and their union effort by donating to their general organizing fund and the safe housing fund for a coworker in need of emergency housing. Their website hosts details on community activist opportunities and a sign-up for their community mailing list to receive updates. For more information, visit linktr.ee/cityfeedunite.