When it comes to climate change, some East Boston residents worry about more than coastal flooding
Editor's note: The Scope partnered with students from Ha Ta's "Digital Storytelling and Social Media" course at Northeastern's School of Journalism to conduct random person-on-the-street interviews with residents from two Boston neighborhoods most affected by climate change: South Boston (the Seaport District) and East Boston. In each neighborhood, students stopped and spoke to more than a dozen people. The below story is what they found.
Boston launched Phase 2 of its Climate Ready East Boston program in February with the hopes of pulling in more resident input on the coastal flooding risk in East Boston. To crowdsource solution planning from residents, the city asked visitors to its website to use a tool to map out how they currently use spaces in the area and how the effects of climate change have impacted them. 
The announced strategy currently focuses on near and long-term risk aversion. The city's report estimates that full implementation of the Climate Ready East Boston plan would protect over 13,000 residents, over 300 businesses and cover upward of $1.3 billion in potential damages from increased sea levels.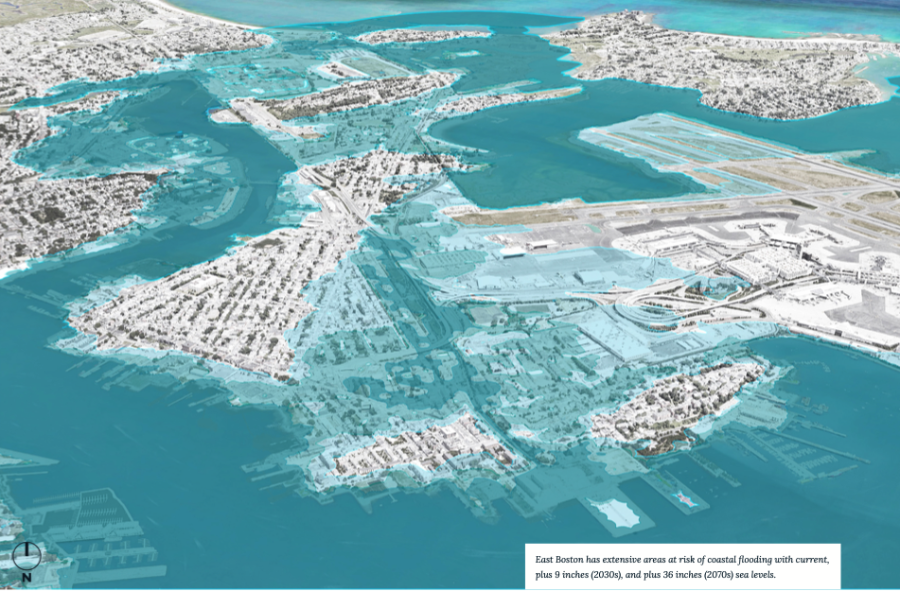 While certainly tackling existing flood risks, this plan doesn't seem to reflect the concerns residents have about climate change. Among the dozen people along East Boston's Meridian Street in Maverick Square we talked to, few said they had flooding on their radar. Even fewer knew about the Climate Ready East Boston Initiative. 
Most are concerned about unpredictable weather patterns, displacement and emissions. Cold weather isn't unusual in Boston, but the weather fluctuations concern both natives and newcomers alike. February 2021 was the coldest February in the U.S. in more than 30 years.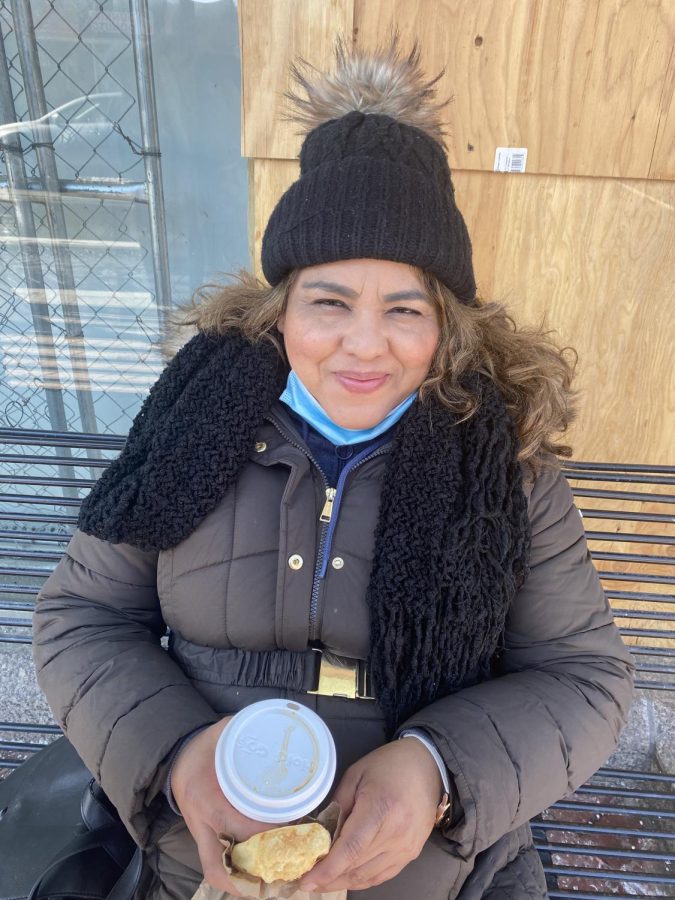 Roxana Celina Magaña is an East Boston resident and nanny for Spanish-speaking families in a nearby neighborhood. She said she could especially feel the effects of climate change from the drastic switch from the cold to the heat in the summer. In an interview translated from Spanish, she said, "Before, it was a normal kind of heat that we could withstand, but now it's suffocating, and much more intense."  
Bruce McConnell, 62, born and raised in East Boston, told us he "ain't worried about nothin'" because he's used to just about every kind of storm there is from his time abroad in the U.S. Army. The veteran, who was houseless at the time of this interview, said he's noticed the bad weather as evidence of a change. "Heavy rain and heavy snow, going from hot to cold and cold to hot, it's not good."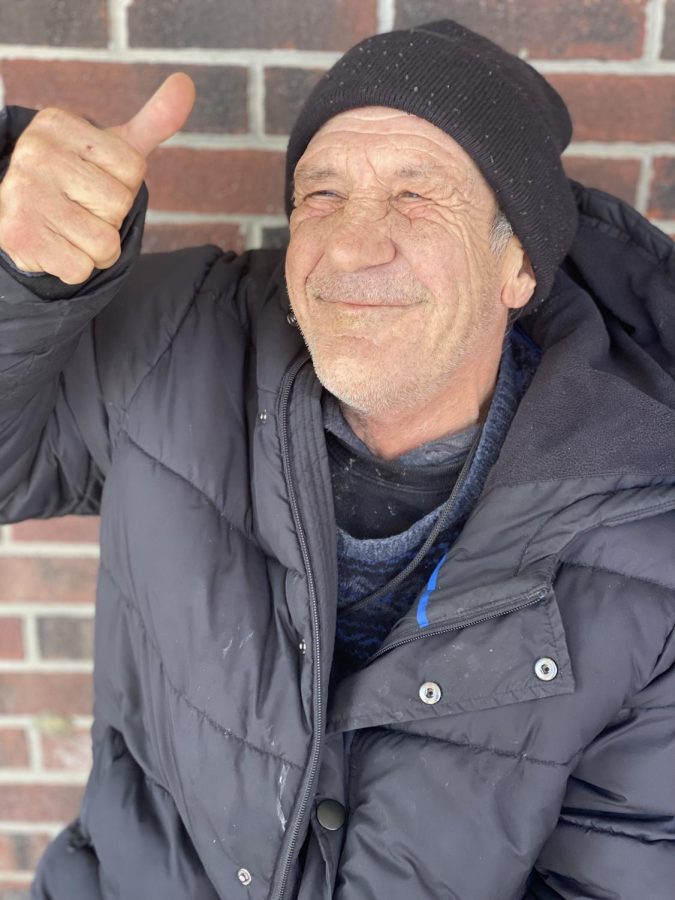 While some East Boston residents expressed serious concerns about how climate change will affect their community, others not so much. Madison Imoto, a Hawai'i native and Boston University student living in the neighborhood, was more worried about how climate change affects where she grew up. "I think it's honestly more relevant and more obvious there because we can see the shores eroding already," she said. "Even just a couple inches of sea-level rise can take away a lot of islands." 
Some East Boston residents cited other issues such as litter, gas emissions and displacement as their main concerns.
Giana Metta, a student at Suffolk University and Starbucks barista, moved to the neighborhood in September. Since then, she has noticed dense traffic and trash on the streets. Deborah Boyles, a registered nurse and former resident of East Boston, said she stopped buying gasoline altogether due to the smell of burning gas. She thinks government officials should limit traffic congestion in the neighborhood to limit emissions. 
Displacement is East Boston resident and Boston College ethics professor Melissa Fitzpatrick's biggest concern. "At a certain point in the near future, we're going to be dealing with refugee crises beyond what we can even comprehend," she said. 
Regardless, rising sea levels and flooding have been a growing concern in East Boston over the past several years. Over 1,300 properties have more than a 26 percent chance of incurring severe damages due to flooding over the next 30 years. Some East Boston residents say that they have already seen these effects begin to take place.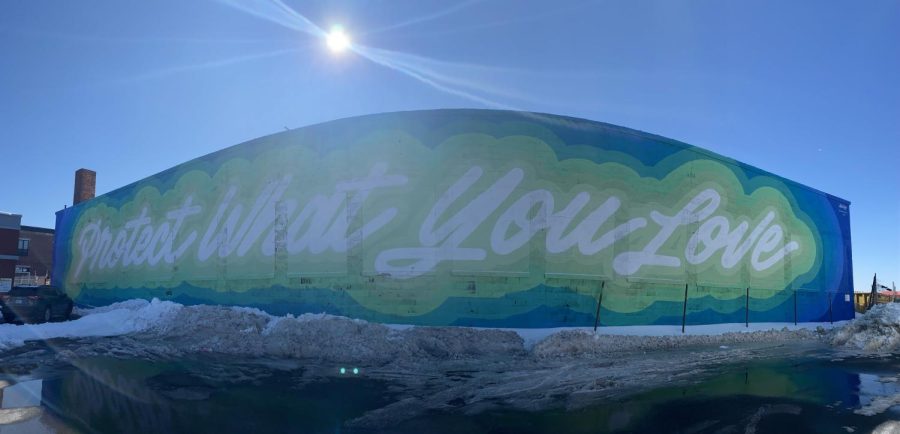 Alex Cross, a 29-year-old employee at East Boston's EBO & Co. Grocery, said she had noticed changes in the climate and sea levels while living in Boston. "We already see flooding in Fort Point," she said, "I remember there was a viral video of a trash can floating down Fort Point. That's a metaphor for so much." 
Raised in East Boston, Rosanna Caralis, 19, has noticed an uptick in the conversation around sea levels rising. The Cunard Tavern hostess is concerned about the future of her town. "I used to sail at Piers Park, and we would always talk about the effects of climate change on the harbor. Someone told me that the park would be underwater in 2050, and that blew my mind," she said. 
East Boston resident and graphic designer Walter Giraldo didn't know what the Climate Ready Initiative entailed, especially for East Boston, but said it was a positive if anything was being done. "There's a lot that can be done [about climate change], but it takes a community effort. There's not so much even one specific leader that can do anything," he said. "It sounds corny, but [it takes] everyone as a whole."