Boston selects next Youth Poet Laureate
On Saturday, Anjalequa Leynneyah Verona Birkett was selected as Boston's second-ever Youth Poet Laureate. 
The Youth Poet Laureate works alongside Boston Poet Laureate Porsha Olayiwola to advocate for poetry, language, and the arts, participating in public readings and civic events. They promote poetry in the lives of those who live in Boston, especially younger people. 
Along with the other teenagers who had been selected as finalists for the position, Birkett stood on stage in a performance hall at the Central Library and read two of her poems during the Youth Poet Laureate Showcase, at the end of which the winner was announced.
"The poems I want to read you today, I did not write for just this audience or just the judges or just for this space of poetry," Birkett said in a preface to her poems. "I wrote for the person at work right now who's struggling to make ends meet, or the person walking in the hallways at school and, just everything in their brain is going crazy or even someone outside, who feels the silence but has this roar, this fire that wants to be let out."
"I was that person," she added after a small silence. "Who didn't think that I had that roar, that I had that fire. And I found it through my words."
Birkett, a senior at John D. O'Bryant School of Math & Science, is originally from Roxbury but lives in Roslindale. She has been writing and performing poems for a long time and was selected as a semi-finalist for the first Boston Youth Poet Laureate competition two years ago. This year, she has finally triumphed.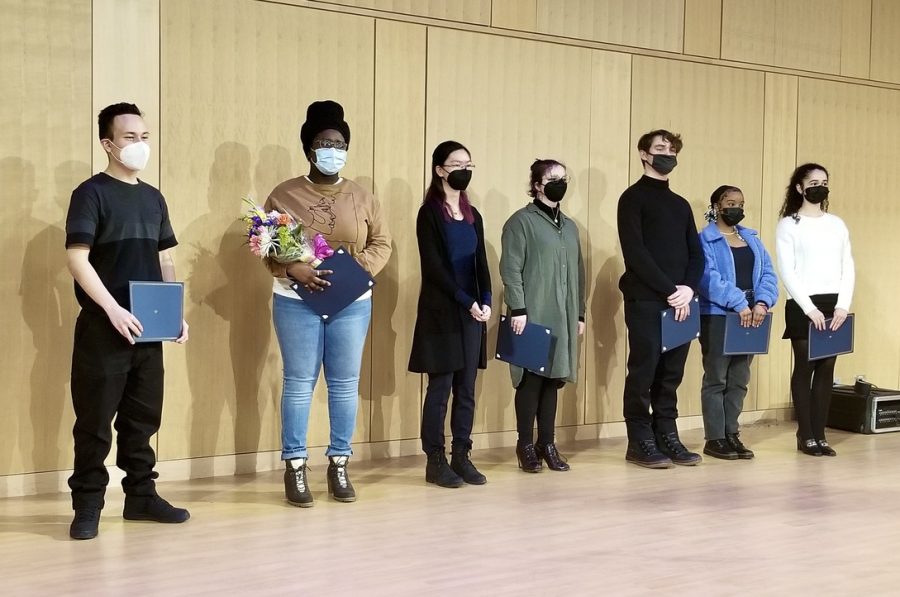 "You know, coming in here, I was really nervous," Birkett said to The Scope after her win. "And I remembered what my brothers told me, what my coach told me, and just what the universe told me. If this was for me, if it wasn't for me, I still got a chance to get my voice out. I had it heard."
Dzidzor, a performing artist and poet who was asked to perform at the showcase, shared what Birkett's selection meant to her.
"The little girl in me is really excited to see her win," said Azaglo. 
Alondra Bobadilla, the current Youth Poet Laureate, was also delighted with the choice of her successor. 
"This poet is amazing in more ways than one, incredibly versatile, so I'm excited to see how she's going to make her own legacy," Bobadilla said in an interview with The Scope. "I think all of the doors that were opened before are definitely going to open up again, and I'm sure that she's going to open up so many other doors. So I'm excited to see what she envisions. And now, since the pandemic is loosening up, how much more she can do versus what I was able to do."
Bobadilla was named the first-ever Youth Poet Laureate in January 2020 and had only two months to perform her role in person before the Covid-19 pandemic began. Two years later, she is a first-year at UMass Boston, has published a book of poetry as part of her role, and is at the end of her term. 
"I feel like I completed my job. I took advantage of everything, not just for myself, but for the sake of the role itself and what it means to the city," Bobadilla said. "I'm excited for her, and I'm excited for myself as well. I think it all comes full circle. And who doesn't love the end of a movie?"
It may be the end of a movie for Bobadilla, but it's the start of one for Birkett. 
"What I'm feeling right now is empowered," she said after her win. "Fired up, ready."