Bicycle Advocates Celebrate Massachusetts Avenue Bridge Protected Bike Lane Pilot Program
Monday, Nov. 22, The Massachusetts Department of Transportation (Mass DOT) began its pilot program of adding a bicycle lane on Massachusetts Avenue (Mass. Ave.) Bridge over the Charles, also known as the Harvard Bridge. 
According to the official Mass DOT Blog post, the pilot program will "reduce the number of vehicular travel lanes to one lane in each direction and will increase the available width of the bicycle lane to provide additional buffer space to separate cyclists from vehicles and trucks."
The addition is one bike advocates and riders had been pushing for over a year. Most recently, in Oct. 2021 the Boston Cyclists Union officially created a petition calling for protected bike lanes. 
Protected bike lanes are, according to activist group PeopleforBikes, "sidewalks for bikes… because they use planters, curbs, parked cars or posts to separate bikes and auto traffic." The concept is not new, and it's personal to local advocates Gary Chin and Joseph Pires. The two are part of Bikes Not Bombs, a Massachusetts-based advocacy group that focuses on "social change and economic mobility for Black and other marginalized people."
According to Chin, the Mass. Ave. Bridge pilot program is a step in the right direction. "[H]aving increased space and the barriers (taking the form of cones) is a wonderful improvement for the safety of cyclists," Chin said in an email response to the news. "When it rains, puddles and debris form right in the bike lane, and it's easy to get blown to the side. I also feel that the project isn't only for bicyclists; slower moving traffic makes it safer for everyone who uses the bridge and reducing the number of lanes allows drivers to be more predictable and not squeeze side-by-side with large trucks and buses."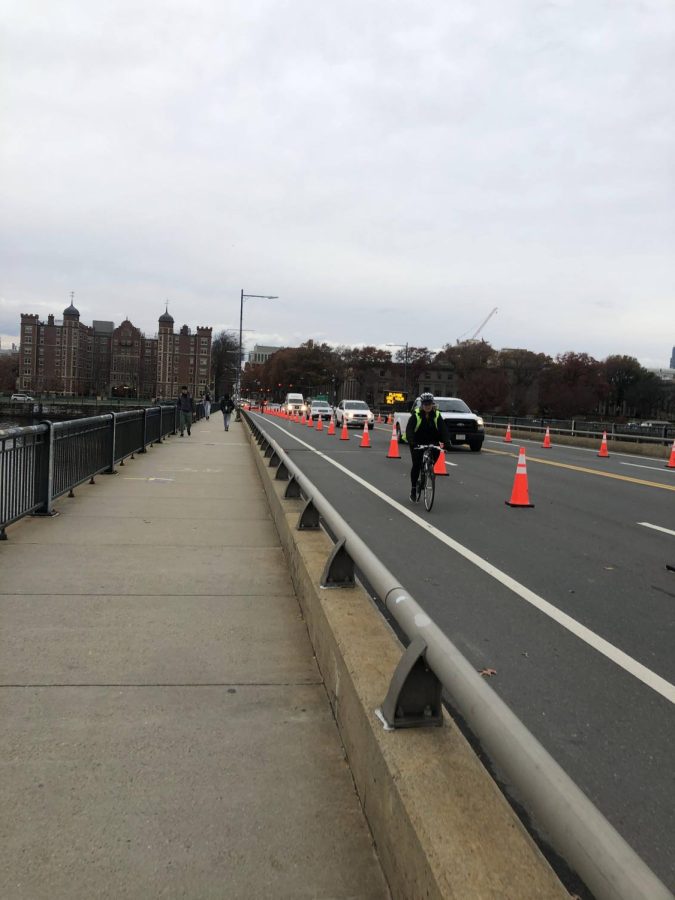 This news comes amidst a conversation about "people-first streets" in the City of Boston.
Becca Wolfson, the executive director of Boston Cyclists Union, describes them as: "streets that are designed with the needs of people in mind." 
"[To]day, most modern cities have been re-designed to prioritize cars. And that's both car storage with an excessive amount of space used for on-street parking, and car … movement," she said. "So people-first streets prioritize outdoor dining. They prioritize plazas where people can meet and see each other and be outdoors, which is even more important now with COVID still persisting in our communities."
Advocates have emphasized the importance of such protected bike lanes and people-first streets not just because of the safety of cyclists, but also pedestrians. For Chin, the issue affects his daily life. "I take the Mass. Ave. Bridge or the Harvard bridge… every day when I ride in to work, and it's amazing because as soon as the light turns green, you can see that drivers treat it like it's a dragway…"
Joseph Pires, a youth apprentice with Bikes Not Bombs, emphasized the dangers of biking without protected lanes, especially when dealing with high-speed traffic and city wind.
"[T]he wind does pick up – It's either a headwind or it's a wind that's pushing against you on your side, and it is one of the most brutal things because the lane is only so wide for the bike lane. It's as if if you were to extend your arm the wrong way you would get clipped by a car," Pires said.
Additionally, in the era of Covid-19 when many people are choosing to avoid crowded public transportation, bikes can be a safe, cheap alternative to driving. For those who commute, however, the risks of biking on busy streets without protected bike lanes can be prohibitive. 
"You know, a lot of people are working from home," Wolfson said. "They're just changing behaviors; and in a lot of cases more are driving, and there is a fear of being in enclosed [public] transit vehicles. Our hope is that for people who have that fear or who have travel needs – and transit service has been reduced to the points that make it really challenging to get around – that choosing to ride a bike could be an option."
As for the need for people-first streets, Wolfson addressed the impact of lackluster bike infrastructure on pedestrians, as well as cyclists.
"We're partnering with transit advocates and with walking advocates, and one of the problems with having unsafe bike infrastructure – and this happens, you know, everywhere, not just the [Mass. Ave.] bridge – is, when there isn't just a safe option on the streets, people will choose to bike on the sidewalk because they don't want to be hit and injured or worse," Wolfson said. "Pedestrians find that really uncomfortable. Frankly, people riding bikes don't love it either, but it's preferred over being really vulnerable to multi-ton vehicles that are right next to you and traveling at really high speeds."
In the conversation about bicycle infrastructure, City Councilor Annissa Essaibi George has not always been in favor. In a discussion about Dorchester Avenue, she told StreetsBlog Mass, Essaibi George indicated her thoughts that adding bike lanes may negatively impact small businesses in the city. "When we think about some of our small business districts, that's [Center Street] an example of one. To then add in protected bike lane (sic) really does impact that small business district in particular, but we also have to look at the impacts on side street traffic…"
She also emphasized the potential side-effects of reducing road sizes in favor of adding bike lanes, adding: "We need to make some improvements. But we can't just simply – we see the challenges now on American Legion and Cummings Highway, with shrinking those roads, I think there's some unintended consequences that we didn't fully vet out."
In response to these kinds of concerns that often arise when discussing bike lane additions, Wolfson said that though they can be divisive, change is necessary. 
"They're often seen as a symbol of change, and change is hard to accept. But again, I make the argument that we have to change the ways that we operate because the status quo is burning the planet," said Wolfson. "We are in a climate crisis. We're in a congestion crisis and an affordability crisis, and biking is an affordable way to get around and needs to be an important solution."
Additionally, Wolfson addressed the worries that bike lanes may negatively impact small businesses which rely on customers driving to them. She emphasized that cyclists often can be a boon to small businesses, as it's easier to quickly stop without having to find parking on crowded city streets. 
"There is lots of data and anecdotal experiences … that show that people who bike stop more often because it's easier," Wolfson said. "You don't have to worry about parking a car, and [cyclists] end up spending more money. The fears that 'everybody drives to my business and business will be really negatively impacted…' most businesses have sort of an incorrect assumption of how many people drive there versus walk there versus take the bus or the T or a bike and think the number of people who drive is significantly inflated… Adding separated bike lanes allows for people who bike to stop more often."
Pires echoed a similar sentiment as someone who bikes in the city often. "We actually love small businesses… We love the ability to be able to stop and you know, just put our bikes to the side and be able to walk into a store and say, 'Hey, let's just grab some snacks, get some refreshments and fill up before we keep going.' And I think it's very important. I think it's the opposite effect. I think small businesses do benefit."
Although this pilot program adds only one more protected bike lane for Boston cyclists,  it is a win for city activists. For now, the lane will feature divider cones as well as signage, and Mass DOT has stated that the program will run "through the winter months while engineers and advocates evaluate safety and crash data, traffic volumes, bicycle volumes, and travel time…"
"We're in a critical moment where we need to get more people out of cars to address our climate crisis, our congestion crisis, and to provide more affordable means to get around. Making this bridge safer and more comfortable to bike will protect those who have been biking on the bridge and unlock exponential opportunity and access for more people in the region to choose to get around on two wheels…" Wolfson told Mass DOT.