Debut Mission Hill Arts Festival inspired attendees to value the work of local artists
Throughout five shows, the first-ever Mission Hill Arts Festival sparked inspiration and conversations between artists and audiences. The musicians who performed often defied genre categorization, and brought sounds from around the globe to The Yard, an outdoor venue located behind the Tobin Community Center at 1481 Tremont St. The featured visual artists also represented institutions like MASSART and Merrimack College in the area. 
"I think it was a real model of what an engaging concert-going experience could be like," said Kenzie Bok, who represents Mission Hill as District 8's City Councilor. "This kind of a show's really important for supporting local artists."
The concept of an interactive concert series to boost audience participation, and in turn, inspiration came from Luisa Harris. Harris had previously used a similar format for her Arts Talks, which she has been leading since 2017. Luisa and her husband Kevin Harris are the visionaries behind the Mission Hill Arts Festival and the cultural entrepreneurs behind the new festival's organization, promotion, and financing.
The summer-long event was also sponsored by Mission Hill Main Streets, the Mission Hill Fenway Neighborhood Trust, and The Boston Foundation, among other local businesses and stakeholders.
In its first year, the festival charged for admission. Tickets for the concert series were $20 on average but ranged from $5 to $40. Harris said the festival is not free because she wants people to see the value of the artists' work.
"I am against free arts," said Harris, who prioritized compensating the artists for their participation in the festival. "The tickets are really reasonable and really to help people understand that there's a value to what people do. These are professionals."
Along with showcasing their musical and visual arts talents, the featured artists engaged in a conversation with the audience. Harris encouraged spectators to ask the artists questions during a brief interlude.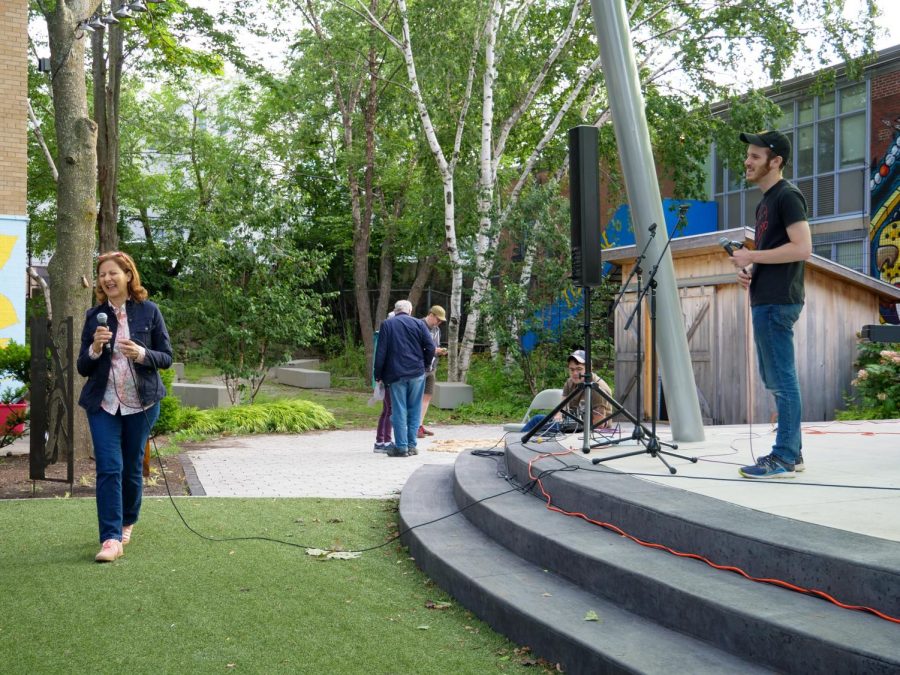 Interdisciplinary artist Rania Suleiman-Kadafour was excited to be picked as a featured interdisciplinary artist for the July 24 show. 19-year-old Suleiman-Kadafour is a student at MassArt and creates artworks with mediums from painting to printmaking to video. 
"I think some of the most important stuff is picking artists from different backgrounds and making sure that artists are ready to be vulnerable and honest," said Suleiman-Kadafour. "I feel like artwork is absorbed so much better in that way."
The concept of the audience Q&A is part of what drew Suleiman-Kadafour to exhibit her work, much of which is deeply personal. Although there had been times in the past where she had felt hesitant to share the meaning behind a piece because it came from a painful place, she saw the open dialogue as an opportunity to further her artistic growth. 
"I always didn't like how in the galleries you would go in, and you just look at stuff, and you might talk to people, but even if the artist was there, you feel shy to approach them," Suleiman-Kadafour said. 
The festival offered a more engaging format for the other artists, like sculptor Nicholas Milkovich, to explain their inspirations, process, and other intricacies that went into their work. Band members from Anibel Cruz and Blue Island Project, The Jinga Quartet, The Kevin Harris Project and Fabio Rojas, Grammy-nominated vocalist Debo Ray and EcoSoundSystem and The Arni Cheatham Project also satisfied crowd curiosities.
Mission Hill Main Streets and City of Boston Credit Union, another event sponsor, have already pledged to support the festival if it returns next summer. According to Harris, she would absolutely love to organize the festival again, perhaps as an annual event. As the threat of Covid recedes, she said she would like to have more audience members fill The Yard completely.
The festival also has the support to grow from Mission Hill neighbors like City Councilor Bok. She sees the Mission Hill Arts Festival as enriching the neighborhood, and as such, is a "worthy cause" for grants or alternative funding sources to ensure artists are still paid.
"I think it would be great to see it come back," said Bok. "It would be great to find a way to have a lot of free access."
However, Harris thinks that she will still charge admission. She thinks the tickets are not unreasonably priced, especially since there are discounts for youth, seniors and students. 
"Paying for a ticket, it means that you are valuing something," Harris said. "Arts is something that's more beneficial than health insurance, sometimes…it really revives the spirits, it gives us hope, it gives us a new outlook in life."
For a full video transcription and credits, please visit here.