Children's artistic community blossoms in partnership between Dorchester nonprofits
To give the children of Greater Boston an opportunity to let their creative juices flow, All Dorchester Sports and Leadership joined forces with Brain Arts Organization. 
All Dorchester Sports and Leadership, or ADSL, offers weekly art workshops at Dorchester Art Project, a Brain Arts facility located in Fields Corner. Since the nonprofit's founding in 1983, ADSL has worked to bring camaraderie, happiness and success to children through sports. With the help of Brain Arts, ADSL is expanding its services by offering art programs.
Candice Gartley, the executive director of ADSL, knows the importance of feeling valued in her community and wanted to ensure that children had the opportunity at ADSL.
"I was never a good student. So I understand how important it is to have a place where you feel like you're contributing," Gartley said.
Gartley witnessed the benefits of creative expression when her daughter used dance to overcome mental and academic struggles. Since then, Gartley knew it was necessary for artistic programs to become accessible within her community. 
"[My daughter] wasn't crying all the time. She wasn't angry all the time," Gartley said. "It was so amazing to watch this metamorphosis of this child who I was really worried about."
Samantha Thompson-Foster was an artist chosen by Brain Arts to instruct a painting workshop for children aged 9 to 13 on July 24. She knows all too well the therapeutic benefits of art after using painting to cope with the passing of a relative in 2013. 
"I just found myself not happy… and so a friend of mine invited me to a paint night," Thompson-Foster said. "After I went to that paint night I ended up buying my own kit, and through that I learned it was therapeutic."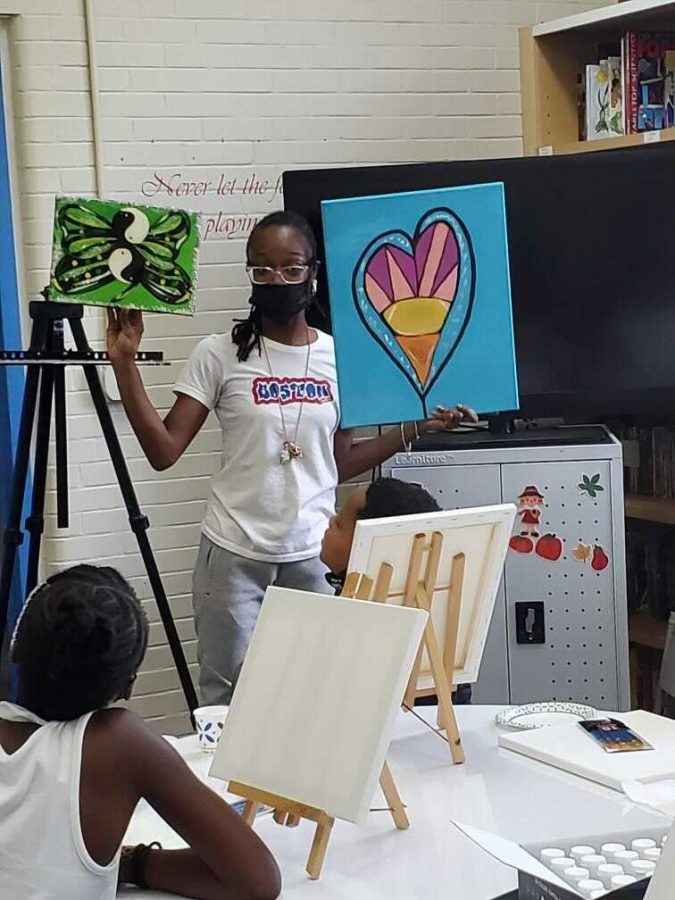 Thompson-Foster highlighted the connection between art and mental health by giving her students the option to paint a butterfly with a semi-colon on it, symbolizing continuous mental health awareness. 
Thompson-Foster said it was like a breath of fresh air to see the students have creative freedom with their paintings. Some children were meticulous and precise, while others let loose and had fun with the activity. 
"Painting with kids, there's really no limits," Thompson-Foster said. 
Seeing children have fun and excel is as fulfilling for the children as it is for the adults involved. Gartley knowing that she provides an avenue for children to feel special makes all the trouble worthwhile. 
"It transforms kids when they feel like they have some value in what they produce and for me to see that ─ it is life affirming. I go home at night feeling like I've done my job," Gartley said.
But erecting an art program in an organization primarily known for its sports and academics wasn't an easy feat. 
ADSL is a nonprofit organization, meaning its funding primarily comes from writing grants. Stepping out of its wheelhouse to expand the scope of the programs offered is a financial risk. Despite any doubt or hesitancy thrown at her, Gartley knew it was a step that had to be taken for the youth of her community. 
"We have to meet as many needs as we can with these kids. Because they're all not going to come for sports. They're all not going to come for academics. They're all not going to come for cooking," Gartley said. "But if we pick a few things and do them really well and consistently, then we're doing our job."
ADSL and Brain Arts serve the community in multiple respects. Not only are they creating an environment for children to nourish their variety of talents and interests, but they are creating stimulating, challenging jobs for people of color in their neighborhoods. 
"I'm trying to create these jobs for people who are from Dorchester, and specifically Black and Brown artists," said Sam Potrykus, the director and arts administrator at Brain Arts. "These are just such incredible artists who are willing to bring their craft and it's not easy to work with kids, so my hat's off to them."
Because ADSL and Brain Arts strive to serve the Dorchester community to its greatest capacity, leaders hope to offer a myriad of artistic workshops and are looking for as many artists to get involved as possible.
"We might end up doing a rap or poetry or songwriting workshop over the next few weeks," Potrykus said. " [Scouting artists is] pretty open-ended and it's just who we can find, which artists we have available and willing to work with kids because that's a skill in itself." 
The efforts of ADSL and Brain Arts help the Dorchester community nurture its love for art, fostering a new sense of unity and creativity among the youth. Without art programs like the ones help at Dorchester Art Project, children may never realize the potential they possess in creative fields. 
"Some people, they're enjoying sports but they really found their calling when they picked up a paintbrush for the first time," Potrykus said. "So what I think is really special about this collaboration is just casting a wider net and reaching more people in our community."