City council race: David Halbert running for at-large seat
David Halbert, a seasoned public servant and former outreach manager for the Educational Justice Institute at MIT, is running for a Boston City Council At-Large seat.
Halbert is running against at least 15 other candidates, including incumbents Michael Flaherty and Julia Mejia. Councilors At-Large Michelle Wu and Annissa Essaibi-George are running for Boston mayor.
In 2019, Halbert's campaign made it to the final round but did not secure enough votes to make it to the Council. He took the time to regroup and eventually started working at the Educational Justice Institute, where he aided in the expansion of college education access to individuals who are incarcerated or in reentry services. 
Halbert has also previously worked for former Governor Deval Patrick, the Middlesex Sheriff's Office, and worked for former City Councilors Sam Yoon and John Tobin, giving him a political edge in the race.
"As far as this campaign goes, that's really the most salient professional experience," Halbert said. "When I think about the issues, and when I think about the solutions to those issues, it's not just a theoretical exercise for me. I've done the work, and I've been in the meetings. I've sat in on policy development. I've taken the constituent calls all hours of the day and night. I understand what this job is, and I understand what this job requires."
Halbert's campaign focuses on making a more "equitable, just Boston," emphasizing economic opportunity, public safety, housing, racial and education justice. 
The two-time candidate believes that a proper way to achieve many of his goals, including housing justice, is by extending and strengthening our reach.
"We [need to] operate in conjunction with our partners at the State and the Federal level," he said. "Some of it is just having strong advocacy and making sure that we're working as partners to get the dollars and the resources that we need and understanding that this is not a one size fits all thing."
The Scope spoke with Halbert about his campaign's top issues and plans to address them if elected City Councilor At-Large. This interview has been edited for length and clarity.
Can you tell our readers a little more about you and ultimately why you decided to run this year?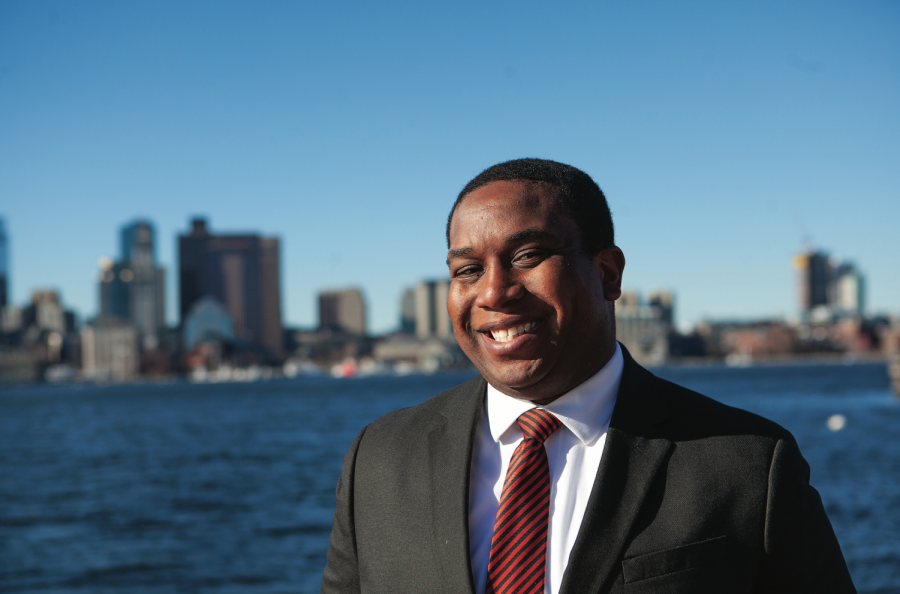 First and foremost, I think there's a need that I can speak to. For many different aspects of who I am, of course, being a Black man in Boston. There are no Black men on the City Council right now. There hasn't been since Tito Jackson left. This is going on for years now. That's 10s of 1000s of people who don't have representation and voice in a direct way in the decisions and the policymaking that's happening at City Hall. I think that's critically important, but it's more than just that. It's Boston Public Schools' parents…there are actually very few if you look at the totality of the Council. There are actually very few active Boston Public Schools parents on the Council. It's the biggest part of the city's budget. Its decisions will affect my family for the next 15, 16 years because I have a five-year-old and a three-year-old, so we're a Boston Public Schools family. We're proud to be. But as you see right now with the whole conversation around the exam schools and what's happening, and I would argue that the exams conversation is actually kind of part of the problem because we spent so much time focusing on the exam schools and not talking about the other 120 some odd schools that are in our system, in anywhere near the same level of volume or intensity or intentionality. We need to be focusing on that and expanding those kinds of conversations.
As a former City Council staffer, myself, I'm one of few in this race, who've actually been in those offices, done that work on a day-to-day basis. I worked twice, once for Sam Yoon, former City Councilor, and once for John Tobin. So, I've worked at the At-Large level, I've worked at the District level bringing all those different experiences, bringing my commitment to equity to social justice representation to environmentalism.
I'm from Ohio originally, and my mother got transferred [here] for work. She spent 26 years at the Environmental Protection Agency. She helped found New England's Urban Environmental Program, so environmental issues, particularly urban environmental issues, environmental justice are really critical to how we see the world and how I view policy. So, as you said you're familiar with my platform, you can kind of see that through-line of environmentalism, whether we're talking about housing, whether we're talking about education. I believe that Madison Park High School should be our goal. [It] should be able to make it the nation's number one green vocational high school. I think that's really important. We're a climate-vulnerable city. The students from Madison Park have skilled labor and skilled tradespeople are producing what could really be a linchpin component of addressing climate change and the existential threat of climate change here in the city. But I think all these pieces come together to create a complete holistic picture of who I am, what I can bring, and how most importantly, I can answer what I think is the most important question you've got to ask if you're in public service which is… 'How do I wake up and make somebody else's life better today?'
I think when you're guided by that and use that as your primary lens for assessing what you're doing, how you're interacting with people, how you're trying to help people… you're more often than not going to make, if not the perfect decision, at least better decisions. Because they're centered around what they should be centered around…which is service to others as opposed to service to self.
That was what kind of brought me to this race thinking, you know, and of course the practical elements of it with Councilor Wu heading off to run for Mayor, Councilor Campbell… I live in her District now. I was formerly in East Boston for about 14 years. You know there were a couple of different pathways, and then, of course, then-Mayor Walsh going to D.C. to become Secretary Walsh…that just changed the entire landscape of everything in the city. We just see this flourishing. I think there's upwards of 55 people on the ballot in one form or another this year. It's great, and it's challenging.
How is your campaign different from the others that are running?
Yeah, it kind of goes back to that answer in the previous question. I have a different profile that I create than anybody else on this race, and by the way, it's not to denigrate. There's a lot of really great people, some of whom I know personally, some of whom I'm getting to know throughout this race. We all bring different things to the table.
I think for me, that combination of practical experience and understanding how the government is and how it works and,  in tangible terms, put that into practice… I'll give you an example. There's been a lot of conversation, as I'm sure you know and your readers were active in around making the [MBTA] free, and what that can mean now on a values basis. Right. I know it can be transformative for many reasons, particularly in communities with higher transit obstacles and, absolutely, access to Mass Transit and equitably here in the city. Still, I also know, because I've done this work, and because I've been in this space, is that Boston doesn't control the T.
When I'm not on the campaign trail, am I going to commit to fighting for it? 100%. But beyond just carrying on a fight for the T to be free — the T should be free— I will explain to you how we're going to get that done. I'm not going to go to City Hall and say, 'Welp, the T is free now,' because it's not gonna happen. What I am going to do, though, is go to City Hall, and I'm going to work within the body as the Council works with the Mayor's office to make advocacy points for it. I'm going to work with our state delegation in Boston because it's a quasi-public state-level agency to say these are the reasons why we need you to make these policy changes. I'm going to work across city borders with our neighbors in Cambridge, Winchester and Marblehead, to say, 'Hey, you know, making the T free is a benefit. Yes, it is. Of course, you would feel a disproportionate benefit for Boston because we have the bulk of the traffic and everything else, but, frankly, it's better for everybody because it increased economic activity. It gets people off the roads. It makes it easier to remove those barriers to entry once again. Therefore, we need to work together to advocate, not just with my legislators in my backyard, but yours as well, and to put pressure on the Governor's administration to make this happen because we're talking about why it's important.'
And then, I'm going to take it a step further than most would. I'm going to the partnership and advocacy with others in other areas outside of the MBTA service area because it's a lot easier to get the votes at the State House that we need. After all, that's where we need the votes when instead of me saying, 'This is about Boston, or this is about the T,'… because my wife's from Springfield, I went to college in western Mass… I know people out there like, 'Miss me with Boston' right, 'It's always about Boston.' But, when I go out to talk to Eric Lesser, the state senator in Longmeadow, or I go and talk to the state rep in Holyoke or whatever, I say, 'Hey, I think what we should really be talking about. What I really want to partner with you on and my counterparts there at the municipal level is how do we talk about having a statewide free, fair public transportation system that will get somebody from the northwest corner of the state where I went to college in North Adams, all the way out to the cape with intermodal transit? Where we're reducing our carbon footprint, or we're not burdening people and what we're really committing to transit equity with everybody?'
But you must have that ability to see the big picture and put all the pieces together to do it. That comes from practical experience and understanding how this all works. I think more so than many other things, that's one of the strength key strengths that I bring in kind of that analytical perspective and putting it into place to make it happen.
What are the top policy issues for your campaign?
So, three top-line issues that we're talking about are around housing justice —making sure that we affirm and put in practice our policies. The fact that housing should be a human right in the city of Boston and what that actually looks like — making sure that we have economic opportunity for everybody, with a particular focus, for me, on small businesses and small business development.
I sit on the board for East Boston Main Street still, even though I live in Dorchester now, because small businesses are critical, and kind of going to the work that I [did] on a day-to-day basis at MIT. When you really get deeper into it, one, for every dollar that we put into a small business, about $3 of economic activity gets generated into the community. That's an economic incentive. Two, for the immigrant community, small businesses are often where they get those first steps, economically speaking, into achieving the American dream. It's absolutely critical. We see that over and over again. And three, for individuals coming home from incarceration, our returning citizens population—and I think people get lost on this because 95% of people return from incarceration at some point in their sentence—it is in our best interest, particularly in a city like Boston, that unfortunately, disproportionately, bears a large population coming from our correctional facilities, that it's small businesses.
Over and over again, I'll tell you anecdotally and empirically that you know it's those small businesses that are run by people who are from the community, who live in the community, who know these people who are coming back to the community. They're giving them that second chance to reinvest in themselves to reinvest in their families. They can reinvest in their communities and not end up behind bars because economic opportunity is critical. That's why we have to, in my opinion, truly lift everything we can to support especially coming out of the pandemic, support our small businesses and make sure that our small business sector is growing and thriving.
And then finally, it's about education equity. We have to make sure that we're expanding that conversation. We have to make sure that we're making intentional interventions and decisions that we know are so important. Universal K-0 access, universal K-1 access; that we have high-quality schools, both in terms of the infrastructure and in terms of the educational product that's being produced inside of them in every neighborhood. A lot of people bristle when they hear the word 'neighborhood schools.' I understand that because when they hear neighborhood schools, what they hear is, 'I don't want this person in my neighborhood.' I think the idea and the notion of a neighborhood school are not a bad thing, per se.
Having a school that's an anchor point for your community is good, but we can't have neighborhood schools until we have neighborhood equity and quality in every school. Parents will send their kids across town if they think that's the only way that they're going to get a quality education. Parents will do that. They don't want to do it. You know I'm a dad. I don't want to put my five-year-old on a bus and send her across the city. I don't want to drive in a car across the city, but I would do it. Now we're fortunate we have a high-quality school about five minutes from our house that our daughter is enrolled in, and we're very blessed to have that. Still, not everybody has an opportunity, and I want to make sure everyone has the same opportunity.
From there, we can grow. Yes, talking about the exam school process, talking about reinvestment in all of our schools, particularly around wraparound services from an educational standpoint because we know that, unfortunately, schools for so many of our students coming out of the pandemic are more than just where they go to learn. For many of them, it's their most reliable access to food. For many of them, it's the most reliable access to medical care. For many of them, unfortunately, it's their safest space because of situations in their home. Suppose a student has been in a situation where potentially they've been subject to mental or physical abuse, and now that's been exacerbated because of the impact of the pandemic after a year and a half of that. In that case, we will need to do a more intentional intervention at all schools to identify those students and provide them with support for mental health services, social-emotional services, and learning to get them back to a place where they can be ready to learn. But if we're not thinking about that, if we're not talking about that, and more importantly, if we're not making decisions and putting the dollars behind that from the jump, then we're setting ourselves up for generationally defining problems.
Is there anything you'd like to say to our readers that I did not ask you?
I think for me, as I said, it's how do you answer that question? It's how do you do this job? Once again, coming from having done the work and knowing what it is… there are two things that you need to balance at the exact same time. The first is, how do you have the big ideas? Transportation equity, making sure that people have housing, right, making sure that we're expanding it, and soup to nuts. So, you know, starting from who can actually be a developer and to wealth creation and that. How are we doing the jobs? Is it that we're meeting the Boston resident jobs policy program, and we're providing opportunities particularly for women and people of color here in the city? When we finally build the housing, is it not just for our affordable units, single occupancy, but are we making family size? So, top to bottom, you know, all the way across the spectrum…are we doing that? Coming to the place of those kinds of conversations each and every day. That's why I want to chair the Post-Audit and Oversight Committee because that committee's job is to ask questions about how city services and how programs are delivered in terms of efficiency and effectiveness.
I would say as well you should add to that equity, and that if you add that equity component to each one of those conversations each and every one of those investigations, you will get better results because then you have the foundation to make those decisions about where the city is going to spend its time and where the city is going to spend its money. Do you want to know what somebody cares about, where they spend their time and spend their money? That, more than anything else, can show you right off the bat what people care about. I believe that that's why I'm committing my time, and you know by not having a job, my money in some ways, to this race because I truly believe in that. I truly want to be a part of helping make the kind of Boston that we deserve and understanding the history and the conversations and the hard conversations we have to have.
Boston is a really diverse city. Unfortunately, there's also a deeply segregated city, and it still is. And we must be honest about it if we're going to get to the places we want to be. My mom is a lot smarter than I am, and she has a saying which is, 'You got to work with people where they are to get them where you need them to be.' That's one part of how I view all this, but I understand we have historical reasons for that, too, and political precedence.
I always also say there's a difference between representation and tokenism. Tokenism is somebody just gets put someplace where we can check a box and say, 'We got one of those.' Representation is can you do the job, ideally, can you do it very well? And in doing so in your presence there, do you bring a perspective that is either missing or largely subdued? I think that is critically important. And so that is why center representation in this campaign, and that is one of the things that I hope to bring. That ability to do this job and do it incredibly well, at a high level, and get a perspective on conversations that may not be happening otherwise. That's the value of the Council. By being a 13-member body, bringing all of those different perspectives together to do the kind of work that we need to do to create the kind of policies that need to be created to drive the city forward, and what I wouldn't say should be a more representative and progressive direction. Still, you must have people who believe in it, care about it and commit to doing it. That's who I am, that's what I bring to the table, and that's why I'm asking for folks to vote on September 14 and, hopefully, November 2 as well.