Initiatives to bring back shoppers to Chinatown are underway
As a young boy, Kenrick Tsang used to be terrified of the lion dance street performances that would promenade the streets of Boston's Chinatown neighborhood during Lunar New Year celebrations. But, 11 years ago, when he was looking for a new physical activity that would fuse both his love for action and a way for him to express and promote his Chinese culture, he became of those lion dancers.
On Saturday, for its fourth weekend in a row, the streets of Chinatown became lively, as two different lion dance performances took place at the Chinatown Gate and later formed a parade route that promenaded a few short blocks of the historic cultural area.
"We have one goal," said various speakers at the event. "Promote Chinatown."
The parade is a part of a re-opening initiative to drive residents and tourists back to Chinatown. Frequently, speakers told the crowd to "stay for dim sum" and visit the many restaurants and small businesses that make up the neighborhood.
Boston's Chinatown, along with many other Asian cultural areas, has been impacted since the start of the pandemic, being forced to grapple with anti-Asian racism and loss of business.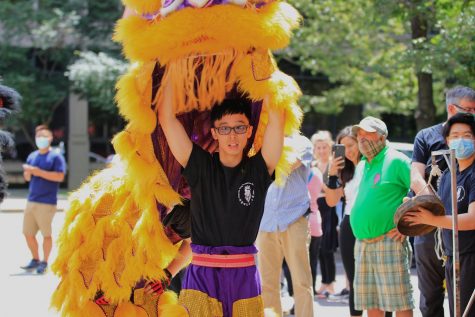 With mask and dining restrictions either partially or fully lifted across the country, leaders sought ways to bring back customers.
Tsang, 28, of Quincy, helped lead the parade route, along with officials and another lion dance group, serving as one of the lion's heads. He said that these performances have never been done before outside of Lunar New Year celebrations and that it's been well over a year since he and his peers have performed.
Event organizers plan to make these performances weekly on Saturdays in Chinatown, with later plans to switch street performances for street vendors and other cultural activities.
The first of its kind in a sequence of events to draw people back to Chinatown gives way to a much larger conversation on how the Asian American and Pacific Islander, AAPI, communities have faced many drawbacks in the past year and a half but still has proceeded to unite together to promote all of the beautiful aspects of the neighborhood.
Councilor Ed Flynn (D-2), who has been helping to generate steady foot traffic back in the area, said nationwide it has been a challenging year for the AAPI communities.
"Most of the shops and restaurants have been closed," Flynn said. "We came to be here today and plan to be here, in solidarity, and to get the economy moving again to support the AAPI community."
The lion dance parade was a great way to kick off the official start of summer, and The Scope was there to check it out. Enjoy some photos from the day: