The Scope is piloting a news by text initiative to deliver essential COVID information to Boston residents
Want to receive the latest information about testing sites, food pantries and other COVID-19 related news in your neighborhood through texts? Sign up for a new text messaging service from the Scope, created to help Boston residents navigate this challenging time. 
To find testing sites or food pantries in your neighborhood and receive other COVID-19 updates, simply text COVID to 617 546 6111 to sign up. Once a subscriber, you may text STOP at any time to opt out. Standard messaging rates apply.
Some of the text responses you receive from us will be automated, but our team—led by the Scope audience engagement editor Lex Weaver—will monitor incoming texts, update the information we are providing and address your questions and concerns. This service does not require internet access. You may receive updates from us once a week and can also tell us through text what other information you'd like to receive in the coming months. 
*This is a pilot project and you might experience technical issues while using the service. Certain searches on a name may bring up other locations, e.g. texting "Roxbury" will also turn up results for "West Roxbury." If you are experiencing issues, please contact us at [email protected]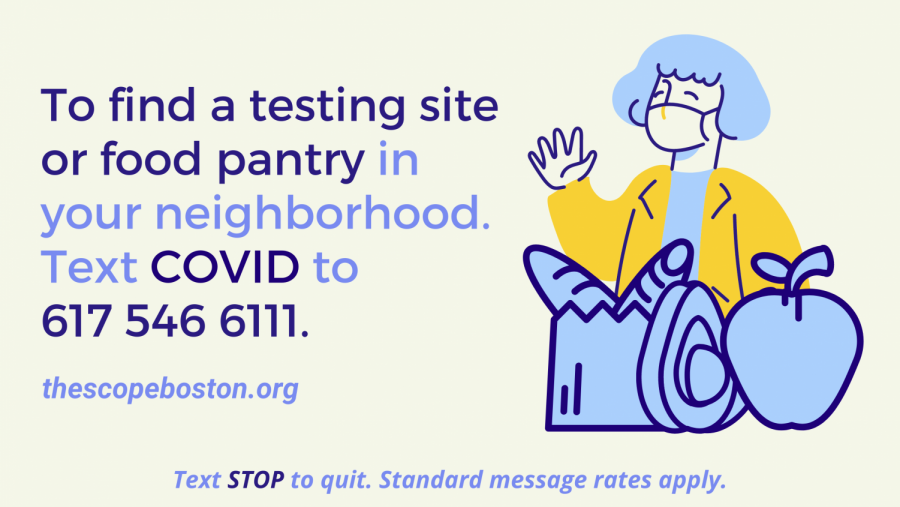 Inspired by similar efforts from Outlier Media, City Bureau and the Philadelphia Inquirer, we have set up a phone number through GroundSource, a texting platform created by veteran journalist and entrepreneur Andrew Haeg to help community-based organizations connect with the people that they aim to serve.
Why text messaging? 
The pandemic has magnified our region's many longstanding disparities, and we want to ensure that essential information is reaching more segments of the community, including those that may lack internet access. As a 2018 report by CTIA illustrates, text messaging is a fast-growing and vital form of communication for low-income residents. 
This project is funded in part by Northeastern University's College of Arts, Media and Design through a new grant program designed to support work related to social justice and anti-racism. Weaver is the project's audience engagement editor with help from the Scope editor-in-chief Ha Ta and faculty advisor Matt Carroll. Assistant Professor of Journalism Meg Heckman co-wrote the grant with Weaver and is providing logistical support. Katie Mogg, an undergraduate student at Northeastern University, is helping verifying and updating information for the project.
To learn more about The Scope's mission, click here.