Boston Election Day Updates
Updates from what's happening at polling locations in different Boston neighborhoods today
Election Day 2020 is here and the Scope will be giving you updates on what's happening at polling locations in different Boston neighborhoods including West Roxbury, the South End and Fenway. The 2020 presidential election is expected to be highly-contentious, with Boston Mayor Marty Walsh earlier urging voters to wear a mask, remain calm and "be prepared for the process to take some time." Polls in Boston will be open from 7 a.m. to 8 p.m.
Election Results (to be updated):
Mayor Marty Walsh says Boston turnout hit 63.51%, which he says is around the average for a presidential election.
The Associated Press called Massachusetts for Biden.
Edward J. Markey, Democrat, wins re-election to the U.S. Senate in Massachusetts.
James McGovern is project to win the Massachusetts U.S. House District 2.
Jake Auchincloss is project to win the Massachusetts U.S. House District 4.
Seth Moulton is project to win the Massachusetts U.S. House District 6.
Ayanna Pressley is project to win the Massachusetts U.S. House District 7.
Stephen Lynch is project to win the Massachusetts U.S. House District 8.
Bill Keating is project to win the Massachusetts U.S. House District 9.
---
Matthews Arena at Northeastern University 
---
The polling location at Matthews Arena at Northeastern University makes it easy for students to go vote on Election Day. Frank Mastroianni is at the site to greet and direct voters until 9 p.m. Mastroianni is a second year political science and international affairs student and a member of Northeastern Votes, a coalition of staff, faculty, and students working to educate students about the importance of civic engagement and how to get involved in elections. Riley Robinson's photos for the Scope.
---
Fenway – Adventist Church 
---
There was no line at the Adventist Church polling location in Fenway early afternoon, few people came to cast their vote.
Rachel, originally from California, said she voted in person on Election Day because she is wary of the fear tactics employed by the Trump administration regarding mail-in voting and also because there is "something special about going into a precinct and voting." 
"I think part of democracy is the power belongs to the citizens and I feel like it is our responsibility to exercise our right and if we want to uphold a democracy we have to work for it," Rachel said.
Rachel said she voted for Joe Biden and Kamala Harris because criminal justice reform is an issue she cares deeply about and that based on Biden and Harris' records, they could be the ones to tackle those issues.
"I think criminal justice reform, health care for everybody, housing reform," she said. "There's just a lot of things that I believe that I would like to see them speak up about."
Rachel said she would be disappointed if Donald Trump won the election. 
"I feel like [the administration] is … embarrassing," she said. "But I really hope that just kicks us into gear and makes us really deeply introspect the way our current systems are upholding a lot of oppression and unfairness."
[Editor's note: Rachel appears in our video interview below but later asked to not have her last name be written out due to the nature of her work]
Nicky Berner can't vote this year but came out with her best friend who is voting today on Election Day. She said her best friend originally opted for mail-in voting but didn't receive the ballot by mail so she decided to go vote in person. Berner said she thought it is important to vote this year just because of how "controversial" the presidency has been in the last four years. "So I thought it was very important for us to come and like show our voices," she said.
---
The South End Academy 
---
Amanda Reich brought her son to vote in the South End polling location to show him the importance of voting. She said she voted for Biden. The top issues on her mind, she said, are how the government will handle COVID-19 and racial inequality.
Mike Johnson said he was a Trump fan prior to the 2016 election but he felt Trump hasn't done what he set out to do during his campaign. For Johnson, his neighborhood hasn't changed regardless of who is in power. He said he did not vote for Trump or Biden because he dislikes both. This year is the first presidential election he voted in, solely because he cares about ranked choice voting, which is a ballot question in Massachusetts.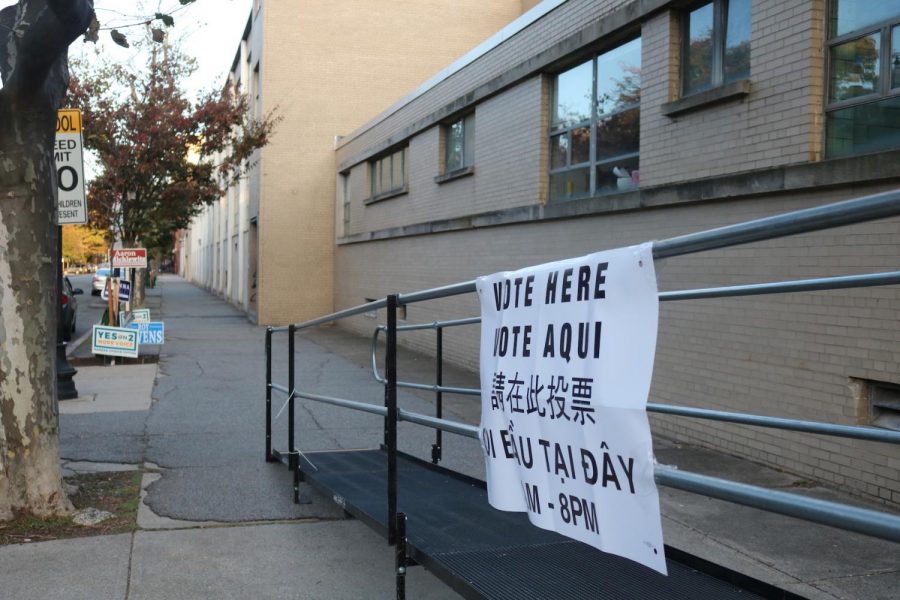 Michael Watt previously voted Republican but said he voted for Biden in this election because he said Trump fundamentally changed the Republican party and made it diverge from what it once was. Asked what he thinks would happen if Trump re-elected, he said he feels Trump is very dangerous to democracy and that our country will be in serious trouble if he is re-elected.
Marie Pierre said she voted for Biden and hopes he would focus on schools and COVID-19 pandemic issues because she has two children in online classes and feels that it isn't working as well as it should be. Her sister is a nurse, so handling the pandemic policy is a priority for her.
---
West Roxbury
---
In West Roxbury shortly before noon, there were no lines but a steady trickle of voters at the polling building, St. George Orthodox Church of Boston. The reason for no lines may have been indicated by the voter registration sheets, which showed many "Xs" beside names, recording that many residents had already cast ballots by mail or early voting. Several pages showed that up to two-thirds of the names had already voted.
Outside the polling place, two Biden supporters talked about why they had voted for him. 
Amy Bromberg, 64, of West Roxbury, said she "wasn't excited by Biden. But I'm definitely not a Trumpster." Bernie Sanders or Senator Elizabeth Warren are more to her liking, she said. In 2016, she voted for Democrat Hillary Clinton, who lost to Trump.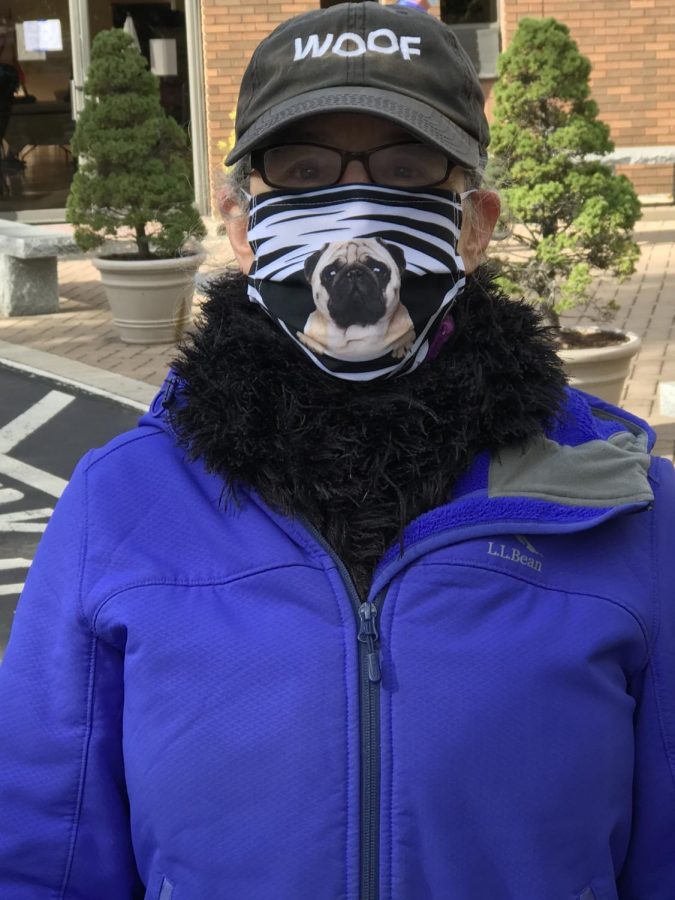 Bromberg, who owns two pug dogs, Finn and Oscar, and wore a face mask decorated with a pug, expressed disdain for the Trumps. "There's no warmth from that family at all," he said. "[Trump] doesn't even like dogs … I can't stand the guy."
Bob Gramer, 47, a marketing executive who is also from West Roxbury, said he was unsure who would win the election. "I really don't know," he said. "I'm very wary after 2016."
Asked if he thought there was a possibility of post-election violence, Gramer said he was hopeful it would be peaceful. "I think there's always the possibility of problems, but I would like to think we're above that," he said.