Monica Cannon-Grant opens Social Impact Center in Hyde Park for disenfranchised residents
The center is dedicated to helping people who have a record, who were previously incarcerated or those with urgent needs outside of regular business hours.
Lex Weaver, Audience Engagement Editor
September 9, 2020
Boston activist Monica Cannon-Grant made a personal phone call to Mayor Marty Walsh in 2019. She told him that she wanted to do violence prevention work but that she did not want to work for his office or receive any financial assistance from him in doing so. He told her to write him a business proposal and to find a property. Cannon-Grant thought to herself, "With what money?"
On Monday, Violence in Boston, Cannon-Grant's decade-old social justice organization that became a nonprofit in 2017, revealed its new Social Impact Center in Hyde Park.
"Today, we celebrate the grand opening of Violence in Boston's Social Impact Center," Cannon-Grant said in her opening statement at the invite-only event. "They made it a hashtag. I made it a movement."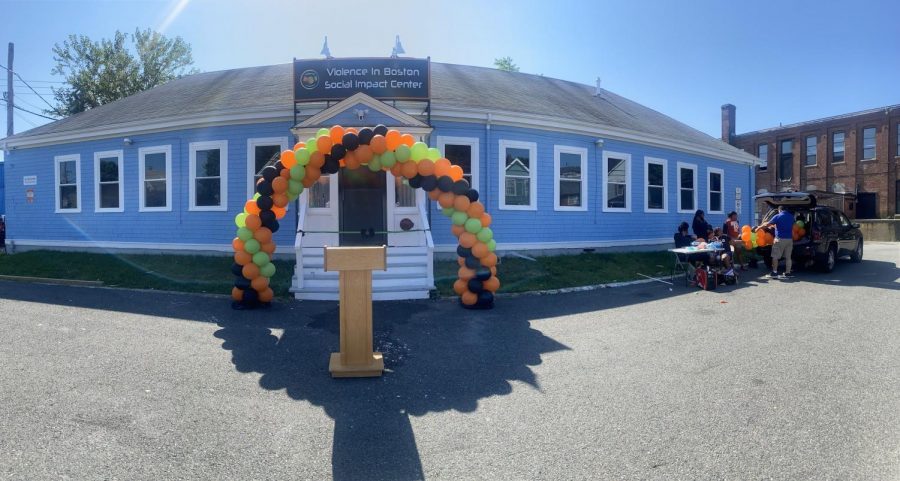 The 4,000 square foot facility will serve as a community resource for many disenfranchised residents within the city. It accommodates essential needs, such as advocacy and education through community partnerships, addresses food insecurity and offers varied mental health services.
The two-storied building has four offices, a computer center with ten computers donated by Microsoft, an on-site washer and dryer unit, a food pantry and toiletry items, a healing space and two rooms dedicated to studio and podcasting.
The center's first two programs are the Transcend program, which helps service young men who are 15 to 28 years old, and Backpack 68, the food pantry program, Cannon-Grant said. 
"We've chosen 68 schools that we will dedicate feeding from Friday to Monday to make sure that they have food over the weekend," she said. The '68' stands for the 68 hours that children endure over the weekend until their next meal.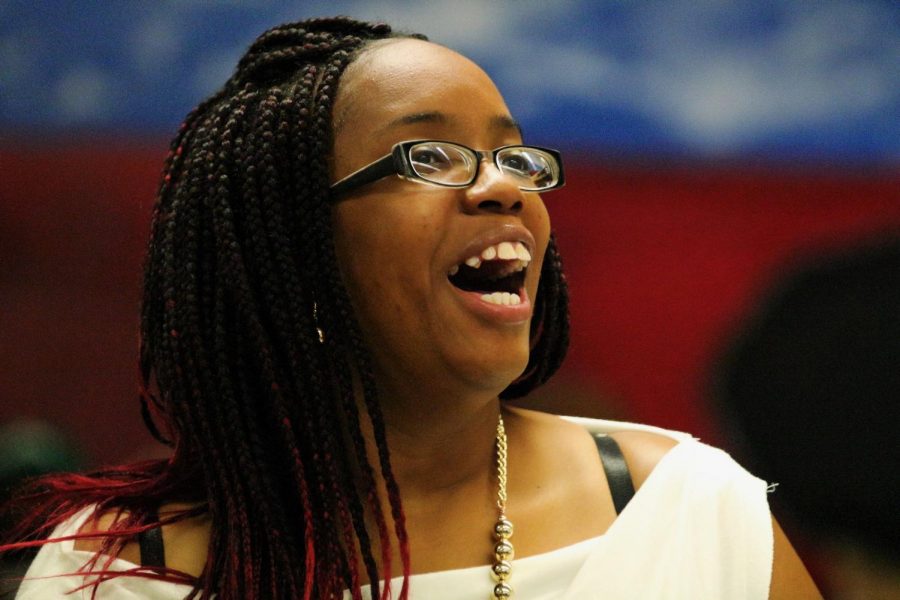 Eventually, the center will provide aid with housing rental assistance and provide gift cards to those coming home from prison and need aid with getting their birth certificate, social security card, other identification cards, and possibly clothing and toiletries, Cannon-Grant said.
In an interview last month with The Scope, Cannon-Grant shared her thoughts on opening the center with the support of the mayor's office but without city or state funding.
"I just wanted [Mayor Walsh] to help me get to the table and then I can speak on my behalf," she said. "That was important for me because I feel like it's easy to write a check; I wanted to feel like I did it."
And she did. Through crowdfunding and donations, Cannon-Grant was able to purchase the center's space in December of 2019. Over 25 volunteers and multiple unions within the city offered their time and resources to renovate the location.
State representative Chynah Tyler (D-7), former city councilor Tito Jackson, and Emerald Garner, the daughter of Eric Garner, a victim of a police killing in 2014 in New York, were all speakers at the grand opening of the center. Each speaker shared their experiences working alongside Cannon-Grant and with Violence in Boston. City Councilor Julia Mejia was also present at the event.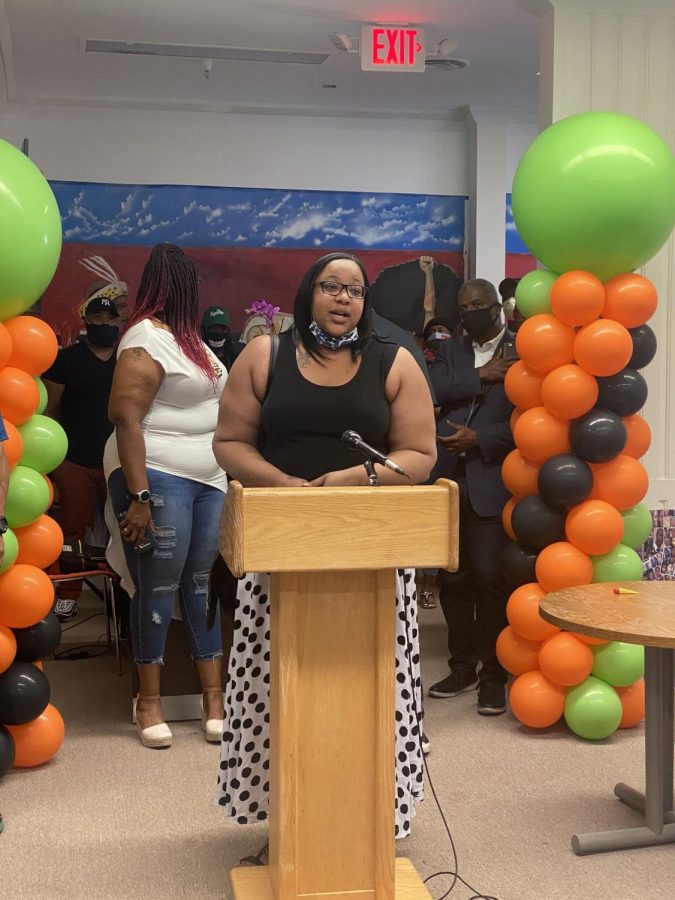 The center was supposed to open in April of this year but the date was pushed back because of the nation-wide shutdown caused by the COVID-19 pandemic. Cannon-Grant found it a blessing in disguise because it allowed her to give back to her city during a pandemic that disproportionately affected Black and brown communities in the U.S..
During this time, Cannon Grant and Emerald Garner were able to connect and get a legislation  that made the use of chokeholds illegal passed in New York.
"We got the Eric Garner Law passed in New York state," Garner said. "I thank Monica tremendously because I feel like without that national call that we did with Ayanna Pressley, Gillibrand and Warren, I don't think that we would have gotten as far as we have."
Tito Jackson, teary-eyed in front of the opening day crowd, shared how he first met Cannon-Grant when he was the city councilor for her neighborhood.
"She has an optimism that requires accountability," he said. "The work that Monica is doing is not only work. It's personal; it's her family; it's her community."
Cannon-Grant, the activist responsible for the 2017 march against white supremacy and the rally this past June in Franklin Park, that was held in the wake of the national outcry of protests for Black lives taken as a result of unjust police killings, and who partnered with Food for Soul during the pandemic to feed over 80,000 people in the city has become a well-known public figure in her own right; but, she wants people to know when to separate the activist from the organization.
"There's always going to be Violence in Boston and then Monica Cannon-Grant, the individual and the activist," she said. "I want to separate the two just around the fact that people often compensate me as a public speaker, which is separate from Violence in Boston. I don't want there to be any issues. I want full transparency."
For over a decade the nonprofit has been run solely by Cannon-Grant, a married mother of six children. Now with a small staff of four, the nonprofit wants the community to look at its existence as a resource that remedies the city's shortcomings in terms of helping people who have a record, were previously incarcerated or those with urgent needs outside of regular business hours.
"Us having a building and now a social impact center will allow us to fill in the gaps," Cannon-Grant said. "I'm not looking to take anyone else's position or knock anyone out the box, but there are certain things that happen when you're dealing with those who are criminally-involved, as well as victims, where things are needed. Where, you know, as a city, we provide, but not adequately. [We] want to be able to fill those gaps."
To ensure that the nonprofit can hire more staff and support the community, Cannon-Grant said, securing multi-year funding is essential.
"Our work will be done by referral. So, people have to call us in. We're not just showing up unless we are requested. But, if we are called, we will show up," Cannon-Grant said. "The reason being for that, simply just for the resource piece, because I do not want to overstep work that's being done."
The mother of six expressed excitement for the center's future and ensured that there will be plenty more programs to come.
"If you thought I was done, you're sadly mistaken," Cannon-Grant said. "I'm just getting started."