South End, Roxbury residents protest conditions on Mass & Cass
Ha Ta, Reporter
September 4, 2020
Residents, business owners of South End and Roxbury and advocates came together on Thursday for a rally at the corner of Massachusetts Avenue and Washington Street to demand actions from city officials to address safety and hygiene issues at the "Methadone Mile."
More than 100 people attended the rally, some carried signs with demands for the city and the state. Demonstrators chanted "Open the bridge," referring to the Long Island Bridge, which was taken down in 2014, cutting off the pathway to a recovery center for people experiencing homelessness and addiction on Long Island. As some demonstrators moved to the middle of the busy intersection, Boston police blocked off portions of Massachusetts Avenue and Washington Street.
Organizer and resident of the South End and Lower Roxbury for over 20 years Yahaira Lopez hopes to bring together residents from low-income and rent control housing, and those who are wealthier.
"The purpose of the standout is to allow the community members to come out with their signs of demand and showcase that the community has demands that they've been asking for well over four to six years," Lopez said. "And I think this is the first protest or rally to be done in the corner of Massachusetts Avenue … which brings back how this is impacting two different communities, both low income communities and financially established communities."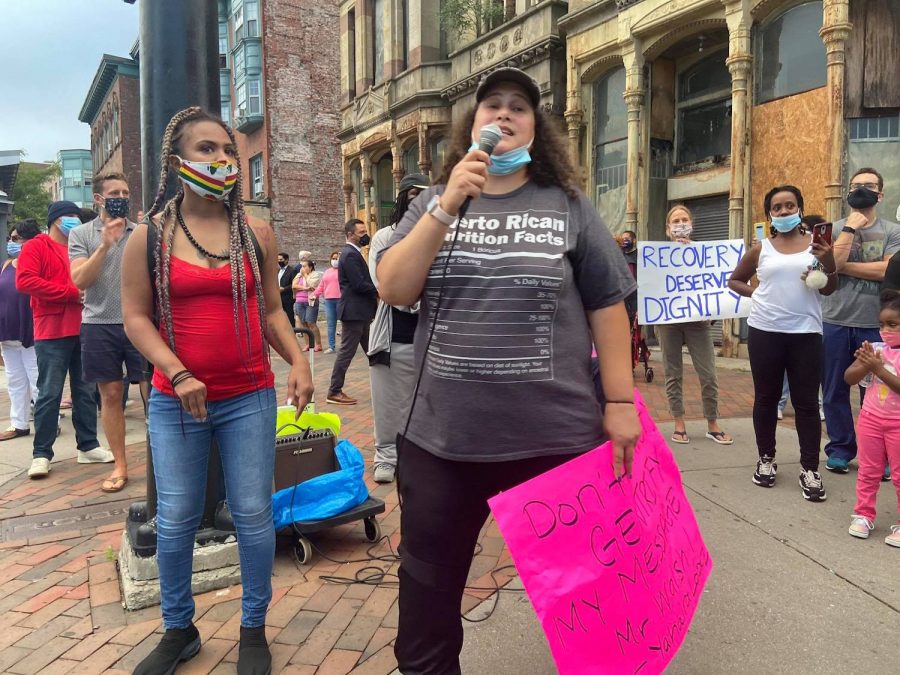 She said she empathizes with those gathering in the area for services but believes the governing body should take actions to address safety issues for both residents and people struggling with substance abuse. 
Lopez said she started speaking out and calling for actions to ensure safety in the South End and Roxbury neighborhoods to advocate for her mother and neighbors. 
"My mom has been experiencing a lot of traumatic events where she is witnessing people continuously injecting themselves on the back of her property, having sexual intercourse on her property, defecating on her property, trying to break into her home knowing that there's the Ring [security camera] on the front door," she said. "It's coming to a point that I am extremely worried about my mom's health and safety, along with her mental health."
Lopez took the images her mother and neighbors shared with her and sent them in an email to Boston city councilors, the mayor of the City of Quincy, state Sen. Sonia Chang-Díaz, state Rep. John Santiago, among others. She also posted those photos along with the email on her Facebook page, tagging city officials in the post.
The post garnered hundreds of shares and comments. City Councilors Julia Mejia and Annissa Essaibi George have responded voicing their support. 
By organizing the standout on Thursday, Lopez said she and other residents hope to leverage the growing attention to the issues to bring changes to the community. She reached out to business owners, members of the Boston Teachers Union who have been working on the issues, as well as student organizers from nearby Northeastern University, among other groups. 
"One purpose of the standout is to ensure that the community starts working in collaboration and forming a true partnership to send a message to our governing body," Lopez said. "I wanted to make sure that this is not just a rich white people problem but also a black and brown and poor people problem that is affecting two communities, regardless of socioeconomic [status]."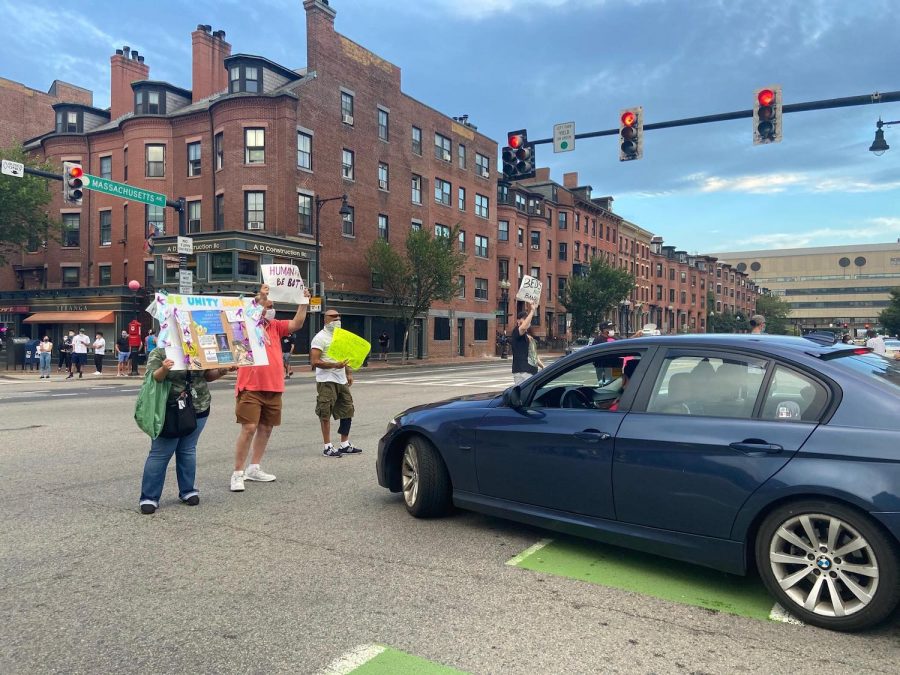 "We're hoping that the city officials see that there's power in numbers," she said. "We're no longer going to tolerate people living in unhealthy and unsanitary conditions while [the city] is ticketing people for having trash in front of their home due to those who are under the influence of drugs coming into the community rummaging through people's trash." 
Lopez said she and members of the South End and Roxbury Community Partnership, the group that organized the standout on Thursday, drafted some demands they have for city officials to tackle the issue. One of the demands, she said, is to turn the Shattuck Hospital in Jamaica Plain into a temporary recovery center to help individuals seek recovery, and another is to rebuild the Long Island Bridge and the recovery center there. 
On Thursday, Mayor Walsh's office released a progress report on the Melnea Cass/Mass Ave 2.0 Strategic Plan, which was aimed at addressing the opioid crisis in Newmarket Square and the surrounding areas, which the city said has intensified during COVID-19. 
"This report details the strides we have already made in accomplishing the goals of the Melnea Cass/Mass Ave 2.0 plan, which has required the work of many partners who have dedicated their time, resources and expertise to help us meet our goals," said Mayor Martin Walsh in a press release.
According to the mayor's office, the plan designated a Public Works team to provide daily street cleanings in the Melnea Cass Boulevard and Massachusetts Avenue area and increased ground sweeps of Boston Public Health Commission, Parks and Recreation Department and Boston Public Schools properties. 
The city also established a 25-member task force with community leaders, non-profit partners, institutions, residents, business owners and elected officials who are stakeholders in the Melnea Cass Boulevard and Massachusetts Avenue area to discuss efforts to combat the opioid and homelessness crisis, according to the press release.
But many residents said they think this is not just an issue of the city of Boston, but of the state of Massachusetts.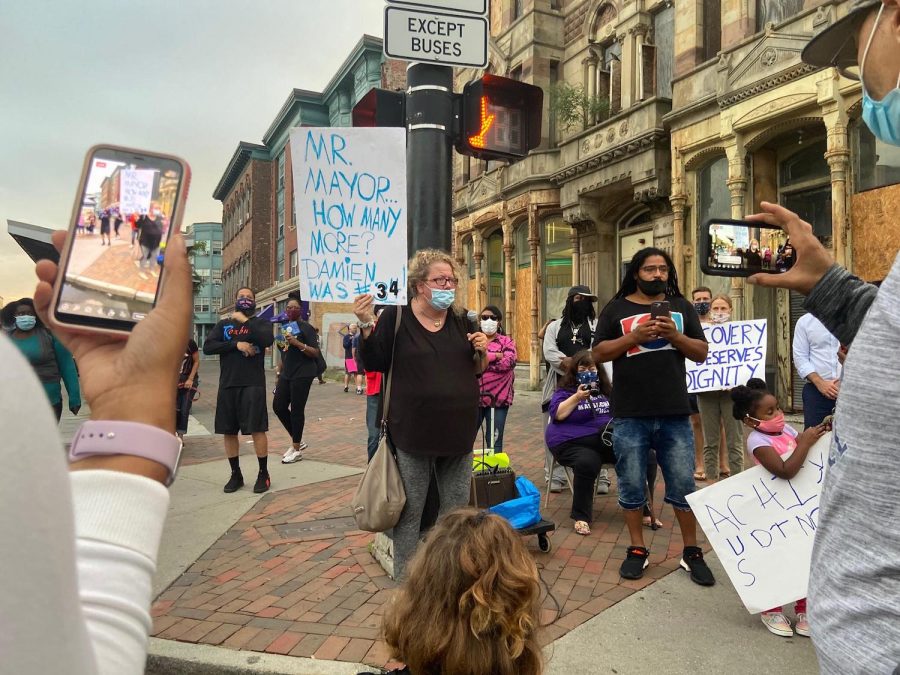 A resident of South End for 25 years, David Stone came out to support the cause of the rally. There has always been the presence of homelessness and addiction in the neighborhood, he said, but the issue has gotten significantly worse over the last couple of years for both residents and for people who are experiencing homelessness and addiction.
Stone said the issue has really "outstripped the ability of the city to manage" and called for Gov. Charlie Baker to step up and provide more services around the state for people experiencing homelessness and substance use abuse so that "people aren't all here in Boston." 
"A lot of the individuals here who are seeking services are from elsewhere in the state because they don't have options closer to home," he said. "People come from Central Massachusetts and Cape Cod, the North Shore, they want to get their services where they live but there aren't any, especially in the pandemic but even before." 
South End resident of over a decade, Dennis Hong shares the same sentiment. 
"It seems like while the policymakers and city council say that they care about what's going on in the South End and they consistently say that the South End and Roxbury disproportionally bear the brunt of this crisis," Hong said. "And yet there's been no change. There's almost an indifference to what's going on here. And it's very sad."
Jamie Bentley, a nurse practitioner and a harm reduction specialist who works with drug users, said she thinks one of the solutions for the issue is to build safe consumption sites, not drive people experiencing homelessness and addiction out of the city.
"At the end of the day, we all want the same things, we want needles off the street. We want people experiencing homelessness to have a safe place to stay at night; they shouldn't be out on the street, that's unsafe, especially now with COVID, shelters have less capacity and everything." she said. "And I think the problem is a lot of neighborhoods are pushing them away to other neighborhoods to other places and like they don't have a place to go, which is really unfair. They're also residents, at the South End or wherever. Some of them have been here longer than us."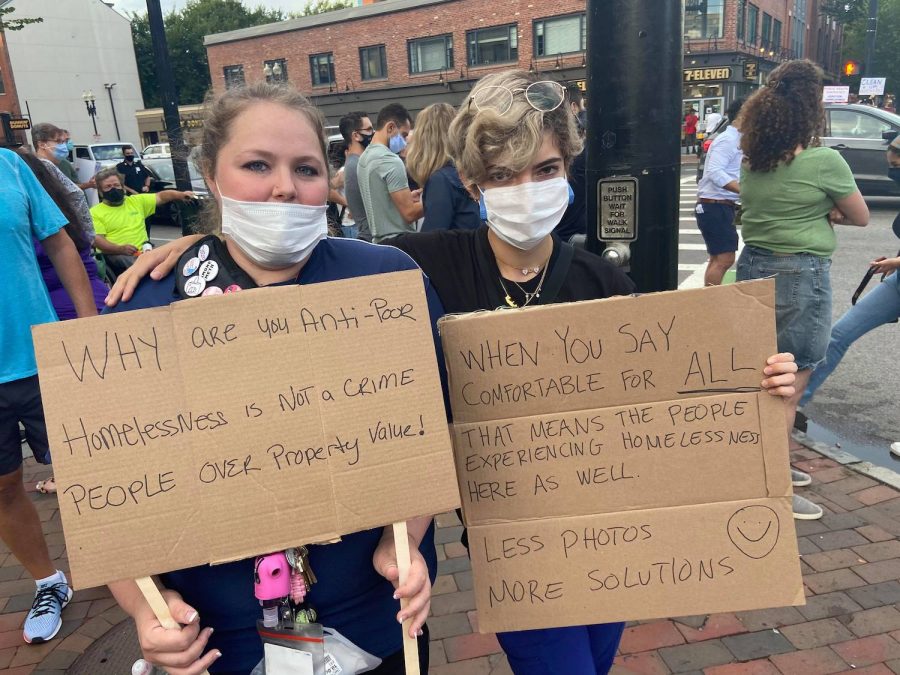 "Shipping people off to an island in the middle of Boston Harbor … isn't going to do anything to change this problem. And it's certainly not going to offer or open opportunities to people who are afflicted by substance use disorder," said Jim Stewart, founding member of Safe Injection Facilities for Massachusetts Now (SIFMA Now). He is also running the First Church Shelter for homeless people in Cambridge. 
SIFMA Now has been a strong advocate in Massachusetts for safe injection facilities, where those struggling with substance abuse can inject drugs in a hygienic environment under medical supervision. Although these facilities exist in other parts of the world, there is not yet a facility in the U.S. Advocates for safe injection facilities say that by providing spaces with medical help for people with addictions to inject, there would be less overdose deaths. However, efforts to open safe injection facilities in places like Washington state or Philadelphia have been scrapped after widespread opposition.
"All across Europe and Canada, Mexico, there's been a recognition that drug users have a clear medical condition, effective treatments for it, it's an intermittent disease," said Stewart. "What they found in other countries is that if you offer safe consumption services to people who are struggling with substance use disorder, it reduces the amount of drug overdose; it increases participation in treatment and reduces the incidence of drug related crime in the neighborhoods that host [the facility]; it reduces the incidence of drug related antisocial or unsavory behavior, [such as] people defecating in the streets and finding needles all over the place."
Stewart said he sympathizes with residents' concerns of safety and hygiene in the area but said he fears sharing photos of drug users publicly would further stigmatize people who are struggling with substance use disorder and who have no other option. 
"It's public officials that aren't being responsive to the situation that we need to hold responsible, not victims of clear and well documented medical conditions that do respond to treatment," he said. "I understand [residents'] concerns but simply highlighting and posting pictures of them in embarrassing situations, doesn't do anything for anybody to address the problem."
Mayra Parrilla Guerrero contributed to the reporting of this story.