Changemaker: Stephanie Cave, Boston Area Mask Initiative founder
Stephanie Cave has her self-isolation routine set.
She wakes up in her Dorchester home at around 6 a.m. Before her two-year-old toddler, her wife, sister, three dogs and cat stir, she checks her email and the Boston Area Mask Initiative's Facebook page.
On good days, she can stitch a mask or two before mom duties take over.
Nap times are for more emails, more order forms, more sewing. But evenings are when production really starts and Cave, 39, sews masks for about an hour.
"I have a network of friends and I thought 'This is how I can help, we can help in this way,'" said Cave, a quilter and sewing teacher. "Even though all of us are apart right now, we're all working together for a common cause. It's great."
Cave started the Boston Area Mask Initiative at the end of March, compelled by the startling shortages of protective equipment for medical staff on the frontlines of the coronavirus pandemic.
In less than a month, the group has ballooned to over 1000 members. Volunteers have made and distributed more than 10,000 fabric masks to hospitals and medical facilities in Greater Boston. According to their Facebook page, 3,100 masks are ready to be delivered this week.
Boston City Councilor Annissa Essaibi-George has even joined the initiative, sewing Mayor Martin Walsh's face covering at Stitch House in Dorchester, one of three locations where the group is co-ordinating production and delivery. Gather Here Stitch Lounge in Cambridge and Sullivan's Pharmacy in Roslindale are also important drop-off and pick-up points for volunteers.
Cave sat down with the Scope to talk about Boston Area Mask Initiative's efforts, and about building community under tough circumstances. The interview has been edited for clarity.
Q: Why did you start the Boston Area Mask Initiative?
A: A few weeks ago I just kept seeing on the news how medical workers were short on PPE [personal protective equipment] and I thought this was how I could help. I mobilized a couple of groups that I'm a part of on Facebook and started to check to see if this was something people were interested in, could volunteer the time for and make masks. So it started from there and just evolved.
Q: Who can join the group?
A: Anyone from the Boston community can join our group … cut fabric, procure materials, help with sewing.
Q: Who are you giving your masks to?
A: Mainly nonprofits, civic organizations and hospitals, people working with domestic violence, the homeless population, assisted living, senior housing, those types of people. We've worked with lots of groups, like Cambridge Health Alliance, Pine Street Inn, Boston Health Care for the Homeless and Boston Public Health Commission.
Q: How do organizations request masks?
A: We have a formal request process, so we don't just cold call hospitals … We have a request process that we try to fill out to the best of our ability. We've had requests for almost 20,000 masks to date.
[The initiative's request form can be found here. Note: Only direct representatives or affiliates of the organization requesting resources can apply.]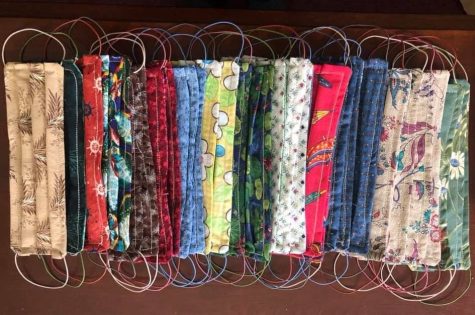 Q: What can individuals do if they're looking for a mask?
A: If people need masks then we have a network of groups and people who may be able to help, but we're trying to meet the needs of organizations and people on the frontline. Reach out and we may be able to put them in touch with groups who can help.
Q: What materials do you need to make and where do you get your supplies?
A: Collectively we haven't had to buy fabric, but I've used around 100 yards of my own stash and others are all donating fabric as well. We have purchased elastic. Elastic is scarce right now [but] we can also use bias tape to make ties. We can improvise.
If anyone wants to donate fabric, we need 100% quilting cotton in great condition.
Q: Have you seen a spike in demand since the mayor announced that everyone should cover their faces when out in public?
A: It has increased our demand, and we're as prepared as anyone can be during this time. We're doing our best to meet demand. I think we're all just doing our best to alleviate the burden of not having enough PPE.
Q: What has starting the group and this whole project taught you?
A: I've been able to create community in unconventional ways. People just want to help, to be a part of the project, and I think it's indicative of peoples' need to be a part of community and to help others.