Edit-a-thon adds more female artists to Wikipedia
Melodie Arya, 19, flipped through her notes while drafting a Wikipedia page on Huamo Tso, one of her favorite feminist poets. 
"I want people to know that this is important," Arya said. "Future generations will know who she is and why she's important."
Arya, a student at Massachusetts College of Art and Design (MassArt), was one of two dozen editors who gathered at MassArt's library, on Huntington Street in Boston, for the seventh annual Edit-a-Thon on Friday, March 6, to add resources, sections and new pages to Wikipedia in celebration of women in art.
While Ayra and her peers were editing in Boston, dozens of other groups across the country and around the world were simultaneously making changes to different pages. People from India, Turkey, Brazil and Spain gathered to work in groups similar to the one at MassArt. Regardless of location, all participants in the Edit-a-Thon had the same goal: to give recognition to female artists through Wikipedia pages. 
Gabrielle Reed, the access services librarian at MassArt's Morton Godine Library, organized the Edit-a-Thon with Art+Feminism, a nonprofit addressing the gap between gender, feminism and the arts online. 
Art+Feminism was created by a small group of librarians and art historians to combat the lack of representation of female artists and page editors on Wikipedia. A 2011 study conducted by Wikipedia found that only 10% of all editors on the platform are female. Recent numbers suggest that 16% of the site's editors globally are female, while this number stands at 23% in the U.S.
Reed, a member of Art+Feminism, has run the Edit-a-Thon at MassArts for the past seven years. This year she set specific goals for editors to meet.
"Bare minimum is to publish an entry, add to the bibliographies and get edits done," Reed said. It was also important to her that people worked on pages they were interested in. 
While experienced editors sat around a square table, sipping coffee and cracking jokes, newcomers to Wikipedia gathered in an alcove and were given a crash course by Northeastern University librarian and Wikipedia expert Amanda Rust.
Rust answered questions and showed off the different functions of Wikipedia, including how to draft, edit, add links and look up information in the talk page, a place where other editors gather to debate validity of certain changes.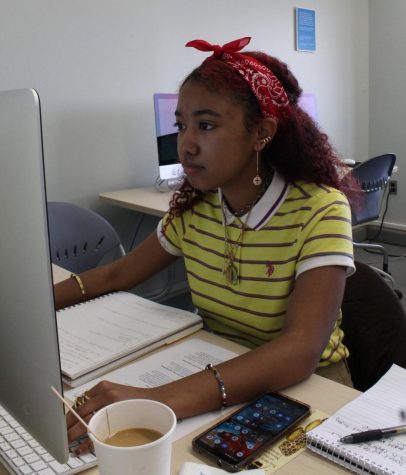 For Rust, teaching people about Wikipedia is a form of activism. 
"When else will I write a sentence 50,000 people will see?" Rust said. "I edited one page and got thousands of hits in one day. That'll never happen with anything else I write." 
Last year, Arts+Feminism added 4.5 thousand edits, 7.5 million words and three thousand references. There were 24 thousand articles edited, 5.5 thousand articles created, and 2.7 thousand photographs of artwork added. 
Half the battle is keeping the articles up, Reed said. Once an article is published to Wikipedia, anyone can make edits and Wikipedia's internal AI could decide that the page isn't factual enough and take it down.
Even if it isn't taken down, Reed said that the edit history and the talk page, where people discuss certain changes made to an article, can get very nasty. 
"Oftentimes, it's a male editor saying that his information is right and he won't change his mind," Reed said, adding that she and her fellow librarians and Wikipedians work hard together to prove their information is correct. 
Another MassArt librarian, Caitlin Pereira, who specializes in visual archives, said she usually spends her time at the Edit-a-Thons uploading photos of artwork missing from female artist pages and keeping the photos up on Wikipedia. 
"They never believe you have the [image] rights," Pereira said. She sources artwork imagery from MassArt's campus gallery, photographed by a professor and held in their archives. "On three different fronts, we knew we had clearance and it still was taken down." 
This year, though, Pereira worked on a different project. For the first time, she created a new Wikipedia entry on the Massachusetts Art and Design Act of 1870, which lead to the creation of the college. 
Pereira researched the act, so she wasn't worried about finding primary sources to add to her page. She said she was more concerned about pressing the publish button. 
"I'll be good until I walk away and other editors undo all my work," Pereira said. "I'll be a mess."
Other projects people worked ranged from entries about photographers to performance artists. Some artists listed were professors at MassArt that Reed felt deserved a page for all they had contributed to the college and their discipline. 
Alan Wu, a retired Massachusetts Institute of Technology engineering professor, was working on adding references to a page about artist Nancy Reddin Kienholz. Wu said he was excited to meet other Wikipedia editors and collaborate on a project together, especially one that gave exposure to female artists. 
"People discovering and rediscovering things, leads to more information," Wu said. "The principal is it's never done and never will be unless human enterprise stops."