Boston students join global Climate Strike rally
By Ruth Hunger
On a Friday morning when she normally would have been in school, Anjali Mitra, 17, was directing and guiding people as they entered Boston's City Hall Plaza for the Boston Climate Strike.  
"I hope that, especially [Gov.] Charlie Baker and all the other politicians in the Massachusetts State House, will understand that this generation wants the policies surrounding a Green New Deal," Mitra said, megaphone hanging in hand. She was one of 40 young organizers of the Boston Climate Strike, all of whom were under the age of 20.
"Specifically, a just transition from fossil fuel infrastructure to one that's based in renewable energy," Mitra said, outlining some of the climate strikers' demands. "Also a declaration of climate and ecological emergency so that they can actually take action on this crisis."
The crowd that marched on Sept. 20 from City Hall Plaza to the Massachusetts State House, with the first wave of people embarking at 1:15 p.m., was overwhelmingly made up of high school students. However, mothers like Jessica Garrett, a member of local activist group Mothers Out Front, emphasized the support the youth has from parents like her. She commented on the general dismissiveness of leaders toward youth.
"The window is closing and our children need them to take action, right away," Garrett said about the legislators in the State House.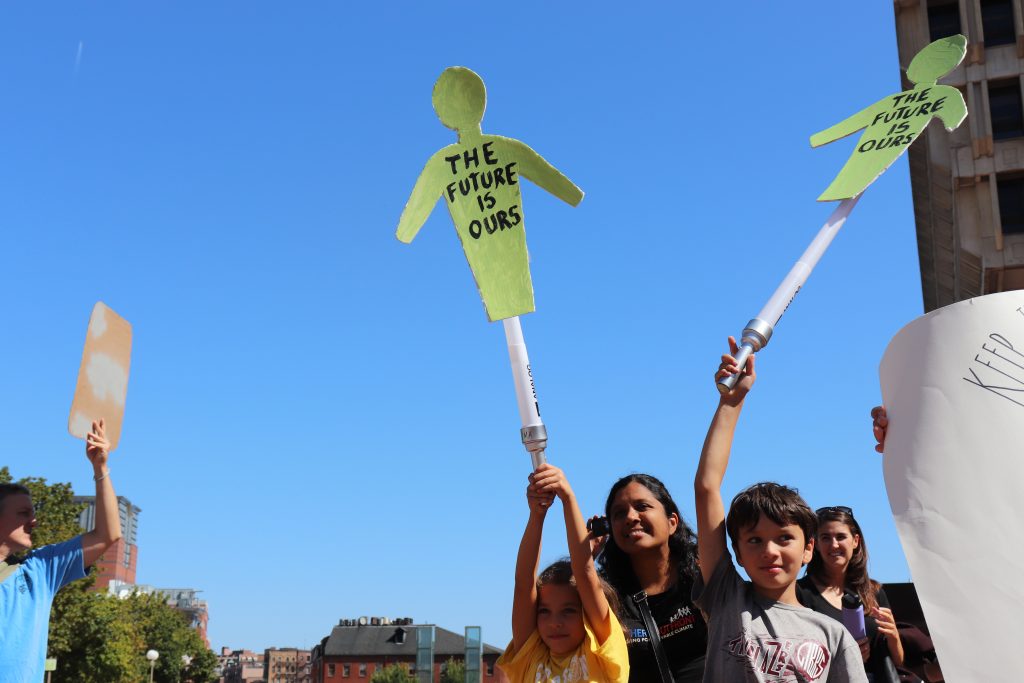 Strike organizers said they felt an urgency to speak out against adults such as Baker, along with a responsibility to speak out for those who may not be able to, and for those who are disproportionately impacted by climate change. 
"It's really important for us to be here, especially because we live in Sharon which is an upper-class town and a lot of people who are going to be affected by climate change have less benefits than we have," said protestor Grace Miller-Trabold, 15. "It's important for us to speak up for those who don't get their voices heard."
Miller-Trabold was one of many marchers and speakers at the rally who commented on the disproportionate impact climate change has on low-income and minority communities.
Former EPA administrator and Boston native Gina McCarthy described climate change as an "equal opportunity killer." Boston City Councilor Michelle Wu highlighted the potential for families to be displaced due to rising water levels, a problem more acute for those who do not have the means to relocate. 
"We're here because science is being ignored," Wu said. "We're here because people are being ignored for the profits of fossil fuel companies."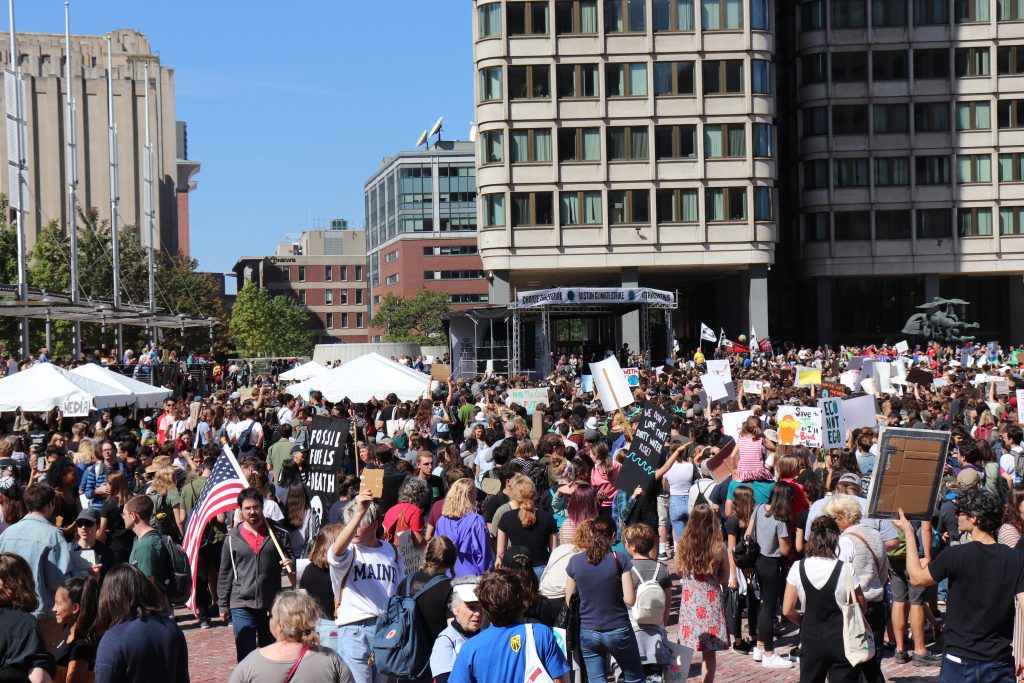 Reverend and environmental activist Mariama White-Hammond challenged the crowd of nearly 7,000 people to not only call for an end to the use of fossil fuels, but to greed and racism-based "fuels" as well, arguing that systemic racism and the climate crisis are intertwined.
Following a dance performance by organizers and more chanting of "Climate change is not a lie, do not let our planet die!" the rally ended, the march began, and the streets filled with people and their creative signs.
As the marchers turned onto Park Street from Tremont Street, with the golden dome of the Massachusetts State House visible in the distance, police and supporters lined Park Street and the marchers approached the state capitol.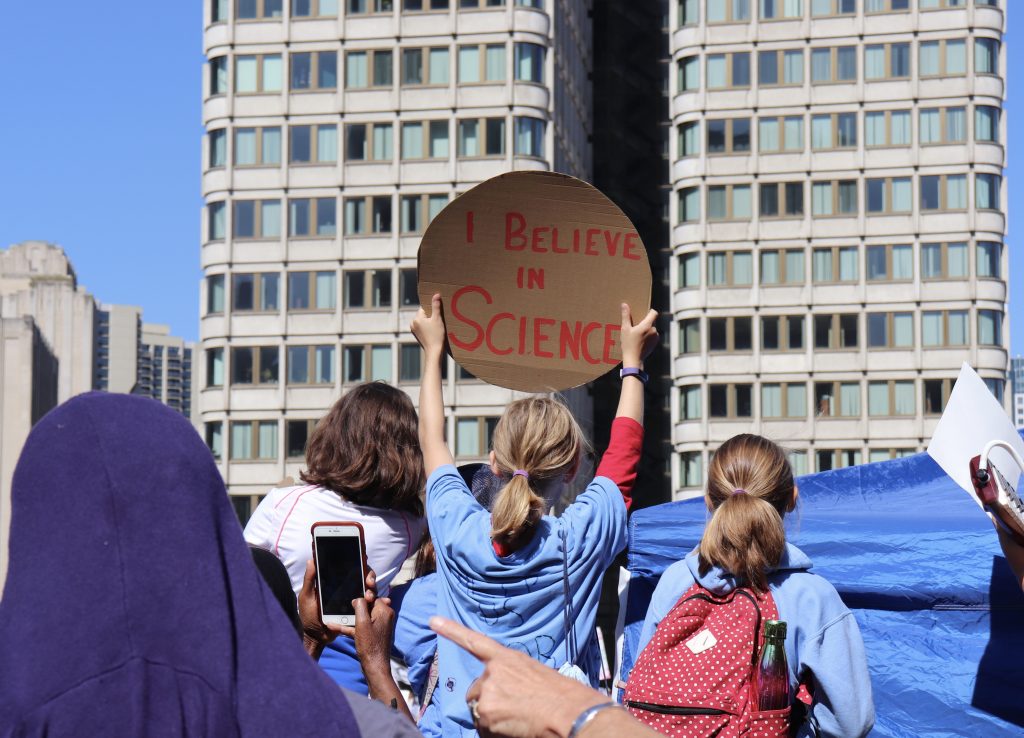 Some protestors laid down their signs, a few of which read "There's no planet B," and "Don't be a fossil fool," and entered the State House through the General Hooker Entrance, while many remained on the front steps chanting, dancing and demanding action.
"We don't want to be the last generation," rally organizers Audrey Lin, 18, and Amalia Hochman, 17, told the crowd earlier, from the rally stage before the march began. "We're now the generation of the Green New Deal! Gen GND!" 
"Gen GND! Gen GND!" the crowd cheered in response. 
This article was published in The Bay State Banner.