Protestors march for affordable housing at Suffolk Downs
A thick, gray fog hung over the water of Chelsea Creek in East Boston on Saturday afternoon, as a crowd of about 100 protesters lined the railing along one side of the Andrew McArdle Bridge, cheering and running into the road to hand out flyers to drivers who honked their horns in support.
Behind them was a massive, hand-painted banner that read, "50 percent affordable at Suffolk Downs."
The protesters, who represented activist organizations like City Life/Vida Urbana, Dorchester Not for Sale and the Massachusetts Sierra Club, oppose the redevelopment proposal for Suffolk Downs by HYM Investment Group, saying the addition of luxury housing would price the neighborhood's current residents — mainly working-class Latino immigrants — out of the area.
"They are essentially saying that they are going to build an entire neighborhood in our neighborhood that is exclusively not for us. And that's unacceptable," said Andres Del Castillo, an organizer with City Life/Vida Urbana. "The precedent that this would set, of being able to turn swaths of land into luxury neighborhoods exclusively, is horrifying for Boston to be able to maintain its community fabric."
HYM's 161-acre project, which is pending final approval by the BPDA with no date currently set, would create a new neighborhood on the site of the former Suffolk Downs racetrack with commercial office space, retail stores, restaurants, parks and 10,000 units of housing.
The City of Boston's Inclusionary Development Policy requires 13 percent of those units to be affordable, and the company said last month it would add an extra 500 affordable units to bring that percentage up to 20 percent. But activists say that isn't enough.
"The affordability rate that they are calculating is about 60-70 percent [Area Median Income]," Del Castillo said. "The average income in East Boston is about $37,500. All of the affordable units are not going to be accessible to East Boston."
The group called for 50 percent of the housing units to be affordable at lower income levels, and for some of the project's cost to be channeled back into a community development fund. 
Protesters started at Central Square Park in East Boston and marched down Meridian Street to the bridge, accompanied by members of the Boston Area Brigade of Activist Musicians, playing brass instruments and bucket drums.
https://thescopeboston.org/news/boston-peoples-plan-assembly-protest-suffolk-downs-development/
East Boston resident Luz Zambrano bought her house 25 years ago, when prices in the neighborhood were more affordable. Today, she said, she receives many offers from people who want to buy her home to turn it into luxury housing.
"We are here today because we want the creation of alternatives to this economy," Zambrano said in Spanish, with Del Castillo translating. "We are not going to sell. The only way we could ever sell our home is if it were going to be affordable housing or a cooperative development that our community can access."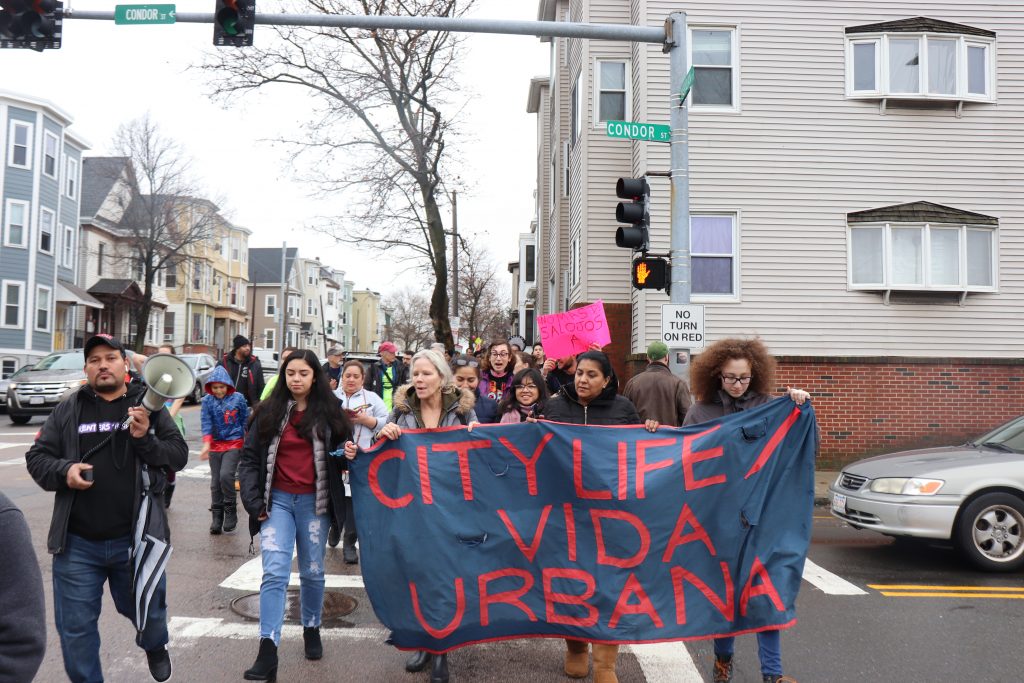 East Boston resident Francis Amador, who attended the protest, said the proposed redevelopment project is the reason she is currently struggling to keep her home. Amador said she is currently involved in a battle with her landlord, who is trying to sell the building she lives in to Boston real-estate company Dalfior Development.
"The investor knows that buying buildings right now, with that big project coming up, he has the chance to get more money for the buildings," Amador said. "It is just going to be a tremendous impact on a lot of things like displacement, and it's going to be a catastrophe."
HYM, headed up by former Boston Redevelopment Authority director Thomas O'Brien, has said the redevelopment project would provide East Boston with amenities residents need. O'Brien told the Bay State Banner in March that the project, which can fit more new units than any other site in Boston, would be a "tremendous opportunity" for the city.
Del Castillo said one of his biggest concerns is that the development project will cause East Boston to become so gentrified that it will lose its identity as a neighborhood with a long history of housing new Americans.
"It is touted by politicians across the board as Boston's gateway neighborhood, where immigrants have come through generations," Del Castillo said. "It will close the gate of this gateway neighborhood. East Boston will lose its community."
A version of this story was published in The Bay State Banner.