By Jasmine Wu
Millennium Place, a 256-unit luxury apartment complex, looms over the historic buildings of Chinatown. Condos in Millennium Place are priced between $700,000 and $3 million. According to city of Boston property records, 32 percent of unit owners at Millennium Place have traditionally Chinese surnames. At Millennium Tower — a 60-story luxury apartment complex in the same area — it's about 38 percent.
The recent surge of luxury developments in Chinatown has in part been inflicted by an unexpected population: wealthy Chinese investors. Some are buying undeveloped land and constructing properties; others are purchasing million-dollar units in cash. With the continuous displacement of longtime Asian residents by new Asian developers, community members are raising difficult questions about race, class and community.
"Folks that are able to buy into the downtown area are a different demographic," said Andrew Leong, a professor of law, social justice and Asian American studies at UMass Boston. "The ones moving into the luxury units are [international Chinese] cash buyers." According to Leong, they are usually either international students whose parents dole out the money or investors anticipating high returns. "Working class, first generation immigrants are moving out because they can't afford to remain."
Leong is a co-author of a 2013 report by the Asian American Legal Defense and Education Fund. According to Leong's research, from 2000 to 2009, the median household income for white Chinatown residents rose from $40,554 to $84,355. During those same years, the median household income for Asian residents dropped from $15,820 to $13,057, and the poverty rate increased from 39 to 44 percent—the highest of any racial group in Boston. There has not been any research done on the different demographics of Asians living in Chinatown.
In theory, the crowding of high- and low-income individuals into a neighborhood could create class tensions. But Leong said there simply aren't opportunities for interaction of any kind. "The luxury condos are like a gated community. There's a concierge down there. You have a lobby boy. The extent that they come out is to eat at the restaurants or buy groceries," Leong said.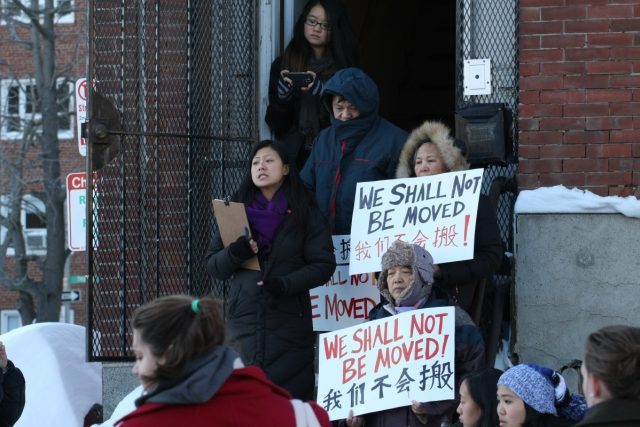 Chu Huang, co-chair of the Boston Chinatown Residents Association (CRA) and a child of restaurant workers, agrees. "The concentration of young working professionals and college students or recent graduates is fairly noticeable, but the interactions are always through service." Huang said. "It's purely transactional. Those who can live in those luxurious condos do it out of convenience. There's not much investment or commitment to long-term community sustainability."
Karen Chen has been director of the Chinese Progressive Association (CPA) for almost a year; her involvement with the organization goes back to 1997 as a member of the CPA's youth program. The nonprofit is one of the biggest in Chinatown, working to provide social services for the working class. But when scrolling through the names of the Chinese owners of Millennium Tower, she doesn't recognize a single one.
"Real estate investors often think of investment just as a monetary value, in terms of whether you're able to buy a property. But that doesn't mean you're actually investing in the community," Chen said. "Definitely, as a community-based organization, they have not reached out to support us."
Chen believes it's because they're working on opposing sides. "While we fight for the neighborhood to be more accessible to working-class families, some property owners may worry about their property value not rising at the rate that they want."
Skyrocketing housing rates have also been caused by another force: short term rentals through Airbnb and other similar websites. Chinatown housing activists argue that, by taking long-term rental units off the market, Airbnb apartment owners are driving up the cost of living.
Arturo Gossage, treasurer of the CRA, has been researching Chinatown Airbnbs lately, as local organizations lobby for municipal regulations. Gossage knows of five buildings in Chinatown that been bought to entirely or almost entirely rent on Airbnb. Property records show that three of those five have owners with traditionally East Asian surnames.
"If you look at these listings, they might be for $200 a night. An owner is able to make a lot more money on Airbnb than with a long-term tenant with a year-long lease," Gossage said.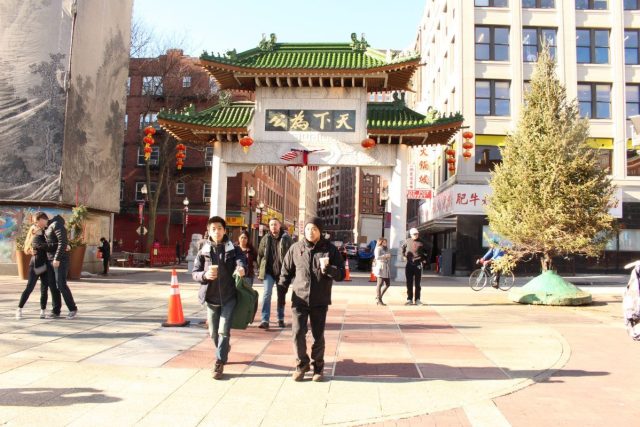 New Asian investors have also started funding the construction of the luxury buildings. According to reports from the Boston Globe and Boston Magazine, downtown Boston has seen an influx of wealthy Chinese developers over the past decade.
Tiffany Lam, an administrative assistant at Northeastern University, has lived in Chinatown since she was five.
"All of these high rises being built have definitely changed how everything looks in the 20 years that I've lived here," Lam said. She's noticed the new class of Asians walking around, but doesn't know any of them. "It's interesting to see that it's Asians against Asians. I feel like… it comes down to class and who has money. Whoever has money has the power."
As the presence of wealthy Asians grows, Chinatown is facing an exodus of middle class families, who are leaving for suburbs like Quince and Malden. According to the five-year averages of the American Community Survey, the Chinese population of Quincy grew from 14.9 percent in 2010 to 18.9 Percent in 2016. In Malden, the numbers grew from 10.6 percent in 2010 to 12.5 percent in 2016.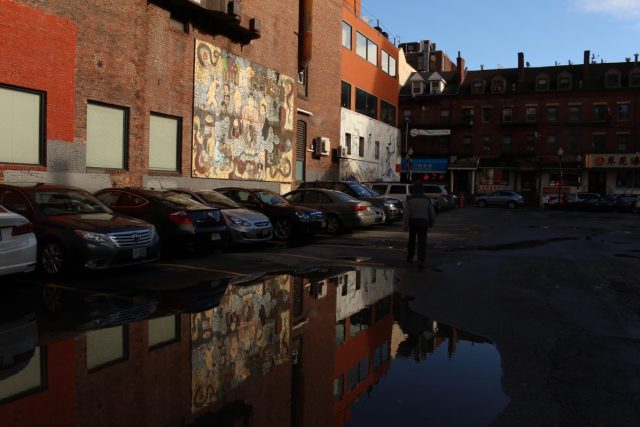 The demographic changes mean a loss of economic diversity. The only Asians left in Chinatown are either the highest income in the luxury condos or the lowest income in affordable or public housing. Chen says that, although class may be divisive, Asians need to build community.
"We should stick together to support each other, especially people who are in need. That should be the focus. And it should not just be based on one dimension. There's race, there's class," Chen said. "All these things need to be taken into consideration when we're thinking about what we mean by justice."