Only active Volt Hockey team in America inspires disabled community to try the sport
"I think this sport is even more inclusive for a community that's already lacking inclusion."
Marley Robinson is a recent Northeastern graduate and software engineer, but in her free time, she's also a Volt hockey athlete. She plays on the Volt hockey team in Boston, MA, which is the only active team in the United States.
Volt hockey is an accessible game of hockey where people with a variety of disabilities sit in motorized wheelchairs with paddles attached and play the sport of hockey. It is equally, if not more, accessible than other parasports because its specifically designed chairs allow anyone to play.
"At first, I was a little hesitant to do it because I need a lot of support in a chair with my disability," Robinson says. She has a form of muscular dystrophy called spinal muscular atrophy and has never been able to walk. Using a chair that isn't customized to her body takes a lot of energy because she has to engage her muscles to support herself. The chairs they use now are more supportive, but it hasn't always been that way. "At the beginning, we didn't really have any of that equipment, so we just kind of were like mish-mashing a bunch of different stuff together to try and make me comfortable," she says.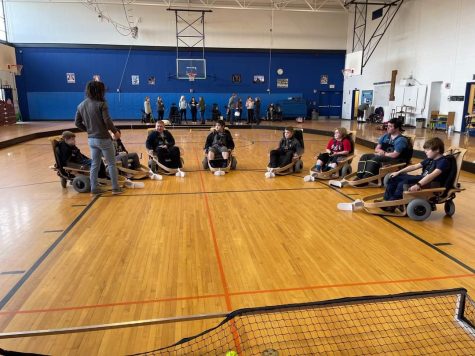 "Eventually, we got some more kind of professional-grade equipment that's helped out a lot. Now that I'm able to sit more comfortably, I am able to play better because I'm not exerting all my energy just by trying to sit up, and I can actually focus on what I'm there to do."
Robinson is one of the people recruited by coach Dylan Hogan. A pre-med student at Northeastern University, Hogan became involved with Volt hockey last year when taking a service learning course at Northeastern. He was running adaptive sports clinics at schools around the state when he stumbled upon Volt hockey. Once he started leading drills, he was hooked. "I realized just how few opportunities are actually available to people with disabilities, especially people with quadriplegia [who] don't have use of their upper extremities," Hogan says.
"There's a lot of different sports, like wheelchair basketball, sled hockey, even adaptive rugby, which are sports that can be played by wheelchair users as long as they have, you know, use of their arms. And I think this sport is even just more inclusive for a community that's already lacking inclusion."