The Chinatown Project aims to be a visual record of Boston's Chinatown
"I think one of the most important things is learning not to experience Chinatown passively and that there's so much culture and resilience in this community"
In under two years, The Chinatown Project has already solidified itself as a one-stop-shop for everything and everyone you should know in Boston's Chinatown.
With a mission to preserve Chinatown's culture "through visual media, advocacy work and community organizing," co-founders Aubrey Tang and Billy Chen have created a digital hub that spotlights and digs into the details of some of the neighborhood's top organizations, restaurants and residents.
The Project hopes to be seen as a supplemental media source, highlighting the many years of hard work and dedication already mapped out through the neighborhood by others. You can often find Chinatown Project volunteers covering events in Chinatown or partnering with a person or organization for a feature on their popular social media channels like Instagram and YouTube. 
"You kind of just start out, and really, it [just started as a] passion project and you're just doing it for fun," Aubrey Tang, 24, co-founder of The Chinatown Project, said. "…and then wanting to hopefully make a difference."
The Scope spoke to Tang to learn more about the organization and what's next. The following has been edited for length and clarity.
Can you tell our reader's a bit about how The Chinatown Project came to fruition?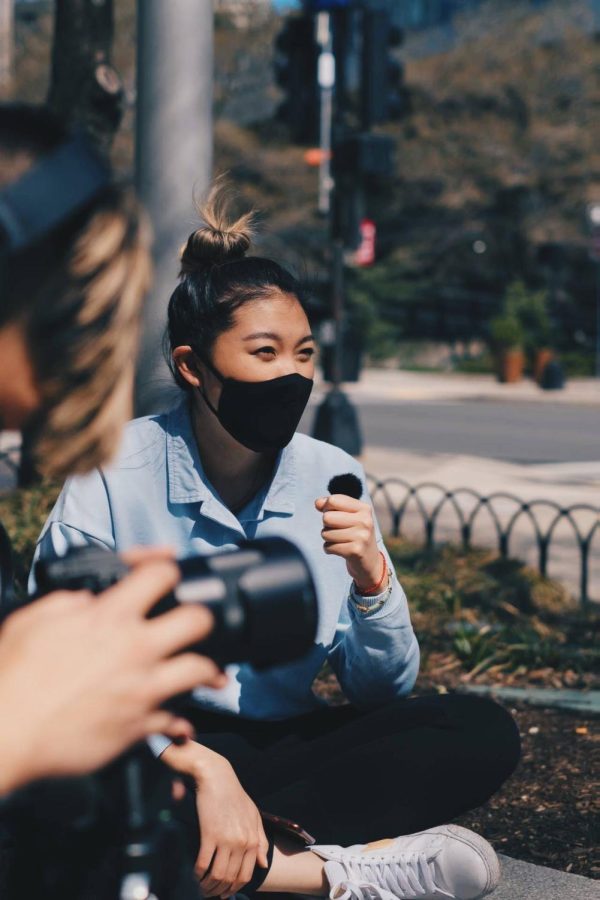 Yeah, so, The Chinatown Project was co-founded by me and my partner, Billy Chen. It was birthed in October of 2020. There was a lot of anti-Asian sentiment and xenophobia, in general. So we're sitting down at the dinner table and thinking about ways that we can positively uplift communities that are being affected by both the disease and racism. We're both really passionate about storytelling and specifically in terms of photography, videography and visual media. We just decided to start interviewing our local Boston Chinatown and business owners because we had been seeing a lot of social media efforts around maybe bigger Chinatowns like in New York City, et cetera; and so, for example, sending Chinatown love, and we kind of wanted to emulate the same thing here. 
We started reaching out to Chinatown Main Streets, a local nonprofit, and they introduced us to some of the business owners they worked with, and we just went from there. Essentially, our mission is to be a part of documenting and preserving the history and culture of Boston's Chinatown and making sure that information is accessible to the public. We started as a four-person team. In the beginning, it was me, Billy, and, you know, we grabbed two of our really talented friends, Jina Moran and Kimberly Nguyen, and got together and just started this whole thing. Now we've expanded, in the little over one and a half years, to a team of about 14 volunteers. There's been a lot of growth, and this summer, we've had a lot of really cool projects working with local nonprofits right now. We're also working with The Rose Kennedy Greenway to document their VISIONS/VOICES performances and met many really amazing people. And I think one of the most important things is learning not to experience Chinatown passively and that there's so much culture and resilience in this community.
The Chinatown Project took off almost immediately and has become very popular amongst residents and organizations in the area. Is it hard to juggle at times, or is it easier because you are just working directly with the community you're a part of?
It's hard. We didn't have any expectations at all, and then we started it and people became a lot more interested in what we were doing. And we're like, 'Oh, you know, we're actually reaching these people, and they're actually interested in what we're doing.' And then we just grew to this point, where we're like, 'Oh, shoot! This could actually become a lot bigger than what we had imagined.' So, right now, we're at a point where we are taking some time to reevaluate our internal structures, really nailing down our mission statement and our bylaws, because you start this out, and it's just a bunch of friends that are doing this for fun, and, and now it's like, we want to make sure that what we're doing is sustainable, and it's going to be here long term.
View this post on Instagram
I noticed that you touch on different areas of Chinatown and have a few different series going on. Can you talk about the different projects you have going on? How do you select who gets featured?
Yeah, so this is where a group of volunteers helps out. I want to shout out to our team of volunteers because we could not have grown without their work and help. We are all volunteering our time on the weekend and weeknights to do this, so I want to shout them out. 
So, we started initially wanting to highlight business owners, specifically Chinatown, and in that in the past year, ever since we brought on our team of volunteers, we've also wanted to explore just the vast Asian diaspora. So even within Chinatown, we're not a monolith; many different cultures, histories and traditions are also within the Chinese community. So we want to highlight that and explore pan-Asian cultures in general. And so, I think our team members really helped us in trying to explore that, for example, in our Lunch Break series. Essentially, we sit down with local AAPI changemakers, talk about their work and sit down at one of their favorite restaurants in Boston Chinatown, still tying it back to the Chinatown community and hopefully giving a platform for other people to speak about what they're doing. We also have another collaboration with the Mott Street Girls; they are based in New York City. So, we're also trying to do some collaborations with other cities, as well, where they talk about skincare and how that relates to heritage as well.
One question I have for you in doing this project, especially for people outside of the AAPI community, is what do you hope they will learn and take away from all of the work you're doing in and about Chinatown?
Yeah, that's a really, really great question. I mean, that's why we put all of our work on Instagram; we want to ensure this is accessible. I think our community is also not exclusively AAPI. We have a lot of people who are just interested in Chinatown. Our [Instgram] page is for anybody interested in Chinatown who wants to learn more or is curious. We want to be a safe space for people to not only explore their own cultural identities but also to learn more about others as well. So that's something we definitely tried to try to stress.
What is one big thing you've learned about yourself or the Chinatown community since The Chinatown Project started?
These are great questions. I guess one thing I've learned about myself, and I kind of touched upon it earlier, is … not to experience things passively. I grew up in Acton, Massachusetts, I've gone to Boston Chinatown every single weekend in my childhood, etc., and I didn't know anything about it. I didn't know about the history. I recognize the same faces, but I don't know how they actually came to be here. I think starting this project, I started noticing a lot of, you know, remnants of history within the Chinatown community and gaining a different perspective on what these ethnic enclaves entail. It has helped me give a different perspective to other communities and come in wanting to know … what is the history? What are the roots here? 
Boston's Chinatown has well-known and long-standing advocacy groups and nonprofits. How do you see The Chinatown Projects fitting in? What is a future goal or hope for the project in the next couple of years?
Yeah, that's a really, really great question. Because that's what we're asking ourselves … what is the long-term vision? As of right now, I honestly kind of see us, like I mentioned before, there are so many independent organizations doing work here, and I think it's really easy for each org to just focus on what they're doing, and they're all working together. I hope we can be a bridge for all of these organizations because we do really well in the social media part, the documenting part. We really want to honor these organizations that have been here for a long time and hopefully serve as a connection point for everyone.