Thousands react to Roe v. Wade leaked draft at Boston Common rally
Thousands of supporters baked under the near-record high temperatures gathered at Boston Common Saturday to attend Boston's Bans Off Our Bodies rally, sponsored by Planned Parenthood Advocacy Fund of Massachusetts, Reproductive Equity Now and the ACLU of Massachusetts. 
The rally responds to a leaked draft opinion outlining the Supreme Court's decision to overturn Roe v. Wade. Jennifer Childs-Roshak, President and CEO of Planned Parenthood League of Massachusetts, said abortion plays a larger role in the interconnected healthcare system. 
"Abortion is healthcare. People need to understand that it is one part of a whole constellation of healthcare services that really are critical for sexual and reproductive health. It's not something that is standalone; it's part of the entire options for health care for folks who can get pregnant," Childs-Roshak told The Scope. 
Attendees trickled in as the afternoon progressed, some armed with their homemade signs; others came empty-handed and held signs given by event organizers and volunteers. Among the condensed crowd, signs read: "You can only ban safe abortion," "My uterus my choice" and "Overturn Roe? Supreme mistake!"
Attendee Taylor Vaughn of Chestnut Hill, who uses she/they pronouns, said the high turnout spoke to people's reactions toward the leaked draft. 
"It's beautiful to come here and see everyone together under the same agenda to say that we have our rights, and no one gets to tell us otherwise," Vaughn said.
Childs-Roshak emphasized the Bay State is prepared to become a sanctuary city for people to access abortion care. In the House's proposed 2023 budget, State representatives included $2 million for abortion and reproductive healthcare access. 
"I think it is really important to underscore that abortion is still legal [and] it will be protected here in Massachusetts, but it is also still legal across the country," Childs-Roshak said. "So folks who are really worried about getting care should know that they can still get abortion care around the country, as best as possible. But certainly here in Massachusetts, things will be safe for the years to come."
Vaughn said they feel "very fortunate to be here" upon understanding the fragility of abortion policies that will be triggered in other states. 
"I'm originally from the South. Where I grew up, this is hitting home. People are losing their rights faster, whereas I feel like our government here in Boston and Massachusetts [are] still fighting for people," Vaughn said.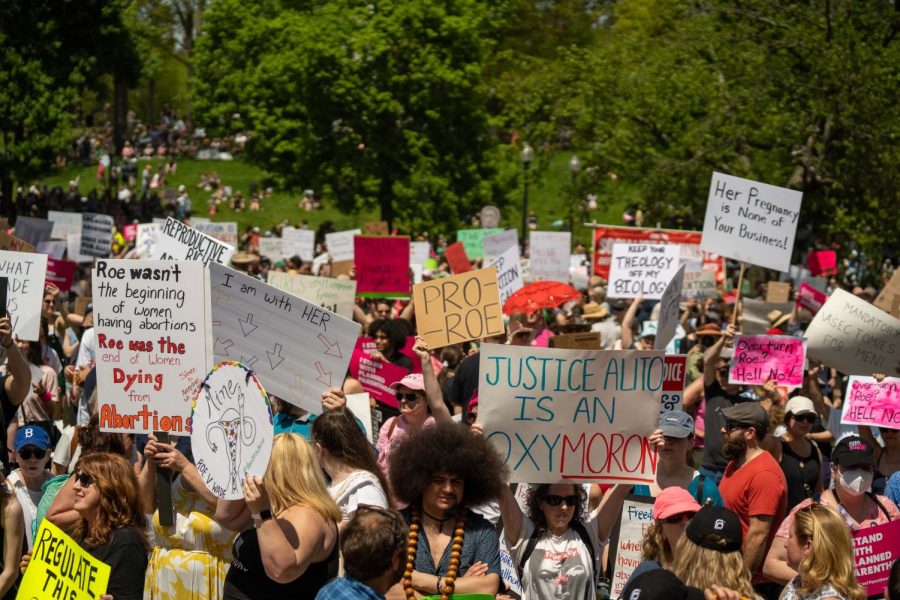 Fellow attendee Aleksander Ziobro, who uses he/they pronouns, said the rally is about protesting to protect people's rights.
"It's really bad to see us regressing. In terms of protecting marginalized groups, we've made so much progress or as much as we could, given how our country is run and things like that," Ziobro said. "It's scary to think that the way they've been making their decision on this repeal, it could have intense ripple effects across so many different things because their reasoning is so vague on why they want to repeal it."
The decision on Roe v. Wade leaked draft did not surprise Childs-Roshak. Instead, she said she worries about privacy in other aspects. 
"What I'm really shocked about is the depth of the attacks on rights for so many people. It opens the door to cutting back rights for the LGBTQ community, birth control access [and] any right that you can think of. Everything is basically on the chopping block if privacy doesn't matter."
Local lawmakers and advocates were part of the speaker lineup, including poet Mo Durden, Boston NAACP President and candidate for Secretary of State Tanisha Sullivan, Sen. Ed Markey, Attorney General Maura Healey and Boston City Councilor Kendra Lara of District 6. In his speech, Markey said supporters should translate their words into action, especially in Boston, where key abolitionist movements occured.  
"It's absolutely imperative that you turn your rage into action," Markey said. "We stand here today where the original revolutionaries stood in the American Revolution. That is who we are. This is where the revolutionaries began: The abolitionist movement right here on Boston Common."
According to Childs-Roshak, over 5,000 people signed up online to attend the rally. Many attendees saw the event advertised on social media, including Sandra Li of Malden. 
Li said supporters should amplify their voices through social media since it is intertwined with current society and lifestyle. Another way to speak out about the importance of abortion access is to have conversations with family and friends while respecting each other's views. 
"That's how I did it with my own family, it's telling them about how passionate I am about this, Li said.
Li said the overturning of Roe v. Wade was in part due to personal reasons that politicians harbor. 
"Abortion is obviously access to health care. It's hard to grasp the idea of taking that away from people. And I think that people have to take their own personal views away and let people have their own choice," Li said.
Attendee Laura Engel of Dorchester shares similar views. Engel said she attended the rally to fight alongside those who are voiceless and are affected by the decision, feeling "frustrated" with the Supreme Court's leaked draft opinion.
"I'm sick and tired of politicians having so much say over medical things that they have no idea about or they're not educated on it," Engel said. 
Vaughn said they believe every person has a right to make decisions for their own body. 
"No one above me knows my body, no one knows my conditions, no one knows what's going to be hurtful to me in the end, and the fact that somebody thinks that they can use scripture or literature to determine what I can do, really kind of hits home and hits deep," Vaughn said.