'People are dying' – Thousands of Ukrainians march Boston streets seeking help to save their country
On Sunday, for the third week in a row, a rally was held in support of Ukraine and its citizens, drawing in Mass. politicians Michelle Wu and Ayanna Pressley.
After a peaceful march, thousands of New Englanders, mainly Ukrainian, assembled at Boston Common, hoping to get help and collecting monetary donations to send humanitarian aid to Ukraine on Sunday.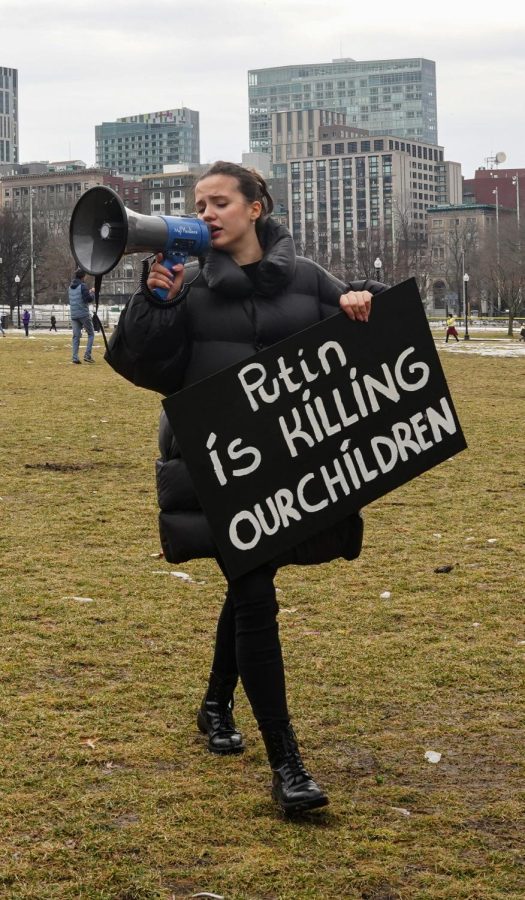 "We need everyone. What you are seeing right now [is] a lot of small voices, but they are making big changes," said Nika Chelnokova, 20, from Kyiv, Ukraine studying marketing at Suffolk University.
Demonstrators chanted and nudged to "ban Russian oil," "close the sky" and establish a Family Reunification Parole Program for Ukrainians to reunite the Ukrainian families. 
Several speakers spoke on the stage, including Congresswoman Ayanna Pressley and Boston Mayor Michelle Wu.
"From Boston to Kyiv, our destinies are tied," said Pressley.
Wu came along with her husband and her two young boys, "who we are raising to show what you do, in times of darkness," said Wu, addressing demonstrators. "To come together with community, and we will keep coming together as long as it takes to protest this senseless campaign of violence against Ukrainian people."
Peace March was one of the "Stand With Ukraine" events organized by the Ukrainian Cultural Center for New England, Ukrainian Boston and Trinity Church. The march began at 11:30 a.m., after a prayer at Trinity Church in Copley Square and led to Boston Common. People met at Parkman Bandstand located on the eastern side of the Boston Common to show support for Ukraine by grabbing cupcakes, t-shirts and stickers supporting their country while also contributing to humanitarian aid by making monetary donations.
"We have several major charities — Boston-based, New York-based, Washington, D.C. based, San Fransico, and so on who is helping with humanitarian aid (to Ukraine)," said Lesya Kuzyk, who was collecting donations by giving away stickers. According to Kuzyk, who organized the event, "war in Ukraine has been going on for eight years now," and it needs more armor defenses like body-protective shields for defending against the enemy. When asked if sanctions on Russia will stop Russia's president, Vladimir Putin, Kuzyk replied: "Nothing [is] going to stop Putin. Sanctions will never stop Putin." Explaining the reason as the Russian government does not care about its citizens, so sanctions hurting the Russian population do not necessarily concern them. However, if sanctions affecting Putin "personally" are signed, he might stop, said Kuzyk.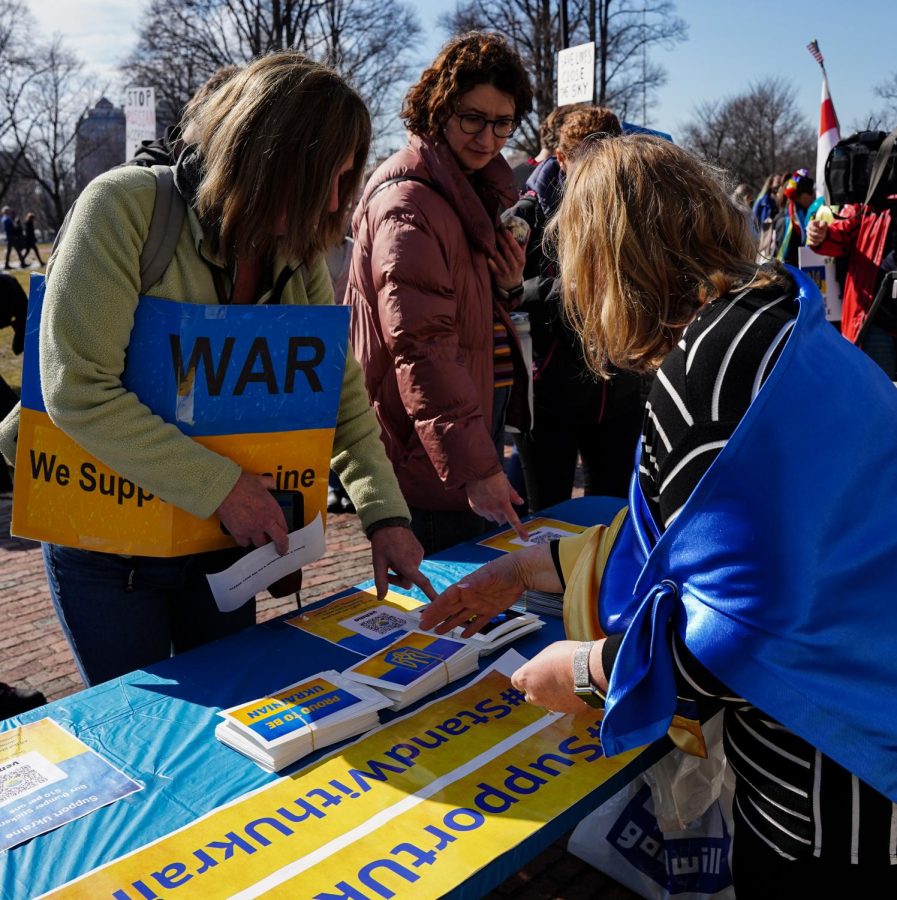 Ukraine and Russia are preparing for the third round of peace talks, expected on Monday. According to a Reuters report, the confirmed death toll of civilians is 364, while the UN rights body (OHCHR) announced 1,123 civilian casualties since the Russian invasion of Ukraine on Feb. 24. According to an Aljazeera report, around 1.4 million people have fled Ukraine to neighboring nations like Poland, Hungary, and Moldova. Furthermore, New Zealand and South Korea declared new sanctions on Moscow on Monday to pressure Russia.
"Not enough people of Russia are standing up against Putin's actions because a portion of the population doesn't give a crap because they are brainwashed by the propaganda," said Dmitri Yakovlev, from Russia, who has been in the U.S. for more than two decades and currently runs a tech company.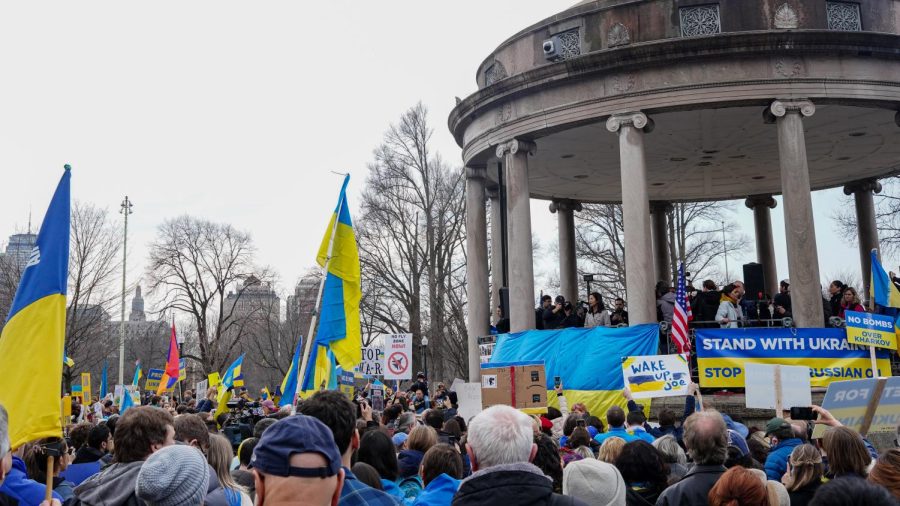 When asked about these propagandas, Yakovlev said that "the basic point is that they are making people believe that there is a prosecution of Russian speaking population in Ukraine and nationalism and none of which is true." 
Yakovlev further elaborated that claims of the Russian population in eastern Ukraine facing limitations on using the Russian language were made in 2014. With this excuse, Russia invaded and created two pro-Russian enclaves (Donetsk and Luhansk) and this was no reason to wage war.
"In the area of Kyiv, there is battle 24/7 … If they [people living in Kyiv] do not have, for example, lighting [no power], they will just stay there in the house without light for like three days. They do not have food there, medical supplies, even water," said Chelnokova, talking about the situation in Kyiv, where her parents lived, who moved to different cities two days after the war began.
"People are dying, and it is really so bad there, and we would really appreciate the whole nation [for their help and support]," pleaded Chelnokova.